Jurgen Klopp has insisted that if Dejan Lovren wasn't already a Liverpool player, he'd be a player he'd be looking to sign.
Lovren signed a new four-year, £100,000-a-week contract with the Reds on Friday, and the club have the option to extend this for a further year.
The decision to reward the Croatian despite his inconsistent form throughout his three seasons at Anfield so far has come under considerable scrutiny from supporters.
And this is likely to continue following Klopp's latest praise for Lovren, speaking at Melwood ahead of Liverpool's away clash with Watford.
"I'm really happy about this decision," he explained of Lovren's new deal.
"I know what supporters think: if you ask after Dortmund they'd say '20-year contract'; after the Crystal Palace game they'd say 'can we find another team to have him?'.
"The truth is in between. You have to look outside, if he played for a different club you'd have to think about signing him, and what you'd pay for him—it would be a big number.
"Working with him, 27 years old, it's the best time to come for a centre-half.
"[He had] a difficult start at Liverpool, but he's really settled, that's really good.
"Physically strong, quick, good footballer, sometimes decision-making could be better, but nobody out there is perfect.
"We really think he can help us a lot, and we can help him with a few decisive parts of his game. I'm happy about the news."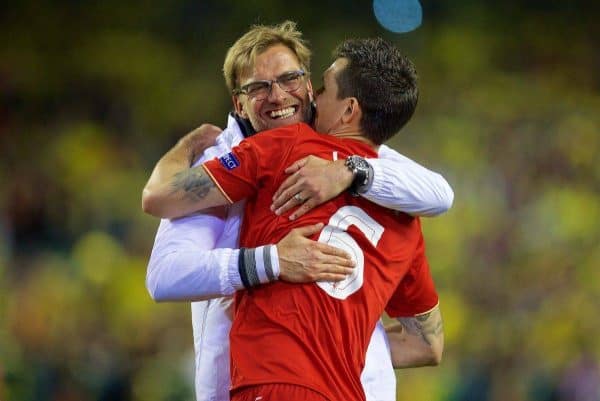 Klopp has already spoken about building around the "core" of his squad, with players like Lovren considered key.
But overlooking the centre-back's myriad poor performances is bizarre; hopefully this is nothing more than Klopp playing platitude and not what he actually believes.
Liverpool are reportedly chasing another defender in the summer transfer window, with Virgil van Dijk and Kalidou Koulibaly both targets, and they would be a significant upgrade on Lovren.