Sam Allardyce explained that he told his Crystal Palace side to target Liverpool's "weak" defensive line ahead of their 2-1 win at Anfield.
The Reds' defence were once again left embarrassed as the Eagles struck twice through Christian Benteke to cancel out Philippe Coutinho's sensational opener.
Coutinho had beaten Wayne Hennessey from all of 30 yards from a first-half free-kick, but his heroics were rarely matched by his team-mates on a frustrating afternoon.
Most troubling was the performance of Dejan Lovren, whose limp defensive showing was characteristic of a brittle Liverpool back four, with the Croatian at fault for both goals.
Speaking after the game, Allardyce addressed the home side's regular defensive issues, with the former England manager nailing their deficiencies.
"Liverpool at home play a superbly attacking style of football," he explained.
"Which means both full-backs go right up the pitch, and it's very similar to Arsenal, Matip and Lovren are very exposed.
"And because they're exposed in that position if you get the right runners in behind, they're two big men who don't like turning and running back towards their own goal.
"This is exactly where Yohan Cabaye came in today, the ball over Lovren's head completely left those two centre-halfs for dead.
"And then you ask your players for the quality you need in the Premier League, and Yohan Cabaye's ball to Christian Benteke was absolutely outstanding.
"It happened again just two minutes after that, but this time we didn't score."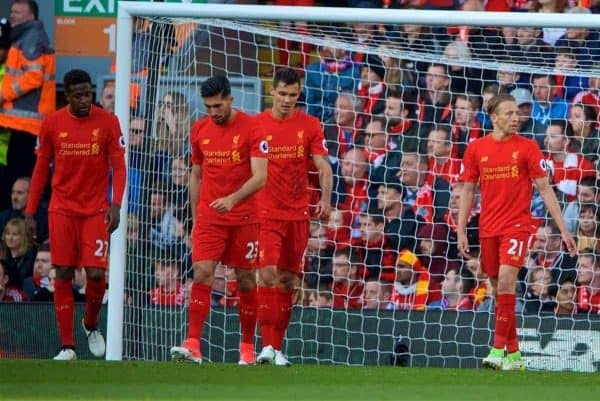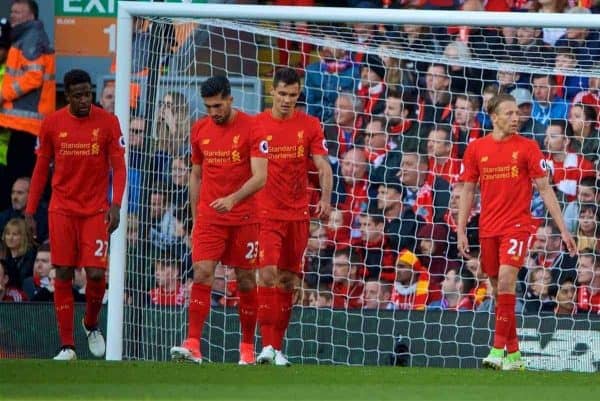 Benteke's opener highlighted a clear weakness in Liverpool's left side in defence, with Lovren's lack of awareness exploited with James Milner high up the pitch.
For the Belgian's second, however, it was the Reds' poor marking on corners that was exposed, as Allardyce continued to detail.
"On the corners everybody knows Liverpool are pretty weak," he said.
"They've conceded six off corners, which we told the lads about—it's now seven off that corner that got the winner."
Given Liverpool's attacking style, Lovren and Matip are to be expected to be caught one-on-one on occasion, as the latter attested prior to the game.
But for Jurgen Klopp's side to concede once again from a set-piece is troubling, and it is clearly motivation for their opposition.
Klopp is believed to be targeting another centre-back in the summer transfer window, but given Allardyce's assessment, further structural work may be required.