Liverpool confirmed on Tuesday an agreement to sign Dominic Solanke from Chelsea, and reports from fans of the striker's former club are encouraging.
A young forward, representing England at every different youth age group from under-16 to under-21, struggling for game time at Chelsea and playing wide as well as centrally. Scoring goals on loan, not getting a chance at Stamford Bridge and, ultimately, moving to Liverpool.
No, it's not 2013 again, but Solanke's path is eerily similar to that trodden by Daniel Sturridge some time ago—but can the Reds' latest addition get anywhere near making the impact that the No. 15 has?
Liverpool fans who haven't kept a keen eye on England youth teams, Chelsea's development squad or Eredivisie outfit Vitesse can be forgiven for not being completely clued up on Solanke's style of play, so we've spoken two two individuals who are.
Breaking through
It's not easy to make the grade at Premier League clubs, much less those who can splash out £150 million a year or more on big-name, ready-made stars for the first team, and Chelsea have been a club who have struggled to incorporate young players at times.
In attack, the blues have had a number of talented starlets available to them over the past few seasons, prospects who have helped win the FA Youth Cup for the last four years in a row, and six of the last eight campaigns.
Solanke has been one of those involved, along with Tammy Abraham, a star in the Championships this season on loan at Bristol City.
Tammy Abraham: Only Chris Wood (27) scored more goals than Abraham (23) in the Championship this season https://t.co/lMUgVCYBm9 pic.twitter.com/tRDXowbMIa

— WhoScored.com (@WhoScored) May 25, 2017
Garry Hayes, a Chelsea correspondent and writer, is clear on which he'd back to reach the top.
"I'm gutted he's going as I rate Dom more highly than Tammy.
"I think he's a better all-round player and has a knack for scoring big goals at big moments—just look at his winner in the Youth Cup final against Fulham."
Having been at Stamford Bridge since the age of eight, allowing him to leave to a rival can't be a decision Chelsea take lightly—but the slim chances of first-team football have forced the issue.
Indeed, This Is Anfield understand Antonio Conte wanted to keep Solanke and his involvement with the Reds is much more likely to be with Jurgen Klopp and the seniors, not just the under-23s, in 17/18.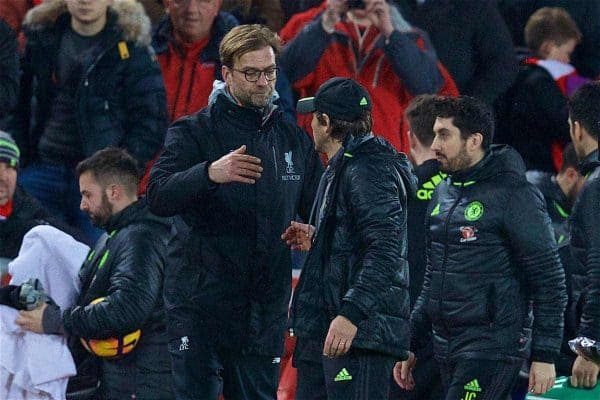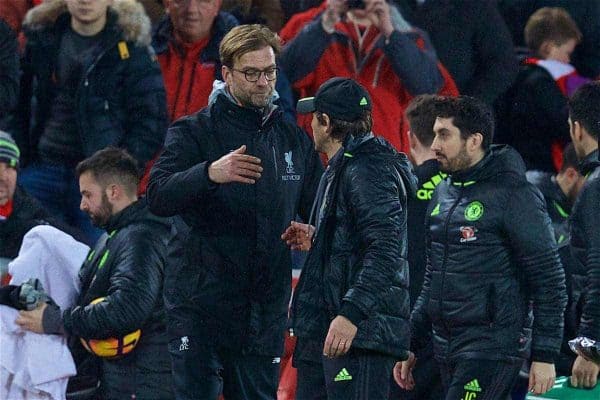 After a loan in the Dutch top flight and more than a few media reports—since discredited—over Solanke's reported wage demands on a new deal, it has perhaps been a learning curve for the striker and a move offers him a new start.
He still has a lot to prove—but also has the talent to do so. "His reputation has taken a hit in the past couple of years on the back of his loan to Vitesse and [supposed] wage demands," says Hayes.
But the former is more down to Chelsea sending a young, raw talent overseas, where he had to battle against a lot more than just playing senior football.

Izzy Brown (another talented young forward in the Chelsea youth ranks) suffered the same at Vitesse in 2015/16 and Dom really needed a season in England to build his confidence back. Dom has everything to succeed. He needs some belief shown in him to prove he can do it, but also a reality check.

He was wanting a senior's salary at Chelsea and he's nowhere near that level yet.

Equally, he's going to be the winner here. Moving to Liverpool will give him options he is never going to get at Stamford Bridge. We need only look at Ruben Loftus-Cheek for how young up and coming players can struggle to make an impact.

What hope is there for a young striker—Tammy included—when Chelsea are being linked with spending hundreds of millions on new attacking talent? What sort of message does that give the likes of Solanke?
Key traits
So what might Solanke bring to Klopp's side in the future, be it August 2017 or a year or two down the line?
Jack Rathborn, a journalist at the Mirror and ESPN, highlights how Solanke's movement is critical to his game.
"I really like his ability to drop deep and run at defences with runners either side, and he can be particularly effective when making those cutting runs as opponents try to reset.
"It's fair to say he's better without the ball when outside the area, as he never really came across as somebody who could pick a pass or hold challenges off, but he has quite a good frame so maybe can develop the latter."
It's worth noting that Solanke has enjoyed success, particularly with regard to his time in the Eredivisie, by utilising that acceleration and pace he possesses to get down the channels and in behind defenders on the counter.
https://www.youtube.com/watch?v=XGvTUGsjEmI
Having featured as a wide forward as well as a central striker, that direct movement is critical for scoring forwards—much like Sadio Mane has brought to the team in 16/17, and how much less penetrative Klopp's side looked at times without him.
Once in the area, though, Solanke is quickly on the scene and looking to get a shot away.
"His best attribute is how live and aware he is inside the area; he can react well and is pretty calm from close-to-medium range with a variety of types of finishes," Rathborn continued.
"It's rare you'll see him able to pick one out from range, but he's so lively and very explosive over those first few yards."
Future level
Whether Solanke debuts early on next season or has to wait his chance, at 19 years of age there's clearly still a lot of development left in his game.
The ceiling a young player can reach is always tricky to gauge, but he's capable of going a lot further than he has so far, if the attitude is right and the belief in him is there from the coaching staff. Hayes is in no doubt that the London club could be left to regret the departure, given time.
"The concern for Chelsea is that they've let a player go who could do what Harry Kane has. He has everything."
Solanke made his debut back in 2014/15, but hasn't featured for the seniors since.
Did he expect it too fast? Were his own expectations overly high? It might not matter, and forcing the issue can work out well—if it's accompanied by a willingness to put the work ethic required in.
"Not getting his chance at Chelsea is self-inflicted," Hayes continued.
"In many ways, Dom had the world at his feet, but he's been impatient with the his demands and that's worked against him. Chelsea have been right to stand their ground and set a precedent.
"But Sturridge made the same move in his career and it worked out well for him. If Klopp shows a little faith, then there's every reason to believe Dom will follow suit."