Dejan Lovren posted the second lowest TIA season average rating of all Liverpool's defenders, summing up his erratic third season at Anfield.
After responding to a woeful first season at Anfield with a much improved second, it was hoped Lovren would continue his progress in Jurgen Klopp's first full campaign.
It could be argued the Croatian did that, as he established himself as first choice alongside Joel Matip, enjoying rewards for doing so with a new, long-term contract.
But despite that four-year, £100,000-a-week prize, it proved a largely underwhelming season and a backwards step for the Reds' No.6.
Dejan Lovren, Season 2016/17
(All competitions)
Started: 32
On as sub: 0
Unused sub: 3
Goals: 2
Assists: 1
Average TIA Player Rating: 6.15 (Rank = 18th)
Promising partnership with Matip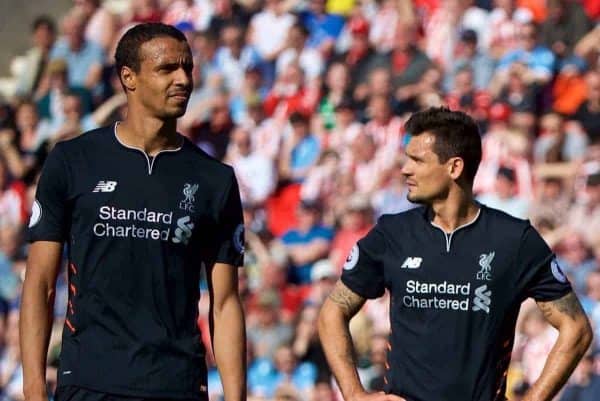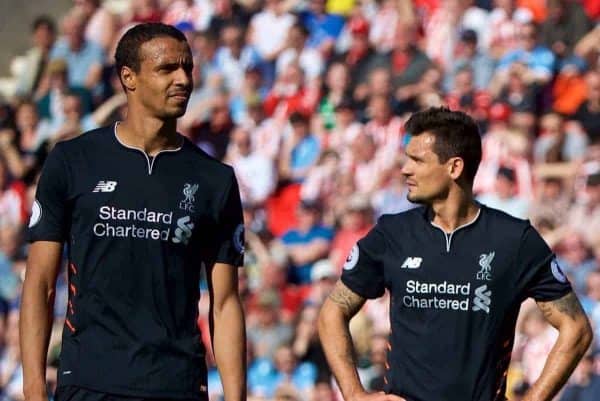 When it emerged Lovren's solid partnership with Mamadou Sakho would break up, concern arose as to how the Croatian would deal with defensive change.
Lovren has proved dependant on a leading presence alongside him to perform, which was illustrated again immediately at the start of the season.
Indeed, he started poorly when required to take a leading role next to Ragnar Klavan at Arsenal and Burnley – posting successive lowly 5/10 ratings.
However, improvement followed when Matip entered, with Lovren benefitting from the Cameroonian's leadership which allowed him to take a simplified stopping role.
Lovren's form instantly stabilised and he produced a man-of-the-match performance at Chelsea, scoring a brilliant volley in what was his highlight of the season.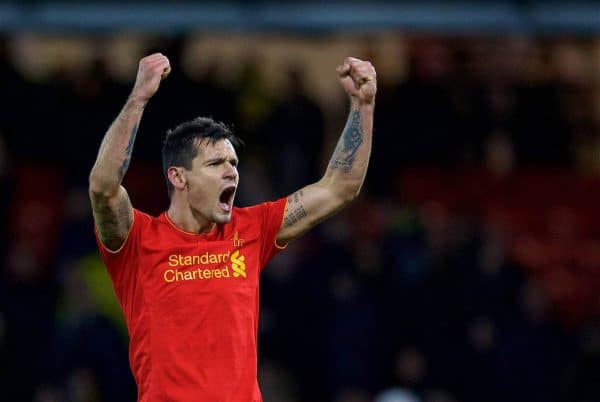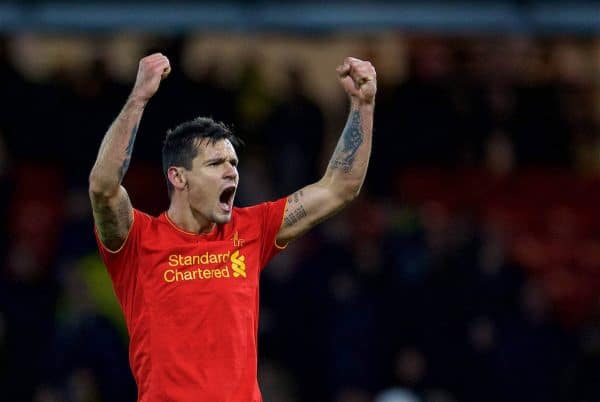 A second injury prevented him building on that display, but Lovren continued his upturn with solid if unspectacular showings in the early season 11-match unbeaten run.
Within that he netted a second goal in victory at Crystal Palace, but also showed worrying signs as he gifted an equaliser with a horror error – and it wasn't long before he regressed entirely posting a 4/10 performance at Bournemouth, again without Matip.
Lovren did perform well at times without his leading partner – notably in keeping clean sheets with Klavan against Middlesbrough, Everton and Man City in December.
But the ex-Southampton man was always at his best with Matip – the duo clearly Liverpool's best pairing as evidenced by the Reds going unbeaten in 14 games in which they played together.
Crystal Palace ended that run, but only after Lovren shone while dominating Romelu Lukaku in derby-day success at Anfield.
However, that leading performance was one of few eye-catching displays from Lovren, who struggled with consistency and injuries.
Inconsistency & injury struggles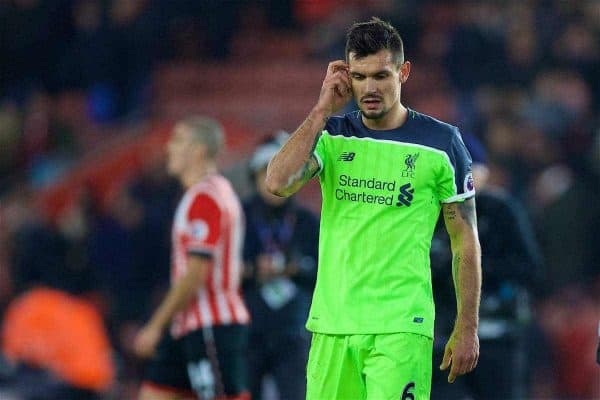 For too much of the season Lovren's form was erratic, making him an unreliable presence at centre-back – even alongside Matip.
Indeed, that he earned a 7/10 rating or higher in just 10 of his appearances is a damning indictment of his consistently below-par performances.
While he shone against Chelsea and Everton, and impressed against Man City and United, the positives were outnumbered by woeful outings against Palace (twice) and Bournemouth, and poor games with Arsenal, Burnley and Stoke to name a few.
There was little middle ground with Lovren's form, which mirrored the up and, mostly, down fortunes of Liverpool's back-line and was also a key reason behind them.
Persistent injuries didn't help, with the Croatian suffering a frustrating eight set-backs during the season, denying the chance to build rhythm or confidence.
His intermittent presence proved even more costly than inconsistent form, with the lack of a stable partnership contributing heavily to Liverpool's defensive failings.
So when the Croatian was handed a new contract in April it certainly raised eye-brows…
Unwarranted new contract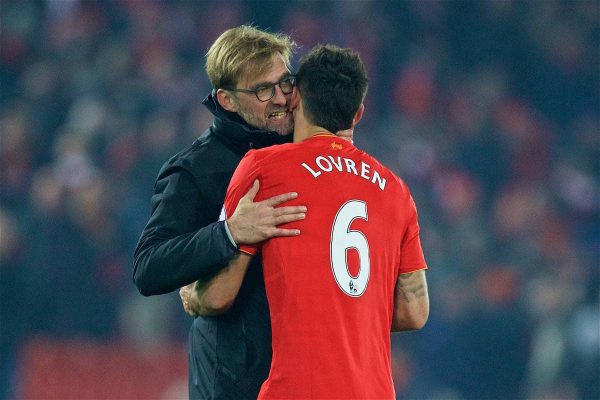 Having long been reported that a new deal for Lovren was looming, it was no surprise when he eventually committed to an eye-watering £100,000-a-week, four-year contract.
While Klopp was delighted to tie down the "outstanding defender" – who was controversially named the ninth best centre-back in Europe – the same joy didn't grip the fan base with the deal announced days after Lovren was at fault for both goals in defeat to Palace.
His form certainly doesn't warrant such reward or an extended Anfield stay having failed to prove his top-level quality in three years on Merseyside, and this summer should really have seen Lovren depart.
The new deal presents concern for numerous reasons – but mostly for Klopp's worrying trust in underperformers and the potential impact on transfer business in a summer defensive issues must finally be fixed.
Business could now be jeopardised given the finance committed to Lovren, who, worryingly, seems set to continue as first choice, despite needing to see a reduced role for 2017/18.
Reduced role for 2017/18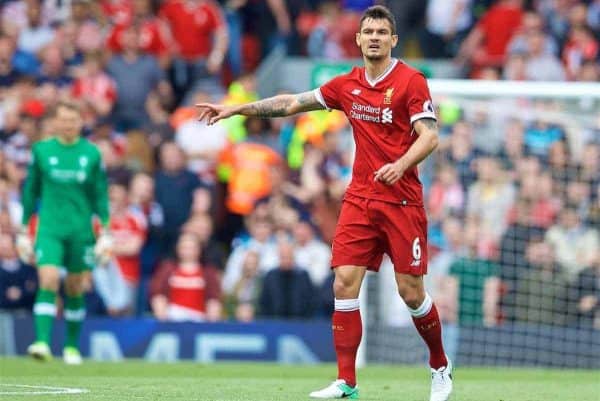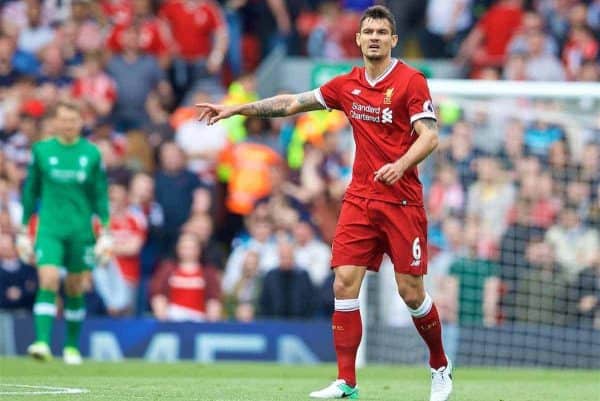 Lovren's season was by no means a disaster but it was certainly one that highlighted his flaws.
His form disappointingly regressed, with his failure to eradicate errors with positional play and decision making leaving him far from the composed, consistent presence needed.
This failure to improve ultimately shows that Lovren lacks the consistency, mentality and quality to be a first choice option for a Champions League team.
His reliance on a stabilising partner to perform at a level even close to that expected of a Liverpool centre-back is not good enough – and proves he's not the reliable figure needed.
A reduction to a backup role should follow next season, with the Croatian having at least proved himself as a capable stand-in alongside a leader.
Klopp has admitted it would "make sense" to sign a new centre-back this summer, and that his centre-backs must be capable of defending in "big spaces" – which Lovren is not capable of.
Klopp must use Liverpool's improved pulling power to upgrade Lovren with genuine quality as the Reds prepare to compete on Europe's elite stage.
Failure to do so and keeping Lovren as one of the two main centre-backs could cause serious problems unless an improvement in his performance, consistency and fitness follows.
Best Moment: Overall performance and superb volleyed finish at Chelsea
Worst Moment: Performance at Anfield against Crystal Palace, who never fail to bring out the calamitous in Lovren.
Role next season: Backup centre-back