Liverpool took a huge step towards securing Champions League qualification with a fantastic 4-0 victory over West Ham which provided plenty of positives.
West Ham 0-4 Liverpool
Premier League, London Stadium
May 14, 2017
Goals: Sturridge 35', Coutinho 57' 60', Origi 75'
Formation switch pays off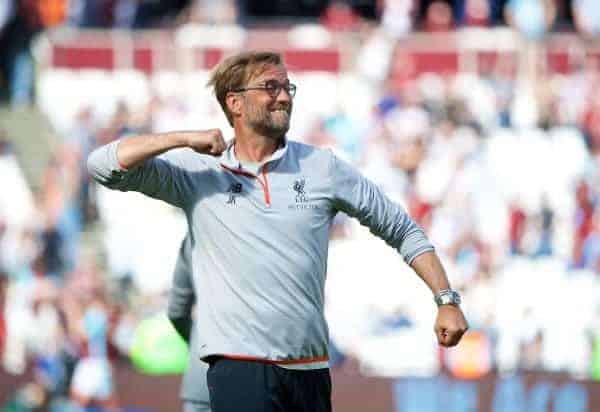 As Liverpool have struggled to produce convincing performances in recent weeks, fans have been desperate for Klopp to switch formation in attempt to spark the Reds to life.
Klopp finally obliged at the London Stadium, moving away from his preferred 4-3-3 set-up for the first time this season to begin with a 4-4-2 diamond, and the switch proved a masterstroke.
The system change gave Liverpool a new lease of life, with the set-up perfectly suiting Klopp's chosen XI who took to the formation like a duck to water.
Liverpool's struggle for wide-threat was suddenly nowhere near as problematic, with play focussed on moving through the lines at a greater speed with the passing and link-play of Coutinho and Lallana particularly crucial.
Operating with a strike duo also provided a much-needed cutting edge in the final third, while also giving Liverpool numerical dominance in midfield to press the Hammers into mistakes.
It was a long overdue move from Klopp, and one the boss can fully enjoy the rewards of as it inspired a fantastic victory.
Coutinho shines as No.8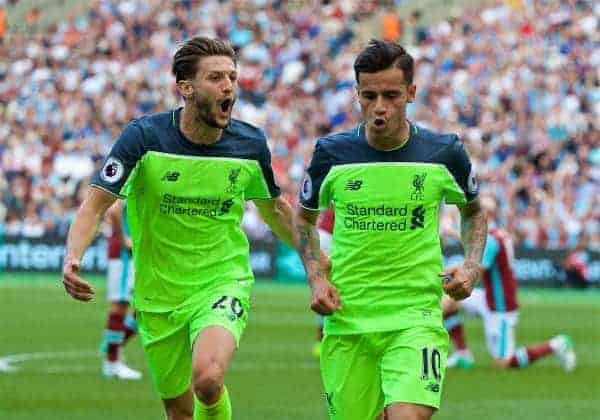 With Klopp having spoken this week of the possibility to play Coutinho as a No.8, it was no great surprise to see the Brazilian in a central role in the Reds' midfield diamond.
Looking to bring Coutinho's "creativity to the middle of the pitch" to sharpen the attack, the move paid off handsomely as the Brazilian shone with two fine goals and a brilliant assist.
From the off Coutinho dictated play giving a purpose to Liverpool's possession, and he proved how dangerous he can be when the game is in front of him with a superb defence-splitting pass for Sturridge to score.
Coutinho also showed the devastation he can cause when arriving from deep with the ball, as he dribbled superbly before firing home his first goal, and slamming in a second to seal victory.
The positional switch worked a treat as Coutinho dazzled in what is arguably his best position, and the instant success left you wondering why Klopp hasn't used him like this more regularly.
Hopefully we will see it more often from this point on – Klopp certainly has every reason to.
Full-back's struggle again

On a day full of positives for Liverpool, one negative came with another uninspiring set of displays from Nathaniel Clyne and James Milner.
The duo have struggled defensively, and more crucially, for attacking productivity in recent weeks, and they were always going to face tough afternoons at the London Stadium given Klopp's formation switch.
But while the system change inspired an upturn in most players, this wasn't the case for Clyne and Milner who produced more of the same against Slaven Bilic's team.
Milner was particularly poor as he offered nothing in attack and constantly ceded possession carelessly, while Clyne had a tough first-half against Aaron Cresswell who had the beating of the Reds No.2.
Better from both will be needed for a potentially defining game at Anfield next Sunday.
Sturridge's stunning impact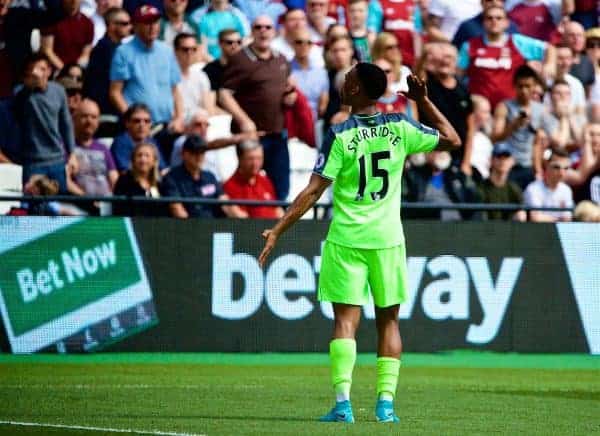 After a bright cameo against Southampton, Klopp handed Sturridge his first Premier League start since January at the London Stadium, much to the delight of the fan base.
Marking his return with a clinical performance and first goal since that outing at Sunderland at the turn of the year, it was like Sturridge had never been away.
Indeed, the striker settled back in with an ease that almost defied logic given his extended absence, making his class abundantly clear as he gave the Reds the incision and cutting edge that has been desperately needed.
The way Sturridge took his goal to open the scoring showed class is permanent, and it was a delight to watch him dance away in his trademark style after an injury-ravaged season that will have frustrated him just as much as us.
Who knows what could have happened had Sturridge been fit all season. Regardless, it's great to have you back Daniel.
Reds deliver under the pressure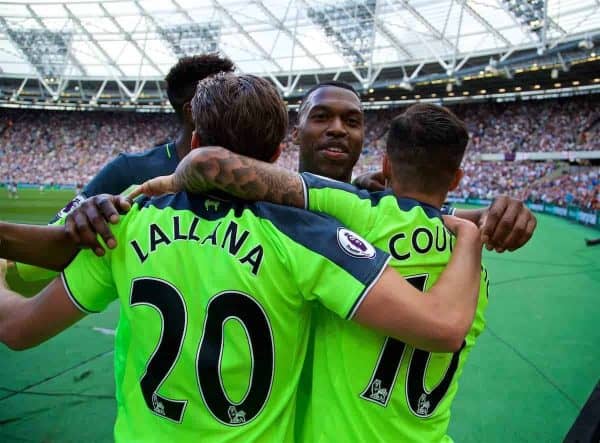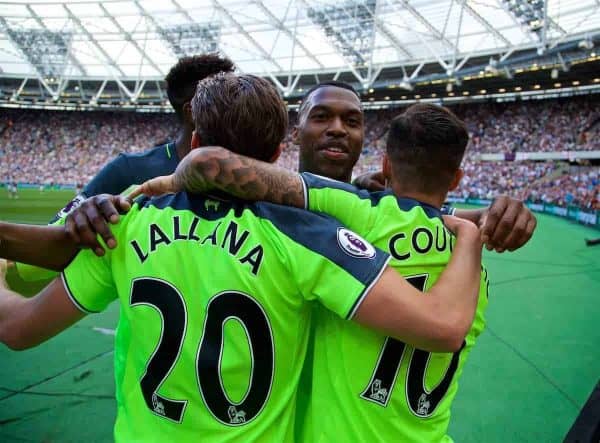 This Liverpool squad have often been criticised for their failure to produce when it's most needed, and ahead of the biggest game of the season, Reds fans again feared the worst.
The pressure on Klopp's side was absolutely immense with Arsenal having moved to within touching distance of the Reds – meaning there was absolutely no margin for error for Liverpool in order to keep top-four destiny in their own hands.
But the Reds showed no signs of anxiety or fear as they rose to the occasion with a professional and clinical performance, looking much closer to the
team that shone earlier this season.
The toxic thunders executed an accomplished performance perfectly to get the job the done with victory of paramount importance, and Klopp's men deserve huge credit for the way they held their nerve.
Now to finish the job against Middlesborough at Anfield.