A big-money summer signing, Georginio Wijnaldum split opinion upon his arrival at Liverpool but has played a key role under Jurgen Klopp.
Having been an impressive performer for Newcastle United as they were relegated last season, Gini Wijnaldum was Jurgen Klopp's midfielder of choice—eventually—and joined Liverpool in a £25 million move in July.
The Dutchman had been a regular on the scoresheet at St. James' Park, netting 11 times in 15/16 from an advanced midfield position either centrally or from the flank, but it quickly became apparent that Klopp had an altogether different role in mind for him at Anfield.
Fans were divided over whether Wijnaldum was the right signing, or even a good value addition to the squad, but there's no doubting he has gone on to play a pivotal role as the season has commenced, going from a rotational midfielder to key starter in the biggest of games.
By the end of 16/17 Wijnaldum was the midfielder with the most minutes played, fourth overall in the squad.
There's more to come from Wijnaldum, but here we assess exactly how his debut season in a red shirt has panned out.
Gini Wijnaldum, 2016/17
Started: 36
On as a substitute: 5
Unused sub: 2
Goals: 5
Assists: 10
Average TIA Player Rating: 6.64 (Rank = 10th)
Three from four and winning the battle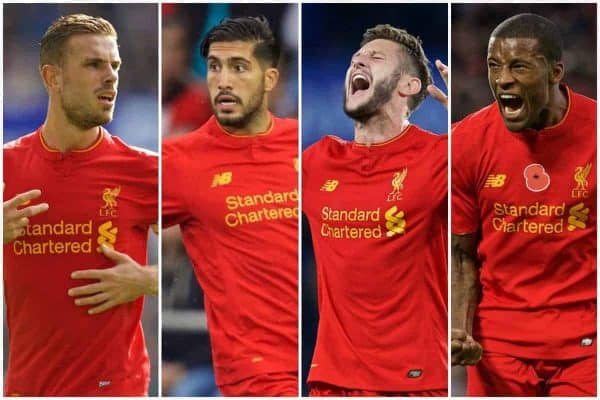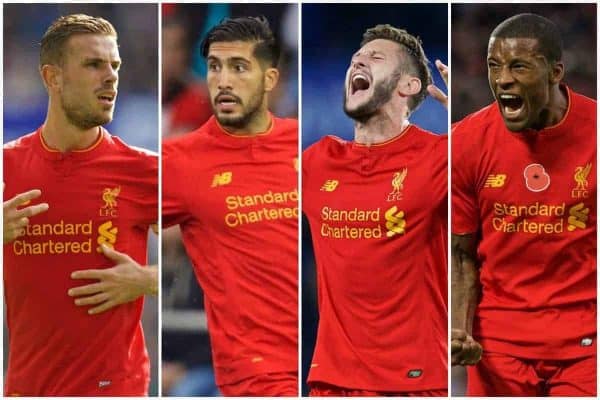 Klopp began the campaign with his side playing a 4-3-3, with Wijnaldum fighting for a place as one of the two more advanced central options.
With Jordan Henderson a guaranteed starter and Adam Lallana a manager favourite, Wijnaldum might have been left out in favour of Emre Can—but he quickly won that initial battle, playing 85 minutes or more in six of the first seven league games.
An aggressive style in the centre and the odd dash of flair in surging through the middle made him an interesting addition, particularly at home where his forward runs were far more frequent.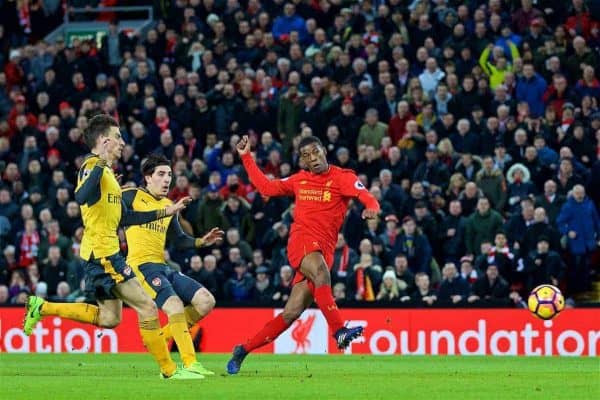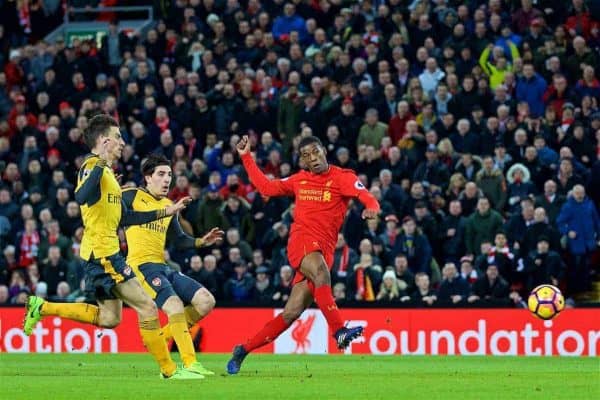 There was only really one stage in the season where he lost his starting spot, in October when he was out the XI for four league games in succession, but that, unfortunately, isn't necessarily as a result of the Dutchman being on top of his game throughout the campaign.
With Liverpool having only four first-team midfielders, any time one of them got injured—and each of Henderson, Lallana and Can has been this season—it was a guaranteed selection of the others for any given fixture.
If October was his most difficult moment, early in the new year was his best: three goals and two assists in six games between late January and March, including the equaliser against Chelsea and a last-minute strike to seal a win over Arsenal.
Consistency, consistency, consistency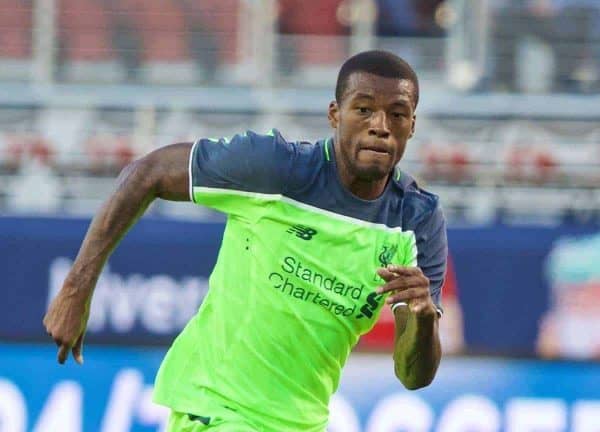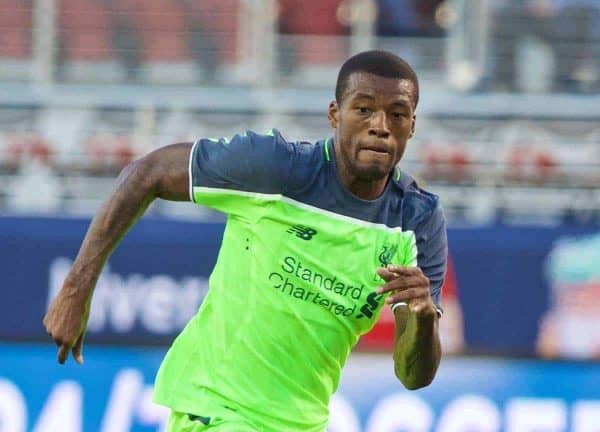 One big problem with Wijnaldum's debut season at Liverpool has been his consistency, or lack thereof.
Not just from game to game, but half-to-half sometimes, he can be a driving force behind the team dominating possession and creating chances, then fading to near anonymity. It doesn't happen every match of course, but a drop-off from a key midfielder can force a big swing in the in-game momentum of a team.
Similarly, it affects his passing.
In general, Wijnaldum is conscientious on the ball, distributing early, with intelligence and accuracy—but he's not an elite user of possession.
Error-strewn halves have become an annoying trait of the team in general, but Wijnaldum has seemed especially culpable from time to time.
Games against Bournemouth and Leicester City saw him gift goals with errant balls in his own half, while his inability to affect the creative side of Liverpool's game enough against teams such as Burnley, Southampton and Swansea were also indicative of that lack of consistency.
Home comforts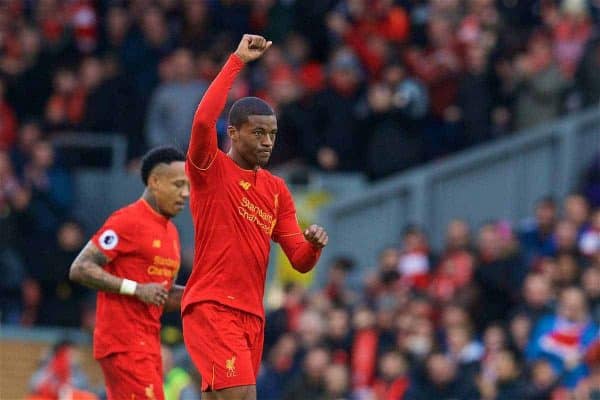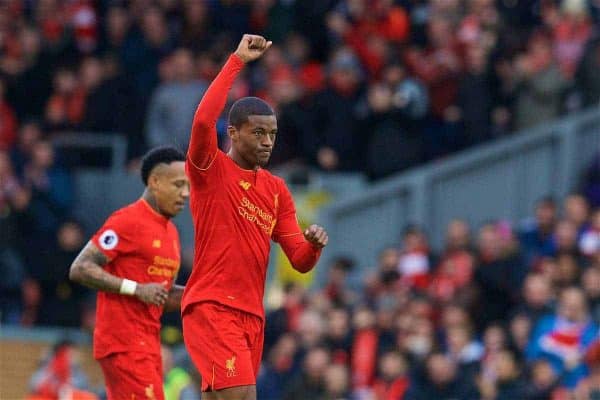 Some players simply play better at home compared to away matches, and that was a question over Wijnaldum when he arrived.
All 11 goals for Newcastle were scored at home, though three of his five assists came on the road. This season? All six goals at Anfield, as well as six of his 10 assists.
Is it really down to the Dutchman not performing well away from home, though? As a matter of course, the midfield has to be more diligent defensively when away, perhaps resulting in Wijnaldum reigning in his surging runs from deep—particularly when Can or Lallana make them.
In home league games, Wijnaldum averages 43.6 passes per game, with an 88% accuracy rate and 1.3 key passes. Away, it's 46.7 passes, 87% accuracy and 1.1 key passes—not exactly a huge, telling drop-off.
Indeed, in away matches his pass success rate is the best in the squad of any senior player other than Ragnar Klavan.
Liverpool could do with more from midfield on the road, not just from Wijnaldum but each of the components, with movement as well as penetration to break down those sides who stay deep, compact and frustratingly defensive.
If Wijnaldum finds a way to bring that to his game away from Anfield, he could become an even more critical piece of the puzzle—but that brings it back to the consistency argument.
Looking forward, or holding back?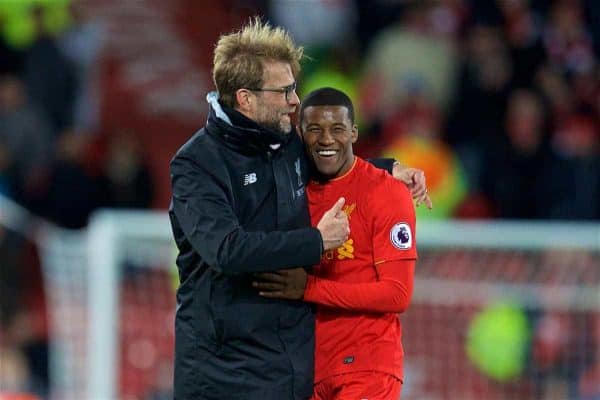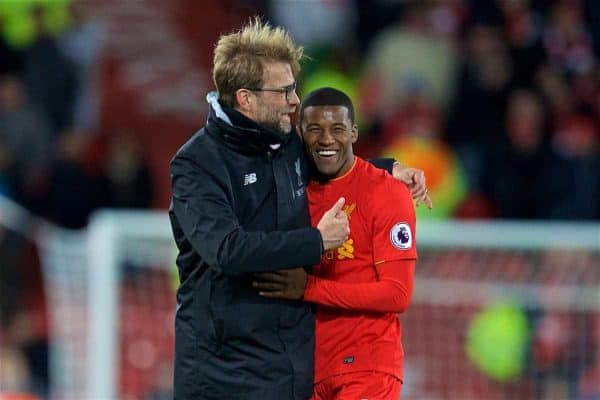 What's next for the No. 5? It could go either way in the summer, with Klopp clearly trusting him in big matches—but if another midfielder is added to the squad, as should be the case, Wijnaldum might have to fight for his spot all over again.
That said, if there's a three-man midfield in place next term, there should be five battling for positions and able to come into the team without upsetting the quality of the XI, and Wijnaldum will be part of that.
Even if he's not considered one of the best three, European action in 17/18 means the Reds should face upward of 50 fixtures, so another 35-to-40 appearances is very much on the cards.
Whether that's 25 starts and 15 as sub, or 40 starts and a handful more off the bench, depends on Wijnaldum's ability to find that greater consistency in his game, become a more reliable player on the ball and be capable of impacting in the final third with more frequency.
Best individual moment: What else? Wijnaldum settled nerves, points and a monster payout with his final-day strike to send the Reds toward the Champions League.
Worst individual moment: A terrible back-pass against Bournemouth which allowed Benik Afobe to score easily.
Role next season: Regular starter in midfield.