In our latest season review, James Milner's 2016/17 campaign is dissected, with the veteran earning both praise and criticism over the last nine months.
Milner's first season as a Liverpool player was typically what you would expect from him – solid, forgettable but ultimately effective.
Starting 43 matches, invariably as a midfielder, the former England international never made headlines, but also rarely let the team down.
There were question marks over whether Milner would revert to being more of a squad player in 2016/17, with new faces coming in, and time not on his side.
Nobody predicted what would happen next, though.
James Milner, 2016/17
(All competitions)
Started: 39
On as a substitute: 1
Unused sub: 2
Goals: 7
Assists: 3
Average TIA Player Rating: 6.30 (out of 10) (Rank = 16th)
Off to a flier in a new role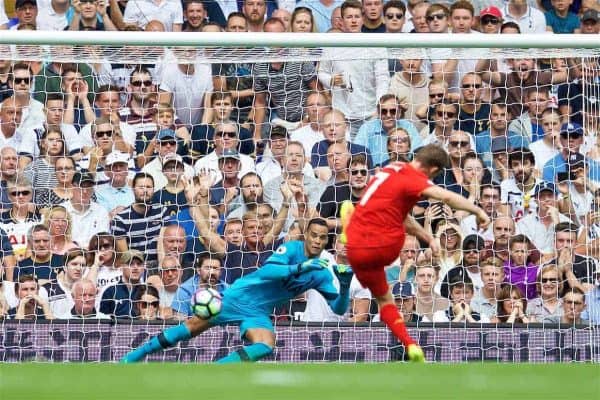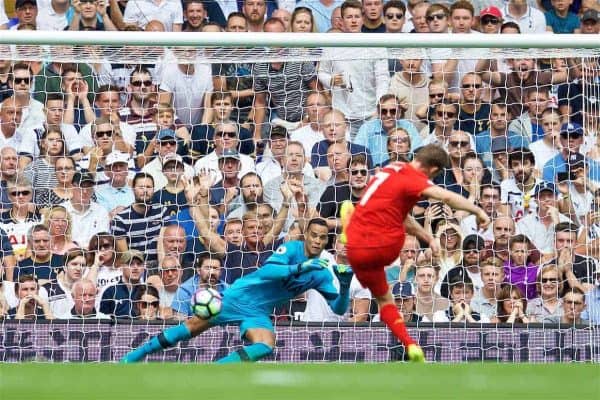 Alberto Moreno's appalling performance in the Europa League final was the final straw for most supporters, who were desperate for a new left-back to arrive last summer.
As the weeks passed, though, Jurgen Klopp didn't appear to be rushing to sign one, before making it clear that Milner would be his shock first-choice in the role.
Having carved a career out of being a versatile midfielder, occasionally slotting in at full-back, this was a decision that caused a mixture of intrigue and meltdown among the fanbase.
Having missed the season opener at Arsenal, with Moreno once again a weak link, he was thrown into the team for the ill-fated trip to Burnley.
He looked horribly out of place in his new position at Turf Moor, but Milner suddenly started to flourish, playing a key role in Liverpool looking like genuine title contenders.
The Englishman's penalty helped earn the Reds a point at Tottenham – it was the first of seven inch-perfect spot-kicks he would convert in 2016/17 – and he shone in consecutive victories over Leicester City, Chelsea and Hull City.
Liverpool's fourth win on the bounce, the 2-1 victory at Swansea City, saw Milner's mental fortitude and vast experience on show, as his 84th-minute penalty won Klopp's side a huge three points.
Despite the odd hiccup here and there, the Reds' second-oldest outfield player continued to thrive, with his intelligence on the ball, link-up with Philippe Coutinho and no-nonsense defensive style all impressing.
Like so many Liverpool players, however, Milner seemingly hit a brick wall once 2017 arrived.
Running through treacle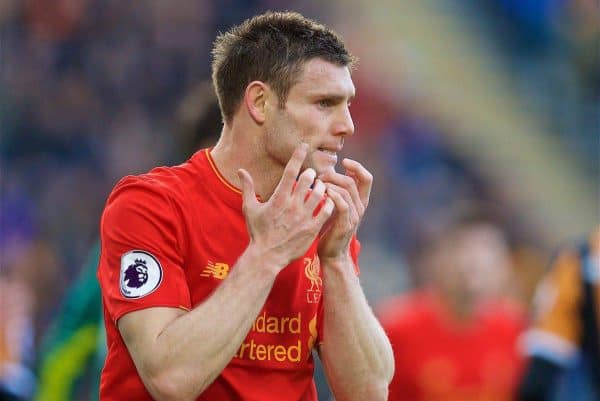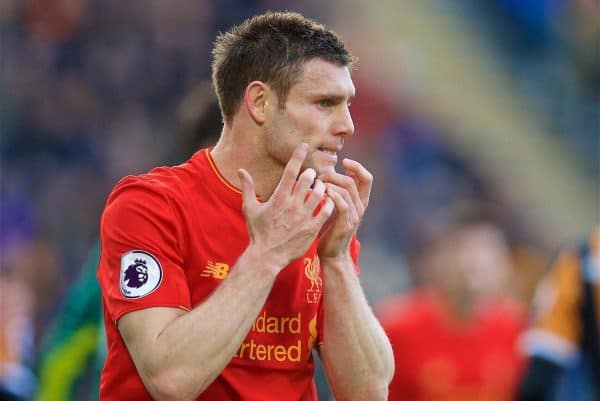 At 31, there were always concerns that Klopp's all-action playing style would eventually take its toll on Milner, and it began look increasingly clear that his tank was emptying at a fair rate.
January was an abysmal one for the team, and Milner really struggled to provide the same energy and general quality that he had before Christmas.
Crosses were being lumped hopefully into the penalty area, heavy touches were all too frequent and opposition wingers were suddenly exposing his defensive weaknesses.
Aside from an important penalty against Man United at Old Trafford, Milner just was not playing well enough, and Moreno's own incompetence was arguably the only thing allowing him to keep his place.
A three-out-of-10 performance at Hull was a low point, and he also struggled greatly away to Southampton in the League Cup semi-final first-leg.
Add to that an anonymous display at champions Leicester, and a hapless outing at home to Burnley, and it's fair to say Milner's year did not start well at all.
Spirited but limited end to the campaign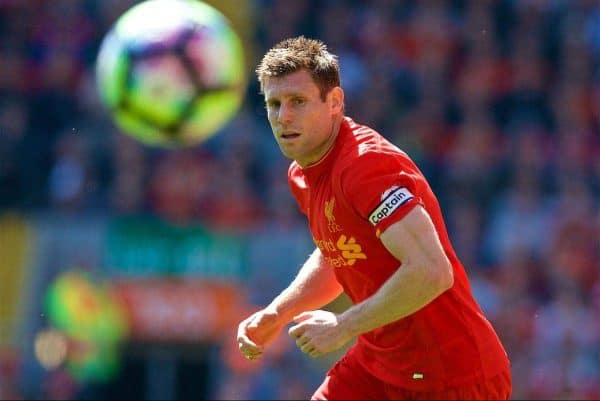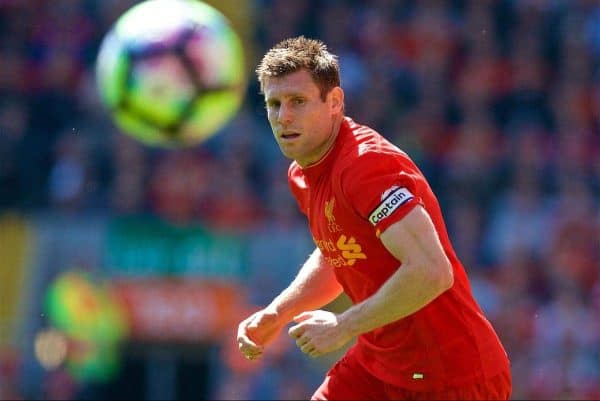 In many ways, the pattern of Milner's 2016/17 form perfectly summed up Liverpool's season, with his final couple of months dogged, spirited and but unpredictable.
Another nerveless penalty at former club Man City earned the Reds a point, and he cut a more consistent figure in the gritty wins over Everton, Stoke City and West Brom.
Milner also still managed to put in some sloppy performances, though, with his quality lacking as Liverpool dropped points against Bournemouth, Crystal Palace and Southampton.
In typical Milner style, though, his produced a strong performance on the final day of the season, with his impact down the left noticeable in the must-win visit of Middlesbrough.
It brought an end to a season that was often a mix of good and bad, with not a huge amount of middle ground.
The longer the campaign went on, the more it became clear that Milner was running on empty. He was far from perfect, but Klopp's decision to play him at left-back succeeded, on the whole.
Improvements & future role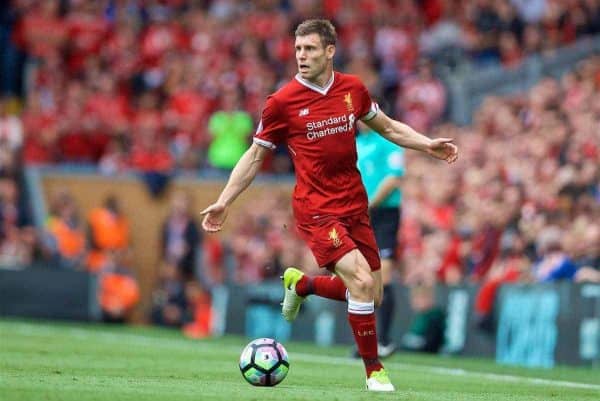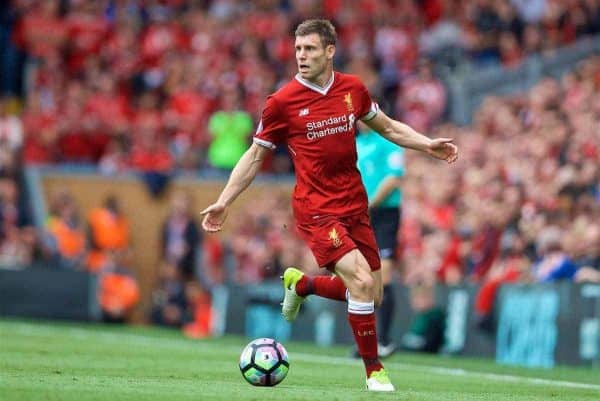 Milner will turn 32 next season, and while his fitness levels are excellent for his age, he can no longer be considered a regular in 2017/18.
He is limited as a left-back, with his crossing needing plenty of work, but it is hard to see him improving at this stage in his career.
Milner can still be a very dependable squad player, though, filling in all over the pitch when injuries inevitably arrive, and key players need a rest.
He will rarely let the team down, as he has shown endlessly over the years, but he is not someone to take Liverpool to the next level.
The way in which Milner has conducted himself all season has been exemplary, but we would be kidding ourselves if we said he'd set the world alight. A more low-key role in the squad awaits.
If he's still first choice left-back next season, serious questions should be asked.
Best Moment: The winner against Swansea
Worst Moment: The missed penalty against Southampton
Role next season: Squad player