Jurgen Klopp insists Liverpool should be a regular fixture in the Champions League after they secured qualification for next year's tournament.
The five-time European Cup winners overcame some early jitters to cruise to a 3-0 success over already-relegated Middlesbrough and ensure a place in the continent's leading club competition for just the second time in eight seasons.
With Arsenal winning against Everton on Sunday, the Reds were set to miss out on one of the slots until Georginio Wijnaldum blasted in the opener in first-half stoppage time, with second-half goals from Philippe Coutinho and Adam Lallana then easing the tension for an Anfield crowd that included the club's owner John W Henry.
In the eyes of Klopp, who took previous club Borussia Dortmund to the Champions League final in 2013, a place alongside Europe's elite is exactly where Liverpool belong—even if they first have to come through the play-off round.
"It is the best tournament in Europe—there is nothing better, maybe in the world," the German said.
"You want to be there. Liverpool needs to be there consistently.
"I am not saying we are already in, qualification is qualification, I am already looking forward to it.
"We will be really strong and really fight for it and we want to be there.
"It's all good. It's a fantastic competition. In the last 10 years Liverpool was not a part of it too often. We should do everything to change this, that's always the way.
"You have to make steps and the step is for us to be around the best teams in the world because we are at one of the best clubs in the world."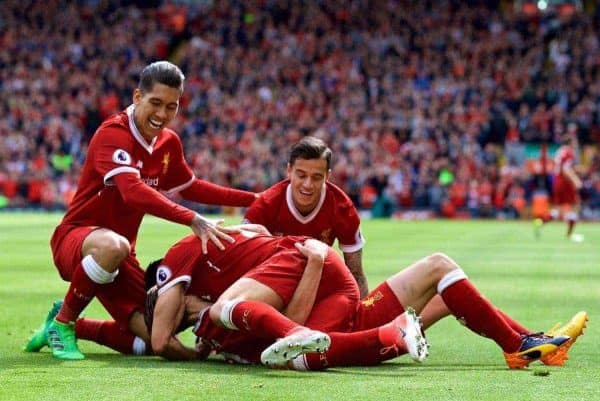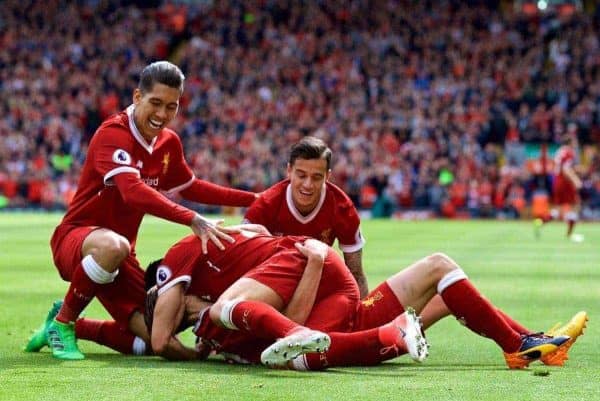 Although they were outside of the top four at one point on Sunday afternoon, Klopp's side have spent most of the season among the quartet and their manager felt finishing in those berths was possible early on.
"In the middle of the first part of the season I knew we were ready, but you have to do it, there were a lot of games after this," he added.
"You could say after we beat Arsenal [4-3 in the first game] it should be possible.
"We played in a lot of games really outstanding good football. That showed what we can do."
This was Klopp's first full season at the helm and he claimed plenty was gleaned from his squad, who he feels need to be more sure of their methods in times of struggle.
"We learned a lot in this year about ourselves and we can use it," Klopp said.
"We are not confident enough in general. When something doesn't work it always feels something slips through your fingers.
"So I am really happy we achieved a little bit of something that we didn't achieve too often in the past.
"For development you need to feel the improvement, feel the next step that it's right."