Failure to qualify for next season's Champions League would represent a major letdown for Liverpool, according to Middlesbrough fan Bradley Hunt.
The Reds welcome Boro to Anfield on Sunday afternoon, with a win securing a top-four finish for just the second time since 2008/09.
It promises to be a tense occasion on Merseyside, but Jurgen Klopp's side should have enough quality to get over the finish line.
For Steve Agnew and his players, the weekend clash means very little, as they bow out of the Premier League just a year after promotion.
We've spoken to Boro supporter Bradley Hunt (@_bradleyhunt) to get his thoughts on the two teams' seasons and whether Liverpool will seal a top-four berth this weekend.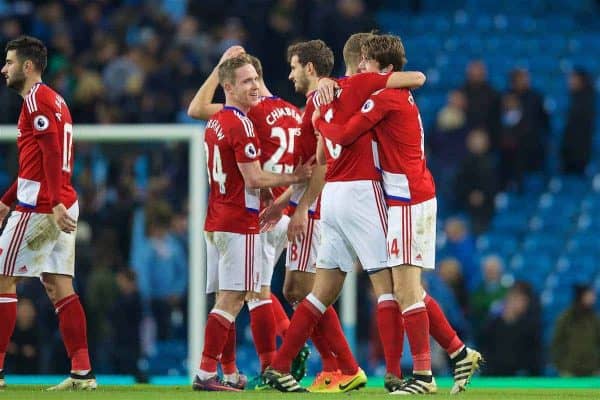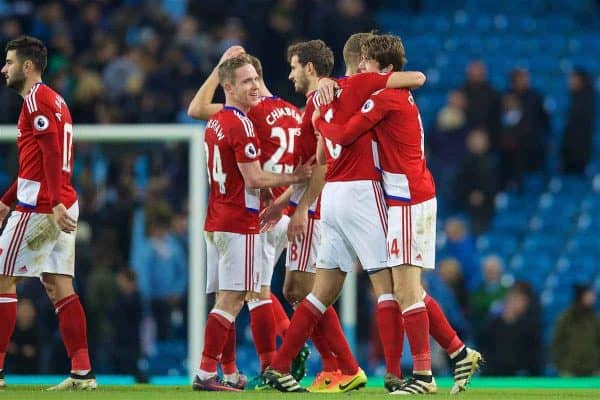 It hasn't been a happy return to the Premier League for Middlesbrough—how do you assess the season as a whole?
Overwhelmingly disappointing. I don't think anybody in the country would have said we would go down if you had asked them in August, but the reality is we simply have not been good enough.
Defensively, we are sound, but going forward we've been a disaster. Looking back at the Championship, we were built on a strong back four, and due to dominating possession in games, we would create chances and often win 1-0 or 2-0.
In the Premier League, however, we have relied far too much on our defensive capabilities and often left games we should have won thinking it was still a good point. Before long it was too late.
We simply collapsed after Burnley away and in 2017 were non-existent. We absolutely deserve to be where we are—the fans who have travelled in their thousands up and down the country deserve much better.
Was it the correct decision to sack Aitor Karanka, and how has Steve Agnew done?
If I'm honest, I wouldn't have sacked Aitor Karanka at the time we did. For me personally, it had to come earlier to give the team enough chance of turning things around.
I would have preferred to be relegated with Karanka because at least then we have a manager who has experience of getting automatic promotion from the Championship, and has the backing of the core group of players we would keep in that league.
Whilst I'm sure Steve Agnew is an excellent coach, he's not a manager. He's a friend, not a leader. In all honesty, I think he's done a worse job than if Karanka had stayed.
His press conferences are predictable and misguided, and just last week he promised a "quality performance" for the home fans after relegation.
We were subsequently beaten 2-1 by a Southampton side that has nothing to play for.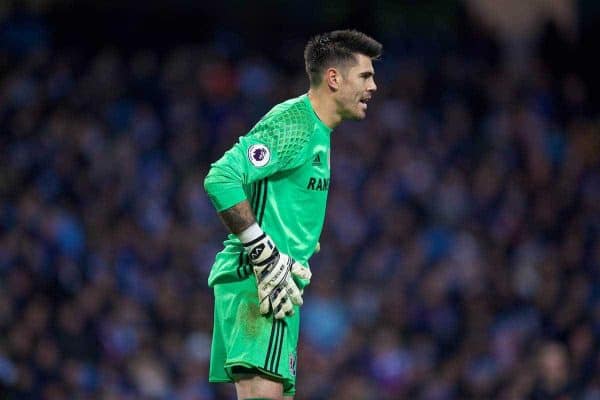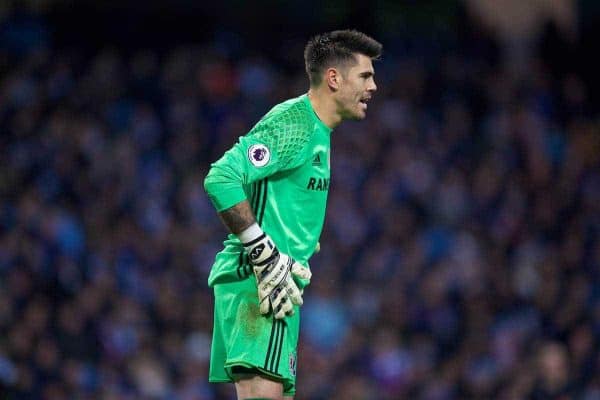 Who have been Boro's three best players this season, and why?
Ben Gibson, Victor Valdes and Alvaro Negredo.
I remember before the start of the season I suggested Gibson warranted an England call-up, and I was relieved he earned that this year.
Both he and Valdes have been busy this season and our goal difference is testament to their performances, considering we very rarely attack teams.
Negredo is obviously a brilliant footballer, it's a just a shame we don't have the quality to create multiple chances for him each game.
Considering the scraps he has had to feed off, he's done a remarkable job.
Any players who have been at the other end of the spectrum?
There are a couple, and hopefully they will be offloaded at the end of the season.
Bernardo Espinosa and Stewart Downing spring to mind, but I want to take this opportunity to discuss Gaston Ramirez.
He is a brilliant footballer, but a terrible team player. He's a mercenary.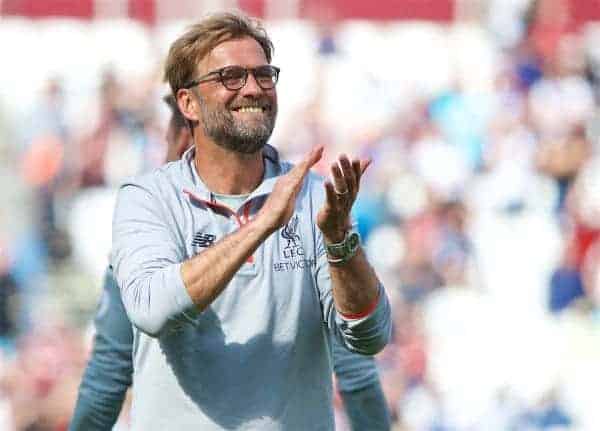 What have you made of Liverpool's season? Does whether it's a success or not solely rest of Sunday's game?
Clearly, if Liverpool fail to reach the Champions League this season then it's been a failure.
In December, you asked me if the Reds' title chances are fading, which just shows the level of expectation at the club back then.
The whole season boils down to a simple game of 90 minutes, where it will simply be defence vs. attack.
Focussing on the weekend clash, do you feel Boro can frustrate the Reds? Or are you now "on the beach"?
I think the Middlesbrough players who pull on the shirt on Sunday will want to put in a performance for the fans and stake a claim in next season's promotion chase.
I don't think it will be as straightforward as pundits are predicting, but due to our complete inability to score goals, once Liverpool score one, the floodgates will open.
Finally, how do you think the game will pan out? Fancy lying down for us?
We'll never roll over for anybody.
I think it will be a tense encounter initially, with Liverpool eventually going on to win the game 2-0. Roll on ArsenalFanTV!