It's been a rocky season for Liverpool's goalkeepers. Simon Mignolet and Loris Karius have had their ups and downs, but both have played a reasonable number of games for the Reds during the 2016/17 season.
Mignolet started the season between the posts, but was soon dropped in favour of Jurgen Klopp's new man Karius, who joined the club from Mainz last summer for just under £5 million.
However, a number of unfortunate blunders which weren't helped by a continuously shaky back-line saw the German out of the side by the end of the year, and Mignolet reinstated.
Since that time Karius has gone on to put in some encouraging performances in the cups, and hinted that there could be a player in there who Liverpool can rely on in the future.
But Mignolet's form improved markedly as the season progressed, and his contribution to the league campaign cannot be underestimated.
Several Premier League sides have struggled for consistency between the sticks, and almost half of the teams in the competition have experimented with an alternative 'keeper at some point in the season.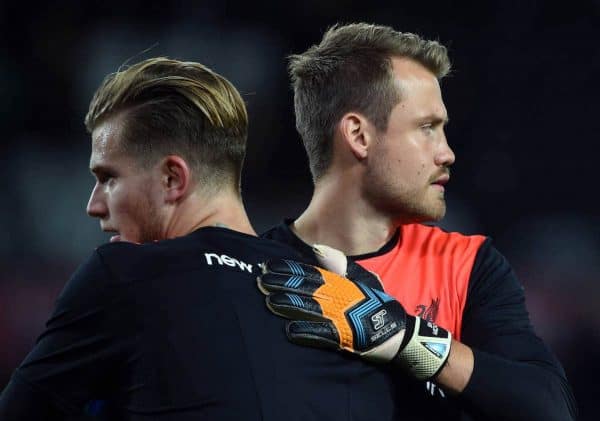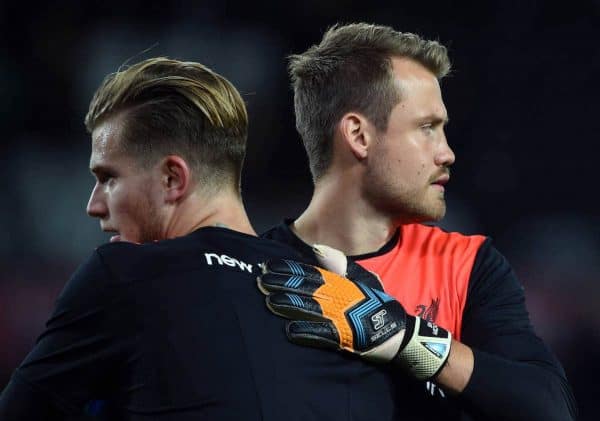 The tables below show players who've made more than five appearances for their respective clubs.
There are nine teams who've opted to use their "back-up" keeper on numerous occasions for various reasons, and many have struggled to ascertain who their No. 1 is.
Goals Conceded
This first table is sorted by goals conceded per 90′ which correlates with minutes per goal conceded and gives a good indication of how many goals a keeper will concede per game, even if some have played more than others.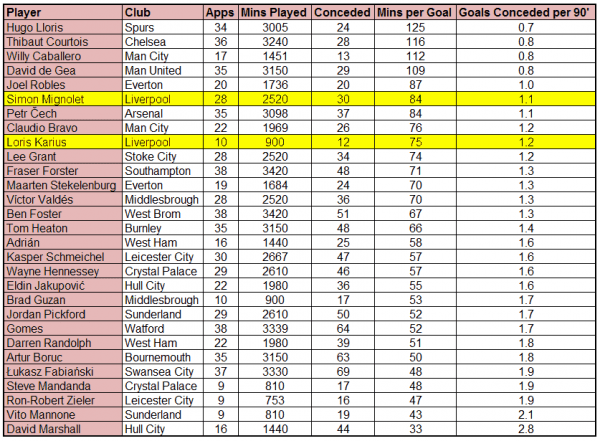 Spurs' Hugo Lloris tops the table, but his impressive numbers are also down to the outstanding defensive unit in front of him.
Mignolet and Karius are fairly even in this regard, with the Belgian just coming out on top thanks to a string of clean sheets kept towards the end of the season as the 29-year-old enjoyed the best form of his Liverpool career.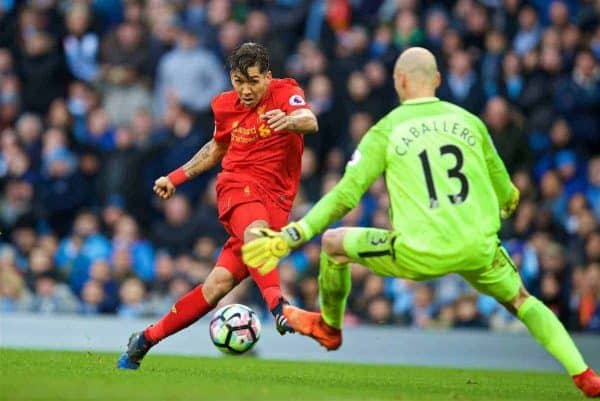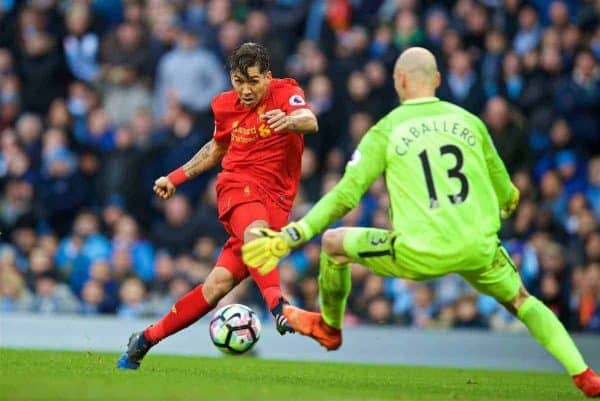 Willy Caballero's position on this list may surprise some, but the Argentine has proved an able deputy for Guardiola after new signing Claudio Bravo's early season struggles.
Saves
Saves are sometimes difficult to measure as some keepers will face more shots than others, and some will get more help from their defence when it comes to hampering the attacker mid-shot.
The table below is sorted by save percentage, which means those players who don't face many shots are also represented. This correlates with saves per goal.

Lloris tops the chart, but again this could be because the Spurs defenders and defensive midfielders make it difficult for opposition players to get quality shots on target.
Petr Cech ranks highly in this, and his large amount of saves made and saves per 90′ suggest that Arsenal's defence aren't doing a good job of keeping the opposition at bay.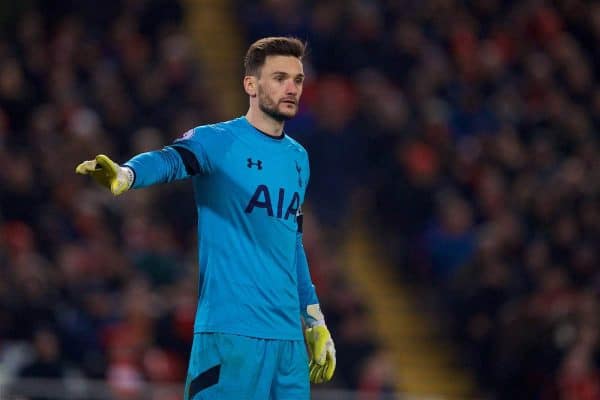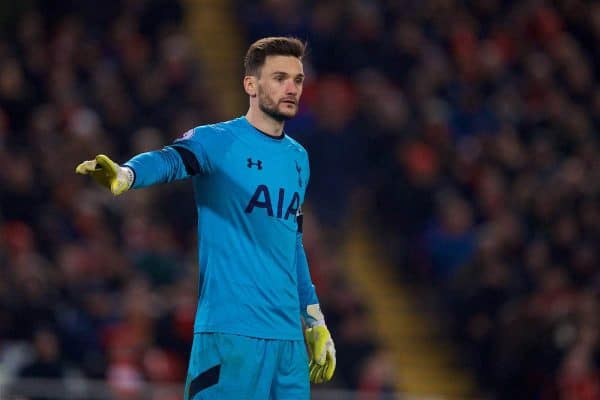 Looking further down the table, the Gunners are probably glad they got rid of Lukasz Fabianski, else their season could have been much worse than it already was.
Mignolet's low position reflects the period earlier in the season when he couldn't seem to get his hands on anything the opposition threw at him.
In the opening five games he conceded eight goals from the 18 shots he faced which would give him a save percentage of 44%. No wonder he was dropped.
Karius, meanwhile, boasts a save percentage of over 70% which goes against the reputation he had while he was in the side.
The problem he had was that his errors were high profile, and in the end he was probably dropped to let him settle away from the spotlight rather than for any performance related reasons.
Clean Sheets
Finally, a look at what you might call the bread and butter of goalkeeping statistics — clean sheets.
Any goalkeeper will tell you that to keep the opposition at nil they need the help of those in front of them, but they'll aim to direct their defence in their quest for the coveted clean sheet.

Thibault Courtois will claim the "golden glove" this season, and Loris comes out of this well yet again.
Mignolet boosted his numbers at the end of the season with an impressive five clean sheets in six games taking his total to nine for the season.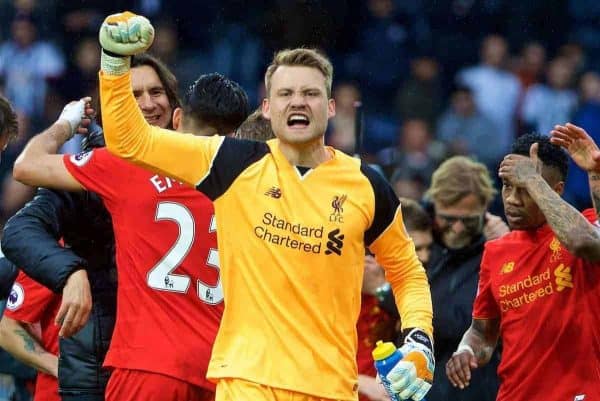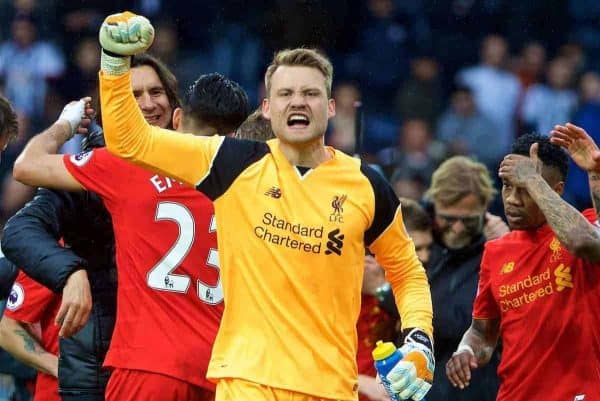 Karius managed three clean sheets in his ten games, with gives him a similar ratio of games to clean sheets as his team-mate, and he also kept three clean sheets in the cups.
While it was a bumpy ride for Klopp's keepers last season, the statistics don't reflect on them too badly.
Performances from both in the second part of the season may have convinced the manager that the Liverpool goal is in safe hands.
With Danny Ward impressing on loan at Huddersfield he may stick with his current crop of stoppers for next season, allowing him to focus on improving other parts of the squad.
* Data thanks to Barries View blog.