It's been a season of exceptional highs and unfathomable lows for Philippe Coutinho, but a tactical change means his Liverpool future looks bright.
In terms of attacking output the 2016/17 season has been Coutinho's best, but it might also be a landmark season in the player's career for other reasons.
Towards the end of the campaign Jurgen Klopp began to make noises about the Brazilian's long term role being in central midfield, and in the final games of the season he played there to great effect.
He scored three goals and notched up one superb assist for Daniel Sturridge in his last two games, and was instrumental in Liverpool's top four finish.
This took him to 13 goals and seven assists in the Premier League which is his best goal contribution for the club so far, beating his previous best by five goals and equalling the seven assists he managed in both 2012/13 and 2013/14.
His totals, shown below, further reinforce the idea that this isn't just his best return for Liverpool, but the best of his career to date.
Philippe Coutinho 2016/17
(All competitions)
Started: 31
On as a substitute: 5
Unused sub: 0
Goals: 14
Assists: 9
Average TIA Player Rating: 6.85 (Rank = 4th)
Peak Coutinho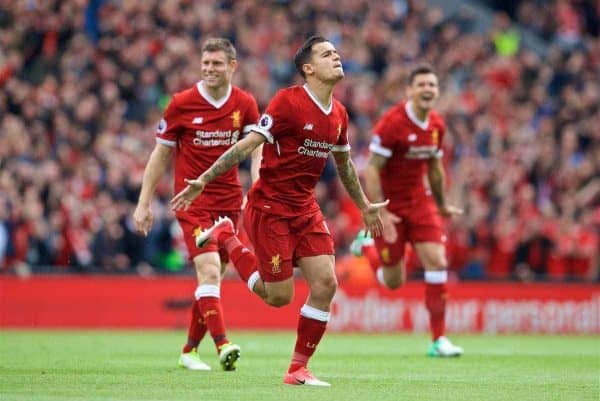 Coutinho turns 25 in June and is now approaching what are generally considered the peak years for a playmaker or creative midfielder, as he'll now become.
He began the season as he finished it, with an outstanding free kick which found the back of the net past a flailing goalkeeper.
The victim on the first day was Petr Cech, who couldn't get near the set piece as it nestled in the top corner.
He scored another in this game against Arsenal, leading to the first of nine 9/10 performances awarded by the This Is Anfield player raters.
His goals are rarely run of the mill tap-ins, and it's difficult to pick out one as his personal goal of the season.
A strike against Everton left Idrissa Gueye, one of the league's most tenacious midfielders, desperately tackling thin air as he ghosted past him.
Another impressive free-kick against Crystal Palace sees him end the season with three goals from dead ball situations, and he might now give Liverpool the set piece threat they've missed since Steven Gerrard and Luis Suarez left the club.
The two goals against West Ham exhibited great skill and composure in the final third, before his final free kick against Middlesbrough helped secure that all-important top four spot.
Irritating inconsistency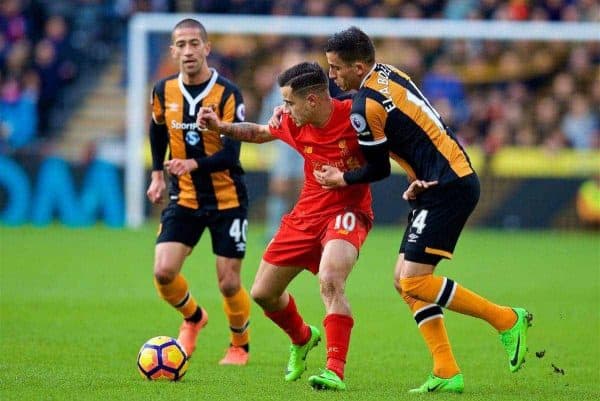 But for every impressive showing there were a handful of performances at the other end of the scale. His season was littered with below par games among his moments of genius.
Dire outings in the away defeat to Hull and the narrow home win against Burnley where he was withdrawn on the hour mark were two notable lows, and these poor displays led to his surprisingly low average rating of 6.85.
The biggest criticisms on his off days are usually based around trying to force the play with too many long shots or attempted through balls, or even worse not being involved at all.
Role in 2017/18 – Centre Stage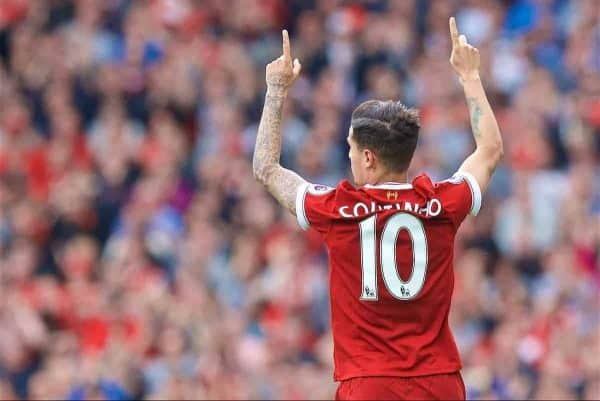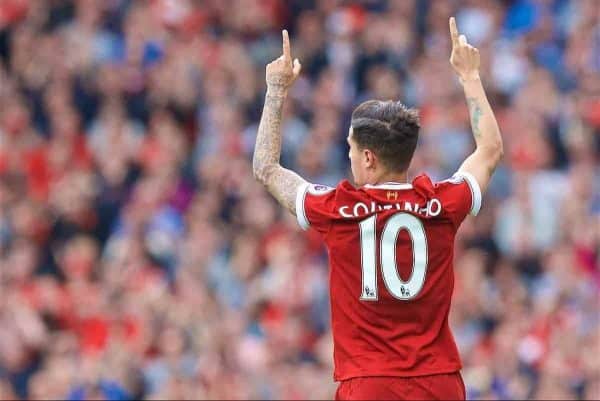 However, the move to the centre of the park should solve this problem as he'll be able to get involved in other parts of the game if his radar is slightly off.
He can help link the play with his excellent ball control and use his skill to beat opposition players with a neat feint or drop of the shoulder.
He's also bought into the pressing side of the game, and is regularly seen closing down opposition players. This defensive play could also be more pronounced as he moves into the middle.
The 2016/17 season may have been Coutinho's most productive, but next season he'll get to show the best of his talents in his best position on the biggest stage.
Should Liverpool advance past their Champions League qualifier, the No 10 will finally get the top level football he's been craving at club level.
Even if his productivity doesn't match that of this campaign his performances could eclipse it. Though looking at his performances in the last two games of the season, there's no reason why he shouldn't match or better his goals and assists tally in the next campaign.
Such is his friendship with compatriot Neymar links with a move to Barcelona are unlikely to go away, until Brazil's other star decides to swap Catalonia for Merseyside…
But if the Reds are able to qualify for Europe's top competition and remain in it for a number of seasons, then Coutinho could well become a Liverpool great and possibly captain the side in the future.
And if he can win trophies under Klopp he'll have no need to leave for these supposedly greener but often more uncertain pastures, and he could achieve legendary status at the club should he continue to turn down advances from others.
Best moment: Two goals and an visionary assist for Sturridge vs West Ham
Worst moment: Hull away
Role next season: Key player