Liverpool are heavily linked with a deal for AS Roma winger Mohamed Salah, a move which would give Jurgen Klopp tremendous depth and versatility in attack.
It increasingly looks as though the Reds are going to have to equal, perhaps even break, their transfer record to snare Salah at the second time of asking, after the Egyptian opted for a move to Chelsea over Anfield three years ago.
Now, though, Salah can join an already stellar attack if he completes a switch to Liverpool—and Klopp would finally have a genuine alternative to Sadio Mane bringing pace, direct running and a goal threat off the wing.
That's far from the only benefit to signing Salah though—as you'd expect for such a big fee.
The standard 4-3-3
We'll begin right there though: Salah as the threat from wide, cutting in from the right on his favoured left foot, running at the defence and creating shooting chances.
Where Mane's runs behind the opposition had him attacking goal on the outside more often than not—a right-footer on the right flank—Salah offers an in-from-out option, naturally on his better side as he runs onto through passes.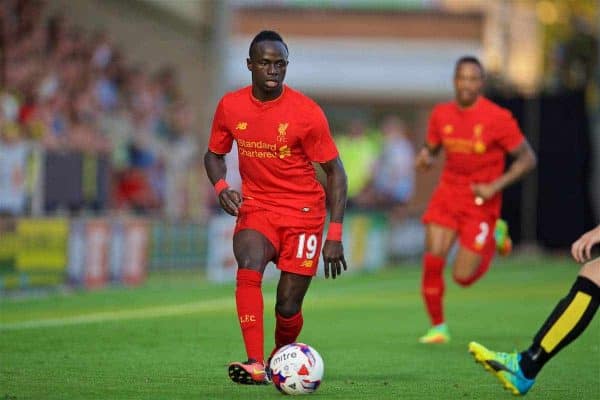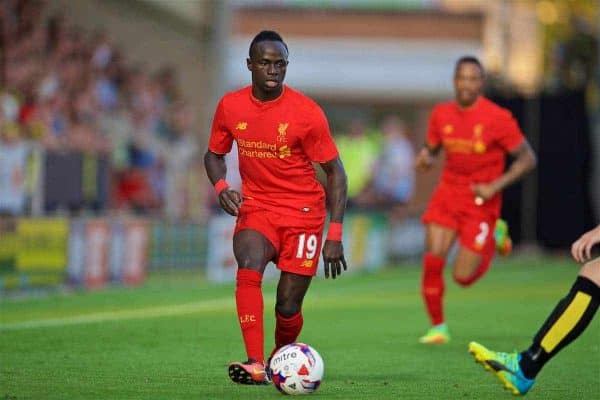 It's a small detail, and as Mane showed it's not prohibitive to score plenty when on a natural flank, but Salah scored plenty of goals in 2016/17 by opening his body as he bore down on the goalkeeper, bending a shot toward the far post.
Improving composure is a wonderful trait of the Egyptian's, but it's those diagonal runs behind, and being already set on his favoured foot, which create the scoring angles.
Mane on the left, cutting in. Salah on the right, cutting in. The centre-forward, take your pick—but Roberto Firmino's penchant for dropping deep will leave a lot of space for those two inside forwards to exploit.
Second striker
Salah didn't only feature for Roma as a wide man, though. Luciano Spalletti played with a two-man attack on occasions or played Salah in behind Edin Dzeko, and that role contributed to the Liverpool target's 19-goal haul.
https://www.youtube.com/watch?v=KqvAmXsRIBw
Toward the end of 16/17, Klopp switched to a diamond midfield with two up front and there's no doubting that Salah would excel as a forward.
While Daniel Sturridge or Divock Origi, for example, would represent the more natural, central and predatory striking option, Salah would be the man who split the attack, seeking to surge into the channels, widening the options for the pass.
The curving run of the intelligent (and pacy) forward, darting between full-back and centre-back, is one that a certain Philippe Coutinho is a master at exploiting from deep, finding the correctly weighted pass at just the right time.
And, once he's beyond the defence, there's no catching Salah.
Stretch play, wing threat
It's surely not a high-level priority, but there have been times when Klopp has switched back to his original system: 4-2-3-1, either late in games to offer more protection in midfield (essentially 4-4-1-1 at that point) or else to stretch play on the attack.
Salah's great strength isn't in constantly crossing, but there's much to be said for a left-footer hugging the touchline on occasion, pulling a full-back wide and creating space for another attacker to run into.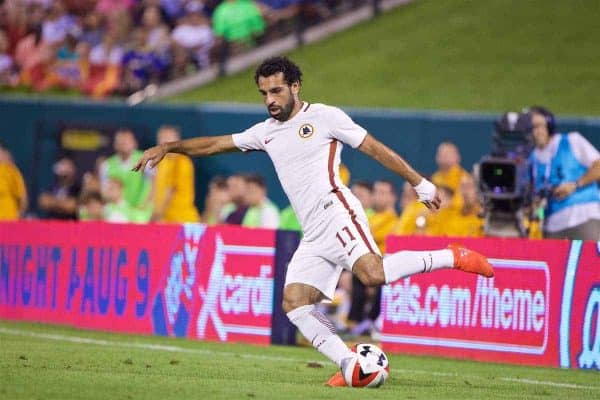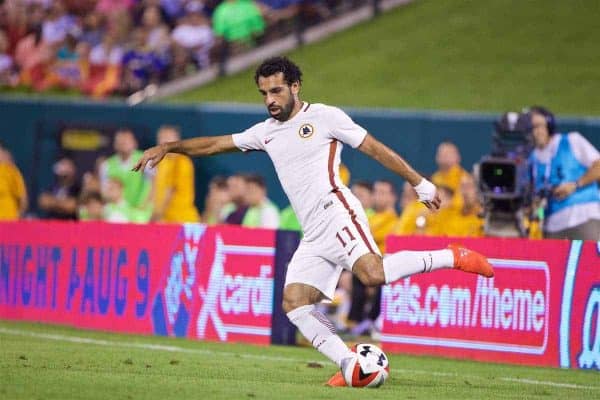 That's something the Reds don't get when Adam Lallana, Coutinho, Emre Can, Gini Wijnaldum or indeed anyone in the squad other than Alberto Moreno are placed on the left flank, and another string the bow that Salah could offer.
Most importantly of all, regardless of system and which role Salah starts in, his quality should ensure the Reds don't drop their overall level when he's in the team in place of Coutinho, Mane, Firmino or any other regular starter.
And that, of course, should be the ideal scenario for almost every transfer walking in through Melwood's doors this summer.