Dejan Lovren's inconsistency at Liverpool could come as something of a surprise considering the centre-back's form while at Southampton.
Perhaps no other Liverpool player can raise a supporter's blood pressure as quickly as Dejan Lovren.
Case-in-point: Liverpool's all-important final game against Middlesbrough last season. Lucky not to concede a penalty, Lovren was also fortunate not to concede an own goal with a panicked clearance.
Such near-disasters have seemingly become the norm since Lovren joined the Reds from Southampton in July 2014 for £20 million. At times a towering defender with a nose for goal, Lovren at other times resembles an overeager and clumsy schoolboy playing footy with his mates.
By contrast, his defensive partners—from Martin Skrtel to Mamadou Sakho, to Kolo Toure to Joel Matip—more often than not escape the same level of scrutiny, with many fans even now clamouring for Sakho's return from exile.
The fact that Jurgen Klopp recently awarded Lovren a four-year contract extension worth £100,000 per week has only exacerbated supporters' anxiety; especially now as we consider who could be holding the line for Liverpool in the Champions League next season.
So what do the statistics say about Dejan Lovren, both this last season and in seasons past?
Is it possible that Klopp might feel comfortable moving forward with him as one of Liverpool's starting XI, if they fail to close on Virgil van Dijk or any of the other centre-backs touted?
Lovren's Anfield Arrival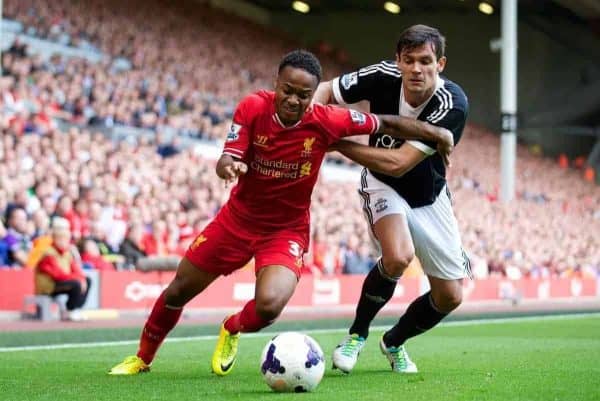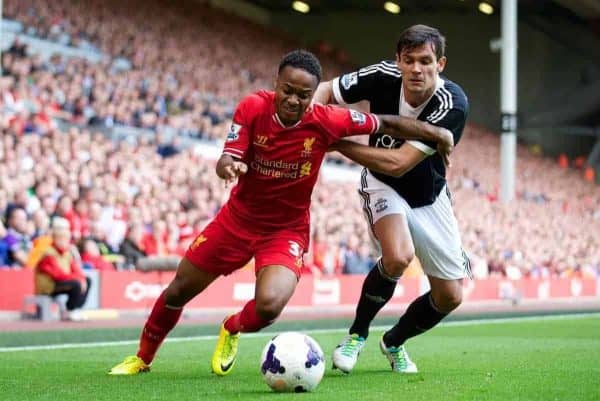 When Lovren arrived at Anfield, supporters had high expectations.
On the heels of the heart-stopping title charge of 2013/14, it was well known that our defence had cost us the title.
The obvious remedy, at least to Brendan Rodgers, was buying a new central defender to steady the ship. Rodgers set his sights on Lovren, who was one half of Southampton's formidable defensive pairing.
However, even Lovren's addition did not have a significant impact on LFC's defensive solidity.
The season of Liverpool's Suarez-fuelled adventure, Liverpool conceded 50 goals in the Premier League. The next season, 2014/15, with Lovren in the side? 48. Hardly the desired improvement, then.
Looking back, we should not have been surprised: Lovren was inserted into a back line featuring at various times such defensive luminaries as Alberto Moreno, Glen Johnson, Martin Skrtel and Kolo Toure.
But was Lovren to blame? How did Lovren at Liverpool compare with Lovren at Southampton?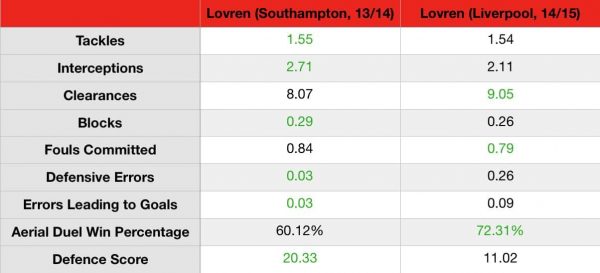 (All statistics noted via Squawka and are per 90 minutes. Green font indicates best statistical performance, and red indicates worst statistical performance.)
From a statistical perspective, Lovren improved in some respects and slipped in others.
He made substantially the same number of tackles and blocks from one season to the next, with approximately a 20 percent decline in interceptions made from the prior season.
In a few metrics, he even performed better for Liverpool. For example, his aerial duel win percentage went up markedly, from 60 percent to above 72 percent.
He also made nearly one additional clearance per 90 minutes than he had managed for his former team.
Presumably, however, it was two other metrics which brought his 'Defence Score' down so drastically, where he went from a massive 20.33 in his final year at Southampton to a more pedestrian 11.02 in his first year at Liverpool.
Whereas at Southampton he had a low rate of defensive errors per 90, with 0.03, his error rate exploded at Liverpool the following season, coming in at 0.26—nearly a 10-fold regression.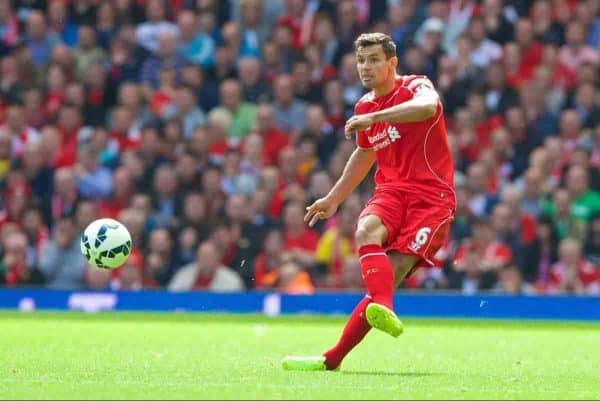 By contrast, Sakho during the same 2014/15 season had an error rate half that of Lovren's: 0.13. And, lest we all forget, Sakho is known for looking somewhat haphazard on the ball. Yet, it was Lovren who was twice as likely to make a defensive error.
Relatedly, Lovren's average of errors leading to goals also rose dramatically. Whereas he had made 0.03 errors leading to goals at Southampton, he was three times worse (0.09) in his first season at Liverpool.
Again, by way of contrast, Sakho in the same season was 33 percent less likely to allow a defensive error to lead to goal.
Small wonder then, when combining Lovren's error rate with an already panicky Simon Mignolet, Liverpool's defence in 2014/15 was enough to give us heart palpitations.
Regression is a Four-Letter Word
Now, several years on, it is fair to ask: has Lovren changed as a player? And, if so, in what way?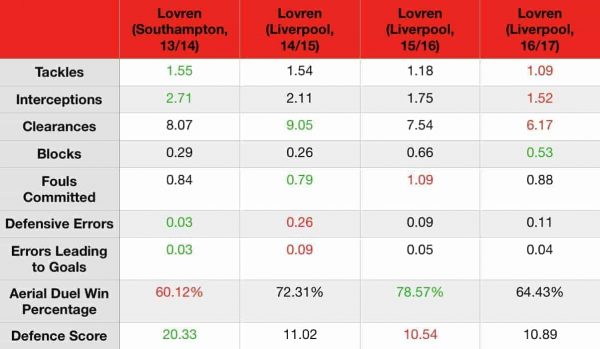 The answer is clearly yes, he has changed. Unfortunately, the answer to the second question is that he has changed in a way that Liverpool fans will not be happy about.
Comparing his 2016/17 season to that of 2013 to 2016, Lovren has experienced a decline in nearly every metric.
In fact, the conclusion looks statistically inescapable: Lovren performed worse for Liverpool in nearly every way compared with his final season at Southampton and his first season at Liverpool.
Of the nine categories noted above, Lovren this season put up the lowest marks in three of those: tackles, interceptions, and clearances. Across the last two seasons, he performed worse in five of the nine categories.
Only in one respect—blocks—did he improve statistically this season, and even that was a reversion from last season's peak.
Admittedly, his error rate has improved from its nadir in 2014/15. Although still higher than it was at St. Mary's, it is not as catastrophic as the first year he joined Liverpool.
Comparison With Joel Matip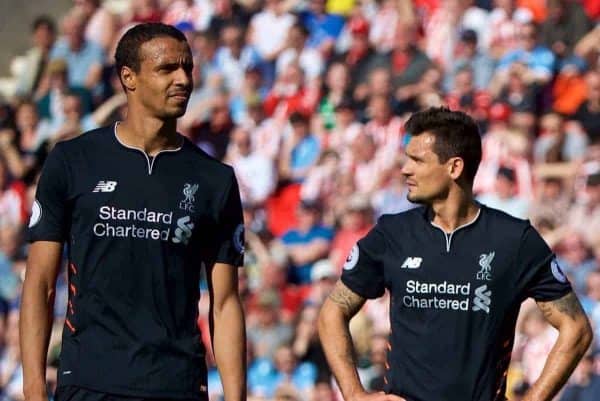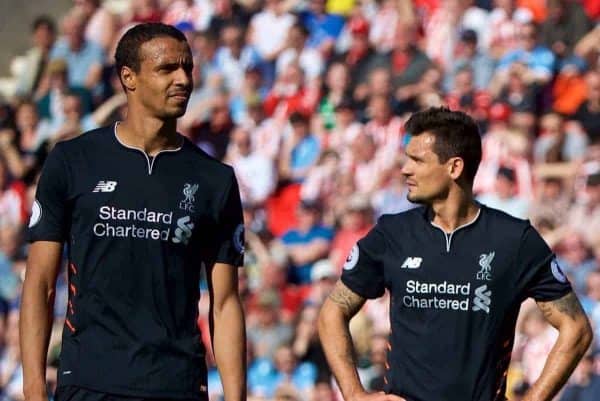 So Lovren has not performed this season even as well as he had performed in his first season at Liverpool.
It would be fair to note that Liverpool's defensive scheme has made it harder on him to do so.
After all, it is possible that some of Lovren's statistical decline is due to Klopp's preference for 'heavy metal', aggressive football. It stands to reason that the more players that flow forward in attack, the fewer there are in defence.
To isolate that factor, let's compare Lovren's statistical performance last season with that of his defensive partner, Joel Matip.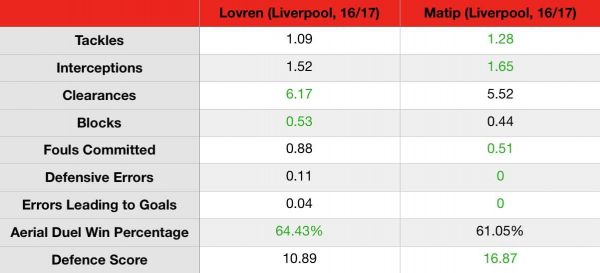 In most respects, Lovren rates second-best compared to Matip. The Cameroonian makes more tackles and interceptions, while committing fewer fouls.
Admittedly, Lovren makes more clearances and blocks, although perhaps both of these statistics could be attributed to an inferior defensive starting positioning.
Where the rubber really hits the road, though, is in terms of error rates and overall defensive score. Matip simply does not make defensive errors, let alone any contributing to goals.
This, among other factors, likely explains the massive difference in the overall 'Defence Score' of both players last season, with Matip showing his genuine class.
Interestingly, comparing Lovren's last season at Southampton to Matip's first season at Liverpool, Lovren then was in most respects statistically superior to Matip now.
He made more tackles, interceptions and clearances, while Matip performed better with regards to blocks, fouls committed, defensive errors, errors leading to goals and aerial-duel win percentage.
Most critically, Lovren's 'Defence Score' in his final season at Southampton was 20.33. Matip's in his first Liverpool season? 16.87.
What does this show? That Lovren once performed better than he has recently, and even arguably better than a player who promises to be a foundational member of Liverpool's back line for years to come.
Explanations or Excuses?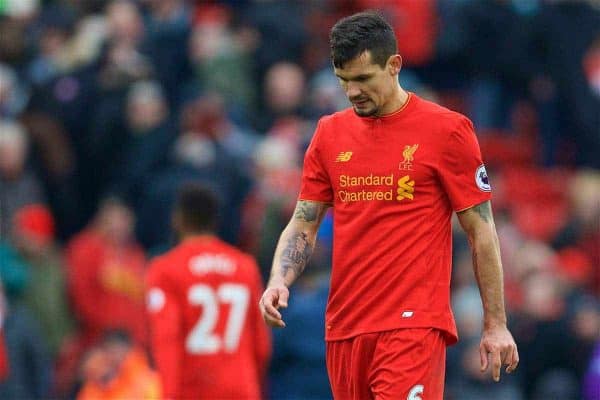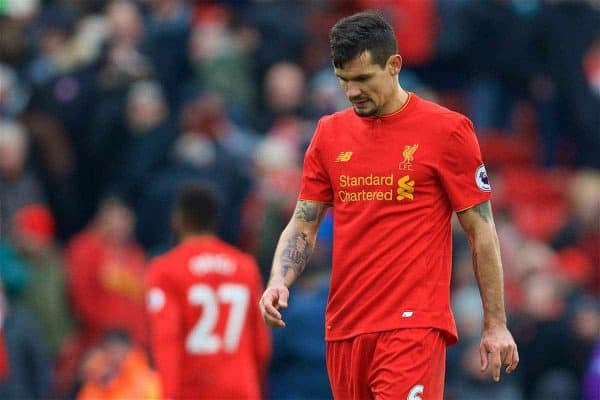 So, what has happened to Lovren? There are several possible explanations.
First and most obviously, Lovren simply may not be the player he was at Southampton. While this would be a surprise, as the 27-year-old should be at the peak of his powers, it is possible.
Another explanation is that perhaps Liverpool's defensive setup is not as favourable to Lovren as Southampton's.
At Southampton, Lovren was paired with Jose Fonte and shielded by Victor Wanyama. Before Joel Matip arrived at Liverpool, by contrast, Lovren was routinely paired with other error-prone defenders, which may have exacerbated his own weaknesses.
However, those arguments ignore that Matip has played with the same lack of defensive cover in a team designed to defend from the front.
Indeed, that Matip has outperformed Lovren so handily, particularly when considering overall 'Defence Score', indicates at the very least that Klopp's brand of football has not impacted Matip as it has Lovren.
Next Season and Beyond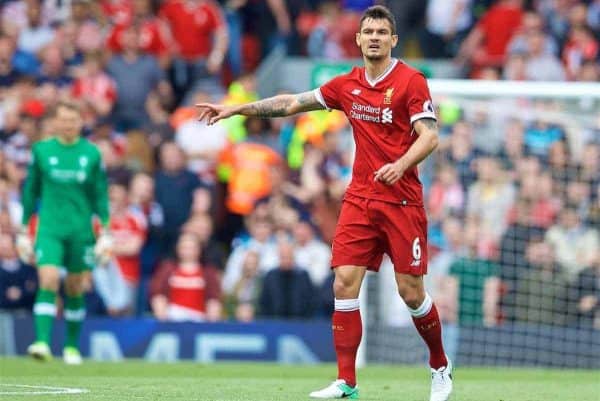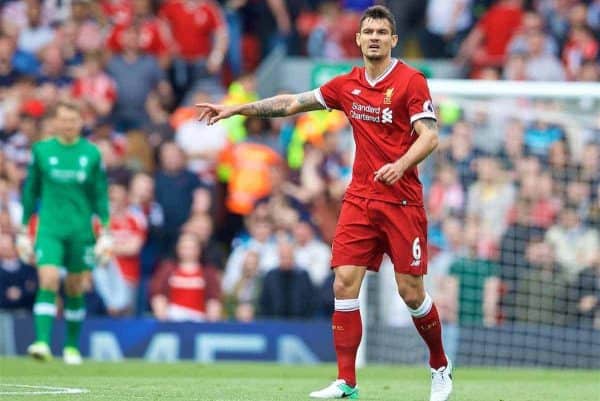 Having seen what Dejan Lovren was capable of at Southampton, supporters are rightly disappointed that he has not shown the same quality for Liverpool, despite some memorable moments (the winning header against Borussia Dortmund springs to mind).
Nor, given his steady decline in most metrics, does it seem likely Lovren will be able to turn it around next season.
That is not to say that Lovren cannot do a job for Liverpool. There is no disputing that he was once better than he has been recently. And, he has certainly shown admirable fortitude under far more trying circumstances.
Liverpool can rely on him to help as needed when necessary, and at £100,000 per week, they are entitled to nothing less.
However, for Liverpool to move forward next year both domestically and in Europe, it is clear that—barring a return to the Southampton form that earned Lovren a Liverpool transfer in the first place—Klopp and his backroom staff are right to look elsewhere for a starter to pair with Matip.
I hear Blackpool is lovely this time of year…