Brasileirao Serie A side Gremio have reaffirmed their interest in re-signing Liverpool midfielder Lucas Leiva, 10 years after his departure.
Lucas left Porto Alegre for Merseyside in 2007, with the Reds signing the Brazilian in a £5 million deal ahead of the 2007/08 campaign.
Last season was likely to have been his last with Liverpool, having marked a decade at Anfield, presented with a commemorative honour by Kenny Dalglish in May.
Attracting interest from newly promoted sides Brighton & Hove Albion and Newcastle United this summer, Lucas should also have the option of returning to Brazil.
Speaking ahead of his side's 3-3 draw with Cruzeiro in midweek, Gremio football vice-president Odorico Roman confirmed that the club were interested in signing Lucas this summer.
However, he stressed that no deal was in place at this stage, just that "at any moment we can make contact."
"Lucas is a great player, signing him would make an impact," he told Zero Hora.
"If there is a possibility within the financial conditions of the club, and that also serves Lucas' interest, it is possible that he may come.
"At this time, there is no negotiation. I talked to him a few days ago, at any moment we can make contact. But he is also aware of the interest of other clubs.
"There is, yes, possibility of him coming, but there is nothing in progress right now."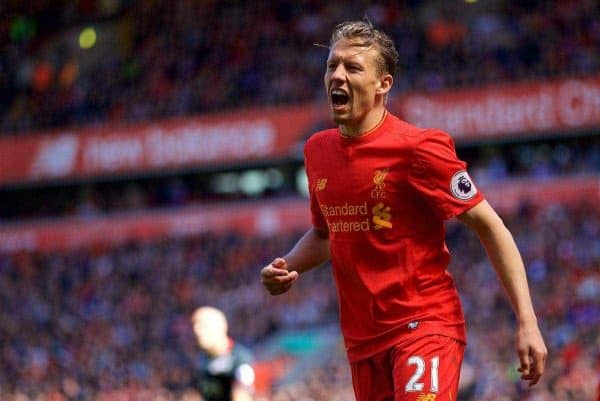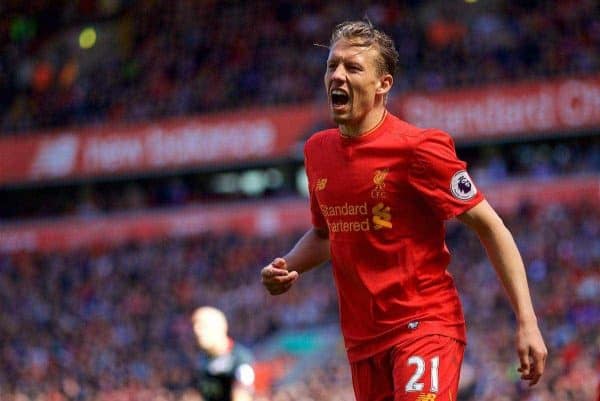 Lucas is currently in Brazil following the conclusion of the 2016/17 campaign, attending Roberto Firmino's wedding in Maceio on Wednesday.
While there is the opportunity to continue his playing career in England, Lucas may opt to stay in his homeland, as he admitted earlier in June that he would be interested in returning.
"There was an offer from Gremio in January but I wanted to complete 10 years at Liverpool," he explained.
"Now in the window we had a conversation, but nothing official. I do not hide my desire to return to Gremio, but there are several factors."
One of those factors is likely Gremio's financial capability, with Lucas earning a considerable wage at Liverpool, while the club are rumoured to value him at around £4 million.
At 31, Lucas still has plenty to offer to a side operating in the European top flight, but the offer of returning to Gremio is clearly appealing at this stage.