With the fixtures for the new Premier League season out this week, we look at why a winning start could prove critical for Jurgen Klopp and fans alike.
Focus is already quickly turning to the 2017/18 campaign and that's a good thing, because Liverpool supporters aren't, all things considered, particularly good at the off-season.
Whether it's affecting disdain at international tournaments, deriding transfer rumours (or the embarrassing apologies that come with them) or baulking at huge fees, there's just not a whole lot of enjoyment to be had between June and August.
But then, it all starts again, and optimism and belief in the team inevitably soars like nowhere else. In 17/18 that will count for double: the Champions League is back, the Reds are a formidable attacking force and, above all else, Jurgen Norbert Klopp is manager.
The opening day sets the tone, though.
That surge in opportunism and confidence can last a bare 90 minutes, or that same hour-and-a-half can ensure it endures for months to come. The opening day of the season has a tale to tell.
Rafa and the end
It's simplistic to suggest a single result can predict what is to come over the next 10 months, of course. If it were that easy, the Community Shield would go to the Premier League winner every year and a 5-0 hammering on match day one would mean instant relegation.
Perhaps it's not quite so simple, but there's certainly cause to suspect that the first day of the season sets the tone and expectation, at least for Liverpool.
Cast minds back to 2008/09. Rafa Benitez is in charge, the Reds are a force at home and in Europe, though silverware hasn't too frequently arrived even after Istanbul and all the madness that came with it.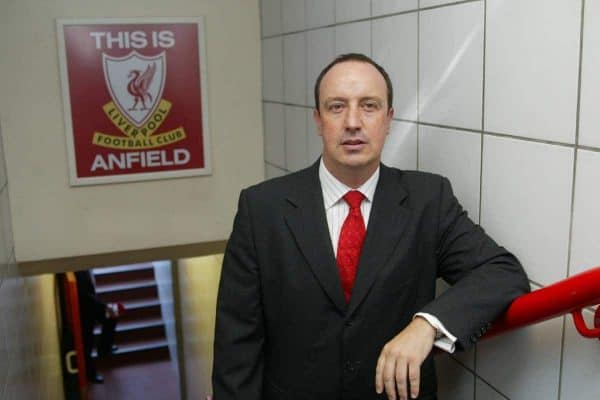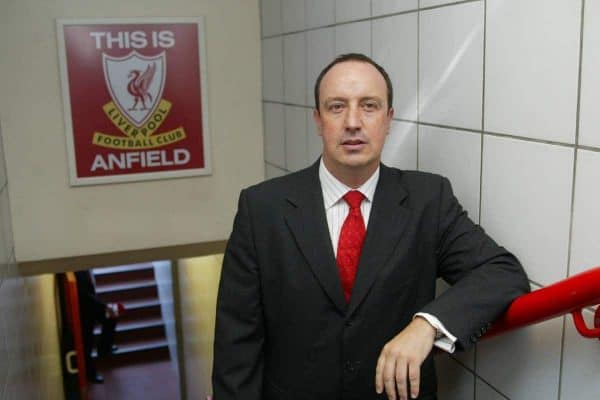 Rafa took the Reds to Sunderland on the opening day; the team wasn't fluid, didn't dominate relentlessly, but came out with a 1-0 win thanks to Fernando Torres. Good, but not perfect. Fast forward to May and that slight lack of perfection cost the team.
The Reds finished second, despite losing just twice all season.
Summer came and went, optimism returned among the fans—and then Tottenham saw off Liverpool on the first day of 09/10, 2-1 at White Hart Lane.
Belief was gone, predictions of a title tilt were gone and Benitez himself was gone at the end of a season which saw his "guarantee" of a top-four finish crumble, with the side ending seventh.
Enter the horror of Hogdson.

Roy's first league game was an eventful 1-1 draw with Arsenal, and it similarly set the tone for the year ahead: not good enough to beat rivals, even on home soil, with disappointments throughout from the new signings. In this first case, it was a debut Joe Cole red card.
Liverpool ended the 10/11 season eighth, thanks to the new manager bounce provided after Kenny Dalglish replaced Hodgson midway through the campaign.
Hope springs eternal…until it doesn't
Kenny's Reds were impressive at times, but lacked consistency and, it can be said looking back on the side a few years later, real quality, especially in midfield.
Unsurprisingly, the opening day of 11/12 told the tale of his full campaign in charge: a 1-1 draw, just one of 14 matches that season which the Reds took a solitary point from. At home, the Reds managed only six wins—the frustration against Sunderland on day one was a clear sign of things to come.

The owners reacted; Dalglish was out and in came Brendan Rodgers, FSG's choice and the man to lead the revolution.
Chatter about Liverpool was awash with quotable tidbits: death by football. Possession-based philosophy. A 4-3-3, playing through nine zones.
Here was a manager to usher in a new age, a period of domination from Liverpool, changing the style of the team top to bottom, front to back. Optimism, belief, confidence.
Rodgers lost his first league game in charge, 3-0 at West Bromwich Albion.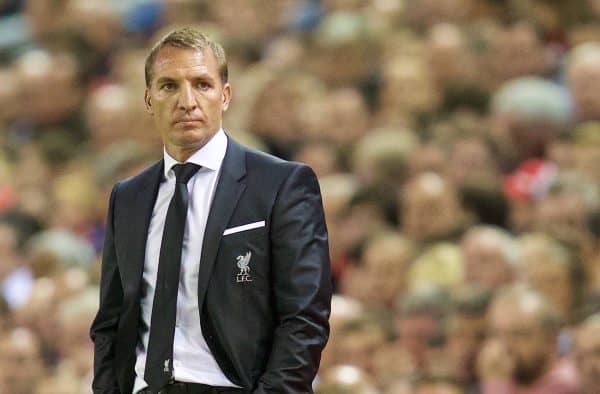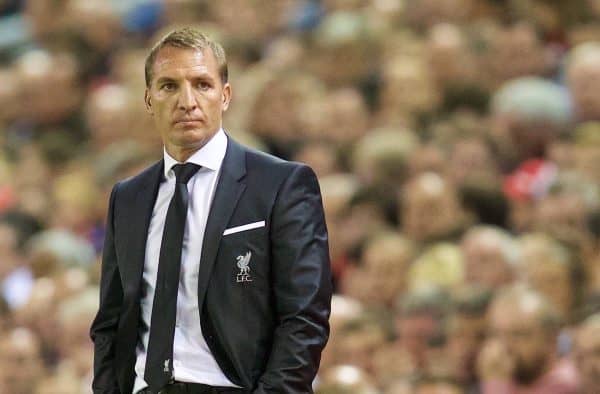 It was a dreadful hammer blow of realisation, that a) the team actually wasn't all that good, b) Rodgers' style would take more than a pre-season to implement and c) Liverpool needed to buy a forward, fast.
Andy Carroll didn't fit, Fabio Borini was still young and Luis Suarez, while incredible, needed support.
It didn't happen, Liverpool went on to finish seventh.
Still, it was a building year, and that was accepted. The following campaign there was a lot more expectancy of progression, especially after the mid-season additions of Philippe Coutinho and Daniel Sturridge had proven such quick successes.
13/14 started with a win. And not just any win, a fine performance, a deserved lead and a stern defence to hold out 1-0…until the final minutes, when Stoke won a penalty.
Debutant Simon Mignolet saved the spot-kick, saved the rebound, and Liverpool won. This time, it felt different…and boy, was it ever.

Rodgers' rampant Reds blew away the competition at times that season, smashing rivals and minnows aside alike with Suarez, Coutinho, Sturridge and Raheem Sterling, in particular, creating an irresistible force of tsunami-style swarming Red attacks.
It was so close to being everything, so close to the title. Liverpool finished second, but the season was one to remember, just as the opening day had hinted at.
Klopp: past and future
Rodgers couldn't sustain that momentum, however, and his reign lasted just one more full season.
In terms of the opening day being a marker for the year ahead, 2014/15 is the definite outlier: the Reds weren't good against Southampton, but still won 2-1 thanks to Sturridge's winner. It was a close game, won by a moment of inspiration, but the performance wasn't all that was hoped for after last season's form.
As the year went on, Rodgers' team and tactics deteriorated and a sixth-place finish was the beginning of the end for the Ulsterman.
He started 15/16 in charge, winning 1-0 at Stoke, but was gone a few months later with Jurgen Klopp coming in to fill the hotseat.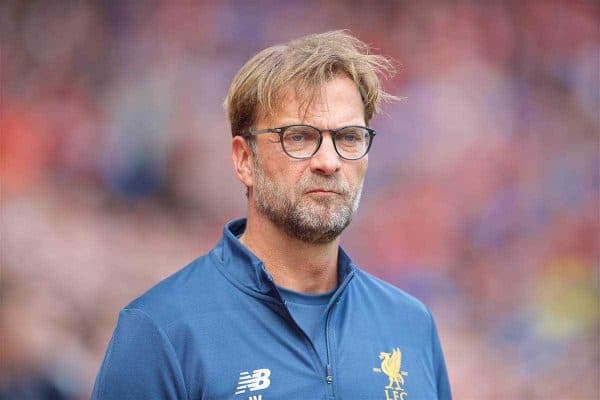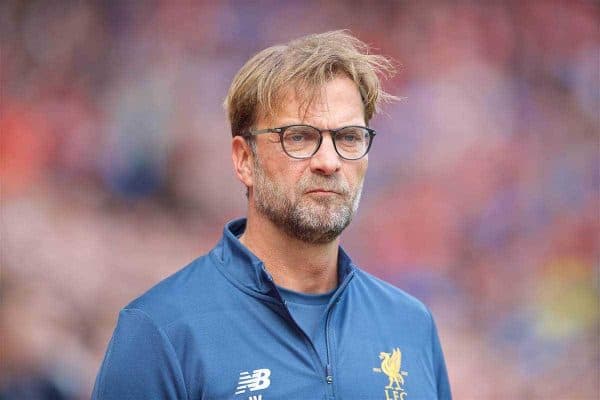 More than half a season in charge gave the German time to assess both his squad and the competition, room to work out what he needed to improve a team which went on to finish eighth. Could he start his first full season in charge with a win? Would a win herald successes to come?
The first game of 16/17 showed much more than just a win; it was a microcosm of Klopp's side.
Unstoppable in attack, ridiculously open at the back, the Reds saw off Arsenal 4-3 at the Emirates Stadium. Liverpool were better than Arsenal all year long and duly finished in what has traditionally been seen as the Gunners' own spot: fourth place in the league.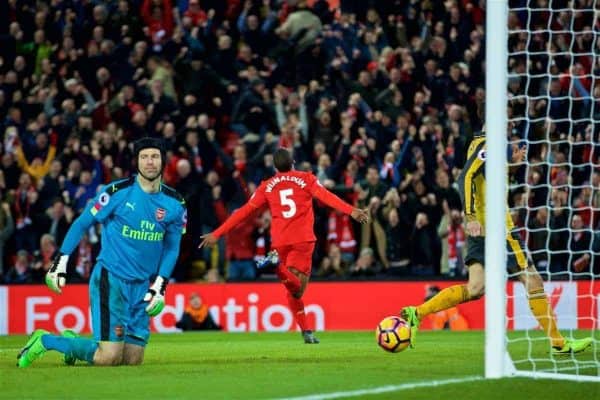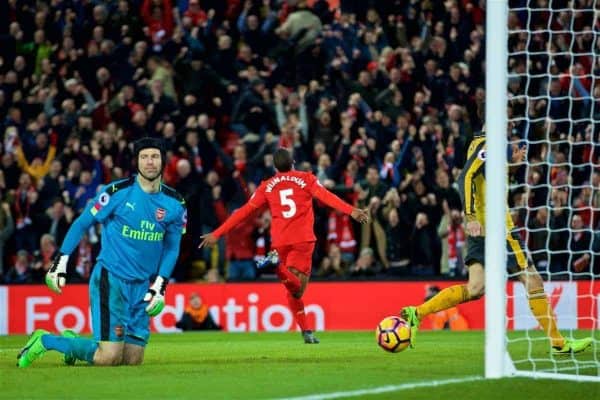 That gives Liverpool European football once again. The Champions League is back at Anfield—for at least one evening, and hopefully several more—but before excitement builds over Continental confidence, domestic dominance must be established.
The competition will be fierce once again in the 17/18 Premier League, so every three points counts.
And if the opening day is to herald what comes over the next 10 months…well, given the Reds' record in 16/17, a home game against a top-half side might be just the ticket.
Just not Southampton, maybe; after all, we never score against them, and we don't want to kill the optimism too soon, do we?