It's been a rollercoaster 10 years for Lucas Leiva on Merseyside, but the boy from Brazil leaves with love from Liverpool fans, as Danny Gallagher writes.
Many of you at some point will have been familiar with the process of waiting for players' autographs. Be it as a young kid or a parent. Waiting after a game or attending a meet and greet. That sort of thing. It's special, as a youngster, seeing your heroes up close and personal.
In my early teens I once hung around outside the then-Reebok Stadium following what was typically always a tough away trip against Bolton. It was freezing and impatience hung in the air, felt by players and fans alike.
As the lads rolled out in their twos and threes the waiting crowd made a beeline for Fernando Torres, the Kop sweetheart who was fast on his way to cementing himself as the finest striker in world football.
Gerrard, Alonso, Mascherano – were each soon bombarded from all angles, to the point they politely declined and headed for cover.
I wanted my home shirt signed before the season drew to a close, a happy momento of Rafa's growing dynasty. Two hour's wait however and all that was etched upon the red, rain-damp material were a few meagre daubings above the Carlsberg branding, half a Pepe Reina signature and what looked like a stabbed doodle from Peter Crouch as he hurried down the line.
It seemed like a write-off, a case of hard luck. Until one of the club's more recent signings came pottering out.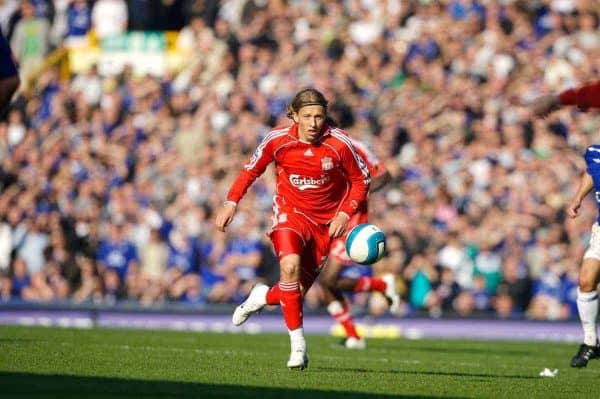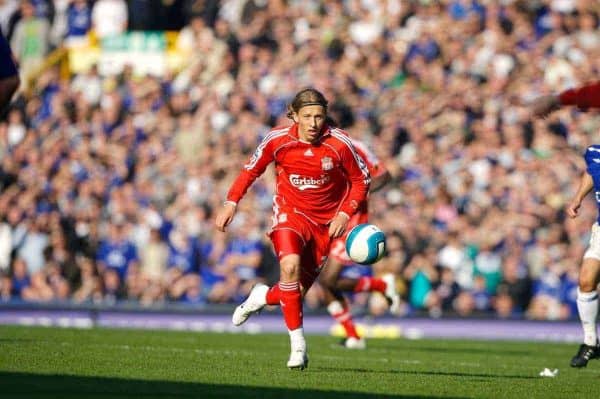 A young, diminutive midfielder with the most slender of frames, looking more like a Bee Gee than a professional footballer. Or perhaps a contender for the most generic Glastonbury attendee you could possibly imagine. Long blond hair to his shoulders held in place by an Alice band – nobody knew much of Lucas Leiva.
Perhaps it was because he hadn't got on in the game that few fans headed over to him. But he waited all the same, signing politely for whoever arrived.
Gestures go a long way in football, and more often and not it's the little things which make a big impression. Taking the pen and pulling the shirt taut, Lucas didn't just sign with his name and number, but instead drafted out a proper message consisting of best wishes and a thanks for coming to the match.
It doesn't seem like much but, now 10 years on, it's vastly indicative of one of the most loved players the Kop have taken on as their own.
Lucas sealed his move to Lazio this week and in doing so booked himself a permanent booth in the club hall of fame. Cult status, not a bad word against his name.
Tough beginnings
But it's all too easy to forget or gloss over the hardships of Lucas's Merseyside journey, one which easily could have seen him scratched off after 18 months, destined for the backwaters of a European lower league.

Joining in the aftermath of an impossible Champions League triumph, when belief had been injected into the club from literally nowhere, Lucas couldn't have had a tougher challenge on his hands.
Liverpool's spine was solidifying, the demands of fans were growing. Little if any patience was to be given to new signings who failed to impress.
Let's not beat about the bush – many wanted Lucas out. You may even have been one of them, those who didn't feel the boy from Gremio was ever going to offer anything to this team. It was hard to argue against it, at the time.
Resilience
Written off, it was down to the player to make a stand. That's when the resilience kicked in. A downright stubborn refusal to simply become another casualty of Premier League football.
Pre-season came and went, Lucas returned stronger. Cutting short his summer break to work with club nutritionists and bulking up, forcing himself to adapt to elite level English football.
It was against Havant and Waterlooville that his first goal would finally arrive. A curling, finessed effort from the edge of the area nestling into the top corner at the Anfield Road end.
Fans started to take note, though many remained underwhelmed.
Obstacle after obstacle, Lucas had decided he was going to be a Liverpool player and that was final. Quietly, behind the scenes, he soon bent and contorted himself to become a versatile outlet for the team. Defending deep, holding centrally, linking attack – a collection of cameos soon saw Lucas glean invaluable knowledge of the league, growing as player and studying his role.
Despite this, we were still at a point where Lucas being brought on as a substitute was greeted with disdain on the terraces – a sign almost that the depleted Reds reserves had nothing more to give.
October 2007 would soon emphasise this with crystal clarity, during a moment of what seemed like pure madness from a pack-shuffling Benitez.
The Merseyside derby. Goodison Park. Tensions hitched sky-high and the Reds drawing with their fierce rivals with time quickly running out. Aloft goes the fourth official's board, and it's Gerrard off – Lucas on. Madness. Bloody madness.

No one could believe it, least of all the captain. Gerrard's bewilderment was met with Rafa's reasoning to withdraw his No 8 because he was far too caught up in the emotion. Moments later Lucas would strike a nailed-on goalscoring effort, only for Phil Neville to turn into a goalkeeper and pull off a reflex save.
Red card. Penalty to Liverpool. Goal. Three points. Ecstasy.
It could have backfired, but Lucas was trusted enough to come on and do the task in hand. A stable consistency had already crept into his game, despite many fans still questioning his abilities. The daunting task was taken up with aplomb, no questions asked.
Strength to strength
A Scouse affinity had been struck. Lucas would go from strength to strength. Rafa would call upon his Brazilian rock in the dark times – Brendan Rodgers would draw upon him when finding his feet as newly appointed Liverpool boss.
The most un-Brazilian Brazilian ever? Perhaps. A selflessness soon saturated deep into Lucas's game. He began to play purely so others could play, picking up the slack and slicing through the menial duties with zest.
Growing in stature Lucas became the welcoming face for the club's South American imports, greeting his compatriots and easing them into life in one of the most competitive leagues in the world – acting as an adhesive glue both on and off the field.
Diego Cavalieri, Maxi Rodriguez, Luis Suarez, Phillippe Coutinho and Roberto Firmino are each among those who have benefitted from the presence of the midfielder down the years.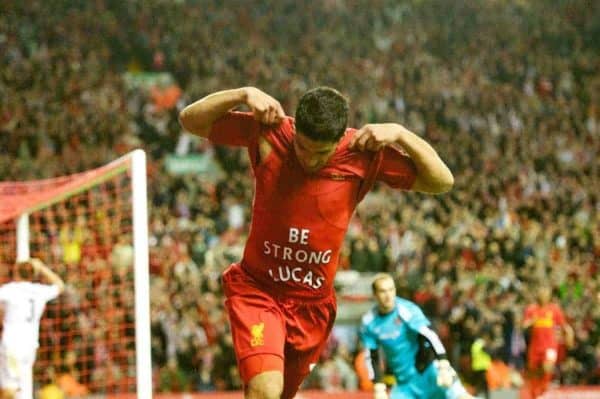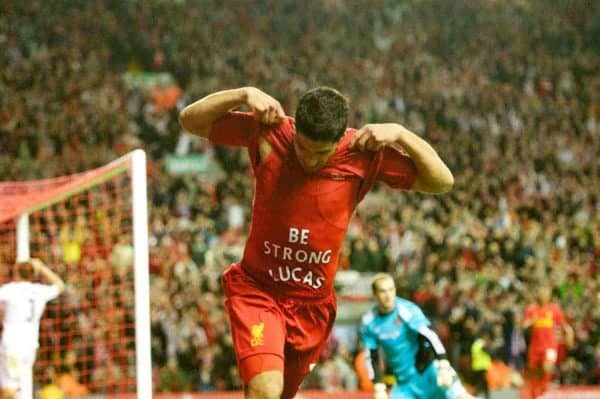 Lucas had the comfort of Fabio Aurelio when he joined, but natives from the homeland, people to make the isolating world of professional football that little bit easier, were scarce.
It is a huge testament to the player that this was another hurdle somehow manoeuvred. Home sickness and endless criticism are nothing when pitted against burning desire.
And now, after stepping in and doing a job for Jurgen Klopp last season, picking up 24 league appearances, the time is right to bow out at the top.
At 30, the tenacious midfielder still has so much to offer, and it's heartening to see his sporting desire act as the fuel to seek a final hurrah with the ambition of helping a side win serious silverware.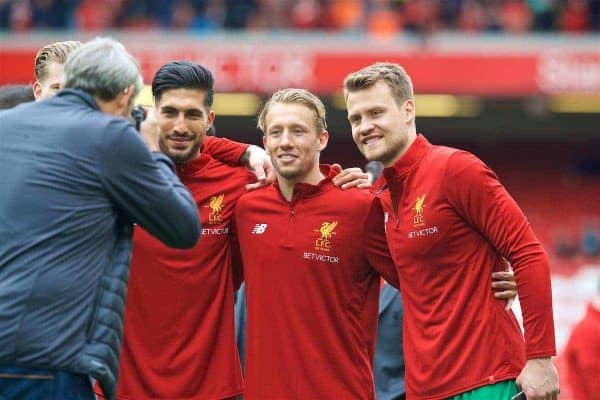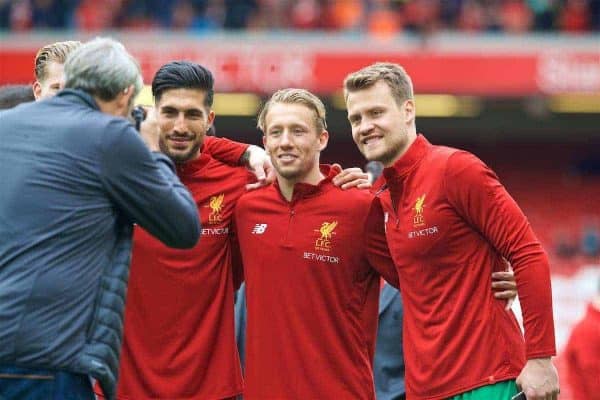 The boy from Brazil has now become a son of Merseyside. A thoroughly earned status, forever immortalised in Red.
If you were among those sticking a few quid on the young lad who resembled a goat herder getting flogged on the cheap before he reached the end of his first season, 'unluckeeeeeee.'
Thanks for the memories, Lucas.