Liverpool claimed a 2-0 victory against Crystal Palace in their first Asia Trophy game. Here's a look at the tactics which helped them do so.
Liverpool 2-0 Crystal Palace
Premier League Asia Trophy Pre-Season Friendly
Hong Kong Stadium, July 19, 2017
Goals: Solanke 61, Origi 79
Liverpool formation: 4-3-3 (4-1-2-3)
Crystal Palace formation: 3-4-3 / 5-4-1
Analysed from: TV viewing
---
"If I would be poker player, I would say maybe we should not show all our cards," said Jurgen Klopp before the game.
"But It's the same probably for Crystal Palace with their new manager with Frank de Boer.
"It's not about hiding things; we cannot hide anything anymore so it's about playing. You have to use these games like the most intense training session you could ever plan, because that's what we want."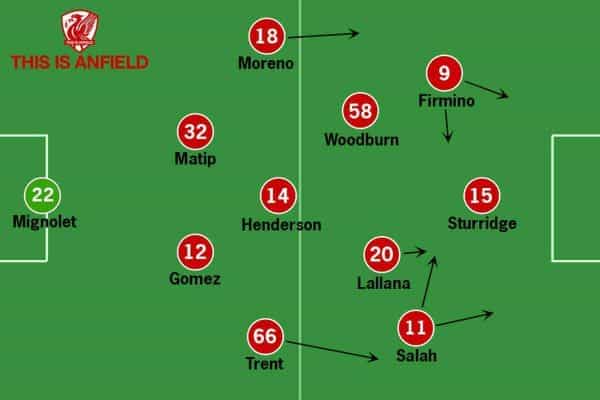 Liverpool's formation so far this pre-season has been very similar to the one which ended the last.
In this game against Crystal Palace, one of the slight differences in the team dynamic involved the preferred feet of two players.
Firstly, Mohamed Salah played on the right wing, as he did for the majority of his games for Roma, but for Liverpool he offered a slightly different style to Sadio Mane in this position due to his left-footedness.
Mane himself is fairly two-footed, as he showed with his goal against Arsenal at the start of last season, but there's no doubt that Salah is more prone to cutting inside for a left-footed shot than his Senegalese team-mate.
The second change of sides involved Joel Matip, who rather than playing in his usual right-centre-back slot, took up the same position but on the left.
Joe Gomez played as the right centre back, while Liverpool went with two attacking full backs in the shape of Trent Alexander-Arnold, and Alberto Moreno.
Moreno was rarely involved, but Trent regularly found space on the right flank.
This was thanks in part to Salah's tendency to cut in, but also due to Palace's use of a back three, which can always leave gaps out wide if the wide midfielders in the four fail to track back quickly to form a back five.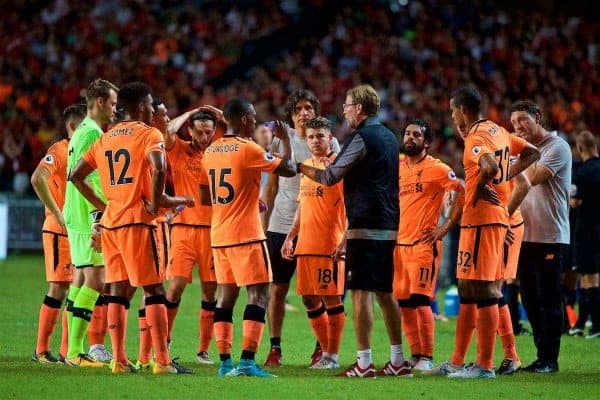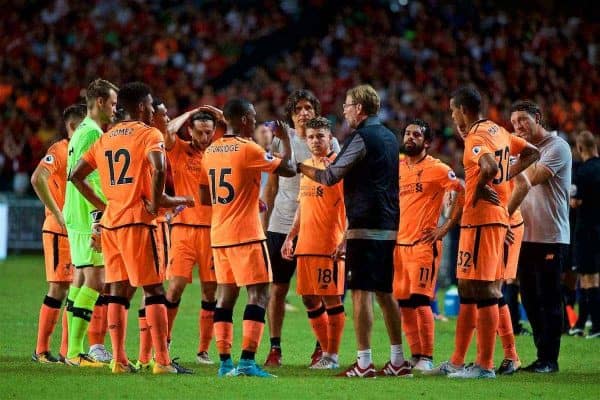 In midfield, the notable addition was that of Ben Woodburn in the role which Philippe Coutinho is expected to play this season.
He played as one of the attacking central pair, alongside Adam Lallana and in front of Jordan Henderson who was the deep lying player in the three.
Henderson exploited the space behind the Palace wide men to good effect, and regularly found Trent with some aesthetically pleasing if easily executed long passes.
The Liverpool captain looked comfortable in his role, and it's one in which he now faces serious competition from Emre Can. As well as the eye-catching long balls, his short game was also good, and he played some probing forward passes along the ground too.
Second half – all change
The second half retained a similar shape, but swapping all 10 outfield players gave the side a slightly different dynamic again.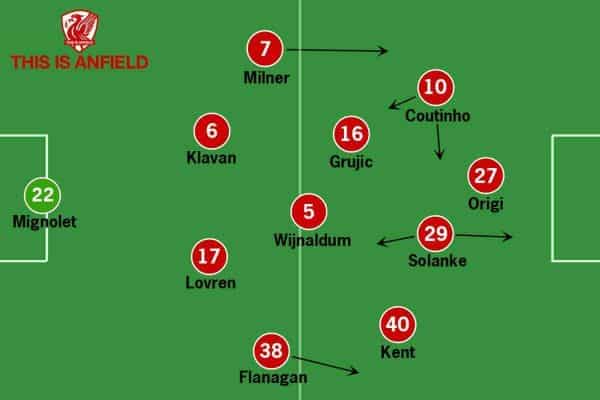 Coutinho played on the left but drifted into midfield more than his compatriot Roberto Firmino had in the first half. Ryan Kent was lively, as he has been throughout pre-season so far, and now offered a right-footed presence on the right.
This provided a much more Mane-like outlet on this side, while Divock Origi held things together as the central striker. It was the Belgian's inventive flick which set up the first goal, for Dominic Solanke.
Solanke's role was an interesting one.
He's a naturally forward thinking player, and here he took up the midfield position previously occupied by Lallana.
He posed an altogether different threat to the Palace defence when compared with the man he replaced, and his role became somewhere between attacking midfielder and centre forward, such was the regularity with which he moved up to support Origi.
Lallana regularly does this too, but Solanke has the physique of a complete centre forward, making this one of those occasions where players build and style changes a role, despite it being the same position on the pitch.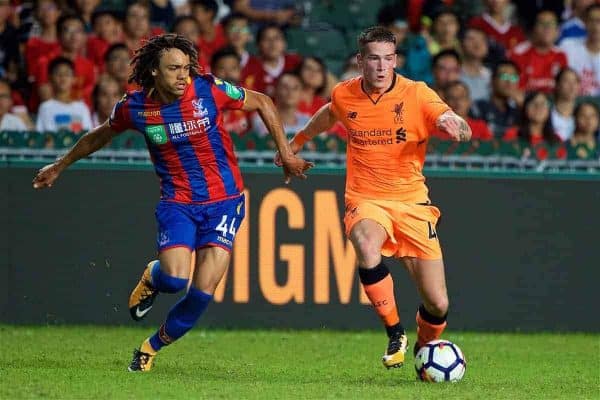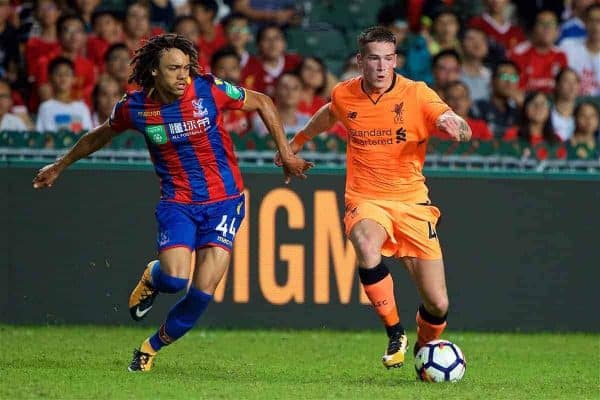 Wijnaldum played at the base of the midfield three but the general formation was much more fluid in the second half, with Coutinho and Kent also coming central to link up the play.
This allowed Flanagan and Milner to overlap, but neither did it as effectively as Trent had in the first half and the right-footedness of vice-captain Milner still means he has a tendency to come inside rather than out.
From an overall team perspective the familiar pressing was still present in defence and this provided a good workout for the players in the 45-minutes or so each had on the pitch.
Pressing aggressively means the team need to be as flexible in their positions in defence as they are in attack. The players can easily get drawn out of their starting blocks, and this means a team-mate needs to come in behind them to cover.
The defensive line looked a little more advanced than it was towards the end of last season, but this is difficult to judge from watching on TV.
However, in the first half especially there were a couple of occasions where Gomez showed good pace to cover when caught high up the pitch, and this would be encouraging for Klopp if he wants to play with a high line, and might give the player a good chance of some games next season.
"We defended well, we played good football as a team," summarised the manager after the game.
"Passing and movement was good, runs in behind were good, patience until we should have sped up, and we did."
Standout player: Dominic Solanke