After footage of Liverpool players boarding the team coach before a game refusing to sign autographs went viral this week, Steven Scragg shares his thoughts on the difficult balance of the club becoming detached from fans.
Footage of Jurgen Klopp and his players boarding a coach, while uncomfortably trying not to make prolonged eye-contact with the Liverpool supporters behind a barrier, has gone epically viral this week.
If you haven't seen the footage, Daniel Sturridge and James Milner stop to sign autographs, before climbing on to the coach, while everyone else breezes through, with barely a vague response to those asking for a signature.
https://www.youtube.com/watch?v=9cdDoj1fRBs
I've never been one for autographs myself. I've never really sought after interaction with footballers. To some people, autographs and interaction with the footballers they support is massively important, however, and there is absolutely nothing wrong with that.
On social media, as a contrast to the footage of current day Liverpool players and management ignoring supporters, there have been those iconic old photos of Bill Shankly and his players, from the mid-to-late 1960s, at Melwood, with local kids watching on, having scaled the perimeter walls. Images that used to be part of the Liverpool FC furniture.
50 years is a long time. Sensibilities, attitudes, and behaviours change. There is a slick veneer to Liverpool FC now, which simply didn't exist in 1967. Even the Liverpool of 1997 had more in common with the 1967 version than it does with the 2017 version. Once approachable football clubs, have clammed up considerably in recent times.
There is a wide difference in how they operate now, to how they did just a decade ago. It's an unedifying sight, when employees of Liverpool FC breeze past expectant and wide-eyed supporters. Heroes are portrayed as cold and uncaring.

There have always been players who didn't want anything to do with the supporters of the clubs who pay their wages. It was however down to the specific individual. Some players had time for the fans, and some didn't. Dealing with supporters was deemed a chore for some.
This is very different, however. This is the club itself asking the manager and his players not to stop and sign autographs. Players, some who would previously have been happy to stop and converse with supporters, are being ushered through at speed, into their transport. Spirited away.
From players reluctantly stopping and signing autographs, you now have the concept of players who would happily stop and sign, not being allowed to. It seems a weird way to conduct public relations.
Tony Barrett, formerly of the Liverpool Echo and The Times, is now Liverpool's head of club and supporter liaison. He's walked into a thankless job.
There is a pronounced sense of detachment between Liverpool and many of its match-going support. From what always felt like a family football club, no matter how big the on-pitch successes became, there is now a defined arms-length ethos that jars somewhat. There is no fixing that really. You can't attach the way things were done in the past, to today's contemporary surroundings. It's sad, but it's never going to be the way it was ever again.
A team coach crawling onto the old Main Stand car park, to be met by a throng of supporters, all willing their heroes on to victory, a spine-tingling experience for fans and players alike, has now been replaced by the coach disappearing into a tunnel, and the roller-shutters clattering down. Something special has been lost.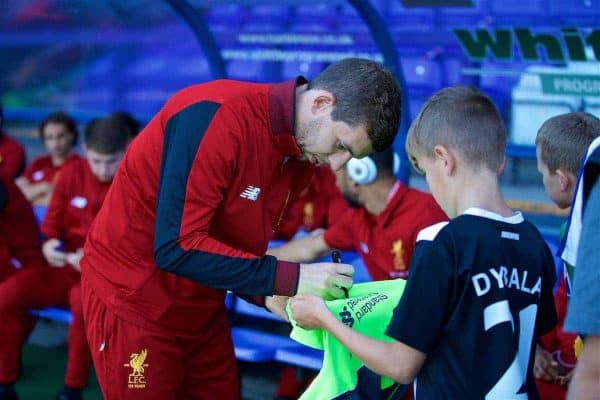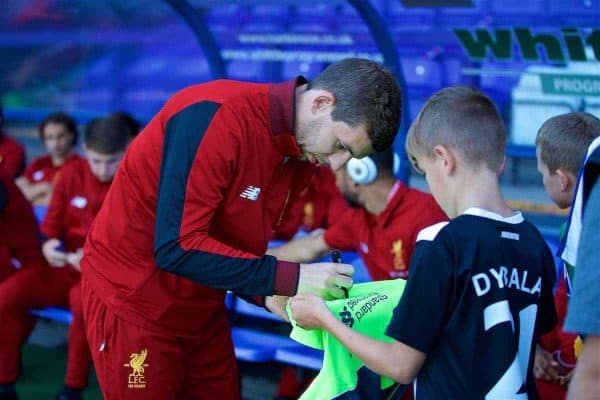 Every door to a club you could once approach quite easily, now feels like it has a bouncer guarding it. Go to Anfield to help place out the sheets of paper for a Kop mosaic, and you looked at with a sideways glance, embossed with a coloured wrist-band, then counted in and out of the ground, like a prisoner who has been shepherded out of confinement for a walk around the prison-yard. In the past, they used to leave a door open for you, and amble over for a friendly chat.
Liverpool FC used to feel like it was more than just a football club. It felt like a cause. Not all that long ago, you had Rafa Benítez tipping up in German bars for a beer, the sensory overload of Istanbul for those of us lucky enough to have been there, or marching around Cardiff behind the Rafatollah portrait. You felt like you were part of something, even when it was within an air of protest.
A decade on from the dawning of the Hicks and Gillett farce, we have a football club which appears to be in rude health in so many respects. In aesthetic, social terms, however, it just seems plain rude at times.
The problem is, in what are volatile times, a football club, and football matches, in general, are soft targets in security terms. You only need look at Borussia Dortmund last season. You only need look at the Stade de France, on that horrific night of terror in Paris in November 2015.
Football clubs, as with many other entities, have had to become more defensive beings, they've had to pull up the shutters that little bit more. They are no different to the local shopping precinct being a sea of grey security doors and windows when they've ticked past the close of business hours.
What happens however, is that if the club initially becomes cocooned in one or two areas, it soon permeates its way through all aspects. If it is necessary to monitor everyone who walks through the gate, to place pieces of coloured paper on the underside of plastic seats, then you are only a few short steps away from putting up signs on the wall, stating that the playing and coaching staff have been told not to sign autographs for safety reasons, and then placing a security guard and a dog to oversee that being played out. Why not just place the coach in a more accessible area, and permit five or six players to be front of shop to satisfy the supporters needs?
It all seems a little bit selective, and it just creates an unnecessary blanket barrier, between the club and its supporter base. I've said it before, but for quite a lot of us, Liverpool FC has become that much-loved family member, who has, unfortunately, become a bit of a knobhead over a period of time.
We love them in-spite of their behaviour, Rather than because of it. As match-going fans, do we celebrate our club, or do we now celebrate our indelible support of it?
The more our support is tested, the more bloody-minded we become. It's a fascinating cycle.