Ben Woodburn has identified the areas he needs to improve at Liverpool, as he continues to develop in a variety of roles under Jurgen Klopp.
The 17-year-old made his Reds debut in November's 2-0 win over Sunderland, replacing Georginio Wijnaldum in the final minute at Anfield.
Going on to make a further eight appearances last season, and becoming Liverpool's youngest ever goalscorer three days after his debut, Woodburn established himself as a star of the future.
Looking ahead to 2017/18, the young Welshman is not resting on his laurels, as he told LiverpoolFC.com of his aims for the campaign ahead.
"There are a few things I am looking to improve on right now," he said.
"A big difference between youth and senior football is that you've got to be mature in how you play, so that's what I am trying to do.
"There are decisions within games you can get away with in the youth teams, but in the senior side you can't—how quickly you pass the ball and not risking every single pass. Keeping the ball.
"I also want to improve my fitness levels because obviously here at Liverpool, pressing is one of the main parts of our game, so I want to get good at that because that's how we play."
"I set myself a few targets, but ultimately I just want to play some games, hopefully score some goals and win matches," he added.
"I sort of feel like I am establishing myself in the first-team setup, but I know there is a long, long way to get to where I want to be."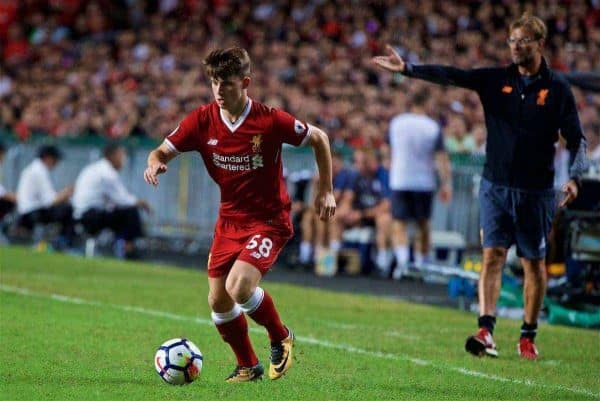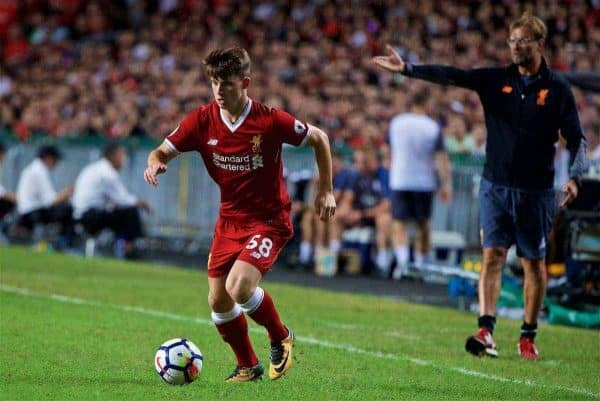 Woodburn has been operating in a new role in the centre of midfield this pre-season, and has impressed alternating with the likes of Philippe Coutinho and Adam Lallana.
The teenager attested that he hadn't nailed down his preferred position, but praised the influence of two of his midfield colleagues.
"I am only young and I don't want to put one position to my name. I still don't know which my best position is," he continued.
"I don't think anybody does at the moment, so I've just got to keep showing what I can do in different positions. In time, it'll show which position I should be playing in.
"I like playing in centre mid, but I like playing on the wing as well. I just like playing anywhere, really!
"It is good to play in midfield, especially with Henderson and Lallana because they're top players and they make it easier for me when I'm alongside them.
"They talk to me throughout games, they're good like that. They're both captains in different ways.
"Hendo is the captain, but they both speak to me, give me advice and praise and it just makes it a lot easier."
Along with Trent Alexander-Arnold, Woodburn looks set to play a bigger part in Liverpool's upcoming campaign, and the youngster seems to be thriving as he continues to progress.