Liverpool secured an important 2-1 play-off win away to Hoffenheim, with talking points around a few individual performances, good and bad.
Hoffenheim 1-2 Liverpool
Champions League Play-Off, Rhein-Neckar-Arena
August 15, 2017
Goals: Uth 87′; Alexander-Arnold 35′, Nordtveit 74′
---
Trent Steps to the Fore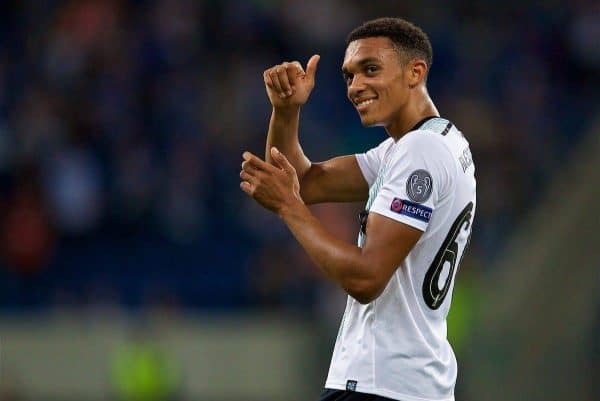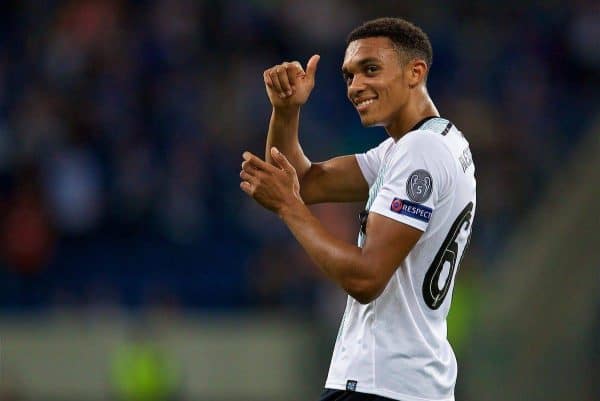 With Nathaniel Clyne out injured, Trent Alexander-Arnold has stepped into his place and become one of the more impressive players during pre-season and in the first two competitive games.
He had an up-and-down start to the game, both literally and figuratively: he attacked and defended the entire right flank with mixed success, but even if he was beaten by his man in the first instance he recovered well.
He looked dangerous going forward and did well on the occasions he found himself with the ball in central areas.
His real highlight was a demonstration of the mental toughness he possesses as a player, and it is this which will see him go far in the game.
Among a team of hesitant, slightly older, heads, Trent stepped up to take a free-kick and found the bottom corner with an excellent curling effort to give his side a vital goal.
Prior to this he'd been taking corners in the age-old Liverpool tradition of not getting the ball past the near post, but if they were just a warmup for this free-kick then you can let him off.
For the rest of the game he was excellent, getting into good positions on the overlap and defending well across the pitch.
On his return, Clyne could, and probably should, find himself on the bench.
Lax Lovren Lingers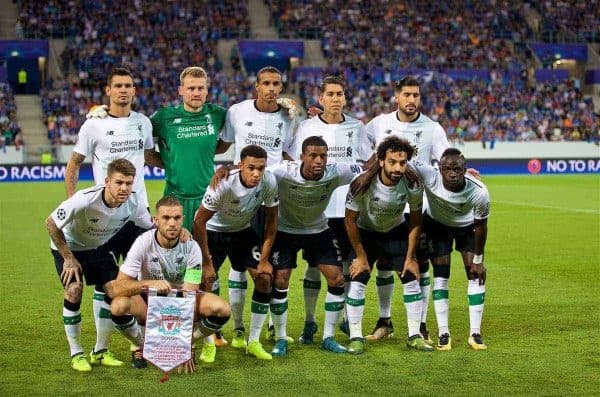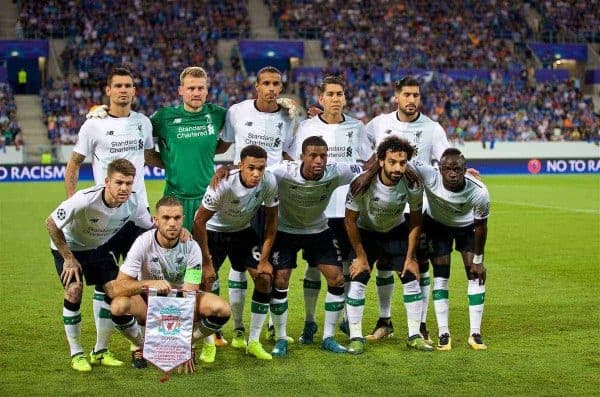 The game was barely five minutes in and Liverpool's left centre-back was lying prone as Andrej Kramaric danced past him.
Lovren's tendency to commit wholeheartedly into challenges can be useful when it comes to aerial duels, but on the ground it makes him a liability.
Lessons haven't been learned from previous mistimed tackles and they weren't during the course of this game either, as the Croatian slung a leg or two at Serge Gnabry as the ball trickled beyond him.
The former Arsenal man went down easily but Lovren's wayward attempts were clumsy, dangerous and conceded a penalty.
Towards the end of the first half he decided to argue with the referee rather than getting back to his position, leaving Alberto Moreno exposed.
There was some improvement in the second period and on two occasions he did well to get his head on attacking corners, but there was still an air of uncertainty about his defensive play.
Mane Thrives on the Left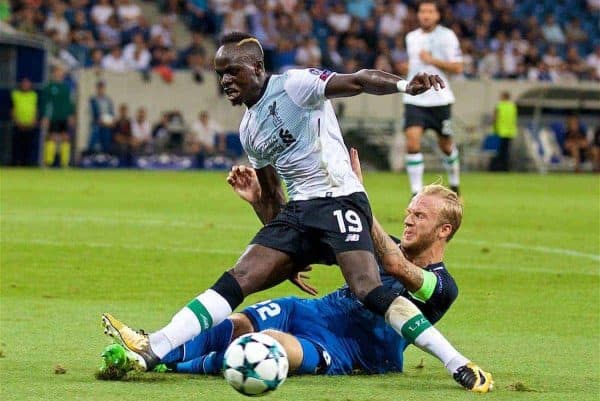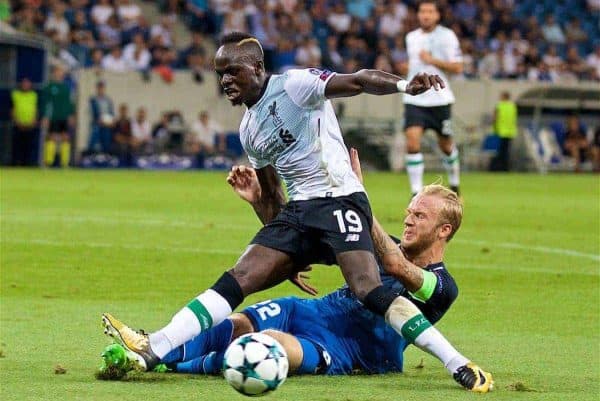 With the arrival of Mohamed Salah, it would have been easy for Sadio Mane to take a secondary role in Liverpool's wide attacking areas, but the Senegalese has stepped up his game.
Even in the difficult moments at the start of this season, Mane has looked like the player who can lift the team all by himself with a piece of individual brilliance or two, or three.
Here he showed great skill and considerable speed on the ball. Though he admitted in pre-season that the new signing from Roma is faster than him, when dribbling Mane looks the quicker of the two.
He won the free-kick which led to the first goal and Ermin Bicakcic, the man who felled him, was lucky to get away with a yellow card as there's no doubt the forward had the pace to get through on goal.
When Mane is on the ball, every man is the last man, and he continued to cause problems for the opposition throughout.
Henderson Not at Full Strength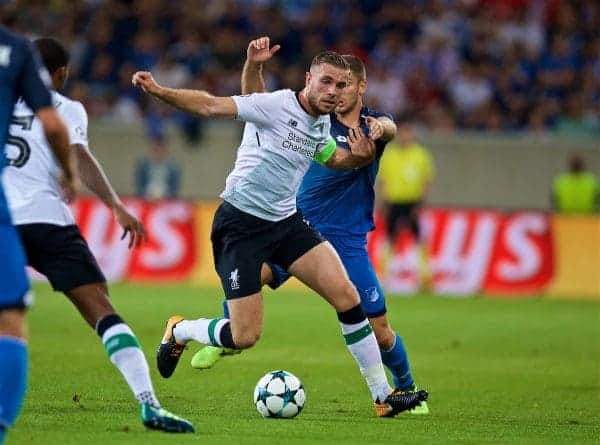 The captain's performances in the opening stages of the season have been those of a player struggling to get into top gear, or even past neutral.
He was replaced by James Milner just after the hour mark, which could have been an indication that he's struggling with an injury or fitness issues, and there were signs of this throughout the game.
Either way, Jordan Henderson isn't firing on all cylinders for one reason or another, and it's a worrying trend for a captain going into what promises to be a hectic season.
Apart from a couple of good sprayed balls out wide, his passes were heavy and poorly chosen.
His defensive work seems tireless but futile, and he was hardly ever there to cover for the attacking full-backs.
As in Saturday's 3-3 draw at Watford, he wasn't helped by Georginio Wijnaldum, either, and a lot of the midfield legwork was left to Emre Can, until Milner's introduction.
Second Leg: Advantage Liverpool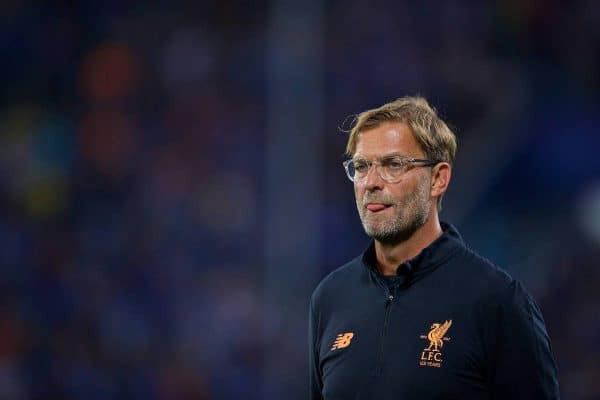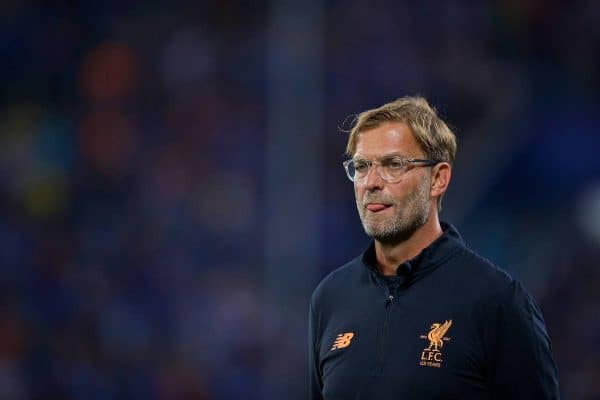 This scoreline should set it up perfectly for Liverpool at Anfield. Hoffenheim have no choice but to try to chase the game.
But, this being Liverpool, they will have to treat it as if the tie is very much still in the balance, as you get the impression that if this side concedes one, they'll concede more than one.
Klopp will be aware of this and set his side up accordingly.
The cushion isn't so big that the manager will want to heavily rotate his squad, but it may be a chance for a couple of alternatives to come into the side without weakening it.
Hoffenheim showed in the final stages of the game that they can pose a serious threat to Liverpool if the Reds set up with a focus on defence.
They don't have the personnel or the defensive structure to do that yet, which will need to be remedied if they're to make an impact in Europe this season.
In the second leg at Anfield, the best form of defence may be attack.