An under-the-radar purchase who made a big impact in pre-season, Dominic Solanke can be Liverpool's secret weapon in attack, writes Sam McGuire.
It's been a familiar theme for a number of years now. Liverpool have been good going forward but defensively ugly ever since Rafa Benitez left.
However, only a handful of times since the inception of the Premier League have the Reds been able to piece together an attacking unit with the ability to sustain a title challenge over the entirety of a campaign.
Brendan Rodgers managed it during the 2013/14 campaign but ultimately fell short after the defence let him down while Jurgen Klopp's 2016/17 team had the potential but their over-reliance on Sadio Mane came back to haunt them when he wasn't available for selection.
Klopp knows he almost struck a perfect balance last season and he's went about addressing the issues this summer. Mohamed Salah arrived from Roma and with it Liverpool have an alternative to Mane.
He's the left-footed answer to the former Southampton speedster and he's already adapted to life as part of the attacking unit. His understanding with Roberto Firmino and Philippe Coutinho look like ones to watch.
But Salah isn't the wildcard this season: that title could well be bestowed upon Dominic Solanke.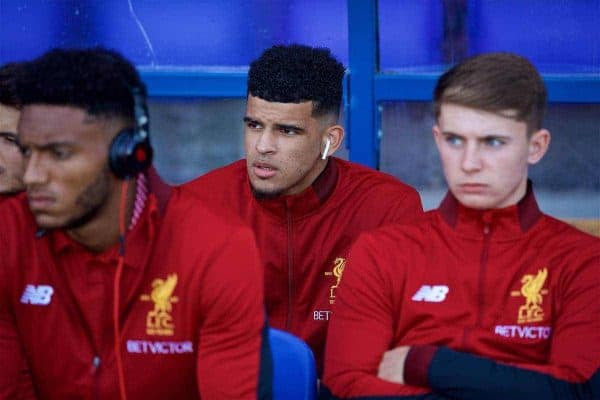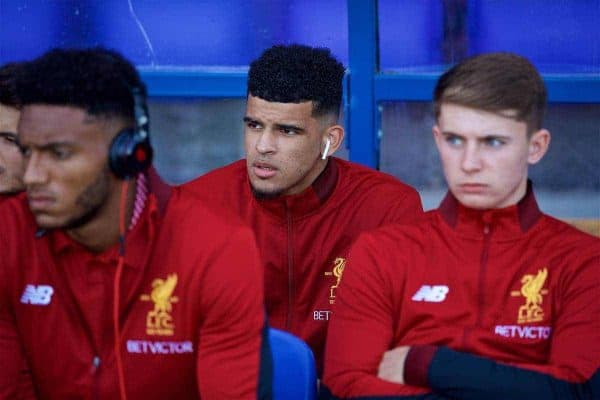 With many top teams breaking their transfer record this summer, Liverpool included, it's ironic that one of best pieces of business could be a 'Chelsea reject' arriving at Anfield on a free transfer.
It initially went under the radar with Salah and then Virgil van Dijk and Naby Keita being the main talking points. But ever since his arrival he's shown exactly why Liverpool made a move to bring him to Merseyside.
But not just that, though, he's also put himself in contention to be the backup to Firmino as we kick off the new season.
Daniel Sturridge oozes class and if he were fit he would be Klopp's go-to weapon of choice off the bench, with Firmino set to lead the line.
But, despite an injury-free pre-season and being in the best shape of his life, Sturridge is currently injured.
He came off the bench to score a superb goal against Bayern Munich but injured himself in the process. Those five seconds summed his Liverpool career up.
And while it would be naive to discount Sturridge, it's not naive to suggest Liverpool won't be able to rely on him yet again next season. He could, unfortunately for us, end up being viewed as somewhat of a luxury player, again.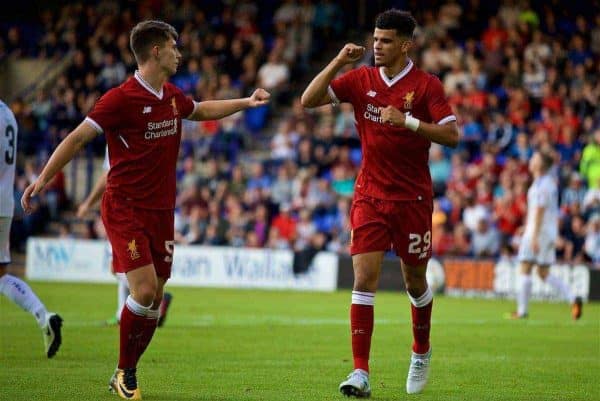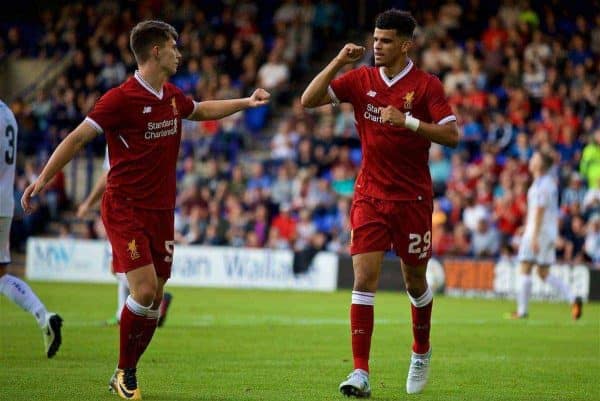 This presents the other forwards in the squad with an opportunity. Solanke, Divock Origi and Danny Ings are all vying for that spot but there will be no definitive winner, at least not anytime soon.
Their form will be erratic and unsustainable due to their age or, in Ings' case, wavering fitness, but on pre-season form alone Solanke is the clear winner.
His performances in the friendly matches gave fans a glimpse of what life would be like if Firmino wasn't available for selection in a central role—and it didn't look that bad.
When Klopp's injury-hit forward line took to the pitch in January it was clear they lacked depth. Firmino was forced to operate in a wide area to cover for Mane and then Coutinho.
The Reds didn't just lose the pace of the Senegalese attacker or the creativity of the Brazilian maestro, they also lost Firmino's selfless running from central zones.
The ex-Hoffenheim man would chase lost causes, move away from the goal to drag defenders out of position in the hope one of his team-mates would make use of the space and just generally be a nuisance.
Without him, Liverpool lacked a focal point suited to Klopp's system.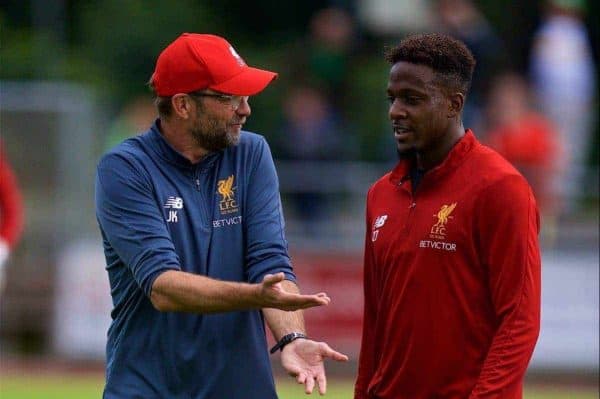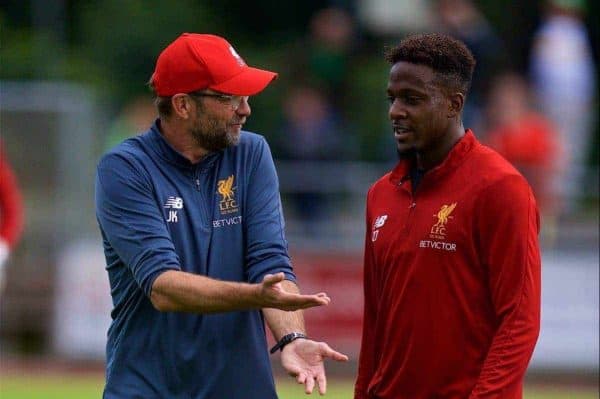 Sturridge is special but selfless he is not, at least not by Firmino's standard.
And Origi has so far failed to build on his 2015/16 performances. He was finding the back of the net last season, but his general holdup play and work in the channels left a lot to be desired.
Even in pre-season he looked rusty in the penalty area and the ball hasn't been sticking to him when he's started as the forward, he carelessly lost the ball in the buildup to Athletic Bilbao's equaliser in Dublin.
But in the form of Solanke Liverpool could have a player capable of doing just that because it's the role he played throughout pre-season.
Solanke's Selfless Movement
What Solanke does off the ball can be overlooked. He's not your typical striker looking to play off the shoulder of the last man, which he could be given his explosive acceleration and his brutish force.
Instead he looks to get involved, link play with the midfield and create overloads wherever possible.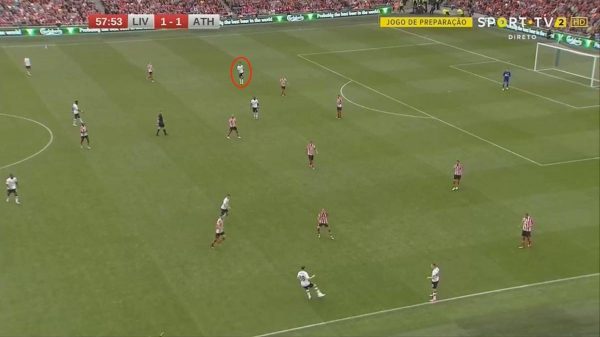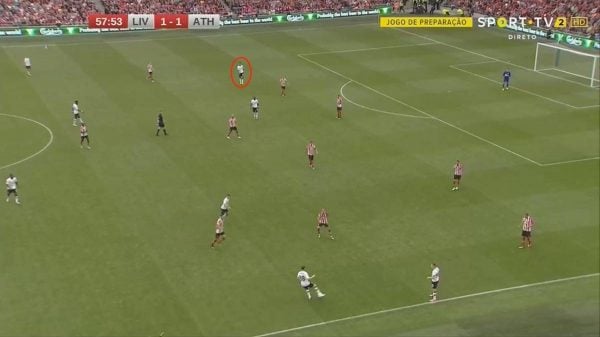 Above, Liverpool win a throw-in on the right and Solanke is circled in red on the left of the image.
There's space in behind the Bilbao line and he could look to dart in behind in the hope a ball arrives from a deep area, but there's only a small chance that pays off and Liverpool would lose possession as well as territory.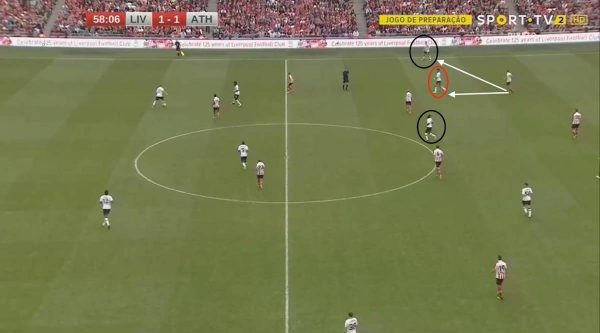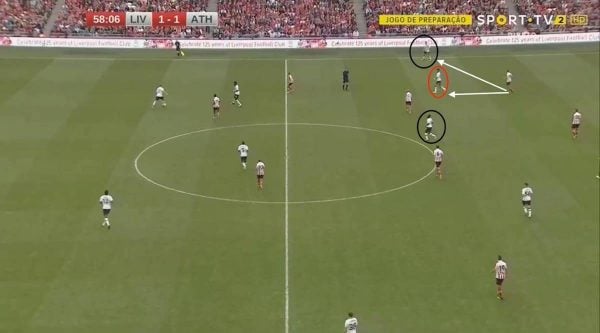 As the Reds work the ball from side to side Solanke drops into a deeper area, still circled in red.
Liverpool have numbers on the left because of this with Andrew Robertson and Sadio Mane in close proximity to the striker.
Bilbao, on the other hand, have just the two men in that area of the pitch. Their right-sided centre-back is reluctant to track Solanke because the defensive line would possibly be disjointed.
It's an intelligent position to take up though by Solanke even if he is moving further away from goal.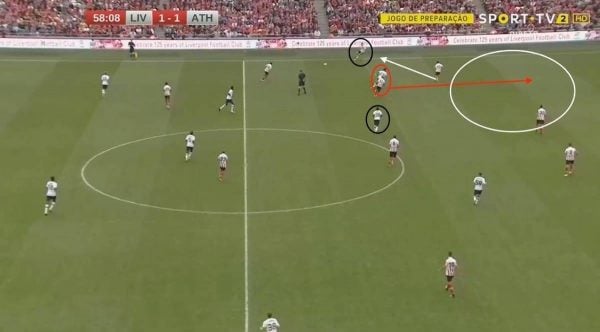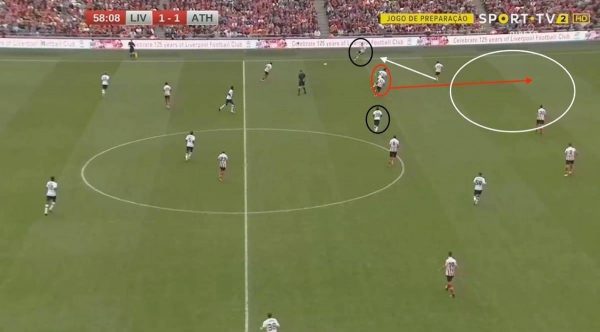 As soon as the ball is worked out wide to Robertson and the Bilbao right-back is forced to engage, Solanke is on his bike and attacking the space in behind the Spanish side's defence.
The right-sided centre-back has a lot of ground to cover and the midfielder closest to the Liverpool striker is on the wrong side of him, meaning he's forever playing catchup.
Solake gets on the end of the pass and shows composure to drag the ball back to Ben Woodburn who fires home to put Liverpool ahead.
Solanke's Goalscoring Instincts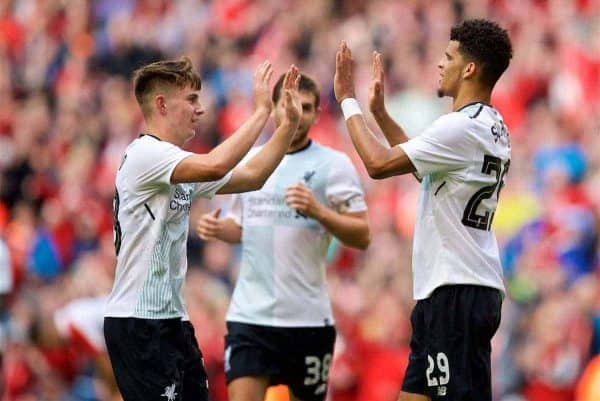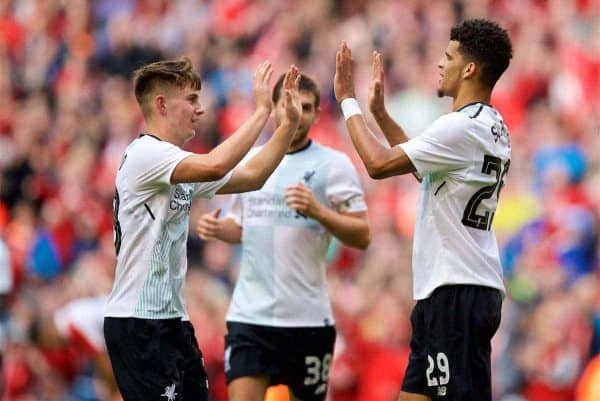 While his goal against Crystal Palace was perhaps the most memorable it's the outlier, and should be ignored when looking at Solanke as a goalscorer.
However, the chances he failed to finish in earlier games, coupled with his goals against Hertha Berlin and Athletic Bilbao, give you hope that, if afforded first-team minutes, he would be able to find the back of the net on a frequent basis.
If you keep a close eye on Solanke throughout his time on the pitch he's always looking around to paint a picture in his head of the scenario he's in.
His two headed goals have arrived after he's positioned himself on the blindside of the centre-back and then taken a subtle step backwards to create even more space to nod the ball home.
He's a nightmare for defenders to keep track of because he's perpetually on the move and he showed it against Bilbao.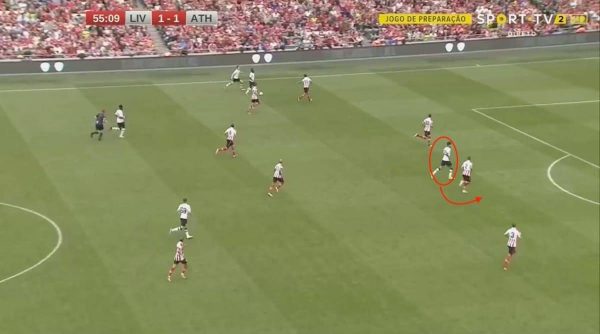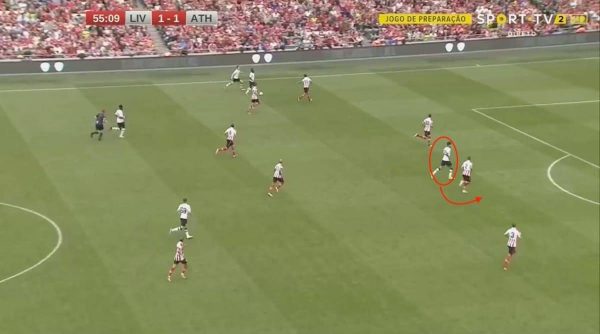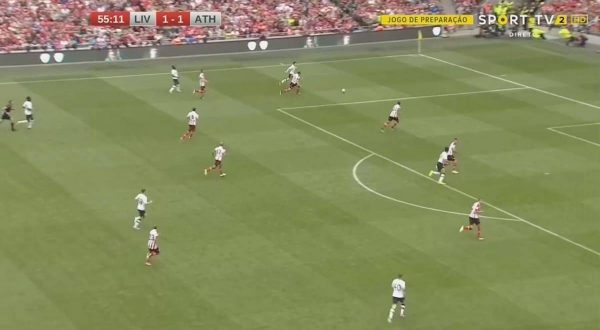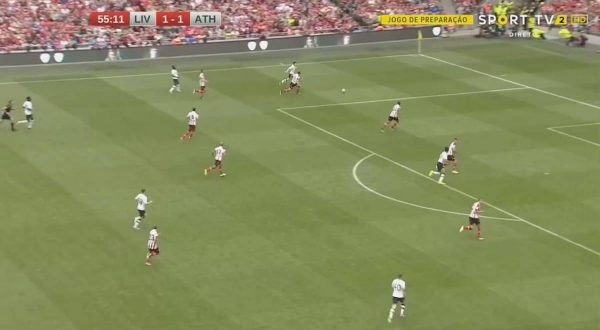 In the two images above you see how Solanke works the opportunity for himself with his clever movement.
In the first image he's positioned himself between the two centre-backs, but as play progressed he checks his run and peels off to behind the left-sided defender.
Then, in the second picture, you see the defender is not even looking at the play as Liverpool advance down their left flank.
Instead he's looking at where Solanke is and his positioning is all wrong.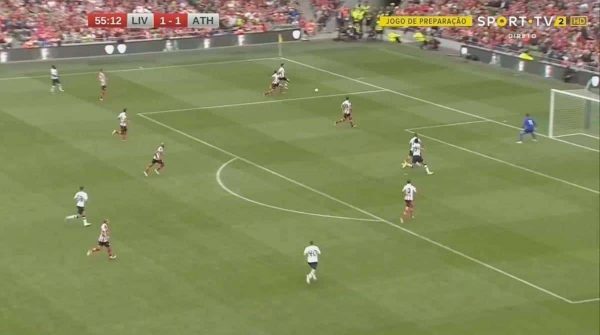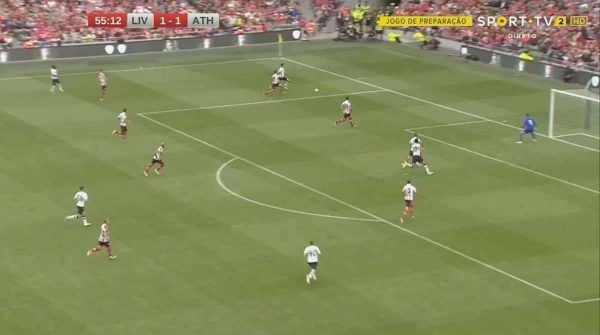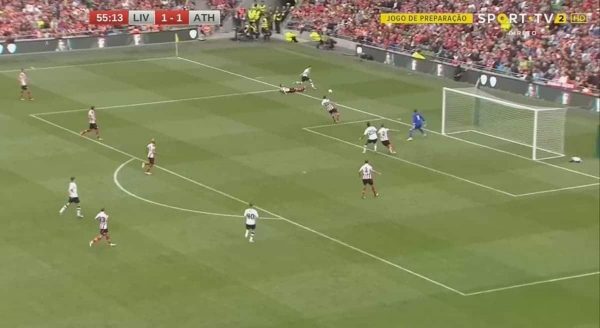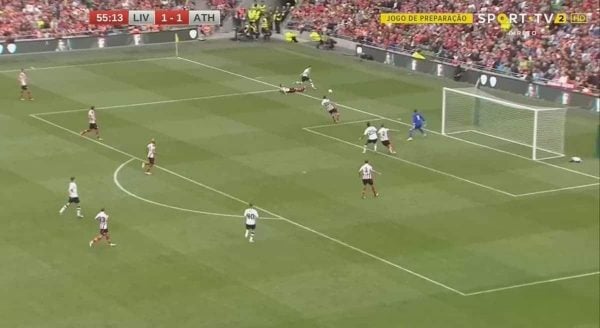 The centre-back then regains some composure and attempts to control the space centrally but is caught flat-footed as Solanke darts in front of him just as the ball is crossed in.
Fortunately for the Liga side the ball is cut out, because if it reaches Solanke he's more than likely putting that away.
Despite having a man within three yards of him throughout that sequence of play he still manages to turn him inside out and carve out space.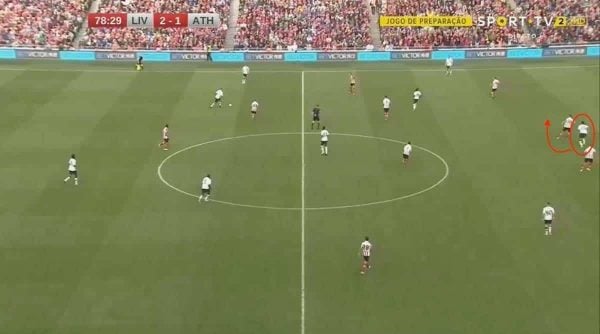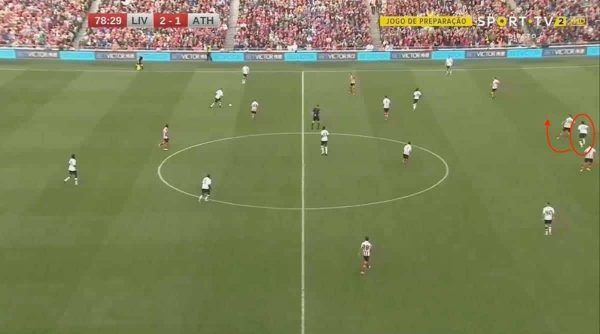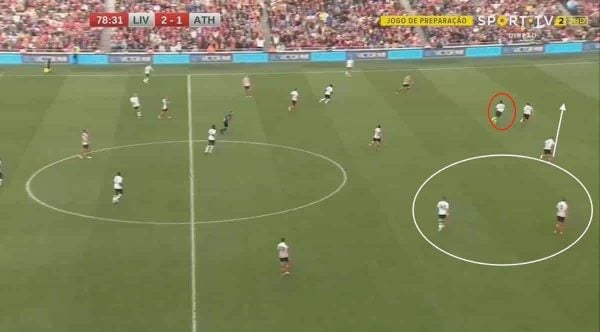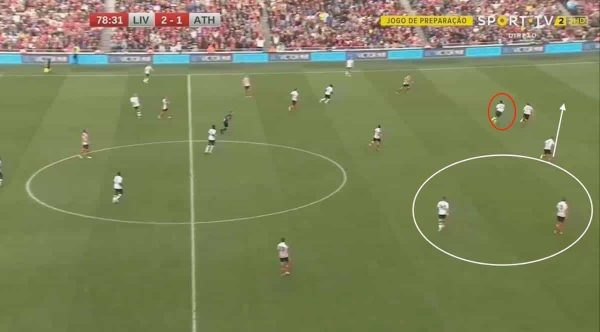 The final two images are taken just prior to Solanke's goal. Ragnar Klavan has the ball as Liverpool once again look to build from the back but this time the Estonian opts to go long.
Solanke, circled in red, has positioned himself once again between the two centre-backs. Many in this scenario just look to time their run and they're flagged offside.
However, Solanke dips back inside and makes a run across the right centre-back. And because the Liverpool striker is decent in the air the left-sided centre-back has to drop back to cover in case a ricochet gets Solanke in on goal.
This then leaves the Bilbao left-back isolated in a lot of space with Ryan Kent. All because of Solanke's intelligent movement and choice of run. He's far from opportunistic; he's calculated.
They defend the initial ball forward but the left-sided centre-back is dragged into the opposite channel, and they look far from composed and organised as the ball is floated back in for Solanke to score.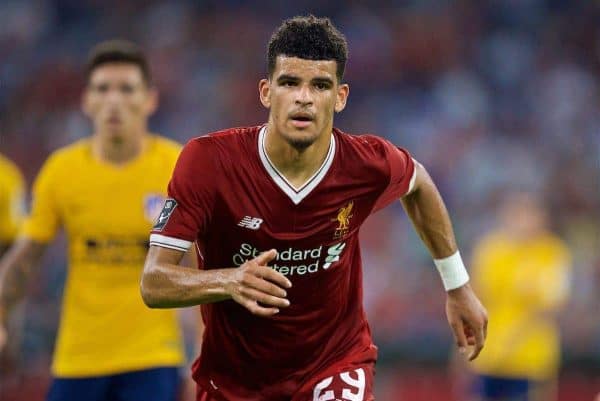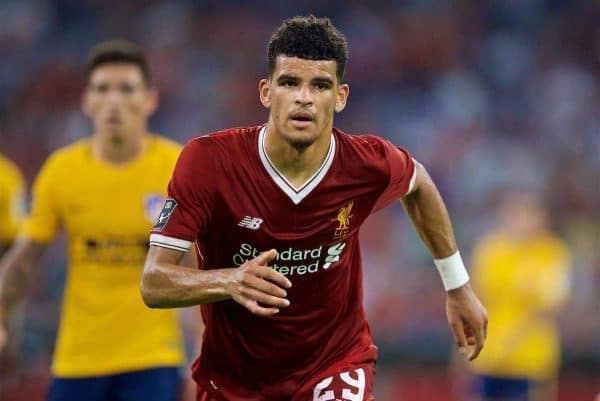 There's no point overhyping him but at the same time you can't ignore the obvious.
It's only been pre-season for the 19-year-old, but he's looked capable in the forward line and he gives Klopp an option he didn't have last season.
Solanke adds another dimension to what is quickly becoming a frightening Liverpool forward line.
* This is a guest article for This Is Anfield. If you'd like to contribute a piece for consideration please see here. Follow Sam McGuire on Twitter, @SamMcGuire90.