Liverpool ended their pre-season campaign with a 3-1 victory over Athletic Bilbao at the Aviva stadium in Dublin.
Liverpool 3-1 Athletic Bilbao
Pre-season friendly, Aviva Stadium
August 5, 2017
Goals: Firmino 20′, Woodburn 59′, Solanke 80′; Williams 30′.
Liverpool went into the final pre-season game on the back of their penalty shoot-out defeat to Atletico Madrid in the final of the Audi Cup.
Philippe Coutinho and Adam Lallana picked up injuries following that defeat, while Daniel Sturridge also remained absent after coming off with a problem against Bayern Munich.
Jordan Henderson also missed the game through illness meaning James Milner was handed a rare start in midfield, as well as the captain's armband.
That meant Alberto Moreno had another opportunity to impress in the left-back role.
The Reds started off well, with Roberto Firmino playing particularly impressively and it was the Brazilian who won and converted a penalty after 20 minutes.
Divock Origi missed several chances and Bilbao benefited from that when they drew level through Inaki Williams shortly afterwards.
Jurgen Klopp made several changes at half-time and Ben Woodburn was keen to impress when he produced a sublime finish to give Liverpool the lead again.
Dominic Solanke added Liverpool's third as the Reds rounded off a good performance.
Fans had mixed opinions on Milner starting in midfield….
I'm open minded.

Let's hope Milner thrives in CM.

I have previously hated him in CM. But that was mainly in a 2 man CM not 3! #LFC

— LFC4LIFE (@LFC4LIFENET) August 5, 2017
Milly in midfield ?#LFC

— Tuaha Sohail (@TuahaSohail) August 5, 2017
"Milner should stay in midfield now – that's his natural position and he's getting too old for bombing up and down the flanks." – Kevin David Mac on Facebook.
Do we have a midfield crisis already? Bring back Lucas ;)#LFC

— Finally TwoLeftBoots (@2LeftBoots) August 5, 2017
Origi missed a sitter…
WHY ORIGI

— Jon (@Jon17s) August 5, 2017
https://twitter.com/eathen_1892/status/893870536371167232
Shocking from Origi that, how on earth has he missed!?

— Kieran (@Kieran_LFC10) August 5, 2017
"Can we buy a clinical striker! Origi is so wasteful it's frustrating." – Sgtstudge on the forums.
https://twitter.com/a06d_/status/893871072562597888
What will become of Big Divvy?

— Aaron Cutler (@aaron_cutler) August 5, 2017
Firmino earned lots of praise after scoring Liverpool's penalty…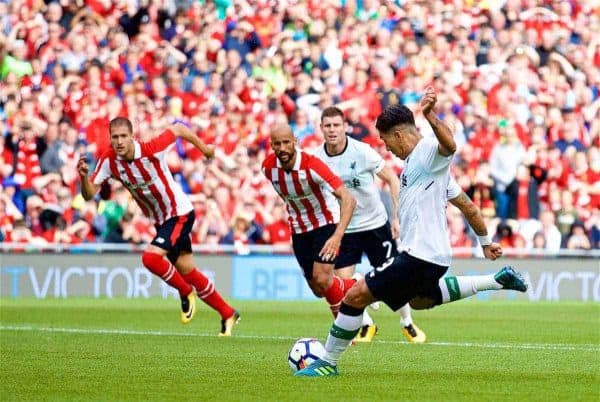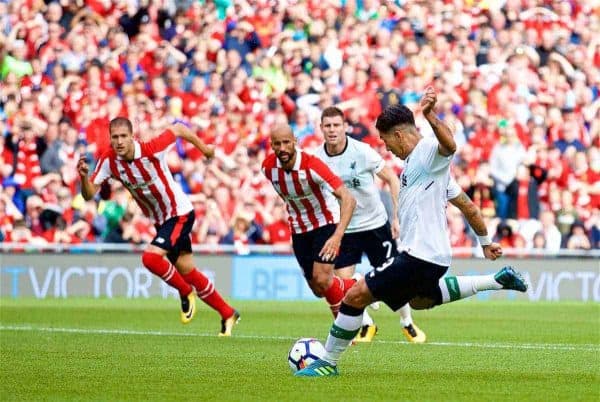 Roberto Firmino looking class so far.

— Jack Lusby (@jacklusby_) August 5, 2017
"Nice skill from Firmino" – Akie Foong on the forums.
Bobby is scoring 20 this season

— Nathan Stalker (@VoiceofNathan) August 5, 2017
Love that our No9 looks like he will be taking pens this season! #Firmino

— GaGs (@GagsTandon) August 5, 2017
But fans weren't happy when they scored…
Lovren going to ground there like a really bad defender.

— The KopCast Podcast (@KopLeft) August 5, 2017
Origi and lovren not having games to write home about. Plenty which can be improved on 1-1

— LFC Daytrippers Podcast (@LFCDaytrippers) August 5, 2017
Origi makes me do this at least 3/4 times a game…… pic.twitter.com/PtCsMA5bIP

— Henry Jackson (@HenryJackson87) August 5, 2017
Lovren should focus on his defending and improving as a player rather than constantly telling us in the media how good he will become.

— DaveOCKOP (@DaveOCKOP) August 5, 2017
Moreno had another good game at left-back…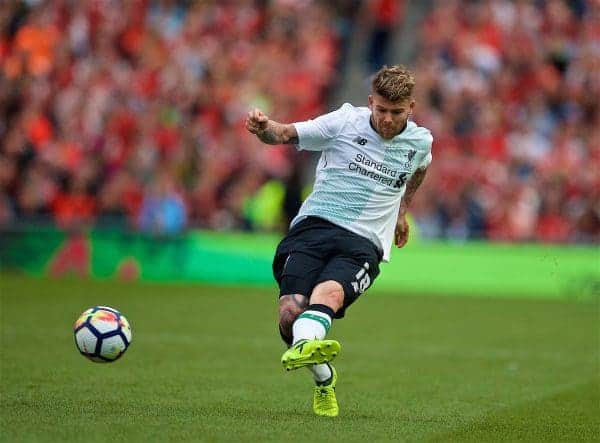 Gotta feel for Robertson. He comes, Moreno becomes best left back in the league? #LFC

— Tarïq? (@FlyingFirmino) August 5, 2017
"Please keep Alberto Moreno. We finally have two left-footed left-backs. Never put Milner there again." – Mark Bisig on Facebook.
If Moreno can look this good after being garbage for so long, I'm gonna learn to figure skate and plan on making the next olympics.#LFC

— Mike (@halfass101) August 5, 2017
Is it too late for Alberto Moreno to revive his #LFC -career?

— Nah' (@Be_Keitastic) August 5, 2017
Woodburn made an impact after coming on as a substitute…
Stunner from Woodburn #lfc ?

— Shanks (@DJ__Shanks) August 5, 2017
How good is Ben Woodburn though?

— Brandon Tregidgo (@BrandonTregidgo) August 5, 2017
Our youngsters make the Pros look average at times don't they. Solanke, Kent, Woodburn and Trent.

— Yusuf Abdullah (@JoeJoeLFC) August 5, 2017
"Woodburn. I thought that was Coutinho for a second…Wow!" – The Brazilian Scouser on the forums.
That was a special goal by Woodburn. ?? #LFC

— Shirish Sharma (@shirish18sharma) August 5, 2017
Loads of positives there for Reds yes need a couple more players but Trent, Kent, Woodburn, Solanke, Ejaria and Gomez have all impressed

— Jeff Goulding (@ShanklysBoys1) August 5, 2017
And Solanke scored the final goal of the pre-season campaign…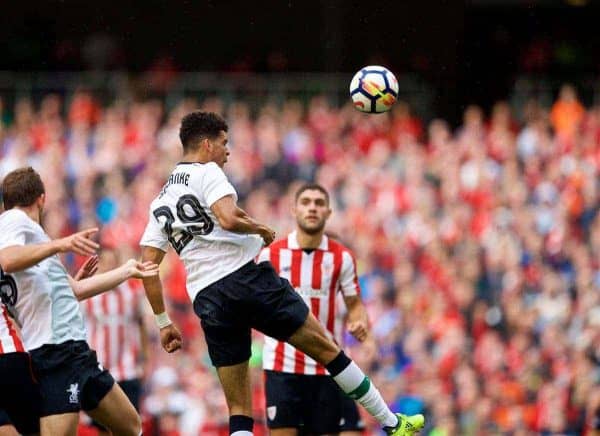 Call it knee-jerk etc, but Solanke is better than Origi. Just a superior all-round footballer.

— Henry Jackson (@HenryJackson87) August 5, 2017
If #LFC had paid £40m for a striker and he had the same pre-season as Solanke we would be buzzing our collective tits off.

— Paul (Maych) Machin (@ThePaulMachin) August 5, 2017
"Origi has just been pushed to the 4th striking choice by Solanke today. Looks like an excellent signing." – Pushan Bhattacharya on Facebook.
Kent, Ejaria, Solanke, Woodburn, Gomez and Alexander-Arnold… The future is bright, the future is red

— Mentality_GIANTS (@Mental1tyG1ANTS) August 5, 2017
Let us know your thoughts on the game in the comments section.