Liverpool ended their pre-season on a positive with a win against Athletic Bilbao in Dublin. There were some familiar faults, but some refreshingly unfamiliar strengths.
Liverpool 3-1 Athletic Bilbao
Pre-Season Friendly, Aviva Stadium
August 5, 2017
Goals: Firmino 21′, Woodburn 59′, Solanke 80′; Williams 30′
---
Firmino on Penalties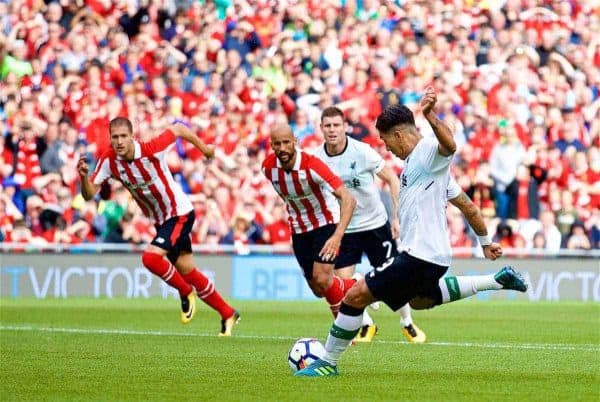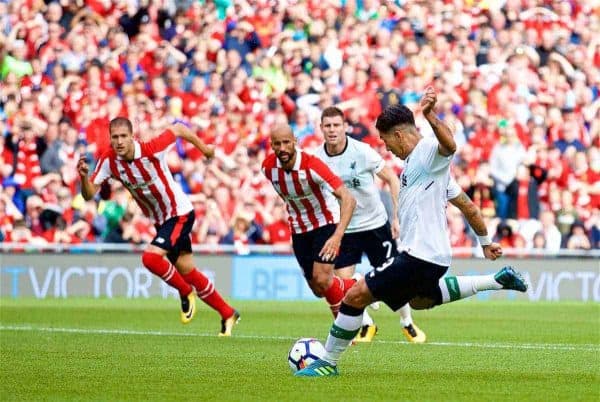 James Milner was Liverpool's first choice penalty taker last season, but when Roberto Firmino was felled in the area by Inigo Lekue the Brazilian ambled across to take the spot kick himself.
Firmino had taken the penalty against Atletico Madrid in the Audi Cup and also converted his kick in the shootout, but on that occasion Milner wasn't on the pitch.
There could be a number of reasons why they vice captain didn't step up.
One is that he didn't want to aggravate a thigh injury he'd picked up earlier in pre-season, but another could be that Jurgen Klopp now sees Firmino as his main man from the spot which could also suggest that Milner might not be a regular starter this season.
Whatever the pecking order or penalty politics, the important thing is that the spot kick is converted, and Firmino did so convincingly despite the goalkeeper, Kepa Arrizabalaga, diving the right way.
Perhaps Firmino will become a 20-goal striker if he's taking penalties this season.
A Defence of 2 Halves
It's the old, worn talking point which fans don't want to hear about, but it's one which repeatedly raises its head throughout Liverpool's recent existence.
Just as the side looked to be in control of the game, an Inaki Williams counter-attack which had been threatening to happen throughout the first half led to an unfortunately typical error from Dejan Lovren.
Lovren isn't making a good case for convincing fans he's an actual professional footballer.

— Steven Carson (@StevenCarsonNR) August 5, 2017
The Croatian centre-back decided to go to ground instead of staying on his feet to deal with the threat more assuredly, and the ball inevitably rebounded into Williams' path for him to finish past Simon Mignolet with ease.
From that moment onward Athletic dominated the half and had more chances to score as the Liverpool defence lost any composure it had had at the start of the game.
Joel Matip also had his moments, but the 28-year-old Lovren doesn't appear to be learning from past mistakes. He looks to have replaced Martin Skrtel as the centre-back who hangs around as first choice despite numerous abject displays.
Joe Gomez was also guilty of a careless error in the second half, which allowed Athletic a shot on goal, but luckily the opposition were unable to punish the reds on this occasion.
However, the defensive unit of Gomez and Ragnar Klavan looked a lot more comfortable than the first half duo, the experienced Estonian also managed to get an assist when he crossed perfectly for Dominic Solanke.
Milner Midfield and the Liverpool Left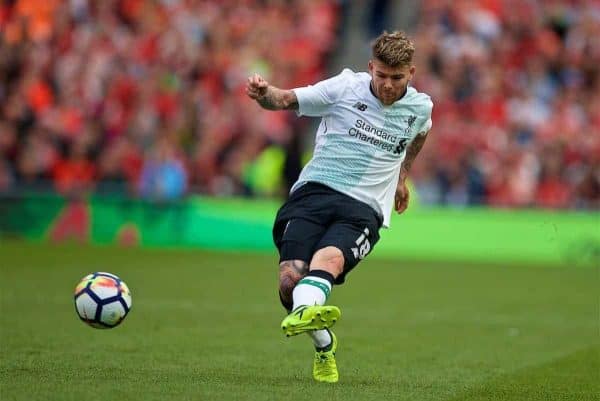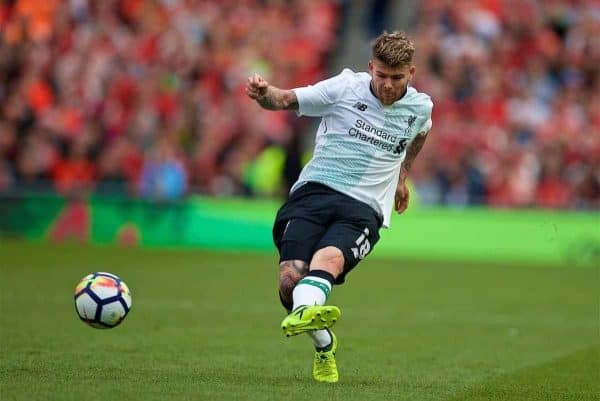 Milner started the game on the left side of a midfield three while Alberto Moreno put in another impressive 45-minutes at left-back.
With Firmino ahead of them, they formed an interesting trio down the left flank in which each player complimented the other well.
Milner filled in behind Moreno when the attacking left-back bombed forward, and when he did so Firmino would cut inside, moving into a more attacking position in the half space just left of centre.
The Englishman's outings at left-back last season mean he understands Moreno's role so knows when to cover, and it may be something which is regularly asked of the left sided midfielder, regardless of who it is, throughout the season.
New signing Andy Robertson also likes to get into attacking positions, and in the second half he was covered down that flank by Ovie Ejaria and the deeper lying Georginio Wijnaldum. The Scotsman played his part in the second goal, sending Solanke in behind the Athletic defence.
Woodburn's Winner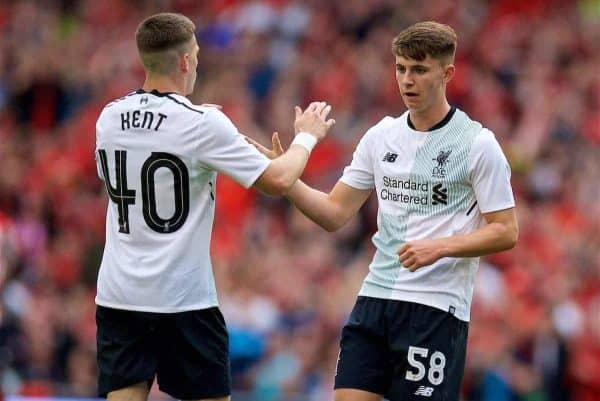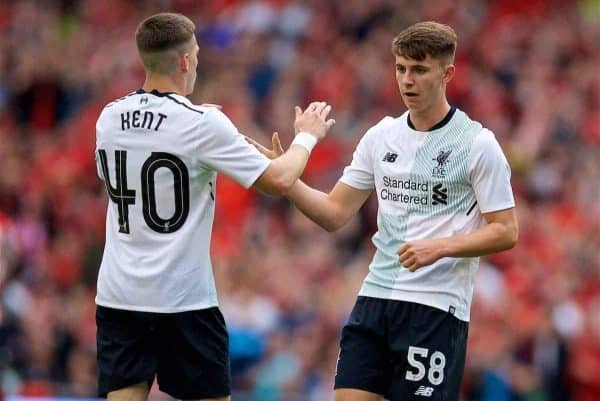 Despite being one of the youngest of the Liverpool youth players breaking into the first team picture under Klopp, Ben Woodburn looks the most comfortable at the highest level.
Along with Ryan Kent, the 17-year-old has shown that he deserves to be around the side for the upcoming season, rather than shipped out on loan for unnecessary first team experience at a much lower level.
He took his goal with the coolness and ability of an older and more experienced player, taking a touch with his right foot before powering the ball in from outside the area with his supposedly weaker left foot.
One of the more notable things about Woodburn and Kent is their two-footedness and ability to play in numerous positions, which should serve them well in their quest for first team minutes this season.
The assist for the goal came from the equally impressive Solanke, who rounded off his own display with a well-taken header from Klavan's cross.
One Week to Go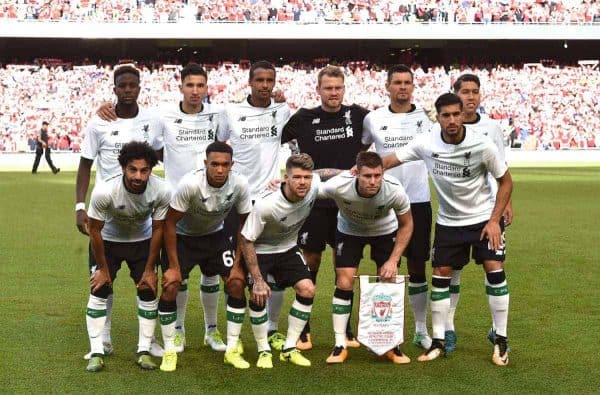 This was the last chance for Klopp to assess his troops ahead of their opening Premier League battle against Watford.
It might be too late for this game to have been called an audition for first team spots, so it could be feasible that the side which started the first half could be the side which starts the first game of the season.
But with players such as Philippe Coutinho, Jordan Henderson, and Daniel Sturridge returning from injury, there are still a few places in the team which aren't settled just yet.
There's also the issue of a transfer window which remains open, and only three new signings arriving so far—none of which are in the problem position of centre-back.
Any new signings will either be forced to hit the ground running, or spend time on the bench as they settle into their new team.