Liverpool suffered a first Premier League defeat of the season as they went down 5-0 at Man City in a game with several talking points.
Man City 5-0 Liverpool
Premier League, Etihad Stadium
September 9, 2017
Goals: Aguero 24′, Jesus 45+6′, 53′, Sane 77′, 90+1′
---
The Reds missed several presentable chances before Sergio Aguero rounded Simon Mignolet to score the opener, before Sadio Mane was shown a straight red card for a challenge on City goalkeeper Ederson.
It was always likely to be difficult for Liverpool from that moment onward and City had the ball in the net four times in the next 15 minutes, two ruled out for offside and two from Gabriel Jesus which counted.
Jurgen Klopp made substitutions largely to rest a few first-team legs before a midweek Champions League clash, but the game was well out of his side's reach by that point even before Leroy Sane scored twice, a tap-in and a brilliant curler.
Dismal result aside, there were several big talking points for the Reds from the Etihad, including Alex Oxlade-Chamberlain's second-half debut.
The Game's Turning Point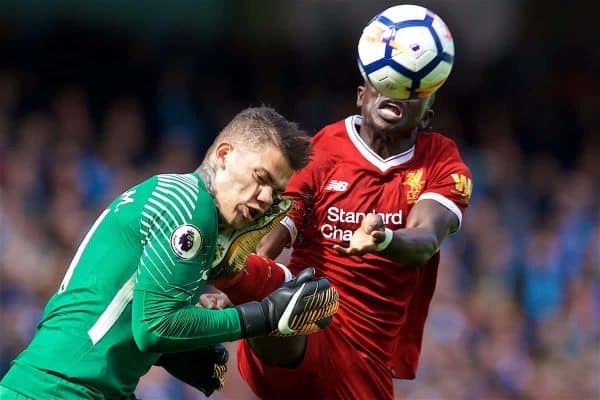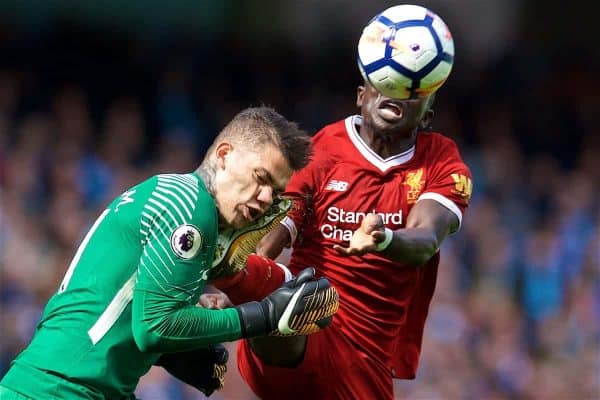 Liverpool were in control for a large portion of the first half.
Even a goal down, they had created better chances, were opening City down the channels and looked dangerous…until Mane raced through behind the defence and collided with Ederson.
The goalkeeper went down, needing treatment and eventually to be subbed, while Mane was shown a straight red by referee Jonathan Moss.
Opinion was hugely split—not just fans of both teams, but journalists on social media and commentators on TV—on whether it was justified or not, though many seemed to side with yes after second viewings.
Either way, it completely unhinged the Reds' game plan, and soon City were dominant in both possession and territory, pinning Liverpool back and finding spaces between the lines of what was now a stretched four-man midfield.
The second goal duly arrived before the break and it was essentially game over by half-time.
Salah's Finishing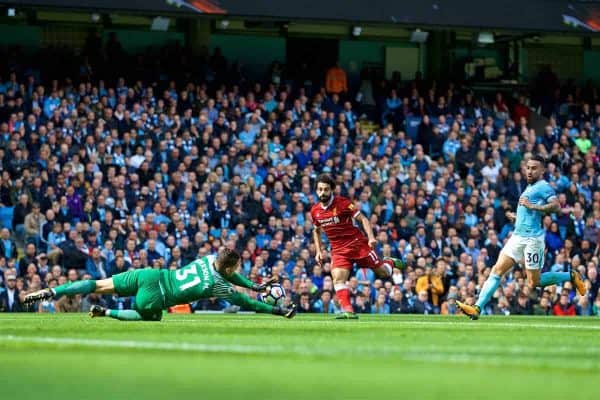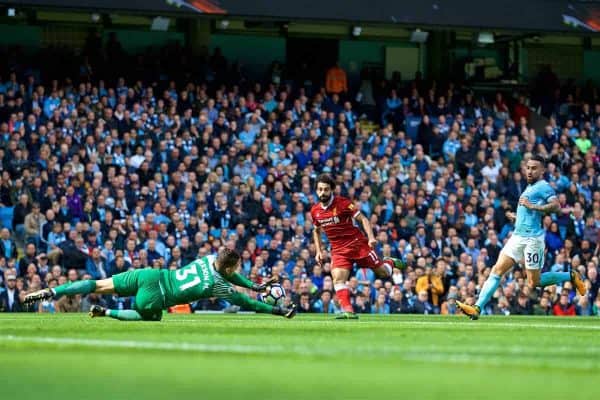 A lot of Liverpool's biggest chances this season have fallen the way of Mohamed Salah.
Even though he has already gotten his name on the scoresheet more than once, he could comfortably have doubled his Reds tally by this point.
There's no question that he has been anything other than a positive addition, but his finishing in one-on-one situations still leaves something to be desired.
The Egyptian has, not just against City but in previous games too, sent his attempted curling shot far too close to the goalkeeper, allowing an easy save.
The biggest positive is, of course, that he's there and able trouble teams so frequently, but those chances need finishing.
Salah should be looking at a 20-goal haul for this season across all competitions, and it's only small technical details with this type of finishing which needs altering.
But the sooner they start going in the better—especially in such big games.
Bad Day For a Bad Klavan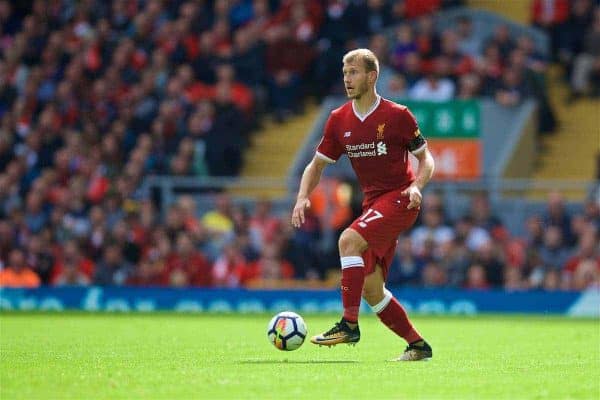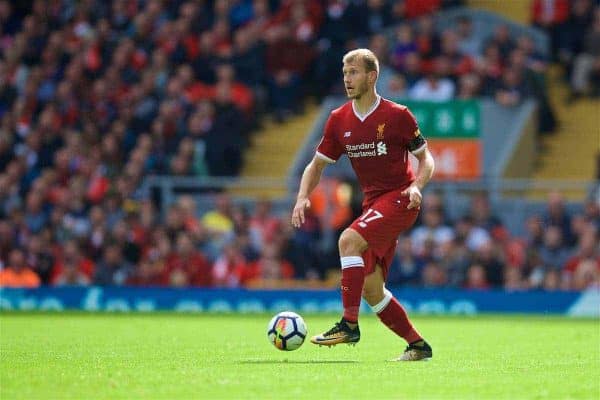 Pre-game, the surprise was to see Ragnar Klavan in for Dejan Lovren at centre-back, with Klopp citing fatigue on the Croatian's part for the reason.
A fair enough change, but the Reds need stand-ins to step up and produce a big performance when called upon…and it didn't happen with the Estonian.
He was caught out several times by the movement of Aguero in particular, but also lost the ball and almost gifted a penalty to Jesus in the space of five seconds.
In truth none of the back line was impressive for Liverpool, but a third-choice centre-back plays a big role across the course of a season, given the importance of position and amount they could play, and Klavan failed on this occasion to produce.
Learning Curve for Trent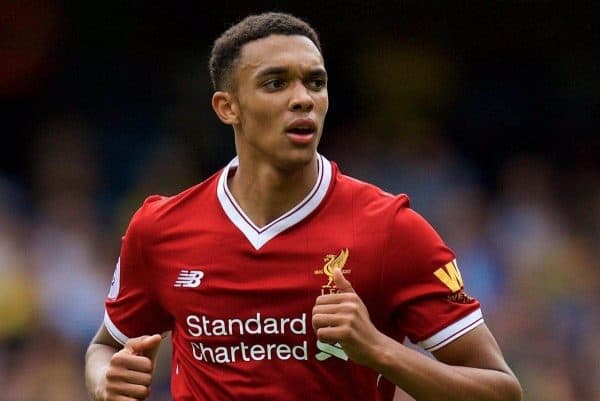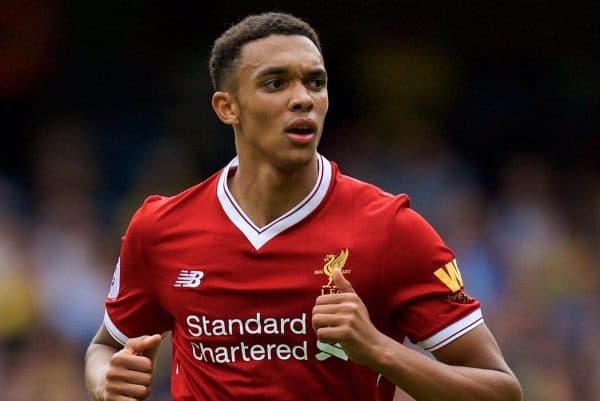 One pick for the starting 11 which could have gone either way was the call at right-back, which Trent Alexander-Arnold won ahead of Joe Gomez.
It seemed that Gomez might have been the optimal choice—somewhat more experience, more defensively resilient, stronger in one-vs-one situations and a big performance against Arsenal—but it's also fair to note that the younger of the duo has been excellent making his breakthrough.
Alexander-Arnold got the nod, but it was a tough afternoon for the teenager, up against the dual threat of a powerful wing-back in Benjamin Mendy and the darting runs from Kevin de Bruyne into the channel.
It's all part of a younger player's development that they'll come up against opponents who are too clever, too good or too quick for them, and that was the case at the Etihad for Alexander-Arnold.
While he struggled on occasion, was caught out on the ball and earned a yellow card in one such incident, the more important long-term factor will be on how he responds to the setback.
On a day when nothing went right for Liverpool, his performance wasn't the single one which caused the defeat, but it's an experience he—and Gomez, for that matter—will have to learn from.
Lack of Response, Plan and Protection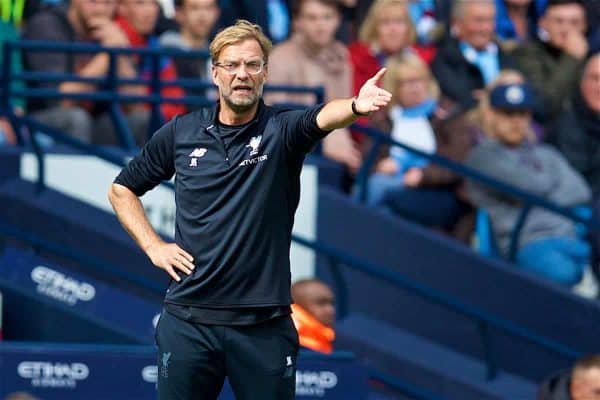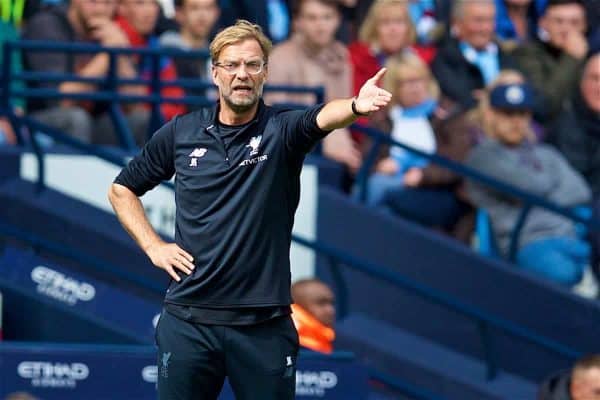 Away and a man down to City, it's going to be tough, very tough—but the reaction from Liverpool was disappointing nonetheless.
After the lengthy stoppage due to Mane's red card, the Reds weren't organised, weren't strong in trying to get to the half-time interval without further damage and the second half was largely a walkover.
Klopp switched from a brief four-man midfield to a 3-5-1 variation after the break, but even at 3-0 down there were too many gaps in midfield, too many trying to surge forward and leaving gaps, too many not working hard enough.
Of course it was a game the players just wanted to be over, but the failure to at least keep City at bay has completely wiped out the Reds' goal difference in the league as well as suffer a devastating loss.