A draw, clawed from the jaws of victory, or a draw clawed from the jaws of defeat? Steven Scragg reckons it was both.
Limping over the finish line with ten men on the pitch. Sevilla seemingly the more likely to claim a late winning goal. Accusing fingers pointed toward guilty looking defenders once again. Still no convincing evidence that we possess a goalkeeper of authority. Philippe Coutinho booed onto the pitch by a small, but audible minority, at least in the Main Stand.
IT HAD ALL BEEN GOING SO WELL
Yes, we conceded early, at a time when we appeared to be aiming to take an early grip on proceedings, but on the front foot, we were impressive once more.
Roberto Firmino delivers football of a whimsical nature. He's like a balloon, caught in an up-draft, when on form. He dips one way, then, almost defying logic, he's off in a completely different direction. Before you know it, those nagging unaired questions you harbour, about his suitability to a place in Jurgen Klopp's bigger picture, melt away.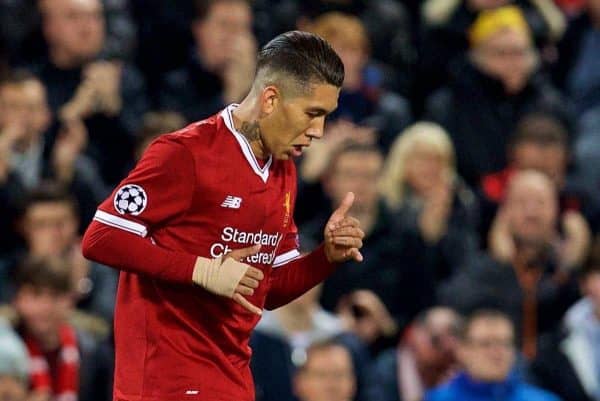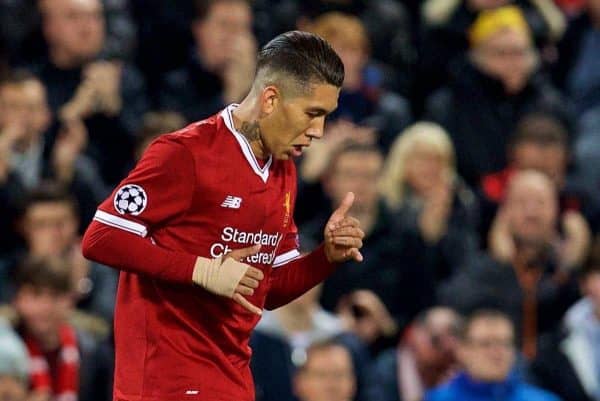 To an extent, Firmino is a riddle, wrapped in a mystery, inside an enigma. In reality, he is the perfect balance, to the more direct insistence of Sadio Mane and Mohamed Salah.
Yes, Firmino missed from the penalty spot, an opportunity to put us 3-1 up, but don't feel too tempted to hold that against him.
On one hand, there really is no saying that we'd have been able to defend the resultant 3-1 lead, while on the other hand, Firmino will create many wins this season. Wednesday night offered an unfortunate set of circumstances, springing from his missed penalty. Still, behold the wonder of the player.
YOU SAY TOMATO, AND I ALSO SAY TOMATO
At this point in time, Loris Karius is eminently interchangeable with Simon Mignolet. Swapping and changing goalkeepers is a risk in general, but in the case of Karius and Mignolet, at least in some degrees, it won't cause much in the way of disorientation for the defence, or at least any extra disorientation than they currently display. Their levels of capability are pretty much level pegging.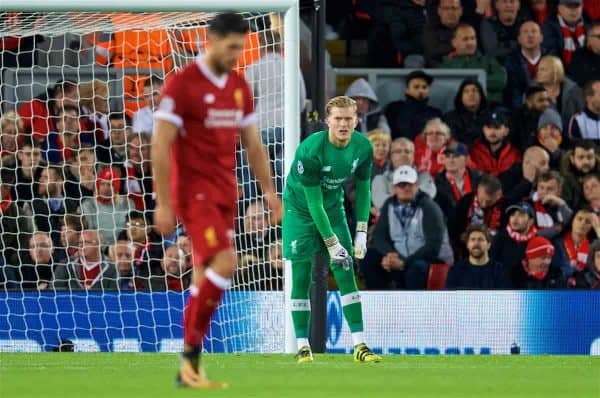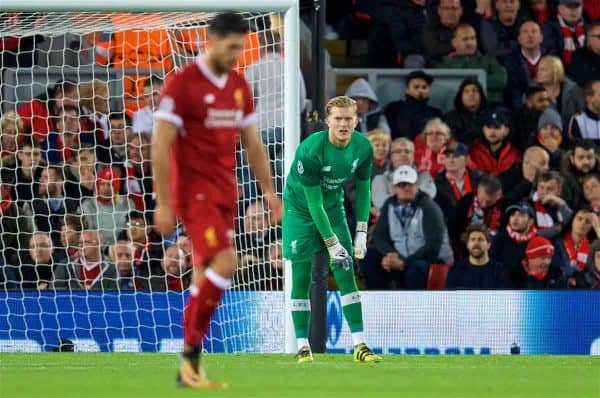 Two shots on target, two goals conceded by our Champions League goalkeeper. He did come for the ball on occasions, which is good to see, and it looks like there is a commander of the penalty area lurking within him somewhere. The trick is going to be unlocking the door to that 'inner commander'.
While I'd like to see Danny Ward get a game in the domestic cups, if Karius is going to progress sufficiently, then he needs to be playing those games, alongside his European duties.
I've written about it before, but pitting rival goalkeepers against each other rarely turns out well. All it does is foster an environment where every game they play is over-scrutinised, sides are taken, both on and off the pitch, the contenders get nervous and mistakes are magnified. See Grobbelaar vs James vs Hooper, James vs Friedel, and Dudek vs Kirkland for further references.
This is an experiment which can't be allowed to rumble-on into next season. A definitive conclusion will need to be arrived at.
FALLING AT THE FIRST HURDLE
Dejan Lovren does himself no favours sometimes. Popular convention has him written off as our worst defender. He can play very well at times however. I'd contend that there is a decent player within, but there is this blind-spot he has.
The lapses in concentration here and there, and that propensity to take his eye off the ball a split second too soon, which results in the skewed ball finding its way into the crowd. His culpability in the first goal is totally unavoidable.
With Lovren, it's not his overall ability, it's more his all too problematic issues with avoidable situations. I'd confidently bet that Lovren is the worst dancer in the squad.
Within this, Joel Matip slips under the radar. He too errs in avoidable situations upon occasions. Perhaps on a less regular basis than Lovren seems to, or then again maybe not. Matip is certainly more blessed that fewer of his slips appear to lead to a goal conceded. Had Lovren performed that strange punted effort over his own head, that Matip did, then Sevilla would probably have scored from it.
Joe Gomez worked hard all night, but was careless in the tackle. Two needless yellow cards have left us with diminishing options at right back for the trip to Moscow. It comes to something, when Alberto Moreno again looked like our most accomplished defender of the evening. Integral in our first goal, he did most of the basics right, and supported going forward. Long may his unexpected mild renaissance continue.
FAIR TO MIDDLING
The midfield continues to insist upon being bi-polar. A better showing than the one at the Etihad, we at least competed, and at times dominated the centre-ground. Emre Can is looking like the man for the European nights, and should have scored.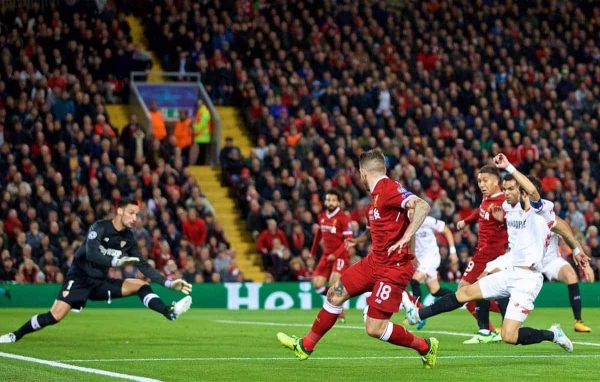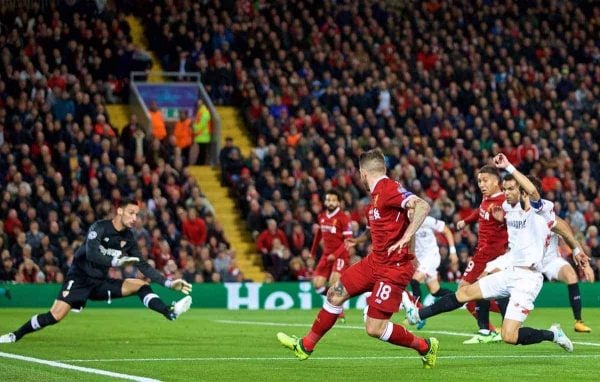 Georginio Wijnaldum was that bit more composed, and it was good to see Jordan Henderson chasing down, and winning the ball. Our midfield once again takes one step backwards, and then one forwards.
SHOULD HAVE
We should have won this one, but in the end, we could easily have lost it. How very Liverpool of us.
Some fine football, interspersed with careless defending, a missed penalty and sending offs, inclusive of Sevilla's pantomime villain of a head-coach. In fact, until Eduardo Berizzo was removed from the pitchside, we looked nailed on winners. The incident infused the visitors, more than it did us.
Next up is Burnley, and a club who are looking more, and more at home in the Premier League with each passing week. The new Stoke City, Crystal Palace, or West Brom perhaps?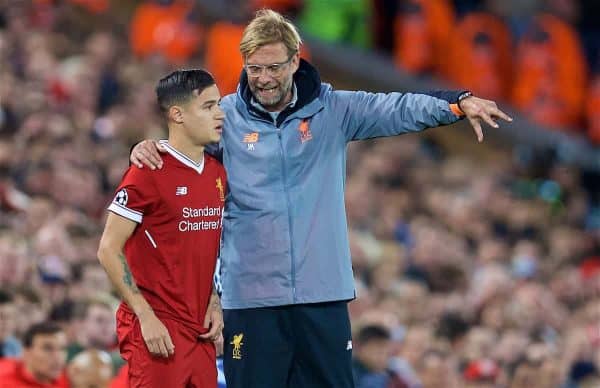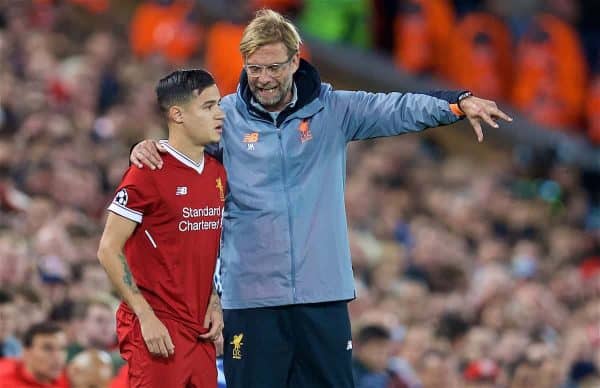 Changes to the line-up will be made, and there lies the danger of just drifting into the next fixture. We all know how well those games go for us if we're not focussed and determined enough.
Top six clashes, and Champions League nights are all well and good, but we suddenly need to approach Burnley like it's the biggest game of the season. It is a game which can be used as a scene-setter for the autumn to come.