Jurgen Klopp is set to continue to share minutes between Liverpool's young right-back options Trent Alexander-Arnold and Joe Gomez this year.
Alexander-Arnold has started four games so far, while Gomez has started the remaining three, with Nathaniel Clyne sidelined through injury.
The duo have, largely, acquitted themselves well, though Liverpool's defensive line has come under scrutiny having conceded 13 goals already in 2017/18.
Clyne is out for the foreseeable future, and Klopp is eager to manage both Alexander-Arnold and Gomez carefully, and avoid a "shadow of doubt" over their development.
And faced with the prospect of inconsistency plaguing his back line as a result, the German was adamant this was not an issue.
"It's the situation, we cannot play Joe six, seven games in a row—he had a bad injury and he's still a young boy," he said.
"Trent is not ready to play three or four games in a row, he should not be.
"We have the situation with these two boys. Joe is in another situation than Trent because he's two years older, but that's all.
"[The defence have] played often enough with each other, we haven't conceded a goal so far because of the formation."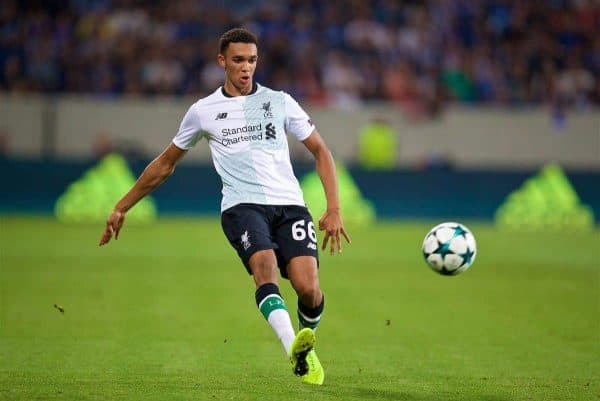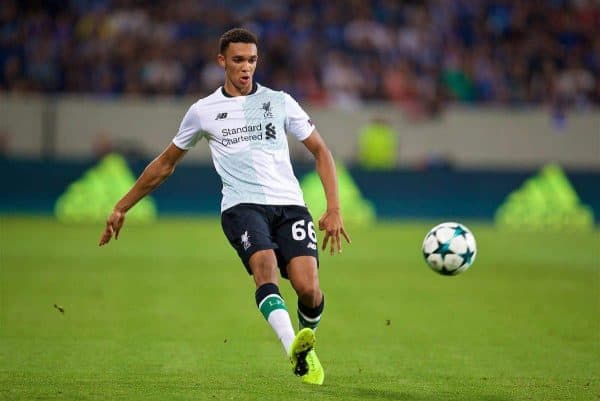 Alexander-Arnold scored the opening goal in August's 2-1 Champions League play-off first-leg win away to Hoffenheim, but was then at fault for Mark Uth's late strike in Sinsheim.
This encapsulated the issues facing Klopp when fielding Alexander-Arnold (18) and Gomez (20) this season, due to their inexperience.
But this is something the manager stressed that he is comfortable with.
"Trent was involved in the Hoffenheim goal, when he wanted to play offside, he was tired in this moment already, mentally tired," he explained.
"Joe had two similar situations [against Sevilla], when they equalised, Joe was a little bit too deep. One situation later, again too late.
"The boys have to improve, but they are our boys, so no problem. If people could really think about something like this, I cannot understand.
"These boys are so exciting. The only opportunity for us to make their development more difficult is to bring in a shadow of doubt.
"They are already top-class players, but in other moments they are still 'talents'.
"We have, again, the chance to play a really good football game [against Burnley on Saturday].
"We all have to learn, then at one point, everything will be good—if we let them develop."