We are days away from Jurgen Klopp's second anniversary in charge of Liverpool, but the German is still struggling with one key, inherited issue.
It's been two years of mainly positives with a couple of cup final appearances, and a return to Champions League.
The dynamic, attacking football seen almost immediately after replacing Brendan Rodgers has been a feature throughout. For those disputing that after recent results, the latest example came only a few weeks ago in the dismantling of Arsenal.
Klopp has also overseen the incoming and outgoing of almost 30 players, with a more-than-reasonable record of bringing in genuine talent.
Of the 12 players he's recruited, they include Sadio Mane, Mohamed Salah, Joel Matip, Andrew Robertson, Gini Wijnaldum and Dominic Solanke.
Alex Oxlade-Chamberlain is the latest recruit, but it's nonsense to judge him yet.
In fact, the only players he's bought yet to make the grade each cost at or below £5 million: Marko Grujic, Loris Karius and Ragnar Klavan. Of these, only Klavan can be deemed genuinely unlikely to succeed, with the former two still having time on their side.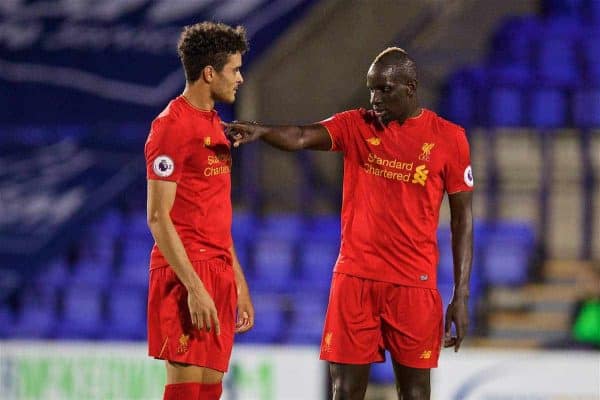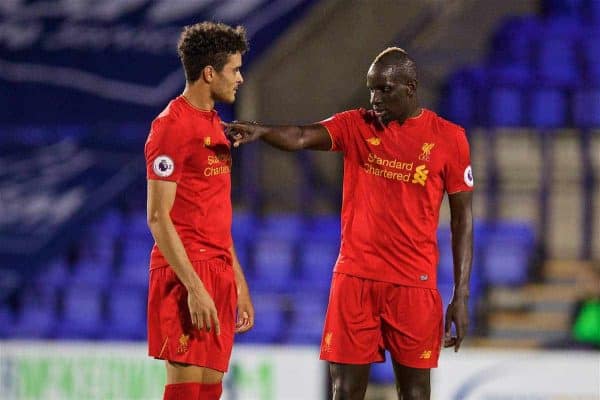 Those released by Klopp have also seen him showing good judgement: Martin Skrtel, Jordan Rossiter, Christian Benteke, Joe Allen, Jordon Ibe, Andre Wisdom, Kevin Stewart, Lucas Leiva, Brad Smith, Mario Balotelli, Tiago Ilori, Jose Enrique and Kolo Toure have all moved on. Divock Origi is out on loan.
In every case, it was the right decision to do so. Only Mamadou Sakho would definitely make the current squad, but Klopp's decision on him was not due to his footballing abilities.
So, sticking with the positives, Klopp has constructed an 'attacking' group consisting of Mane, Salah, Solanke, Roberto Firmino, Daniel Sturridge, Ben Woodburn, Adam Lallana and Philippe Coutinho.
I think it's reasonable to say that this is one of the best attacking groups we have had in a long time.
But for all of the above, if there is the one major, massive, behemoth of a flaw in Klopp's progress as the Liverpool manager…it's the dismal defence.
Laughing Stock of the League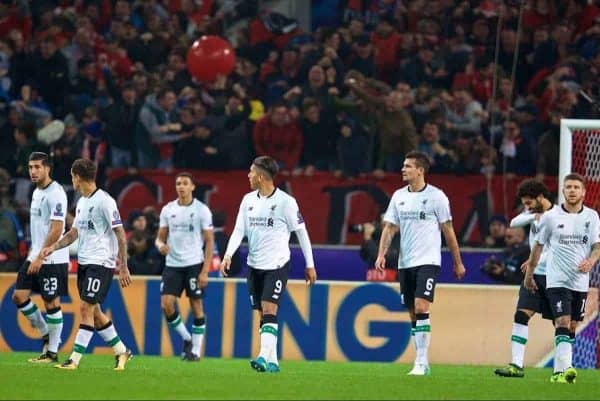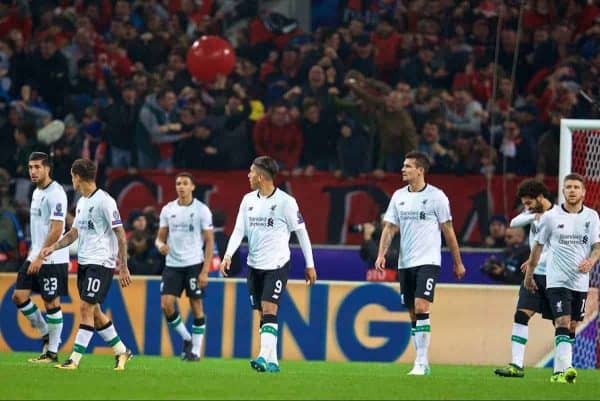 Two years has been enough time for Jurgen to have addressed this. And he absolutely should have addressed it.
It's not just an Achilles' heel, it's a great big bloody size 13 workie's boot of a problem.
Exacerbating the problem of late is that ominous trait that managers have when they're struggling for answers…rotation. More aptly known as 'tinkering'.
In the last few games, we have used three goalkeepers, and any variation on the Matip, Klavan, Dejan Lovren and Joe Gomez quartet in central defence.
For some reason—and please don't tell me it's because he's suddenly developed in to a top-class defender—Alberto Moreno has played virtually every game, yet in the two games Robertson has started, he's been arguably our best defender.
Right-back is a shared accountability between two young kids, who simply cannot be gaining any confidence from their roles in the catalogue of errors.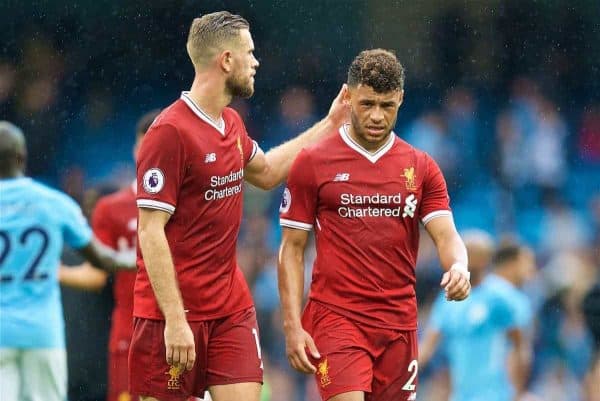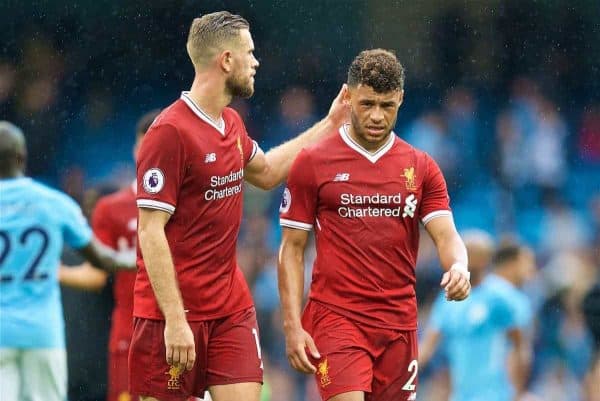 We have conceded 19 goals in 11 games this season. Nineteen! That's an astonishing 1.7 goals per game—and the vast majority have come gift-wrapped, with a bow, handed on a silver platter to the opposition.
We have conceded 11 goals in six Premier League games—or 1.8 goals per game. Only two teams, currently in 17th, 18th and 20th in the league, have conceded more.
The three promoted teams—Newcastle United, Huddersfield Town and Brighton & Hove Albion—between them have conceded 15 goals in 18 games.
In the league, we have conceded nine or more goals in our opening three away games for the first time since 1965.
In the 10 games to date, the opposition have had a grand total of 92 shots with 42 on target. They score with 46 percent of their 'on target' shots.
In three particular games—Crystal Palace (H) and Burnley (H) in the league, and Leicester City (A) in the League Cup—we achieved over 70 percent possession in each, and have an aggregate score of 2-3, with one win, one draw and one defeat.
Magnifying Past Mistakes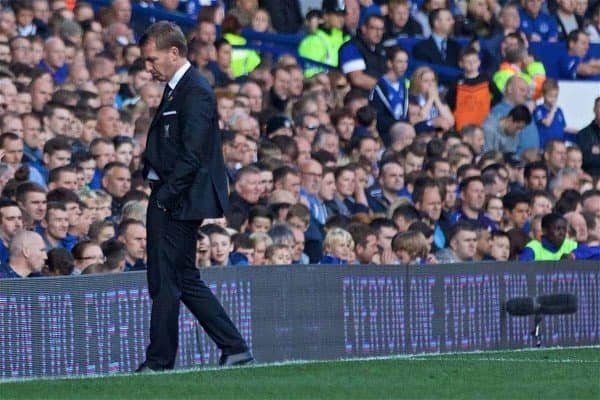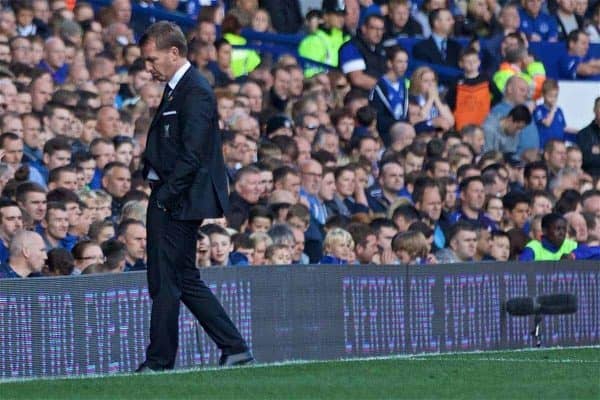 To put this further in perspective, Rodgers, legendary for his dodgy defences, averaged 1.2 goals against per game throughout his Liverpool career.
The season he was sacked, we had conceded 10 goals in his opening eight league games—just about par for the course at 1.25 goals per game.
Klopp's record for the remainder of that season was 40 goals conceded in 30 games, or 1.33 goal per game.
Last season, we saw the improvement needed—and expected—from such a high-profile coach with 42 conceded in 38 games.
While not title-winning level defending—almost every title-winning team concedes fewer than 40 per season—it seemed to be heading in the right direction.
But then Klopp—or the owners—made decisions that have resulted in the wheels falling off defensively.
I don't have any issue with moving on players such as Lucas and Sakho…as long as you replace them! I don't have any issue with moving James Milner from left-back—if the incumbent is superior.
There have been no replacements for Sakho and Lucas, and Moreno is not superior. Klopp lost defensive resources from an already suspect defence, and added just one in Robertson.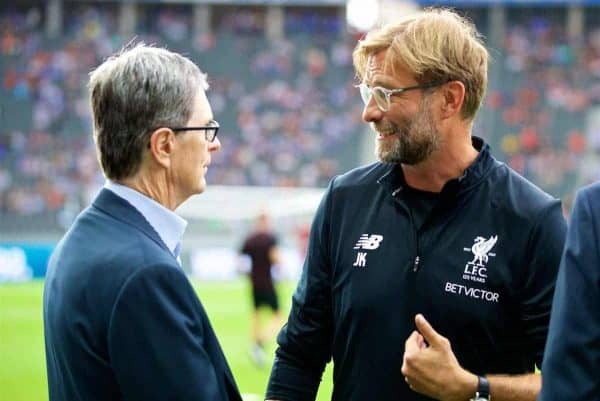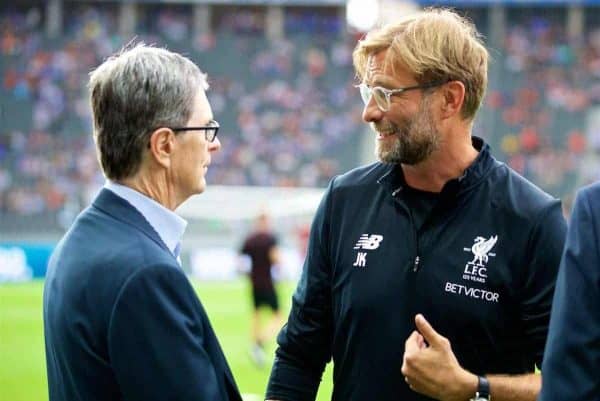 Liverpool have spent, net, only £43 million on new players since Klopp's arrival. It is an amount of money dwarfed by our competitors, but also less than the majority of the Premier League clubs.
Stoke City, West Brom, Palace and Everton are just four teams who have spent more. And this, for a team currently reaping the hefty financial rewards of the Champions League, and listed as the eighth richest football club in the world by Forbes.
The old adage of 'you get what you pay for' couldn't be more true regarding Liverpool's defence.
While we've shopped at Harrods for midfielders and attackers, we've shopped at Poundstretchers for defenders:
Add it up, you'll see that our entire defensive squad of 11 players has been purchased for a grand total of £73 million pounds—and £32 million of that was on Lovren and Moreno.
Respite in the East Midlands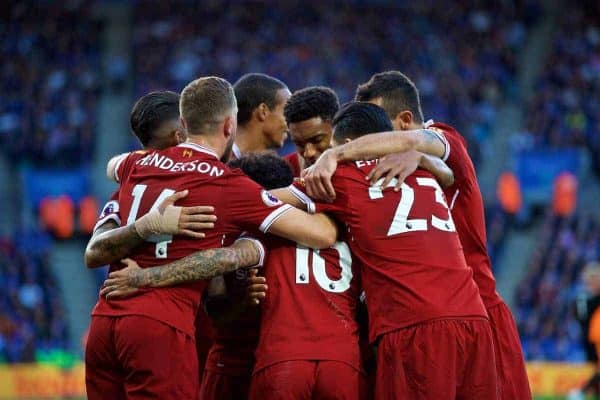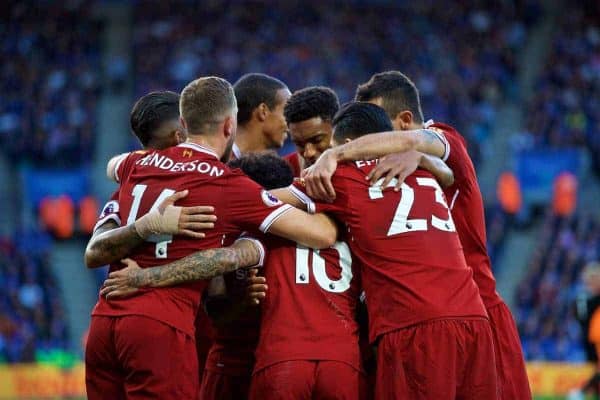 The recent game against Leicester in the league brought a much-needed win.
When we score three and concede only two, it's a little easier to forget the defensive lapses—especially when 99 percent of the blame was targeted at the inept referee—and, let's be honest, he truly was shocking!
But that's too easy: we conceded two, which quite easily could have been four.
Lovren made five mistakes in the first five minutes: he gave the ball away twice in dangerous areas; he sliced an easy clearance out of play; he played Jamie Vardy onside.
When Mignolet saved from the England striker, Lovren was completely unaware of Riyad Mahrez coming in behind him who, thankfully, screwed the shot over the top.
For their second goal, Gomez was bamboozled by Marc Albrighton on the left wing—not Kevin de Bruyne, David Silva or Eden Hazard…Marc Albrighton.
The cross then exposed a complete lack of marking in the left-back area, and suddenly it was 3-2.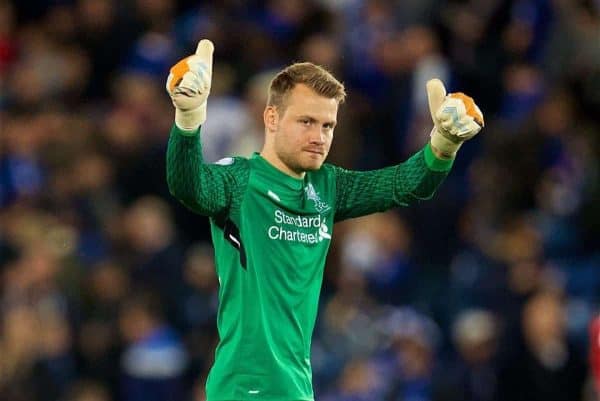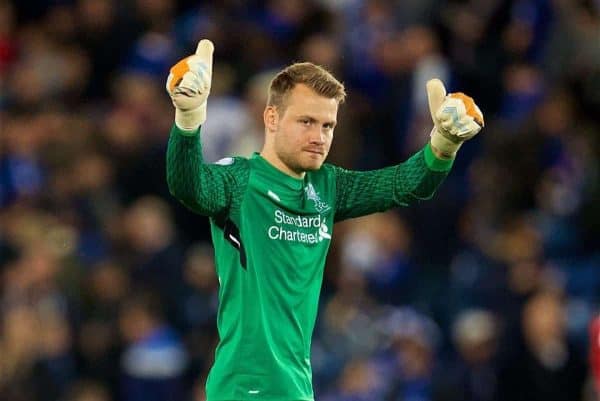 Mignolet's 'was it/wasn't it' penalty, should never have come to that. He was clearly first to the ball, could have dived on it, and should—at the very least—have blasted it into the stands.
But his rush of blood meant he whiffed at it and gave the gleeful referee the chance to point to the spot.
Let's not forget, Mignolet also miskicked straight to Shinji Okazaki in the first half, who snatched at the open-goal chance presented to him. Again, a horrendous mistake, but forgotten because it went unpunished.
These are the consistent errors that have plagued these same players for not weeks, or even months…seasons!
Jurgen can defend them all he likes, but there will come a time when this defensive unit must be dismantled and rebuilt.
He is right in his recent comments that 'defending is a team responsibility' but no team can legislate for glaring and consistent individual errors.
A Solution in the Squad?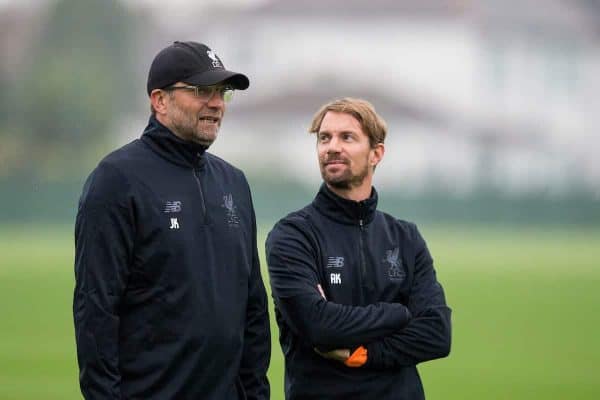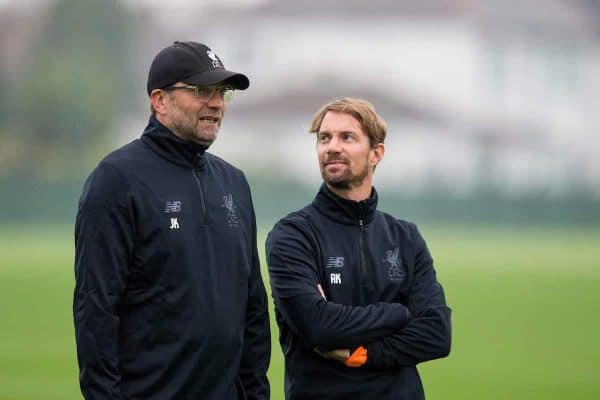 Is there a solution with the current crop? Personally, I would like to see a back five of Ward, Robertson, Matip, Gomez and Milner—until Clyne returns.
Risky, with Gomez, yes. But riskier than leaving Lovren or Klavan there? Gomez learned his trade as a centre-back, so how about we give him some game time there?
Milner's only 'fault' as a left-back was he can't cross with his left foot. But he can with his right! So why not give the kids a break at right-back and add some steel?
Ward has waited for his chance, and let's see if he has what it takes. He's not let us down yet and will have a point to prove. If he doesn't succeed, Mignolet gets his place back.
Here's where I believe we are at the moment:
A title-winning calibre front line.
A top-four midfield—which becomes significantly better than that if the midfield consistently features Coutinho and Lallana.
A mid-table defence—irrespective of which formation and players Klopp has preferred so far this season.
Fix the defence, and with the attacking riches we have, this could be some season. Leave as is, and we have to ready ourselves for further disappointment.