Liverpool U18s midfielder Curtis Jones has lavished praise on Daniel Sturridge, and revealed the influence Steven Gerrard has had at Kirkby.
Jones is considered one of the most promising talents in the Reds' academy ranks, and has already scored three goals in five appearances for Gerrard's side this season.
The 16-year-old netted a brace in the Liverpool U19s' 4-0 victory over Sevilla in the UEFA Youth League on Wednesday, underlining his vast potential.
He has already made his way up from Kirkby to Melwood, too, training under Jurgen Klopp at points last season, and it was there that Jones caught Sturridge's eye.
"He's a great lad. He's humble, he's been there before and knows what it takes. He knows how hard Klopp has the lads working," Jones told LiverpoolFC.com.
"Daniel was basically telling me he can see that I'm a technically gifted player and that I'm comfortable on the ball.
"But said Jurgen will know I'm technically good and that's why I'm up there.
"He said if I can get the other side of my game up to the standard of when I've got the ball then I shouldn't have problems.
"To have Daniel there, who's a big player for Liverpool and also a big part of the international team, giving me confidence and telling me that I'm able to play around the first team, it boosted me.
"It's also just having him taking his time out to come over and give not just me but a few of the other lads his point of view on the session, it's a nice touch.
"It's the same with any player, they come over and give you advice, it makes you think you've caught their eye."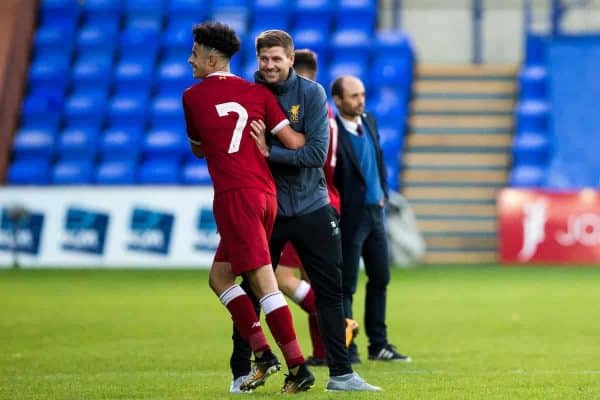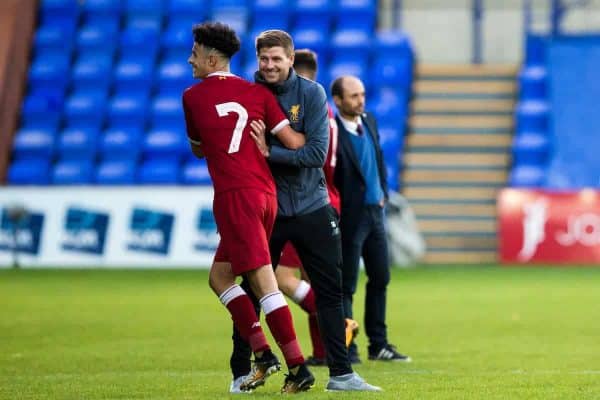 At such an early stage in his fledgling career, however, it is wise to keep Jones out of the limelight in the U18s squad.
There, he has a new manager in the form of Gerrard, and the teenager described the influence the club legend has had in his first months at Kirkby.
"I think for any Liverpool lad, especially being a local boy, it's a massive thing," he explained.
"Whenever anyone says Liverpool, you know the first person they're going to think of is Steven Gerrard.
"He's a legend, he's a character and to have him around the team is benefiting us.
"I would definitely say I've got better under him, so I'd like to see where he takes us.
"He's a great man, Steven. Every time you're unsure of something you can go to him, he'll always be there, he's supportive.
"He's got me working on timing my runs into the box and making sure that I'm getting in there. I think a big part of that is fitness and being able to get into the box.
"On top of that, Steven is a man who's all for the team, it's not about him and how he can look in the media.
"It's more about his team and how he can get the best out of his players and can they take the next step up to Jurgen."
Both Sturridge and Gerrard have clearly recognised the talent that Jones possesses—now he must keep his head and keep performing, in the hope that Klopp comes calling again.