Despite Liverpool suffering from three frustrating results in a row, the impact Mohamed Salah has made since joining from AS Roma is a major positive.
The Egypt international made the £36.9 million move from the Serie A side in June, as the biggest signing of the Reds' summer.
Taking up the No. 11 shirt, Salah has swiftly established himself as a key player on Merseyside, linking up with Sadio Mane and Roberto Firmino in Jurgen Klopp's new-look forward line.
And after being labelled as a 'Chelsea reject' ahead of his switch to Merseyside, Salah has already changed the narrative.
In eight games for Liverpool in all competitions so far, Salah has scored five goals and assisted a further two, averaging a direct goal contribution every 87 minutes.
He is the Reds' current leading goalscorer, ahead of Firmino (four) and Mane (three), and only Firmino has tallied more assists so far (three).
More impressively, having been written off in the Premier League following his failed spell with Chelsea, he has scored three and assisted two in five games in the English top flight.
This averages at a goal or assist every 68 minutes, better than his average in Serie A last term (89 minutes)—albeit based on a significantly smaller sample size.
Only Jamie Vardy, Gabriel Jesus (both four), Romelu Lukaku and Sergio Aguero (both five) have scored more than Salah in the Premier League this season.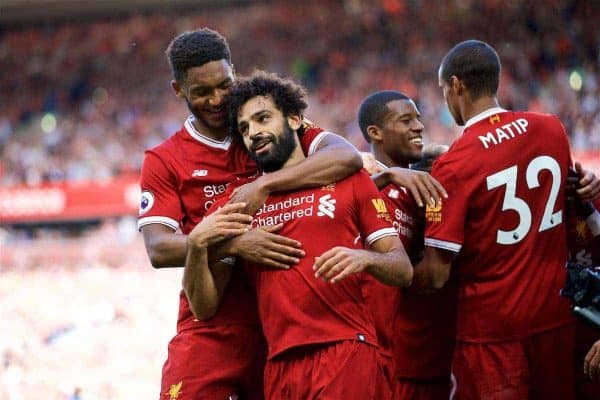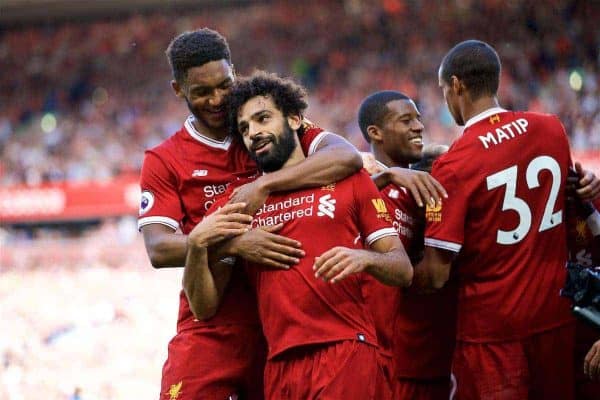 That Salah has hit the ground running in terms of goals and assists is a feat magnified by his poor finishing in a Liverpool shirt.
The winger has routinely squandered simple chances, including in last weekend's 5-0 loss away to Man City, as he continues to find his feet on the right flank under Klopp.
He has fired 22 shots on goal in his seven games for the Reds so far, at least six more than any other player, with Firmino attempting 16 shots in all competitions.
While this could be seen as a negative, Salah can only continue to improve, and the prospect of his conversion rate improving is hugely encouraging.
In fact, Salah has averaged 4.4 shots per goal this season, which is in line with Mane (also 4.4) last term, with the Senegalese scoring 13 in 29 appearances in his first campaign.
Given the frustration on Merseyside following the loss to City and draws with Sevilla and Burnley, it is worth noting the early influence of Salah, and his potential to improve further.