With his future now resolved—for this season, at least—it's time to discuss what happens next with Philippe Coutinho at Liverpool.
One of the club's best players over the past few campaigns, Coutinho nonetheless eroded much goodwill from the support base this summer after failing to feature in the opening games of the season and requesting a transfer away.
A move to Barcelona didn't materialise as the Anfield club refused to sell, and the process of reintegrating Coutinho into the team must now begin.
For some fans, though, it might not be as simple as sticking the No. 10 straight back into the side—questions remain, which may never be officially answered, and opinion is split over his role in the immediate future.
We put the tough questions to a panel of fans and writers to offer their differing views on the matter; joining TIA regulars Karl Matchett and Henry Jackson are Sam McGuire, Dan Kennett and Jason Roberts to give their thoughts.

A back injury and illness were given as reasons for his absence, before he flew to the other side of the world and played for Brazil. Should he have been (or should he now be) fined or otherwise disciplined by the club for feigning injury?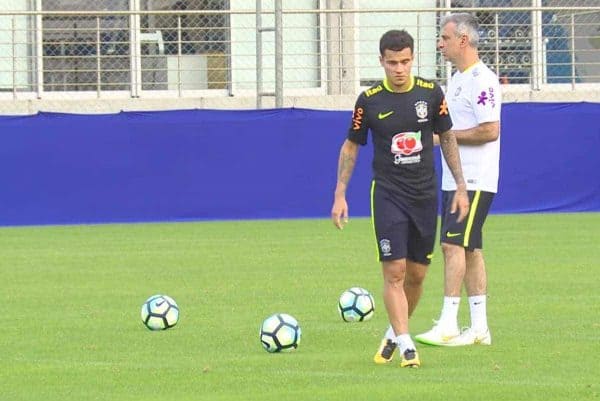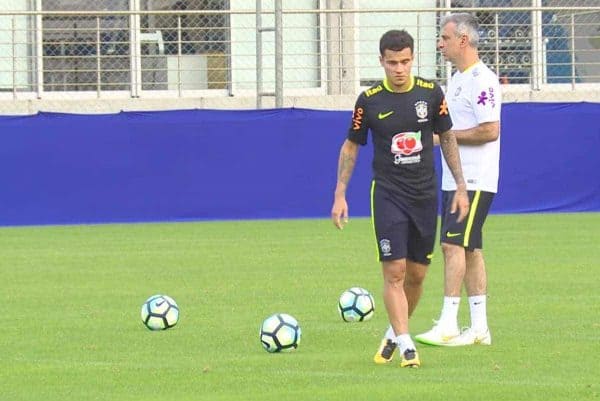 HENRY: I'm not so sure. Unfortunately, we are in an age where player power is rife, but in terms of moving on and reintegrating Coutinho, I think the club should let it slide and move on. That may be an unpopular opinion, with Coutinho's antics clearly out of order and deserving of punishment, but I think it would add another needless chapter to the saga.
If the club are to discipline him, do it behind closed doors.
SAM: It's a bit of a grey area, isn't it? At the end of the day Coutinho is human and he may have been feeling a niggle in his back and there was enough there for the medical staff to rule him out.
I'm not defending him or his actions, he looked absolutely fine for Brazil, but unless there's definitive evidence you can't go round calling him a liar. Back spasms can go as quickly as they come so the club can't fine him or discipline him for playing for his country.
DAN: The club medical team will know if Coutinho has been actually injured or actually ill during August.
It's possible that there may have been a back injury at some point in early August after his last appearance vs Bayern. But if there has been no injury or illness then Coutinho should definitely be subject to the club disciplinary process.
JASON: Whilst it's frustrating from a supporters perspective and somewhat embarrassing for the club to see him training & playing for Brazil, it'd be naive to think that the club weren't aware that he wasn't actually injured.
Club doctors would have been assessing him surely? I think his "injuries" were a poor attempt by the club to save face while he agitated for a move, so he shouldn't be fined or disciplined for feigning injury. He should be punished for the disruption that he has caused though.
KARL: If the club docs cleared him of injury and he still refused to play for Liverpool, that's one thing. If it was a case of simply going along with the lie by the club to avoid further questions, it's not (only) Coutinho's fault.

Klopp has made it clear Coutinho will return to the fold—but when is the right time? Would you have him back in for City, or for the Champions League? After that?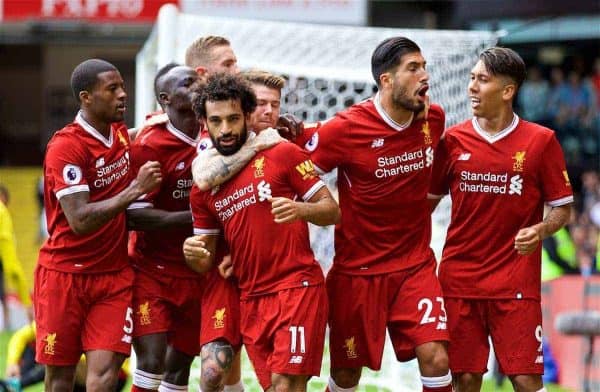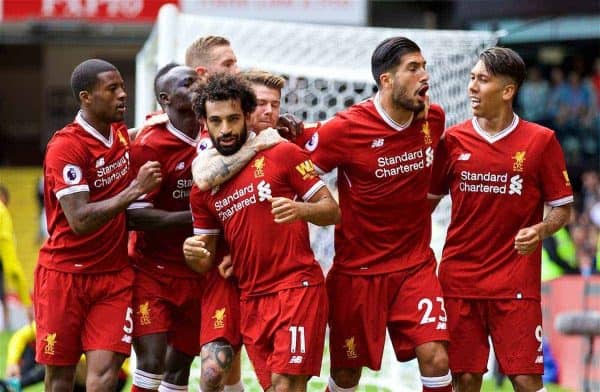 HENRY: I definitely wouldn't start him against City, and the team have shown in recent weeks that they can be electrifying without him. He is not as indispensable as someone like Steven Gerrard or Luis Suarez, and he could also be rusty or tired after international duty.
In the squad on Saturday and potentially think about starting him against Sevilla, depending on how much the City game takes out of others.
SAM: He's clearly match fit having appeared for his country so he should be involved with the squad immediately. At the end of the day it's about the club so personal feelings need to be set aside.
I'd have him on the bench for the next few matches, giving him 20 minutes here and there. He's a useful asset to have and could be a game changer off of the bench.
DAN: Klopp must plan it out: the player is ready and Klopp is happy then get him back in straight away!
The good news is that our attack is flying at the moment so there's no immediate rush. But we have seven games in 22 days before the next international break. We can't just play the same midfield and attack in all; there needs to be rotation in September and Coutinho will be a big part of that.
JASON: The players in the team have earned the right to start against Man City, so I wouldn't put him straight back in. Depending on his attitude when back at the club, I'd have him on the bench against City with a view to potentially starting against Sevilla.
KARL: Not against City, but that's nothing to do with Coutinho—the other players have shown they deserve to continue starting instead. After that, game-by-game on the team needs.

Is it hypocritical of Klopp to welcome Coutinho back when he steadfastly refused to do the same for Mamadou Sakho?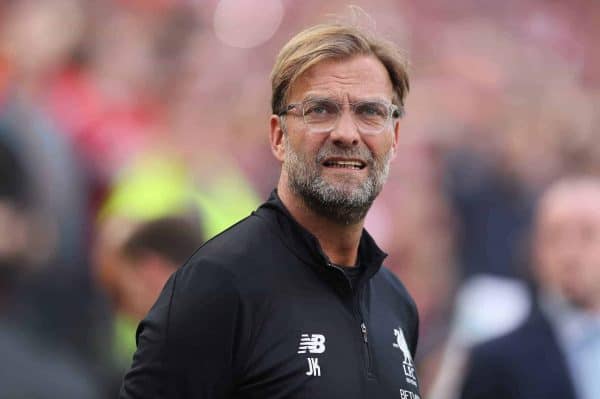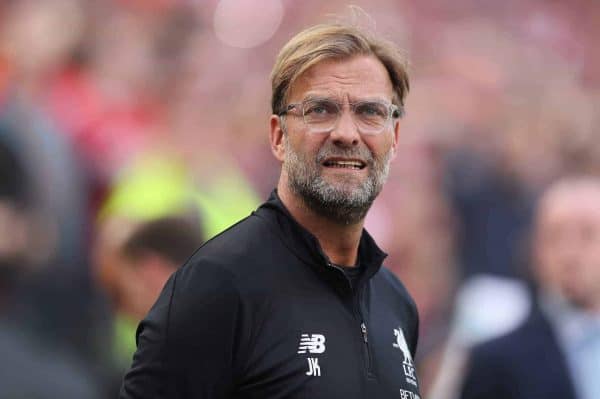 HENRY: It is to an extent, yes. The bottom line is that Coutinho is a far superior footballer to Sakho, and his misdemeanors have been a little more understandable, given how desperate he was to join Barcelona.
Sakho misbehaved several times and didn't seem to learn from his errors, whereas Coutinho is a well-behaved individual whose mind has been pickled this summer. Very different situations, but there is some hypocrisy there from Klopp.
SAM: Yes and no. In an ideal world I'm sure Klopp would like to give Coutinho the same treatment as Sakho but he's too valuable and there's nobody quite like him in the squad. Klopp is the sort to cut his nose off to spite his face but football is a results business and he knows this at the end of the day. If Liverpool are losing and Coutinho is playing for the under-23s questions will be asked.
The difference with Sakho was Liverpool had capable—kind of—defenders to step in. Liverpool weren't able to get Thomas Lemar in and Naby Keita isn't arriving until next summer meaning Klopp's hand, to an extent, is forced with Coutinho.
DAN: Yes. But it's also realpolitik. The more talented you are, the more exceptions are made for you.
JASON: On the face of it, you can see why people may see it as hypocritical. However we're judging both situations ignorantly to a degree. Without knowing the actual facts in both cases, it's difficult to compare them and call Klopp a hypocrite.
KARL: Hypocrisy has rarely mattered in football, particularly if you're the boss and never if you're winning.

How about from a fans perspective: should supporters welcome Coutinho back and continue to hold him in as high regard as he has been? Or should he be let known exactly how supporters have been reacting and speaking about him on social media of late, when he returns to the pitch?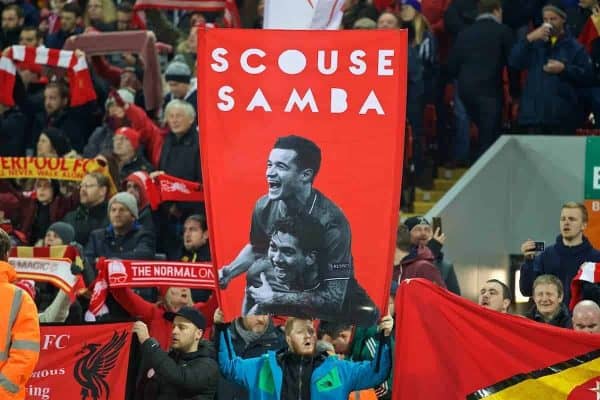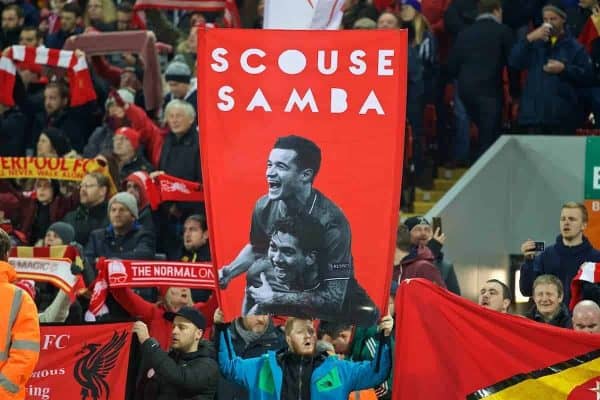 HENRY: Tricky one. I think his behaviour will have hurt some supporters because he has never come across as that sort of character.
There will be some who may never forgive him, given the "no player is bigger than the club" line, but if he delivers on the pitch, all will be forgiven sooner rather than later. We are a very fickle bunch.
SAM: He needs to earn back the respect and the love of the supporters and it won't be easy. For the first time in a while, the Reds have a number of key attackers, so Coutinho can't waltz back in, put in two good performances and expect fans to forget what happened in the summer.
After all, he sat out vital games, against Hoffenheim and Arsenal, putting himself before the team. As fickle as we are, there needs to be somewhat of a united front when players think they're bigger than the club.
DAN: On match day, our fans will get behind the team, including Coutinho. It's what we do. Support the team and try to help them win. And if he scores, I expect to hear chants of "ole, ole, Coutinho-o-o-o" ringing out!
JASON: He definitely deserves to be made aware of the fans displeasure. We love the club and even if we can understand the allure of Barcelona, his actions have been disrespectful to Liverpool.
He can't expect an easy ride. Even so, most of us just want the best for the club, so if he contributes to a successful season then he'll at least win back the support of the fans—just not the same level of adoration as before.
KARL: His first appearance off the bench might get a mixed reaction, but I suspect the first goal he scores will restore matters somewhat.
There are bigger matters to focus on during the 90 minutes than letting Coutinho know he has irked the fanbase.

Seemingly kept against his will, is Coutinho likely to be a Suarez or a Torres?

HENRY: I believe he will be more of a Suarez, partly because I think he's a good lad deep down and also because this is a World Cup year.
He will be well aware that a poor attitude will likely to see him dropped by a manager as ruthless as Klopp, and next summer is likely to be the peak international tournament of his career. He will not want to be ousted from Brazil's team, having become such a key figure of late.
SAM: He'll probably edge more towards Torres than Suarez because he's showed his petulance at various stages in the past.
However, he seems to thrive in high pressure situations and could view this season as one extended shop window to push for a move.
DAN: This is the key. To what extent did Coutinho himself push for the move and initiate it all? To what extent was it from other people in the "Coutinho camp"?
His agent is the unlicensed Kia Joorabchian and there is literally nothing that man could do that would surprise me. He is a cancer on football as Man City well know through the Tevez and Garry Cook affairs. Some of the post-transfer window fallout on the Barcelona side suggests that nearly all of the media noise around Coutinho came from the agent.
It's almost certain that Kia was feeding everything to the media, including the details of the transfer request one hour before the club knew about it.
The first thing that needs to happen is Klopp sitting down with Coutinho after he returns to Liverpool. Then let's go from there.
JASON: It's hard to know how he'll react. However with the World Cup coming up, plus the opportunity to play a key role in such an exciting team I can't see him spending the season sulking.
It benefits nobody if he doesn't give his all.
KARL: More Suarez, but it'll b more a case of the team firing and Coutinho shining within rather than how Suarez himself lifted the entire side.

Finally, how long will Coutinho remain a Liverpool player for? And given has a long term contract, what would your decision be to do as manager?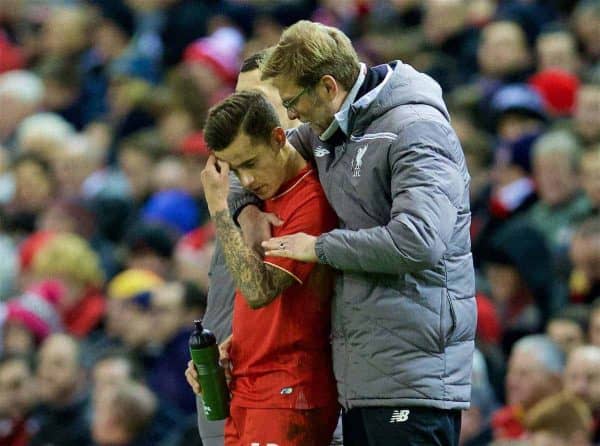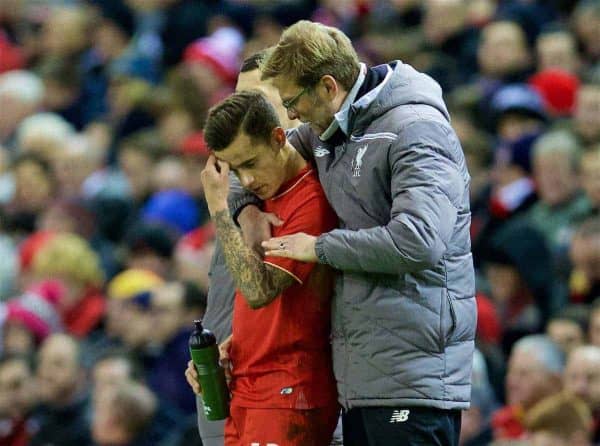 HENRY: I expect him to leave next summer, probably to Barcelona, and I wouldn't begrudge him his move if he has delivered for Liverpool.
I don't think Klopp was fussed about Coutinho going this summer, FSG were the ones intent on making him stay, and I would be in the same boat if I were a manager. Having unhappy players in the squad is no good to anybody.
SAM: It's definitely more of a 'when' he leaves and not 'if'—but it will be on the club's terms. Who will be able to afford him? Barcelona aren't flush with cash and have other areas they need to rebuild next summer while PSG are treading a fine line with FFP.
If I was the manager, though, I'd sell him the first opportunity I had. I'd want players in my squad who want to play for the club so I'd cash in.
DAN: If you were a betting company then <1 year would be odds-on. But if it was up to me I hope it's longer because you can't have too many really good players.
Who knows what the future will hold. Coutinho may go on strike, on the other hand he might change agents or sign a new contract with a guaranteed release clause. Only time will tell.
JASON: It depends on Barcelona's financial situation and the timing of a bid. If they come back for him next summer with a substantial offer at the start of the window, then he's gone.
You would imagine that the club are already preparing for this and identifying potential replacements such as Thomas Lemar.
If I was the manager, I would be looking at his contract as security that a high fee can be commanded and sell him as long as the money offered was right and a replacement signed.
KARL: Very few fans expect Coutinho to be at Anfield more than one more year. I'd have sold this summer once the bidding reached £150 million or so in attainable add-ons—that's absurd money.