Jurgen Klopp said it "felt like Christmas" as his Liverpool players bounced back from their worst game of the season to beat Huddersfield 3-0.
The 4-1 humiliation against Tottenham last weekend brought criticism raining down on the Reds boss and his players but a return to winning ways alleviated some of the pressure.
Daniel Sturridge's 100th club goal provided the crucial breakthrough five minutes after the break.
And Roberto Firmino and Georginio Wijnaldum made sure of the points after Mohamed Salah had missed a penalty at the end of the first half, which was followed by boos by disgruntled fans.
"Of course we had not the best week. We take the situation really seriously. It is really important," said Klopp about the last seven days.
"Tottenham was the worst game we played in the season and you can't ignore it. It can happen.
"The first goal [against Huddersfield] we forced the situation. The second one after a set-piece felt like Christmas. We had a lot of good set-pieces today.
"The third one was nice play. Big relief. The pressure was there. I could hear it. People didn't like the first half too much.
"It was not too difficult to fix at half time. We had more players between the decisive lines and it was more difficult for Huddersfield to defend.
"Three goals, three points, clean sheet."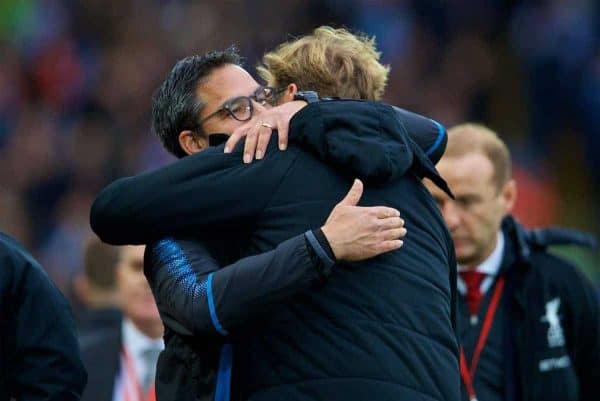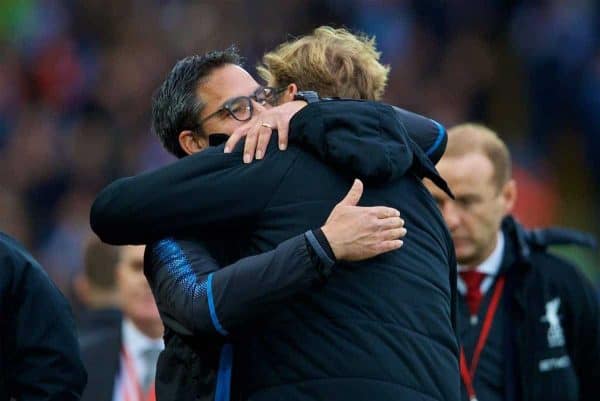 The result meant Klopp got one over on his best friend David Wagner and the Huddersfield boss accepted his side did not deserve much more having managed just one off-target shot in 90 minutes.
He was disappointed, however, that his side could not capitalise on the feeling of anxiety at Anfield which played right into their hands.
"I would say at the end it was a fair result," he said.
"Until the first goal we played defensively very well, we neutralised them. I haven't seen Anfield so quiet until the first goal.
"After we conceded the first goal we conceded the second from a set-play and Liverpool showed their offensive power.
"I am not sure if we are able to win the game because we hadn't any opportunities in the offence but we can take something for sure.
"We learned we are able to defend and not to give a lot of opportunities away even against the top guns but you have to make it from the first to the final whistle.
"If you give one small chance away, they will punish you."
Wagner admitted it felt slightly odd to be facing his best friend in the Premier League.
"During the game it was totally normal. Before and after the game it was a bit strange, yes," he added. "I congratulate him and Liverpool for this win."