The media praised Liverpool for finding form in front of goal and feel the season is now underway after the record-breaking 7-0 thrashing of Maribor.
Liverpool made up for the three-year wait for a Champions League proper victory by recording an unforgettable best-ever away win in European competition.
Braces from Roberto Firmino and Mohamed Salah, strikes from Philippe Coutinho and Trent Alexander-Arnold, and a first Reds goal for Alex Oxlade-Chamberlain ensured history was made in Slovenia.
The record was the icing on the cake of a magnificent night for Klopp's side, who dominated from start to finish and rediscovered the clinical touch in front of goal.
The victory will be a monumental confidence boost to the squad, and will hopefully provide the catalyst for a strong upturn in form from this point onwards.
Klopp's men will now travel to Tottenham full of belief, but before that, here's how the media assessed a memorable night for the Reds.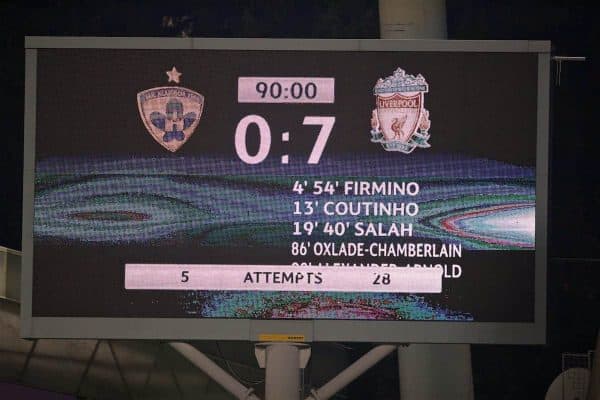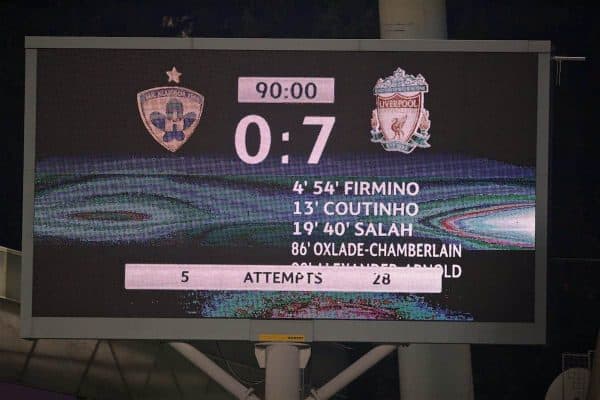 The watching journalists reflected on an historic night for Liverpool, and discussed how much of a boost the record-breaking win will provide to Klopp's side.
The Liverpool's Echo's James Pearce assessed it as the win that will spark the season to life:
"This was the demolition job Klopp's men have been threatening to dish out for weeks. A stuttering season finally has lift-off."
ESPN's Glenn Price believes the win proves the Reds are "heading in the right direction":
"For all the talk of crisis at Anfield in the past few weeks, this result is a timely reminder that Liverpool are heading in the right direction under Klopp."
The Telegraph's Chris Bascombe dismissed suggestions victory is less impressive because of the level of opposition:
"That would be ridiculously harsh considering Liverpool's results heading into this fixture and Maribor's previously excellent home record, including notable results against Premier League opponents.

"Consider too how Klopp's side had one victory in their last eight games before rampantly rediscovering their goal touch."
In fact, the Mirror's David Maddock labelled this the "most impressive" of Liverpool's biggest European away wins:
"This was perhaps an even more impressive chapter in Liverpool's glorious European history, though, because it was a level above victories over those part-timers, with Maribor seasoned Champions League performers."
The Liverpool Echo's Ian Doyle discussed qualification hopes, assessing the Reds are in a good position with two of the last three games coming at Anfield:
"Because far from being the two-horse race many expected, Liverpool, top of the standings on goal difference from Spartak with Sevilla a point further adrift, are now involved in a three-way fight in what the Reds boss admits has now become a very tight group.

"In favour of Liverpool—and, indeed, Sevilla—is two of their remaining three games are at home."
This Is Anfield's Chris Williams believes it will provide a big boost for Sunday's trip to Tottenham:
"Another high-scoring game is expected at Anfield in two weeks, but importantly this will allow the squad to be confident traveling to Wembley this weekend to take on Tottenham."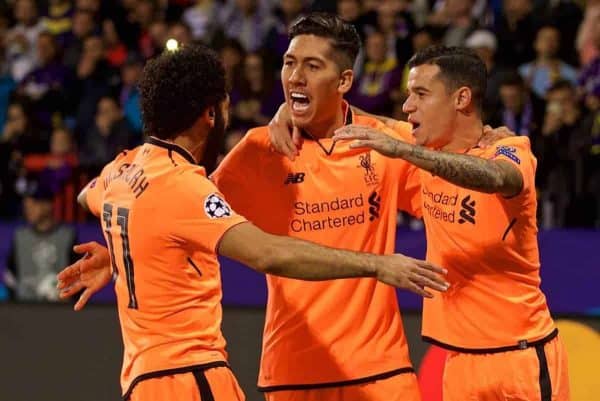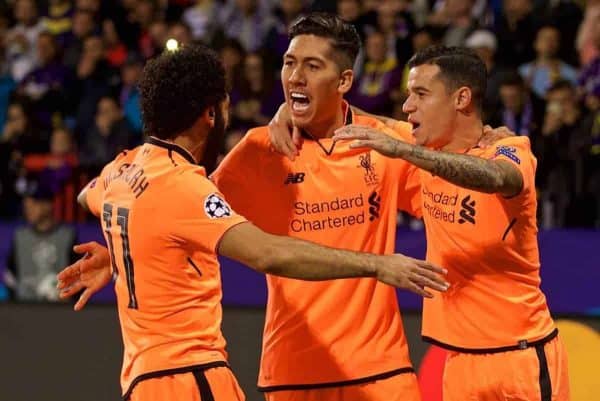 Reporters were pleased to see Liverpool's attack back firing on all cylinders, praising the performances of the front three and the way in which a cutting edge was finally rediscovered.
Price was pleased to see Klopp's men produce a "ruthless streak" when it mattered most and "respectful number of goals":
"For the first time in a while, Liverpool's shots total—26—produced a respectful number of goals.

[…]

"And while the frontline of Roberto Firmino, Mohamed Salah and Philippe Coutinho should have added further to their scoring tally at the Stadion Ljudski vrt, Jurgen Klopp's side displayed a ruthless streak in a must-win match."
Pearce assessed "any team in Europe" would be unable to cope with the Reds' attack in this form:
"The fact is any team in Europe would struggle to handle the three-pronged attack of Mohamed Salah, Roberto Firmino and Philippe Coutinho when they are in this kind of mood."
The Mail's Dominic King felt the "speed" of the front three terrorised Maribor:
"Liverpool's front three terrorised Maribor's defenders. Their speed, skill and subtlety wrapped up the points inside the first 20 minutes and the club's first away win in the Champions League since 2009."
Doyle praised the way the trio have developed an understanding so quickly:
"[Salah]'s understanding with Firmino and Philippe Coutinho—who was outrageously good here and became the first Liverpool player since Steven Gerrard to score in four successive away games—has been almost instantaneous."
Price feels this front three is the best option to get by without Sadio Mane:
"That front three is probably Klopp's best option while Sadio Mane nurses a length hamstring injury and that means Oxlade-Chamberlain may not get the chance he wanted after being touted as a potential replacement for Mane on the right wing."
Melissa Reddy, writing for Goal, believes Liverpool's must find consistency with their finishing:
"The challenge for Liverpool is to further augment this triumph by making sure it is only the start of their turnaround and not a rare occurrence of being clinical when it counts."
And discussing individual displays, Reddy thought Firmino showed why calls for an out-and-out striker were premature:
"Jurgen Klopp's side had been stuck in a cycle of creating much but converting little, leading to weeks of frustration, what ifs, and calls for the club to recruit a genuine No. 9.

"Against the Slovenian champions, the man wearing that shirt swatted away such shouts with a performance packed with verve, characteristic intelligence and a ruthless edge."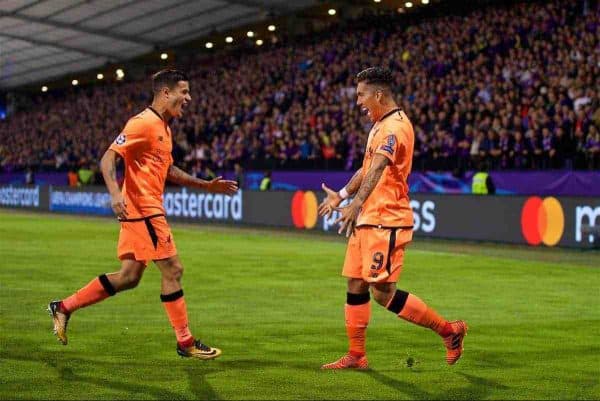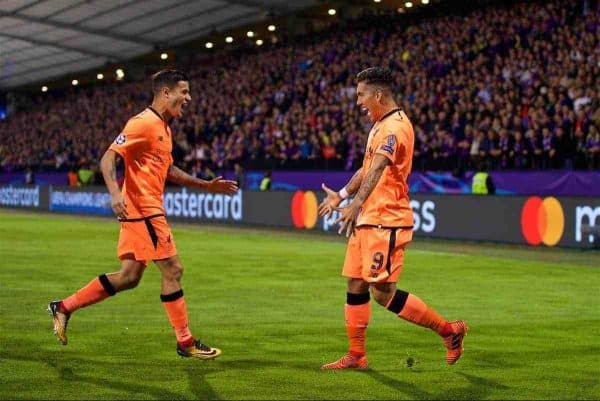 Reporters offered thoughts on the key aspects behind Liverpool's spectacular performance, with praise for the fast start and determination to overcome the sort of side that has caused problems.
Price assessed scoring early as key:
"The best way to counter a low-block is to score early and those three goals in the first 19 minutes ensured the remainder of the match took the form of an exhibition match."
Reddy praised Klopp's men for not allowing Maribor to settle into the setup that had frustrated other English visitors:
"Naturally, a triumph like this will be marked by comments such as 'it's only Maribor', but it shouldn't be forgotten that in their previous home match against a Premier League outfit on the continent, the Vijolice held Jose Mourinho's Chelsea to a 1-1 draw in 2014/15.

"In fact, the hosts offered a reminder of their unbeaten run against clubs from England on Monday night, but Liverpool never allowed them to exude confidence once the encounter kicked off."
The Guardian's Andy Hunter felt Liverpool's movement was too clever for the hosts:
"The hosts had no answer to Liverpool's movement, strength and quality and were swiftly routed."
The Independent's Mark Critchley was impressed with the way the Reds saw off potentially tricky opponents:
"Make no mistake, Maribor are a poor side that any team with desires to reach the knockout phase should comfortably beat, but they are also the type of side that this Liverpool team has struggled against recently."
ESPN's Steven Kelly assessed giving Maribor full respect was vital as it ensured of no complacency:
"This was a professional performance, given how Liverpool have wasted so many chances in recent weeks. They gave their opponents the proper respect and that paid off handsomely."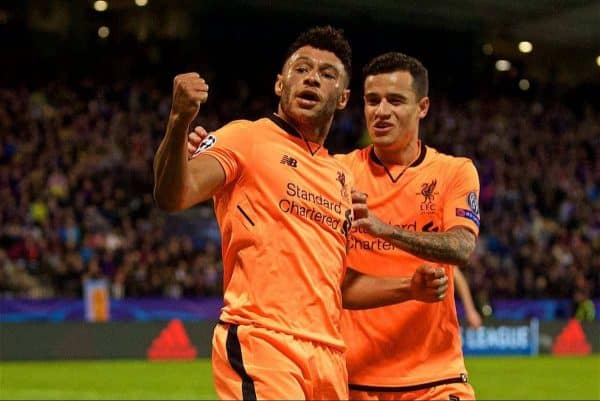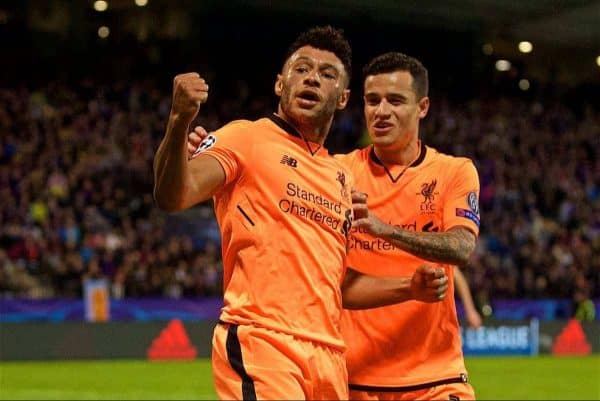 Reddy thought the win was even more impressive as it came without some key players:
"To do it in such an assertive manner in an away Champions League tie sans Sadio Mane while Adam Lallana and Nathaniel Clyne are still unavailable is deserving of plenty of credit regardless of the name of the opposition."
Meanwhile, Williams noted the importance of a clean sheet:
"Having leaked goals from mistakes such as the one away at Spartak, as well as being pumped for five by City at the Etihad, it is key to have returned from this game with that all-important 'nil' next to Liverpool in the fixture listings.

[…]

"For the entire back line this '0' that precedes the '7' is most crucial."
And This Is Anfield's Henry Jackson felt Klopp "reaped the rewards" for his strong selection:
"A perfect night for the manager, who fielded a strong starting lineup and reaped the rewards for that decision."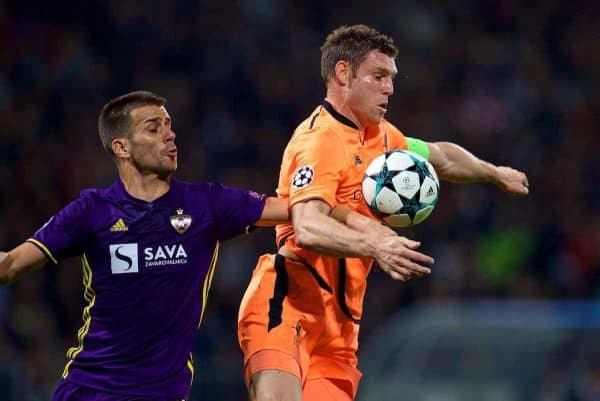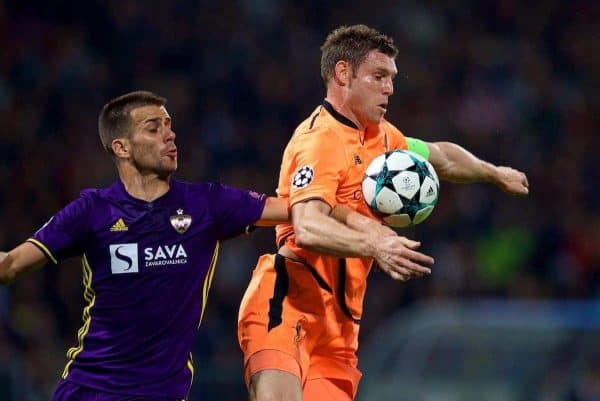 Though a night in which the whole team impressed, the assessing reporters offered verdicts on who in particular shone in Slovenia, with plenty of praise for James Milner.
Bascombe labelled the stand-in skipper "superb" and questioned why he hasn't played more often:
"Milner was superb in an advanced midfield role, foraging in areas that made it seem mystifying he has not started more often."
Similarly, Price thought Milner showed he is still a capable midfield option:
"His showing against Maribor put some of those doubts to bed.

"As a consummate professional, Milner still has the fitness levels to play in the engine room which, in Klopp's system, demands lung-busting runs into the penalty area."
The Mirror's Liam Prenderville was impressed by Emre Can's display in Jordan Henderson's role, and thinks the German could take the position permanently:
"Liverpool's domination meant he didn't have too much to do from a defensive perspective but he barely wasted a pass.

[…]

"Some Reds fans believe the German should start in the role ahead of skipper Henderson and it may be where his future lies."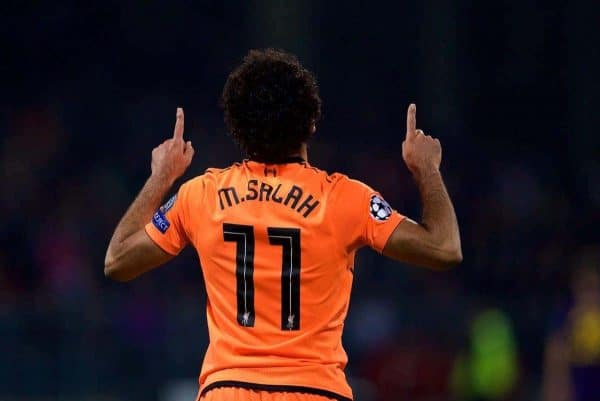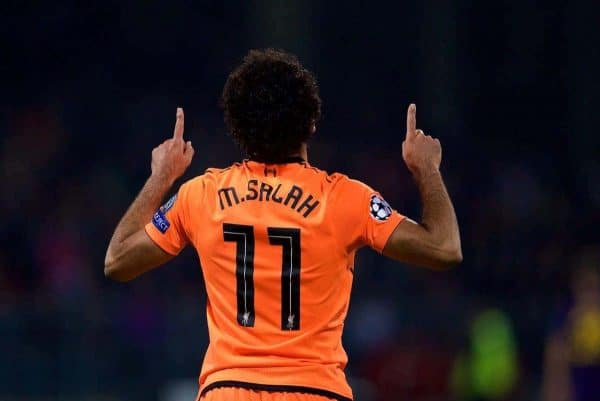 Finally, Prenderville feels Salah will be key in Mane's absence:
"The Egyptian is in fine form at the moment and his pace provides an extra dimension to the Liverpool attack.

"He will be even more important with Mane sidelined, too—and was given a rest ahead of the trip to Spurs before the hour mark."