After James Milner's star turn in Liverpool's 7-0 win over Maribor, is a more regular role in Jurgen Klopp's midfield on the cards for the veteran?
The Reds returned to form in emphatic fashion on Tuesday night, thumping their Champions League opponents and asserting their dominance on Group E.
Roberto Firmino and Mohamed Salah both scored braces, while Philippe Coutinho, Alex Oxlade-Chamberlain and Trent Alexander-Arnold put the gloss on an impressive victory.
After an eight-game run that saw Klopp's side win just once, Liverpool were in excellent form in Slovenia, from Loris Karius between the sticks to Firmino up front.
Milner's performance was arguably the most accomplished, however, with the unassuming Yorkshireman outstanding in just his third start in nine appearances this season.
Demoted from the role of first-choice left-back to that of spare part in midfield, Milner would be forgiven for weighing up his options in the twilight of his career.
But, while Maribor are far from the most distinguished of sides in Europe's top tier this season, the No. 7's display at the Stadion Ljudski vrt highlighted why he should be more prominently featured.
Milner vs. Maribor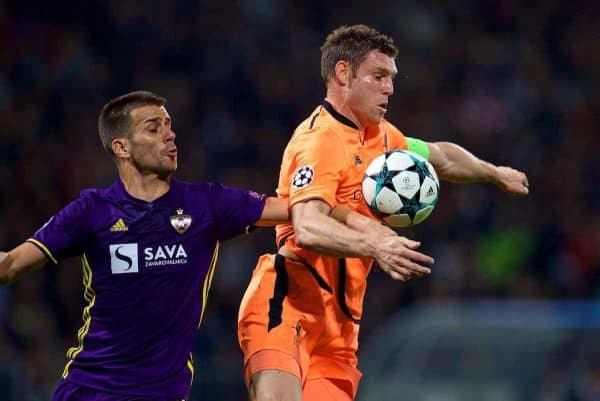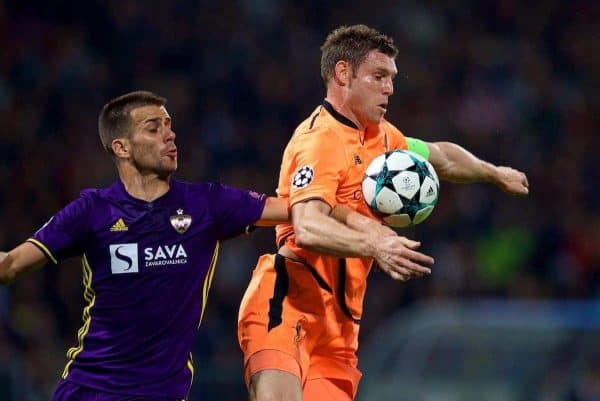 One of three changes to Klopp's side from Saturday's 0-0 draw with Man United, Milner took Jordan Henderson's place in the Liverpool midfield in Slovenia.
This prompted Emre Can to shift back into the No. 6 role, with Milner joining Georginio Wijnaldum as one of the Reds' two roving options.
After vowing to attack the visitors as they pushed for an unlikely result, Maribor left themselves open from the first whistle, and this provided Milner and Wijnaldum the freedom to roam.
Milner tested Jasmin Handanovic with a low curling shot with his left foot on seven minutes, before setting Coutinho up for Liverpool's second shortly after, following an overlapping run.
A similar interchange with Salah saw Milner come close to notching his second assist two minutes later, but Firmino squandered an easy finish in the six-yard box.
Liverpool went into half-time four goals ahead, but kept up the pressure after the break, with Milner remaining a valuable outlet surging forward from midfield into a variety of positions: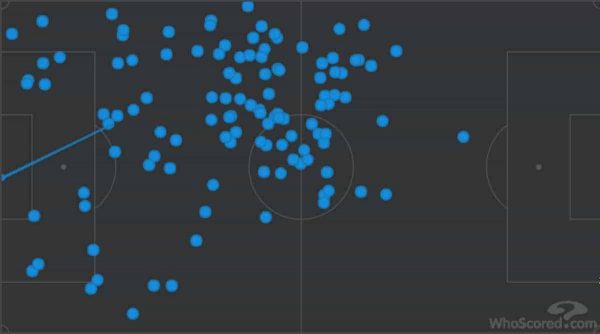 Milner touched the ball more times (120) than any other player on the night, popping up on the edge of the box, on either wing and, when required, deeper in the midfield.
His season as a left-back in 2016/17 has clearly provided Milner with a better positional sense when drifting out to the flanks, and this was one of Liverpool's most threatening avenues on Tuesday night.
No player attempted more crosses than the 31-year-old, with seven, and encouragingly, he also found his target with four of those; only Coutinho (six) created more chances than Milner (three).
Only centre-backs Dejan Lovren (110) and Joel Matip (104) made more successful passes than the stand-in captain (95), while only Matip (96.2%) averaged a higher pass completion rate (93.7%).
Maribor, maintaining their attacking approach throughout, still demanded focus from Klopp's defence, and only Alberto Moreno (five) made more successful tackles than Milner (three) for the Reds.
It was a performance of all-round quality, and undoubtedly puts pressure on the man he replaced.
Milner or Henderson?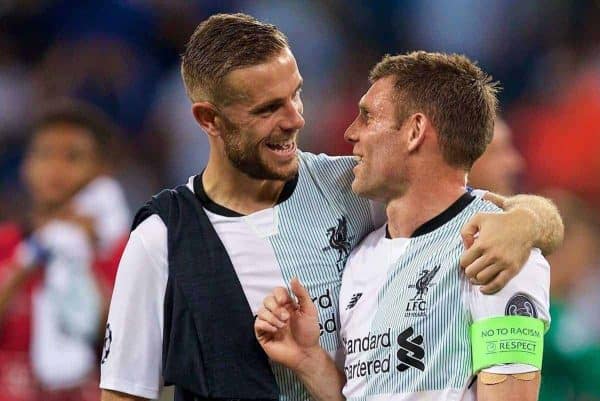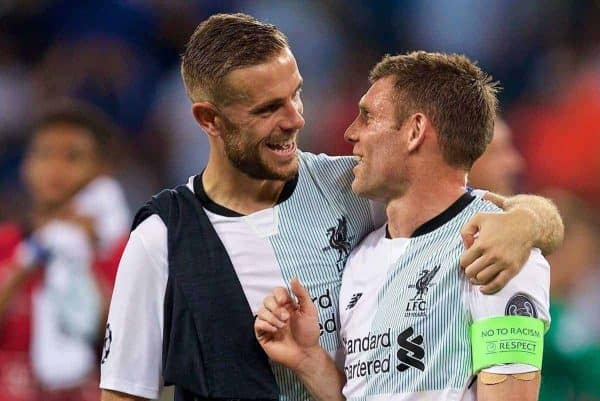 Few Liverpool players have come under more intense scrutiny than Henderson this season, with the captain struggling for consistency in his role at the base of the midfield.
Henderson has produced a handful of stellar displays, most notably in August's 4-0 win at home to Arsenal, but his campaign has been peppered with frustrating outings.
His positioning has come into question, as a key factor behind the Reds' poor defensive efforts, while his lack of creativity in possession has arguably led to a staid midfield setup.
After Saturday's draw with United, Jose Mourinho questioned whether Klopp had sacrificed the chance at securing all three points by keeping Henderson, Can and Wijnaldum on the field throughout.
Such a convincing victory over Maribor is undoubtedly due to the PrvaLiga side's relative lack of quality, but the introduction of Milner does uncover a host of positives.
Allowing Can to take up his best role as the No. 6, Milner operated with more versatility than Henderson, and in doing so proved himself a more inventive option.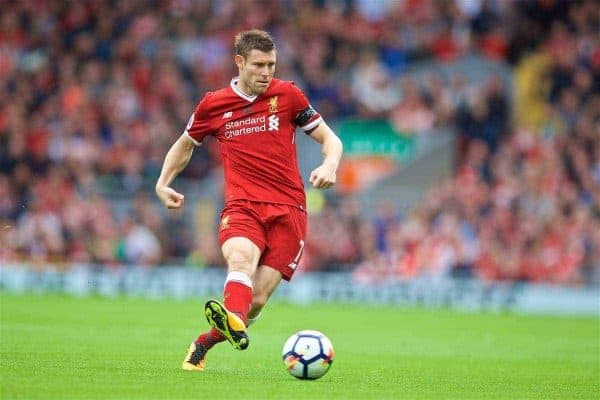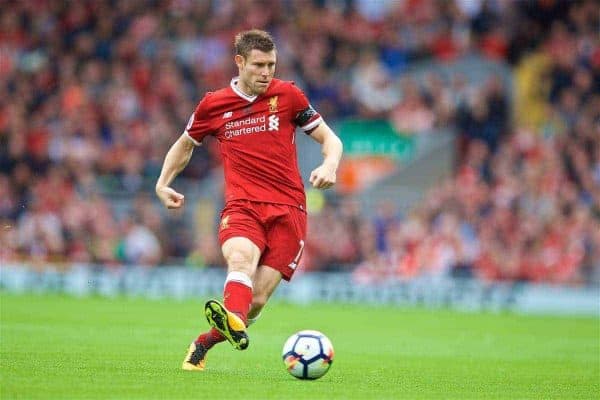 Milner has already created seven chances this season, in just 332 minutes, compared Henderson's 11 in 810—over 90 minutes, this averages at 2.6 for the vice-captain and 1.9 for the captain.
Last season, with Milner operating as left-back and Henderson as No. 6, the former averaged 1.6 key passes per 90, compared to the latter's 1.4.
The caveat there is, of course, that Henderson's role is less progressive, but in Can's three starts as a No. 6 this season—twice for Liverpool and once for Germany—he has scored one and assisted one.
Milner is certainly less injury prone than his counterpart, while his decorated career has fostered a winning mentality and, crucially, vital experience.
The ex-Man City midfielder knows when to time-waste, when to challenge the referee and when to commit a tactical foul; though perceived as a dry character, he is a strong leader, too.
It can be argued that Milner's only disadvantage when compared to Henderson is his age, at 31, though he is only four-and-a-half years older, with six years more senior experience.
However there is room for both, and there is no need to rule out either Henderson or Milner, as on form they are both strong midfield options.
Long-Term Plan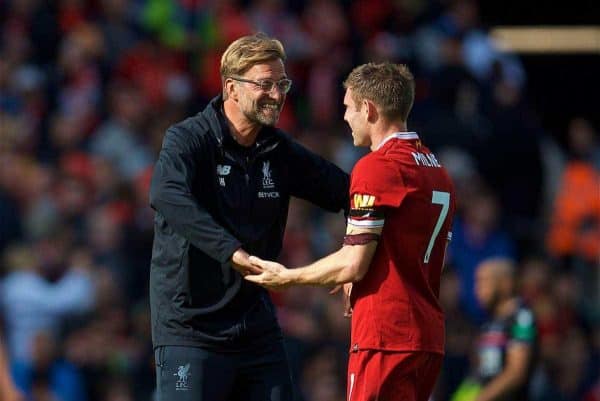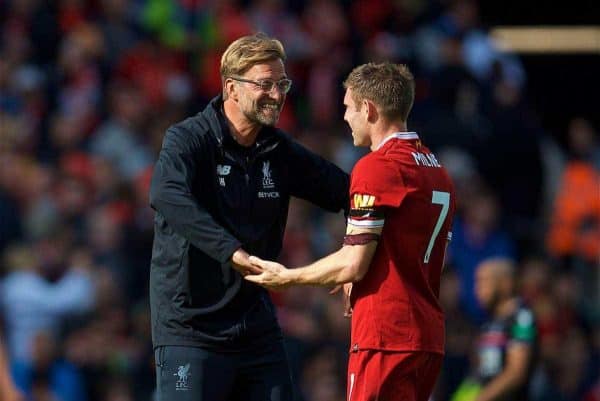 Milner's performance at Maribor served as a reminder of his ability when deployed as a midfielder, and will challenge Klopp when he plans his lineup for Sunday's clash with Tottenham.
Retaining the veteran would reward him for a shining performance in midweek, and test his ability to replicate that on a bigger stage.
The option to rotate the likes of Milner, Henderson, Wijnaldum and Can will be key for Klopp without the injured duo of Adam Lallana and Sadio Mane.
Tuesday night's midfield arguably gave the Reds more balance, with Milner presenting himself as an alternative to Lallana, whose relentless industry off the ball has been missing this season.
When Lallana returns, he will be earmarked for a starting role, while Mane's return would allow Coutinho to shift back from the left wing to his long-term position in the middle of the park.
Liverpool will be considerably improved when these two key players make their comeback in November, but with four games to come between now and the next international break, Milner's presence is invaluable.
And against Spurs (Oct 22), Huddersfield (Oct 28), Maribor (Nov 1) and West Ham (Nov 4), there is a case to suggest he is a better option than Henderson.