Jose Mourinho fended off suggestions Man United were too defensive in their 0-0 draw with Liverpool, instead turning the focus on Jurgen Klopp.
United had just six shots on goal at Anfield on Saturday afternoon, and saw just 37.8 percent of possession, as they allowed the Reds to keep control.
Liverpool were unable to find the opening required, however, despite firing 19 efforts at David de Gea, with only five hitting the target.
Klopp made his first substitutions on 76 minutes, sending on Alex Oxlade-Chamberlain and Daniel Sturridge for Mohamed Salah and Philippe Coutinho, keeping his midfield three on the pitch.
And Mourinho, speaking after the game, claimed this saw the German sacrificed the chance at gaining all three points in order to maintain order.
"We came for three [points], but in the second half we felt [it was] difficult to do that," he said.
"I was waiting for Jurgen to change, I was waiting for him to go more attacking.
"But he kept the three strong midfield players all the time, where he was having control.
"I only had Herrera and Matic. When I brought Lingard and Rashford [on], I was waiting for him to bring [on] Sturridge or Solanke but to keep attacking players.
"But he decided to change player-by-player and kept the strong midfield, and that midfield, today, was stronger than my midfield."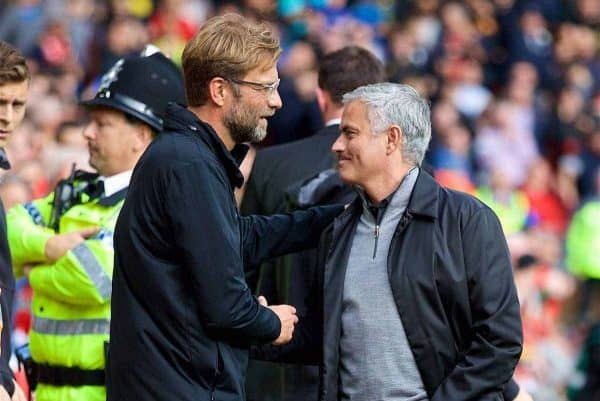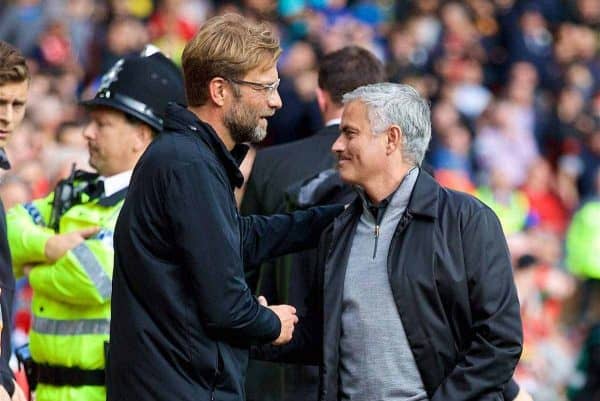 This suggests that Mourinho felt Klopp was cynical in his approach, though as he attests it would have perhaps been foolish of the German to relinquish control in the middle of the park.
If he had opted to take off one of Jordan Henderson, Emre Can or Georginio Wijnaldum, the Reds could have been looking at zero points, rather than one.
However, it must be said that a lack of abandon did result in a tepid finish at Anfield.
A gamble from Klopp could have allowed Coutinho or Salah to work with Oxlade-Chamberlain and Sturridge, rather than transplanting them at a crucial stage.