NK Maribor are one of relative unknowns in this season's Champions League group stage, and Liverpool will have to do their homework if they're to take six points from the Slovenians over their next two group games.
Liverpool's Champions League group has been considered one of the easier draws in the competition, as the club make their return to Europe's top table.
But having been out of the picture for a couple of seasons, they'll have to be careful that they don't take their opponents too lightly as they go into these group games.
As happened with Tottenham last season, a group can soon get away from a side after a couple of bad results, and before they know it they're playing on a Thursday night in the Europa League!
When Jurgen Klopp reacted to the draw he was also careful not to underestimate the task facing his side, and also hinted that sometimes the teams about which little is known can be the toughest opponents.
"With Sevilla, there is an open bill, I would say. But we all know how good they are in European competition," he said.
"Moscow is a long trip. And Maribor, in this moment you don't know a lot about them; a lot of people would underestimate them, we will not.
"So we don't think about the opponent, we just think about the competition. We'll analyse and take everything seriously – we want to go as far as possible.
"But it's the Champions League, so that means they all earn our 100 per cent respect, [that's] how we earn 100 per cent respect from them."
As Klopp says, the biggest unknown in this group are NK Maribor. The Slovenians reside in the country's second-largest city, and it's a picturesque location on the banks of the Drava river.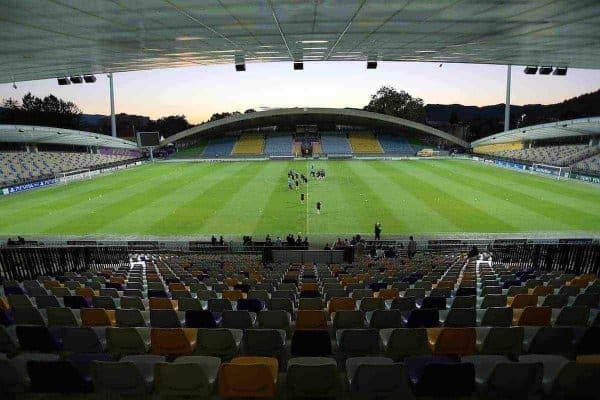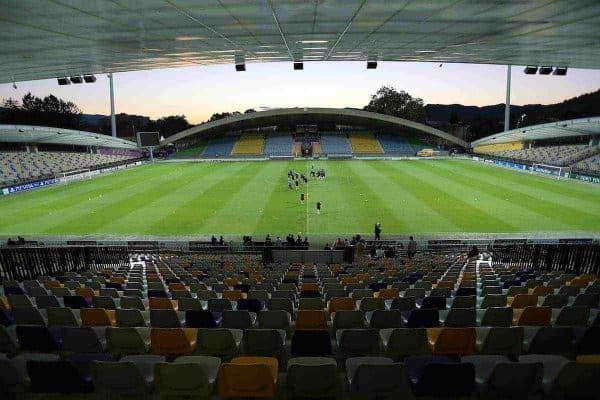 Their name of their stadium, the 12,994 seater Ljudski vrt, translates into English as the People's Garden, and it's located not far from the river in the centre of the city.
The club have won the Slovenian title 14 times since the league's inception in 1990/91 season which coincided with the breakup of Yugoslavia in 1991.
Players
Some of the team's notable and best players include Jasmin Handanovic, older cousin of Inter Milan goalkeeper Samir Handanovic, and Luka Zahovic who is the son of the club's director of football and Slovenia's all-time record goalscorer, Zlatko.
Brazilian striker and club legend Marcos Tavares leads the line, and the Porto Alegre born forward will have been at the club for ten years this January. He has 167 goals in 424 games for the club and even at 33-years-old he still provides a threat up front.
He's been awarded the Purple Warrior prize — awarded by the fans to the player they deem the best throughout the season — in five out of nine seasons.
System
This season the team have been playing a 4-4-2 system in which the wide players will tuck into the channels between the forwards and the overlapping fullbacks.
It's the type of formation which could leave Liverpool's centre-backs exposed one-on-one if they only play with one holding midfielder, as they generally do, but against this opponent, especially at home, Klopp's side should be looking to force their own game on the opposition.
Manager
They are managed by Darko Milanic, a former defender who captained his country at Euro 2000. He spent five years managing the club between 2008 and 2013, winning four league titles, before leaving to join Sturm Graz. He spent 32 days as manager of English side Leeds United but was sacked after losing three and drawing three.
He returned to Maribor in March 2016, winning the title which now sees the side in the Champions League after getting past Zrinjski Mostar, Fimleikafelag Hafnarfjardar, and Hapoel Be'er-Sheva.
This season, midfielder Aleks Pihler leads their goalscoring charts with three, but Tavares looks set to catch him soon after only appearing sporadically as the side started their league campaign.
Liverpool play Maribor in back-to-back games after their opening two draws against Sevilla and Spartak Moscow, with the away tie this Tuesday and the Reds hosting the return game at Anfield on November 1.
The club will expect to take all six points from these games, but the minnows of the Champions League group stages often have a shock result or two up their sleeves and Liverpool will have to make sure that the upset doesn't come against them.