Philippe Coutinho has explained how Liverpool failed to follow Jurgen Klopp's defensive instructions in Sunday's 4-1 mauling at Tottenham.
It was a horrible afternoon for the Reds on Sunday, with their defeat at Wembley a low point in an already frustrating season.
The defending on show was unacceptable, with each of Spurs' goals completely avoidable, and individuals once again proving they are not good enough.
Coutinho rued the sloppiness of the goals conceded at Wembley, and admits the players are simply not doing what Klopp asks of them.
"The goals were goals that could have been prevented," Coutinho told ESPN Brazil.
"It started out wide and we end up conceding one of those goals the manager speaks about. He speaks a lot about this—we've conceded a lot of goals like this.
"The first goal started in a wide position where everyone is involved in defending, not just the players right at the back.
"We have to improve this as quickly as possible in order to win games and fight more. With difficult games like this one, we know it's these things that decide them.
"So we need to concentrate more to deal with balls like this.
"The first goal was scored after four minutes and the second one after 12 or 13. It's difficult to play away from home against a strong team when you start like that.
"We have to work hard. Those passages of play, those set pieces from wide positions. We have to concentrate more to deal with them."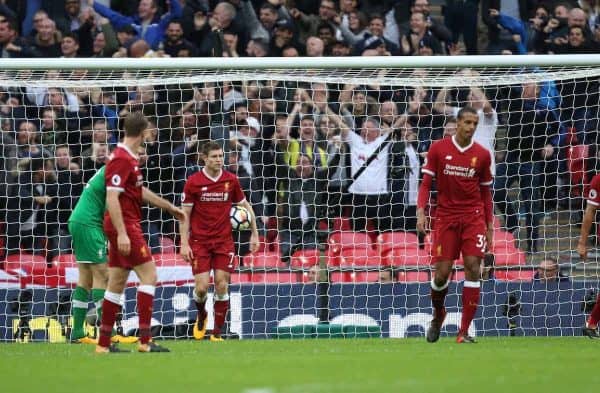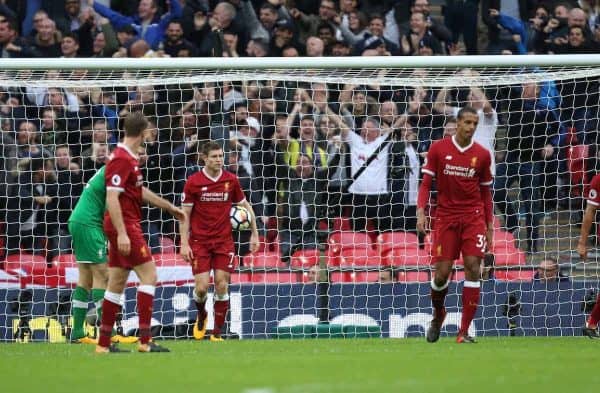 Liverpool have now let in 16 goals in just nine Premier League games this season, 15 of which have been away from home, and this Achilles' heel is threatening to derail their top-four challenge.
Coutinho almost seems to have absolved Klopp of the blame, but supporters are seeing it very differently.
In truth, there is a middle ground where both the manager and the players are guilty.
Klopp had all summer to replace the likes of Simon Mignolet and Dejan Lovren, both of whom need to be dropped, but he failed to bring in a single goalkeeper or centre-back.
It is negligent not to have addressed these issues, and he cannot act too hard done by, considering it was ultimately his decision to keep them.
That being said, some of the decision-making on show at the moment would look bad on a Sunday league pitch, and you have to have a certain amount of sympathy for Klopp.
These are international footballers who are making the most basic of mistakes.
Klopp actually has Liverpool playing well in general, but time and time again, performances are being let down by avoidable errors. It is a hugely frustrating time to be a Red.