Alberto Moreno didn't have the best of times on his return to Sevilla, and his performance led to suggestions he's back to his old ways despite a strong start to the season.
The Spaniard gave away the free kick which led to the first Sevilla goal, and from then on the side looked shaky and appeared to know that they weren't able to contain the opposition when they attacked.
There had been signs of this in the first half, and the home side made a number of dangerous forays past the Liverpool defence without scoring.
This was masked by a first half goal glut from Jurgen Klopp's side, but had the danger been noticed and changes made at half-time, then it could have prevented the second half comeback.
So far this season Moreno has been one of his side's most consistent players. Even through rough periods for the team as a whole, the left-back has impressed and maintained a good level of performance while also remaining injury free.
In an interview with the Guardian's Sid Lowe, he spoke of his understanding of his responsibilities in the team, and this frank account of the changes he's made to his game showed signs that he does understand his faults and has worked on them.
"Last year was useful for me: to think, to change things, to say to myself: 'Alberto, what can you do better?' And the first thing was: defend. I'm a defender. And I've changed that," he said.
"I'm more focused; I think you can see that – and thankfully I haven't made any mistakes. Maybe in my first few years at Liverpool, I was always thinking: 'Attack, attack, attack.'
"Confidence is vital for a footballer but I'm [also] more settled, more focused: now I'm like: 'First, let's defend, keep a clean sheet and, then, let's go forward.' It's about choosing the right moment and I think I am attacking less, but better."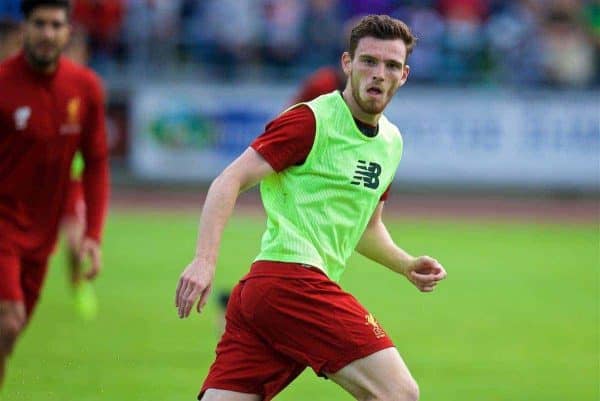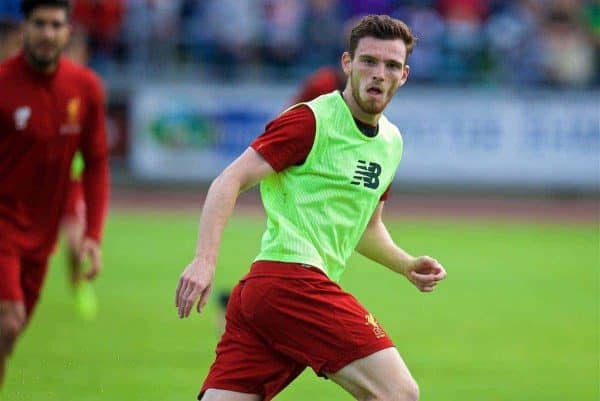 This improvement has kept new signing Andy Robertson out of the picture despite promising signs from the Scotsman on the rare occasion he has been given game time, but Moreno's performance against Seville has led to calls for Robertson to come in.
This poses a couple of questions. Should Moreno be dropped after his first poor performance of the season? And was his poor display in Spain avoidable?
Having missed the birth of his child while he was with the team ahead of the 3-0 win against Southampton, he'll no doubt have had a few sleepless nights since, and spent plenty of time supporting his family and welcoming Alberto Jnr into the world.
This side of a footballers' life is often forgotten, but it could be the case that a couple of hours sleep less on top of the added emotion of returning to his old club could have led to the lapses in concentration during the game.
However, these lapses were also caused by events on the pitch which could have been avoided, and there were plenty of other problems which affected the whole team and poor performances from other players which led to these mistakes.
Analysis
In the build-up to the concession of the free kick which led to Sevilla's first, Moreno is forced to leave his station on the left and cover in the defensive midfield position.
As shown below, none of the midfield have shifted across following an opposition throw-in on Liverpool's right side – yet again, Liverpool switch off from an opposition throw-in! – and the left-back has to fill the space.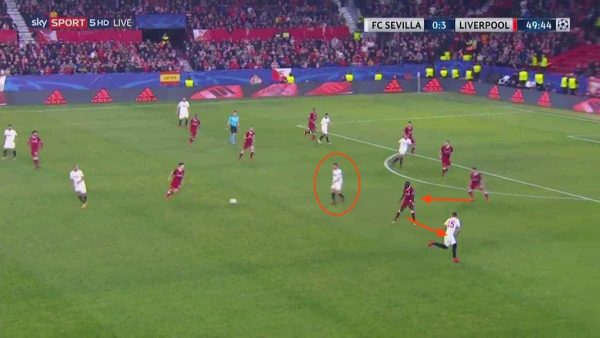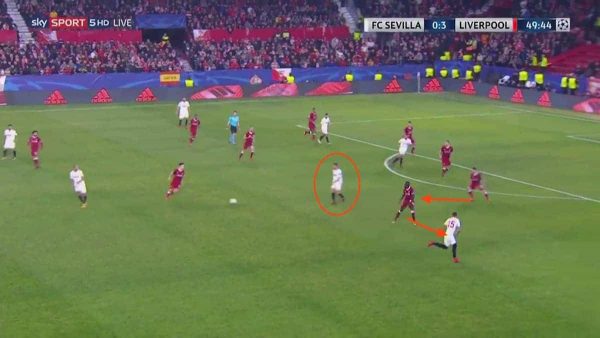 After this he loses track of the player he came out to deal with (Pablo Sarabia), and is disadvantaged from then on as Ragnar Klavan chooses not to come across, Sadio Mane can't stop the return pass, and Jordan Henderson points and shouts to make Moreno aware of the run rather than tracking it himself.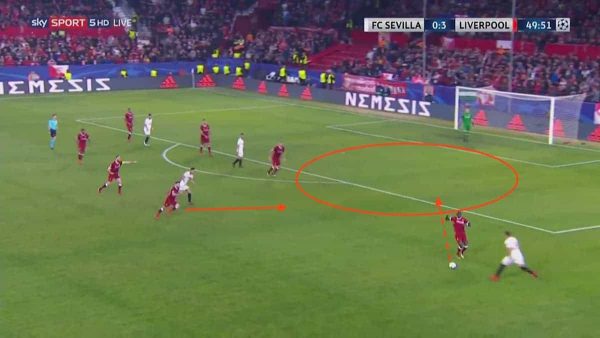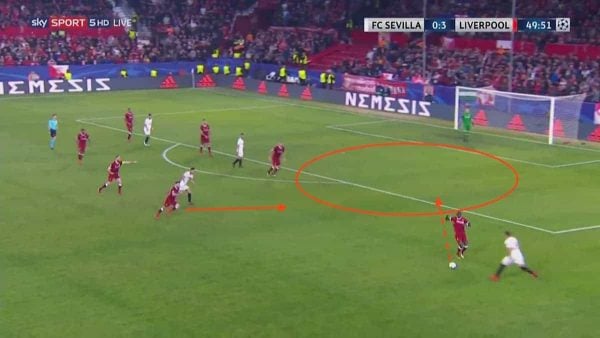 Once presented with the problem, Moreno is able to use his pace to recover but then makes the careless decision to stick a boot in, fouls Sarabia, and Sevilla score from the free kick. The commentators, naturally, focus on Moreno, but avoid the problems in midfield beforehand.
The second goal also comes from Liverpool's failure to reorganise and clear their lines following a throw-in on their right side.
A header from Dejan Lovren goes back into the mix and barely clears the area, and Philippe Coutinho fires the resulting pass back at Moreno whose first touch is poor, and attempted second touch fouls the lively Wissam Ben Yedder in the area, conceding the penalty.
Again, Moreno's play is sloppy and careless, but there other problems before it reaches him.
The gaps in front of the left-back are shown in the average position map from the game, and even though this diagram is based on touches of the ball and not defensive actions, it still shows the huge hole ahead of Moreno.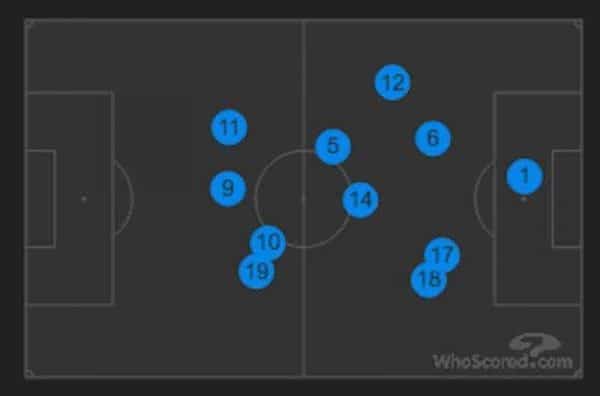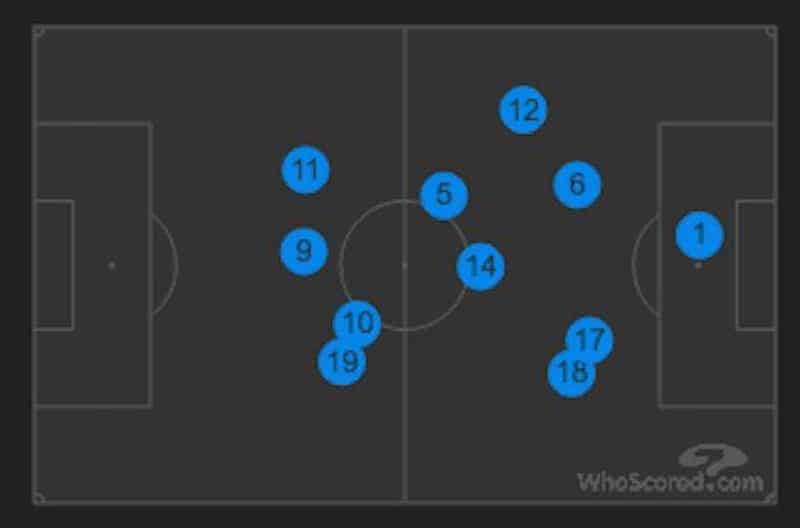 Henderson had a tendency to drift to the right, Coutinho was very attacking as the third midfielder in the 4-3-3, and the resulting lopsided 4-2-4 was a recipe for disaster down the left side.
"I think you've always got to say that football is a team game, made up of 11 players and those 11 players have to attack together and have to defend together as well," Moreno told the Echo in September.
"To attach blame only to the defenders is always going to be a little unfair. It's about working together as a team. We know ourselves that we have to improve defensively and that we've been conceding too many goals."
The third goal can't be blamed on the Spaniard as he'd been substituted by this time, but familiar problems are there in the buildup. Substitute Emre Can wins a tackle in midfield, but poor touches from Henderson and Mane return the ball to the opposition who shoot, win a corner, and get the equaliser which had strangely seemed inevitable since the opener.
"They rushed into a 3-0 half-time lead," summarised the Times' Oliver Kay.
"But even then they looked fragile, vulnerable to the type of fightback that reached its inevitable, dramatic conclusion in stoppage time."
While none of this is to excuse the brainfarts Moreno suffered in Seville, it shows there are problems across the pitch, and other players should also shoulder some of the blame rather than finding one scapegoat and proclaiming he's returned to his old ways on the back of one game.
Should Moreno be dropped after one poor performance? No. But given the circumstances, he should perhaps be given a break ahead of the busy winter schedule. In hindsight, this break should have come earlier.