Liverpool seem set to retain a familiar lineup against Chelsea, with Jurgen Klopp poised to make only a couple of defensive changes to his starting XI.
The games continue to come thick and fast for the Reds, who will probably be thankful for having an instant chance to move on from the Sevilla collapse.
Antonio Conte's side arrive at Anfield to reignite the intense modern-era rivalry, and there would be no better way for Jurgen Klopp's men to bounce back than with a big three points.
Tuesday's collapse gives Klopp some selections to ponder for the grudge match, as the Reds look to take advantage of the extra 24-hours rest enjoyed over Conte's men.
But Liverpool seem set to retain a largely familiar look, with Klopp to give those involved in midweek a chance to respond – including Alberto Moreno who the boss confirmed retains "100 per-cent" of his trust.
Team News
Liverpool's XI vs. The Blues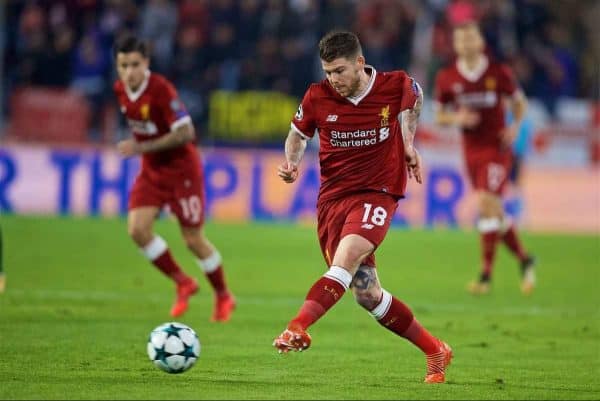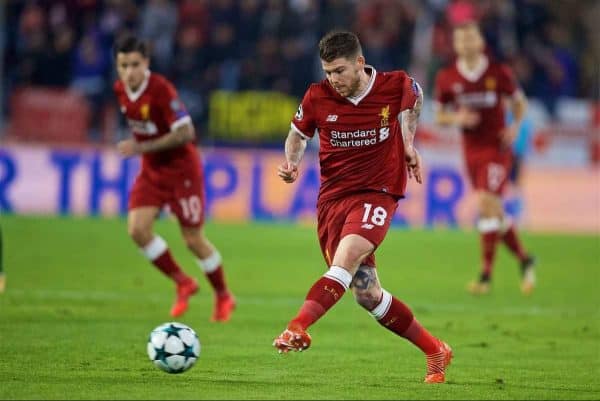 Several changes have been called for in some sections after the amateurish collapse, but instead it seems it will be a third game in a week with an almost identical team.
It's somewhat concerning given the demanding schedule, but the majority of those involved in Sevilla will be handed the chance to strike back.
Klopp could also follow the same route taken in Seville by making only two changes – both being switches at the back in search of a defensive improvement.
Moreno dropping to the bench is unlikely to transpire in either change, with Klopp having stated in his press conference that he retains "100 per-cent trust" in the Spaniard.
Instead, Mignolet would enter in one, with Matip making an immediate return after two games out for the other – and there is an interesting debate to be had on whether Lovren or Klavan makes way.
Despite Lovren only getting his place back due to Matip's injury, it still seems more likely Klavan will, unfairly, drop out, as Klopp will have what he views as his first choice back-four.
Liverpool's front six seems almost certain to remain untouched for a third successive match, with Klopp able to field the ultra-attacking selection which has brought six goals in the last two games.
Wednesday's trip to Stoke is likely to see more heavy rotation conducted, meaning Klopp will bank on the extra 24-hours rest his team have enjoyed compared to Chelsea proving crucial.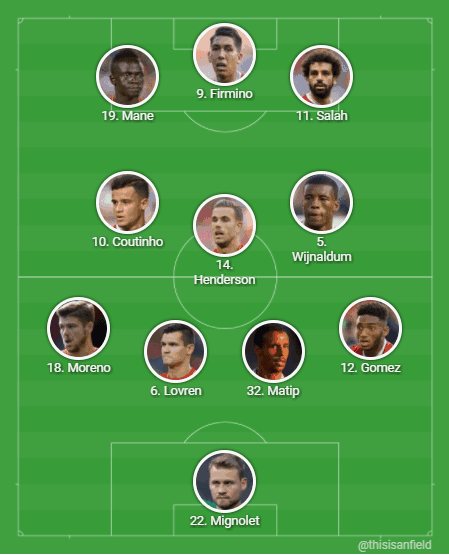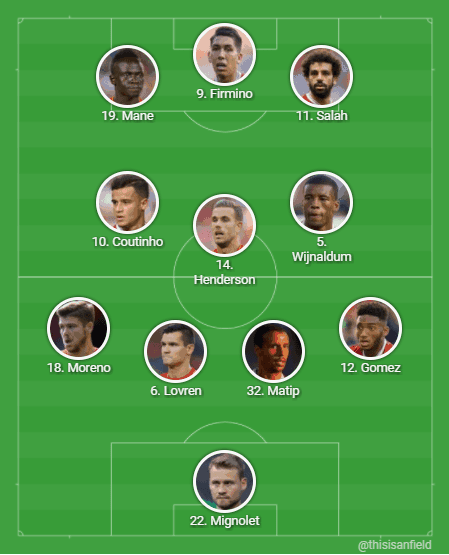 It's hard to see any other major changes being made, especially with Can being doubtful feature.
But Klopp could deploy a more solid looking selection in a game it's vital the Reds do not lose to avoid surrendering ground on top-four chasing rivals.
Klopp could sacrifice one of the 'Fab Four' for increased steeliness in midfield, which could be done by benching Mane – who needs careful management given his hamstring issues – and introducing Milner.
Coutinho could then return to his left-side role, with Milner taking up a box-to-box position alongside Jordan Henderson – who will be fortunate to keep his place – and Gini Wijnaldum.
There could also be a small change in defence, where Klavan could deservedly retain his place alongside Matip instead of Lovren, who has shown little to convince he has recovered from his Tottenham nightmare.
The extra injection of fresh legs from Milner's arrival in a third change would see Liverpool start with this team at Anfield: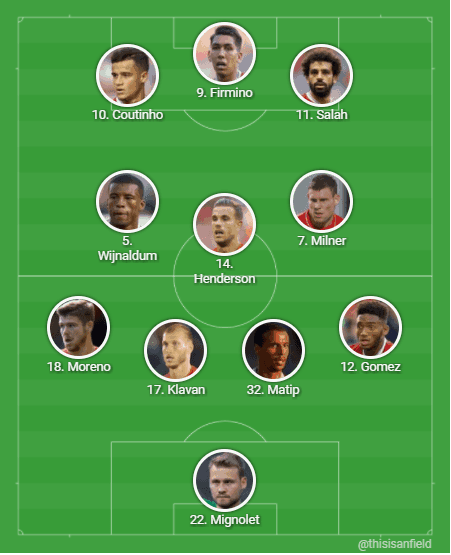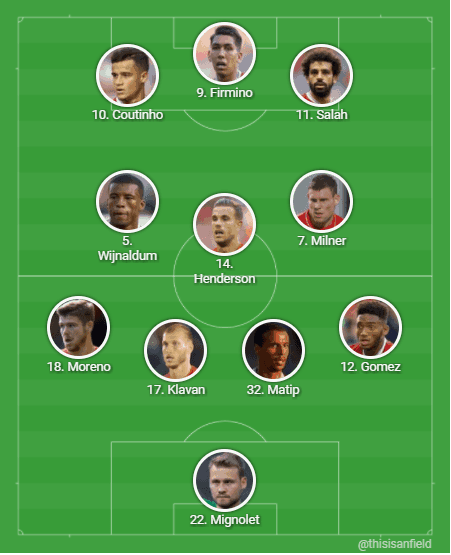 All eyes will be on how Klopp's side respond to Tuesday's embarrassing capitulation, and victory at Anfield on Saturday night would be the perfect way to do it.