Liverpool haven't seen eye-to-eye with Southampton in recent seasons, both on and off the pitch, but this was an easier win than anticipated, writes Steven Scragg.
There is no more accurate barometer of a decent Liverpool performance, than when a player makes an audacious manoeuvre, which has only a slim chance of succeeding, only to fail, yet still receives a 'nice attempt' style round of applause.
Emre Can was the man with the late, but unlikely manoeuvre, which garnered more approval than it warranted, from the Anfield congregation.
3-0 up, cruising, capable of more goals, pivotal performers removed from the fray so as to rest them up ahead of the trip to Sevilla in midweek. Job done, and a few party pieces being thrown around. We all went home happy, with what was a fourth successive win.
The worst defence I've ever seen, on paper…
Trent Alexander-Arnold, Alberto Moreno, Ragnar Klavan and Dejan Lovren, all marshalled by Simon Mignolet.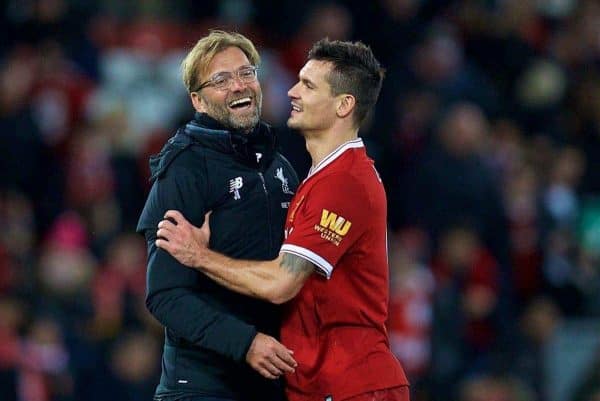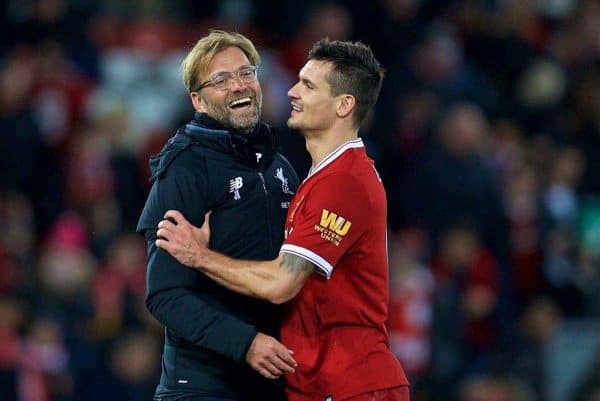 The stuff of potential nightmares.
They did a job though. Not many stand-out moments of peril, and Lovren was cheered when on the ball during the second half, in what is an increasingly surreal situation, where he is supported partly through irony, and partly through genuine abhorrence at the levels of vitriol he has been receiving, up to, and including a social media death threat. Player of the month he became then.
Klavan, when called upon of late has largely done the basics right. He's limited as a footballer, and worryingly one footed for a central defender, but as long as he does the basics right then he's worth turning to.
In many ways Klavan is the anti-Lovren. Limited in style, but capable of intense focus, he insists on getting the basics right.
Laugh all you like, but Lovren is a decent footballer. Dangerous in the opposing penalty area, he can pick out an intelligent pass at times. He can even look shockingly comfortable on the ball upon occasion. Southampton fans still goad him for a reason. They thought he was brilliant.
The problem with Lovren isn't how good his style and technique is, it's all to do with how he 'zones out' or switches off at times. Pivotal times. He's a hopeless case in this respect, and he will revisit the same mistakes time, and time again.
In a mid-ranging side, who play deeper, with a flat midfield just a short few yards ahead of him, and a defined shot-stopper behind him, Lovren would once again look a central defender of vast substance. He's a confined space defender. Lots of time and space is Lovren's nemesis.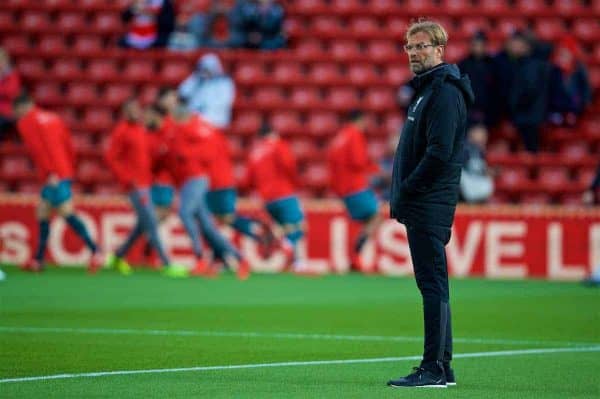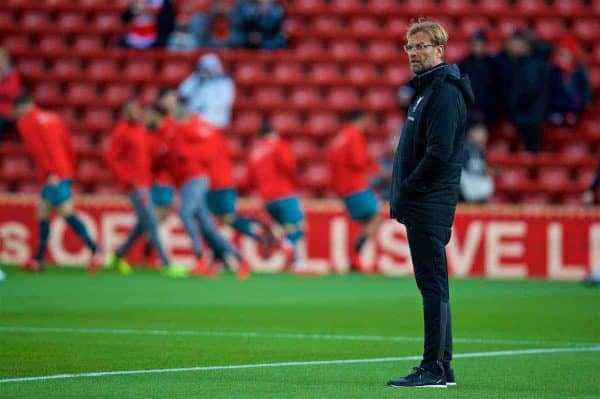 Basically, all the things he encounters in the Liverpool defence.
If you could combine the strengths of Lovren and Klavan, now then you would have a central defender of purpose.
Moreno continues to offer fewer headaches than we expect from him. Alexander-Arnold was 'steady, if unspectacular'.
Joe Gomez predictably sat the game out.
This felt worrying before kick-off.
It all felt a little too secure on Saturday. We could do without false senses of security prior to a big week, where we face Sevilla and Chelsea. Weaknesses that a lethargic Southampton couldn't find, will be easier to locate for Sevilla and Chelsea.
A testing week lies ahead.
Throwing out some spectacular shapes
After a frustrating start to the game, we were fantastic going forward.
Mohamed Salah continues to define our attacking football. This has helped shadow the fact that Sadio Mane has yet to find the higher gears he operated in last season.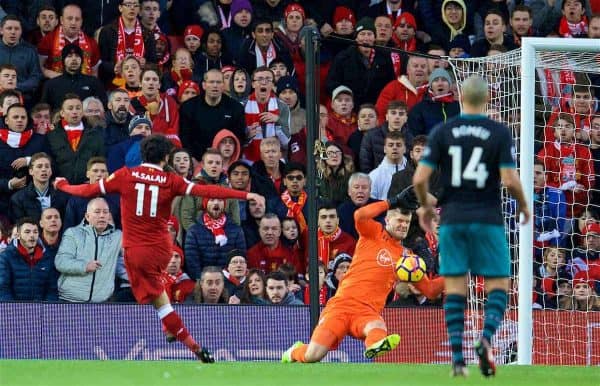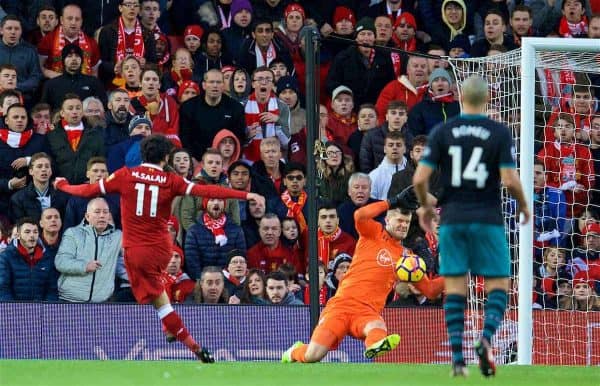 Mane shows fleeting glimpses of last season, but you just feel that he needs a match-winning performance soon, to lift him alongside Salah, rather than the current role of support act, which he seems to be operating in.
Suspension and injury have meant that momentum has been difficult to come by for Mane, this season. He was so integral to our fast start to last season, but maybe this time around, he will rise during the second act. Should he do so, then it will make the difference between a top four finish, or not.
Roberto Firmino was in his classic 'balloon in an updraft' mode.
He offered whimsical touches, compelling runs, and had his second half effort drifted the right side of the post, then he would have been a bigger talking point in this game.
Philippe Coutinho could do with staying in a deeper role now.
If he is not to be a part of our future beyond next summer, then let Salah, Firmino and Mane cultivate the sort of symbiosis that could win trophies.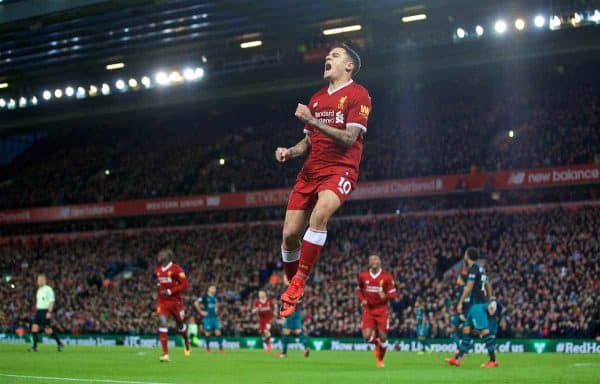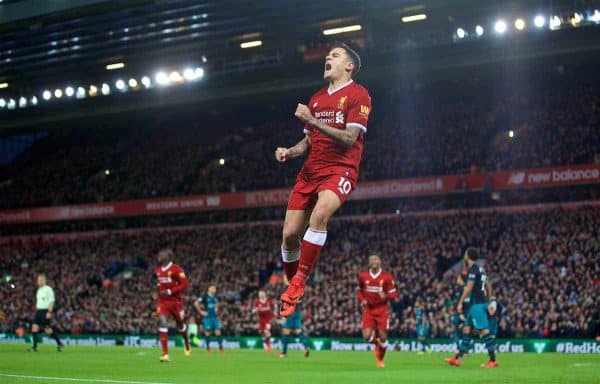 Coutinho would then be keeping a place in the side warm for Naby Keita. Should Coutinho still be a Liverpool player next season, then we would be able to see it as a bonus. Should he go, then we've learned to live without him in the forward three, long before losing him.
It was good to see us return to the concept of two from three, when it comes to the Jordan Henderson, Emre Can and Georginio Wijnaldum triumvirate.
This, in the probability of losing Can next summer, is a step forward in more than one respect.
The Henderson of old was on view against Southampton. Nagging at the referee, snapping around for the ball, and playing some telling passes. More of this please.
Coutinho playing deeper, or Lallana when fit, will be of a benefit to Henderson relocating his mojo, on a more regular basis.
A big week ahead
We are offered the season's biggest test of our true condition this week.
Navigate Sevilla successfully, and into the knockout stages of the Champions League we should go, with a game to spare. Slip up, and a nervous night at home to Spartak will be ours to face.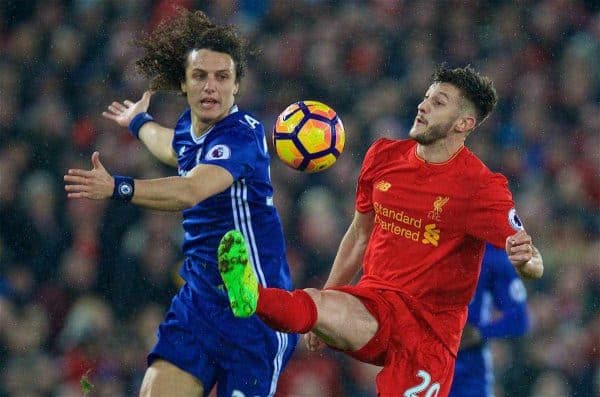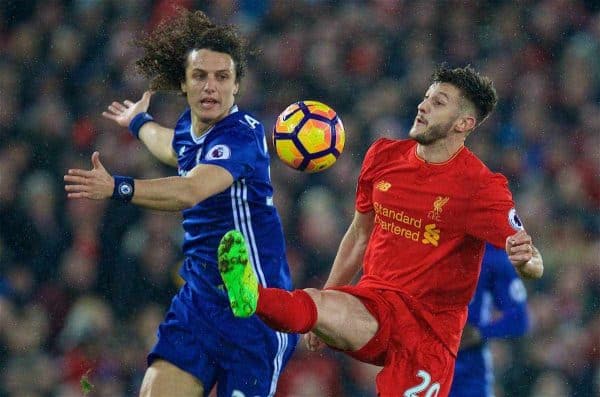 Chelsea then come to Anfield on Saturday, just as they are beginning to look something like the team which won the title last season.
Within this, we return to the fluctuating complexities of a defence that will need to be focussed on two very big tasks ahead. We won't prevail, should they reach for the self-destruct button again.
While you're here…
Voting closes at noon on Monday for the 2017 FSF Awards, where I've been lucky enough to find myself nominated in the Blogger of The Year category. If you like the way I write, and can spare a moment, then you can vote for me by clicking on this link. Many thanks.