In the first in a new series looking at iconic individual moments for Liverpool players, Sami Hyypia's memorable night – and volley – against Juventus is celebrated.
In April 2005, Liverpool were in the middle of an astonishing European adventure – the most unlikely and thrilling in the club's incredible history.
Liverpool had comfortably seen off Bayer Leverkusen in the Champions League last-16, but Juventus arrived at Anfield as strong favourites to progress in the quarter-final clash.
The Serie A giants were soon to be crowned Italian champions and they were blessed with enviable talent; Gianluigi Buffon was in his prime; Lilian Thuram, Fabio Cannavaro and Gianluca Zambrotta were world-class defenders; Pavel Nedved was a Ballon d'Or-winning midfielder; Alessandro Del Piero and Zlatan Ibrahimovic were pure class.
On paper, Rafa Benitez's side had little hope of progressing, but Hyypia, his teammates and an electric Anfield had other ideas.
Hyypia's magic moment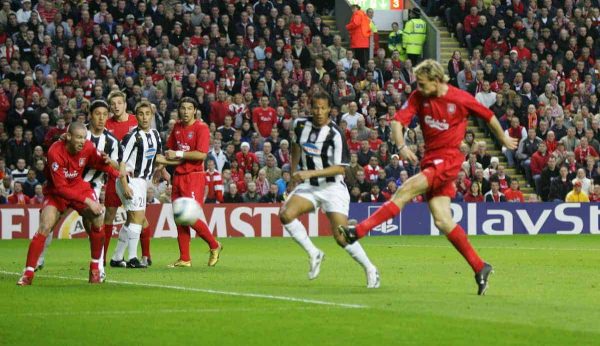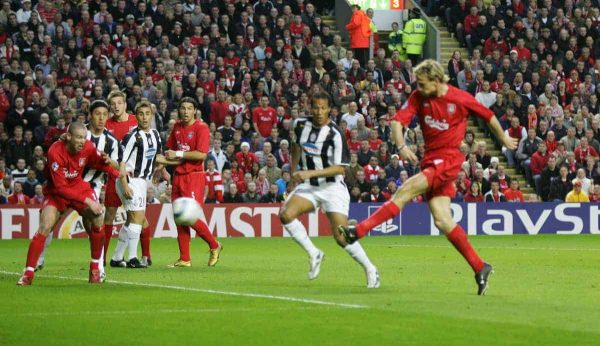 Although it is easy to assume that Hyypia was a fixture in the Reds side at this point in his career, he had actually been on the bench in the lead-up to the game.
Three home league games in succession had seen Mauricio Pellegrino preferred alongside Jamie Carragher, and there were murmurs that the giant Finn's best days were behind him.
He returned to the fold for Liverpool's biggest game of the season, however, and it was his most famous night during a legendary decade-long stay at Anfield.
It was the first meeting between the two great clubs since the Heysel disaster in 1985, and Reds supporters held up a peace-offering banner before the game that read "amicizia" – "friendship", in English.
The Reds flew into the star-filled Juve outfit from the off, creating a number of early half-chances. Steve Finnan hit the side-netting and Milan Baros looked lively.
With 10 minutes gone, Liverpool won a corner.
Steven Gerrard's set-piece was flicked on at the near post by Luis Garcia, before Hyypia met the ball with a stunning left-footed half-volley.
Anfield erupted and Hyypia wheeled away in delight. It was so sweetly struck that you'd have admired it had Del Piero or Nedved hit it – that it was Liverpool's centre-half made it all the sweeter.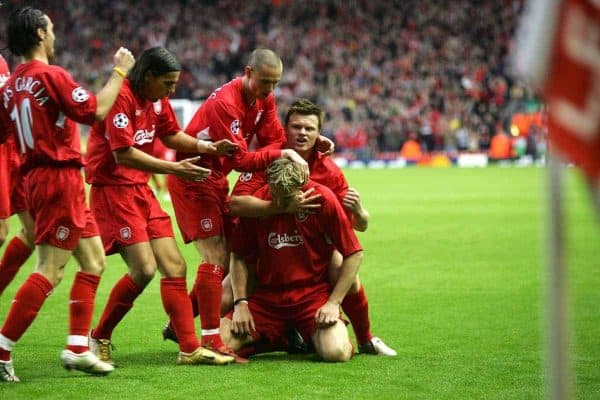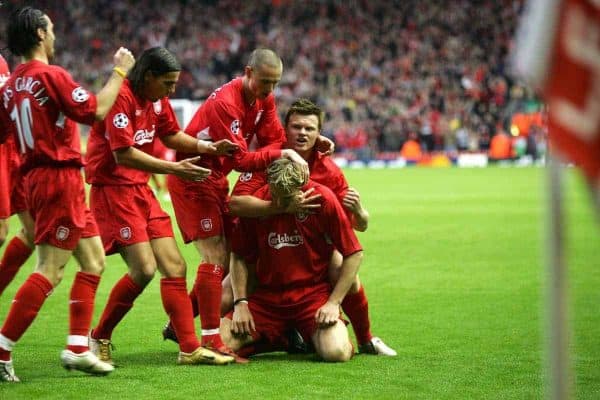 After the game, Hyypia would admit that his frustration at being left out in the weeks previous almost led to a different celebration:
"Before the Juventus game when I scored, I didn't start a game for one month. What I wanted to do after I scored was to go in front of the dug-out and show Benítez something. But I held my head not to do it."
It was the all-important first goal that Liverpool needed to give themselves a fighting chance in the tie, and it remains one of the key moments in the entire Champions League-winning campaign.
The Reds continued to dominate their stunned opponents, with Baros inches away from getting on the end of Luis Garcia's clever cross.
Hyypia's opener was soon followed up a stunning Garcia strike before half-time, as Liverpool found themselves in dreamland. There haven't been many better "big" goals scored at Anfield.
There were escapes at the other end, however, as Ibrahimovic rifled an effort against the post at the Kop end, and Del Piero was thwarted by 19-year-old Scott Carson, making his European debut.

Carson turned villain in the second-half, allowing Cannavaro's header to squeeze agonisingly past him, but it was still a superb result.
Liverpool had more than held their own against quite possibly Europe's strongest team, and a place in the last-four was alive.
In the return leg at Stadio delle Alpi, the Reds still had a lot to do, but Hyypia was again imperious next to Carragher, as Benitez's men battled to a famous 0-0 draw to reach the semi-finals.
We all know what happened next against Chelsea and AC Milan, but when you look at how good that Juventus side was, defeating them over two legs was arguably the most extraordinary achievement of them all that season and certainly gave the Reds the confidence to go on to become European champions.
A centre-back shouldn't generally be judged on the goals they score, but in terms of significant moments, that beautifully-struck volley was Hyypia's finest for Liverpool.
Legacy

At a time when the Reds' defence is much maligned, it feels fitting to be reminiscing about Hyypia – a player signed for just £2.5 million and who went on to make 464 appearances for the Reds.
Signed by Gerard Houllier in the summer of 1999, Hyypia was an unknown quantity but quickly gave a Liverpool defence that had struggled through the nineties a sense of calm and quality. How we could use such a signing now.
A key player under Houllier and Benitez, winning every trophy bar the title, Hyypia was a player who fans could relate to and who understood the club, the city and its values.
Likeable, fair and rarely without a grin on his face, Hyypia had a winning mentality, consistency, and was a big-game player. He would transform Jurgen Klopp's side if his 25-year-old self signed for the Reds now.