Forget 1984 and the Maracana, John Barnes' career-defining goal was scored at the Kop end in October 1987, writes Steven Scragg.
It was scored past England number one to-be, and a top of the table Queens Park Rangers.
It would be entirely understandable for anyone under the age of 40, to think that October 1987 was some sort of bizarre parallel footballing universe; Manchester City were relegated from the top flight five months earlier, with Chelsea befalling the same fate just seven months later, and QPR on top of the English game, playing a continental defensive system, and adhering to a passing game which was made all the faster, due to them embracing the final season of the Loftus Road plastic pitch. A plastic pitch that their manager, Jim Smith, hated with a passion.
When QPR came to Anfield on that sunny autumn afternoon in mid-October, we were still playing catch-up, thanks to the collapse of a Victorian sewer beneath the Kop, which had meant that the first three league games of the season had been played away from home.
While this game against QPR was to be our fifth on home soil, the Barnes phenomenon was still in the 'seen to be believed' category.
Both the BBC and ITV had stepped away from traditional Saturday night and Sunday afternoon highlights televised packages, instead embracing a live Sunday afternoon game, which would be alternated between the two broadcasters. Some weekends would pass without any meaningful football coverage at all, apart from a brief flash of goals being tagged on to the end of the nightly news.
Liverpool's game at Newcastle United, almost a month earlier, had been shown live by the BBC, but it had been dominated by the return to St James Park of Peter Beardsley, and the comparisons which were being drawn with his replacement Mirandinha. It was Steve Nicol who stole the show however, scoring a brilliant hat-trick, from the right-hand-side of midfield.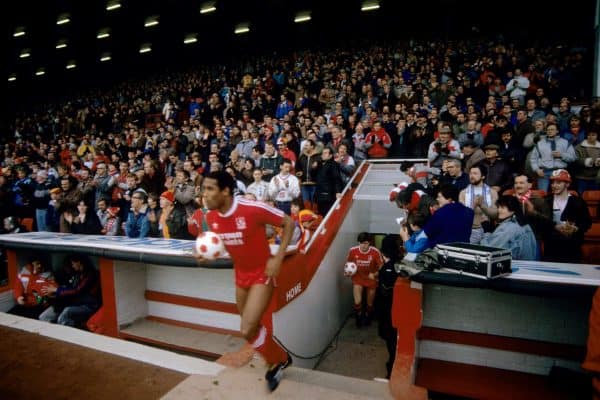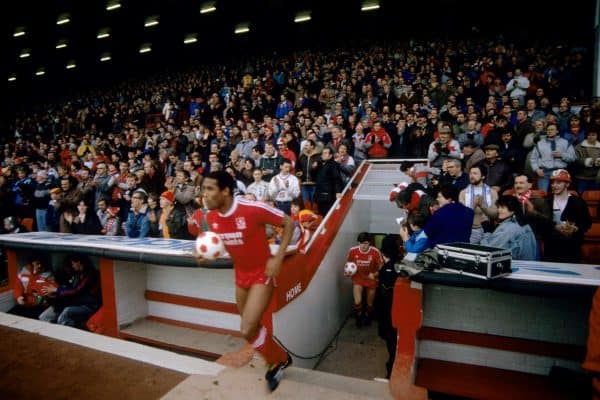 A watching nation had witnessed a series of nice touches from Barnes, but it was a performance which had only reinforced the myth that Barnes was something of an enigma.
Liverpool fans who had been in attendance for all of the games that the TV cameras had either only caught brief glimpses of, or on some occasions hadn't been present at all, were under no illusions about the talent that Barnes possessed.
Barnes had been nothing short of hypnotic. The game against Derby County, a 4-0 win which had eluded the TV cameras, was as good a performance as the one Liverpool displayed later in the 1987/88 season when they systematically dismantled Nottingham Forest.
Portsmouth and Oxford United too, had been terrorised by the skill and pace of the former Watford winger.
The visit of QPR was seen as a true test of both Liverpool and Barnes' aspirations of reclaiming a league title, that they had allowed to slip back to Goodison Park the previous May.
Barnes and Liverpool were unstoppable that afternoon. A perfectly good goal from Craig Johnston was disallowed, before he finally broke the deadlock shortly before halftime.
The second half was one of such bewitching footballing beauty. QPR, stubborn and belligerent until breached before halftime, were left to wonder what had hit them. For some Liverpool fans, this was the game which allayed all preconceived ideas about Barnes.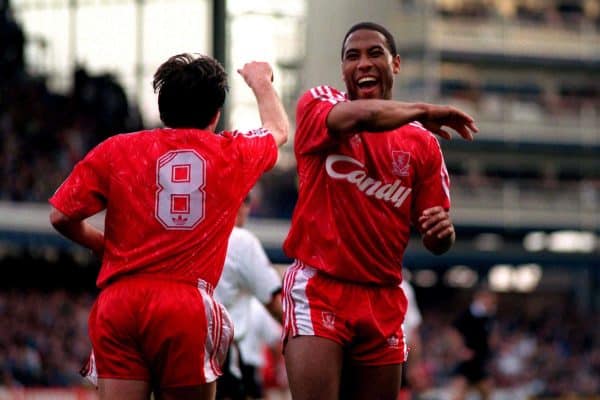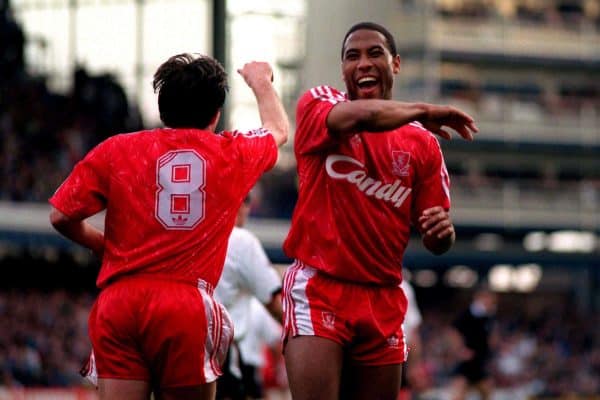 It hadn't all been plain sailing for Barnes on his arrival at Anfield.
Subjected to racial abuse at Anfield when in a Watford shirt and suspected by some of having kept Liverpool waiting in the wings for a prolonged spell during transfer negotiations, when stories had circulated that the player had favoured staying in the south with Arsenal, or heading to Serie A, Barnes had been left with a hard audience to impress.
Impress them he did though. Those who had been there game-in, game-out had been won over at Highbury on the opening day. For others, who had drifted back to Anfield in dribs and drabs after the repairs to the Kop, seemed to find out about him in a more belated fashion.
His two goals against QPR blew all remaining doubts away.
With John Aldridge having made it 2-0 from the penalty spot, midway through the second half, it then became an unremitting Barnes masterclass.
The first goal was a work of art in itself, dispatched into the top right-hand corner of David Seaman's net, after a swift one-two with Aldridge, at the pinnacle of an incessant period of attacking football, and a sublime piece of ball-winning sleight-of-hand by Ronnie Whelan.
With the Anfield crowd still crackling about the quality of his first goal, Barnes then took the atmosphere up another few notches with his second.
Winning the ball on the halfway line from Kevin Brock, Barnes moved effortlessly toward the Kop once again, transcending the laws of science, he hurdled the advancing Alan McDonald before landing on his right foot, body tilted dramatically to his right, he somehow manages to drag the ball across his body with his left foot, completely blindsiding Terry Fenwick in the process.
As Paul Parker attempts to close from the right, and Seaman advances from his goal, Barnes calmly slots the ball between the eye of the needle, into the bottom hand corner.
Anfield simply erupted.
A new king had been coronated.
It was this second goal of the day for Barnes which went on to define him in a Liverpool shirt. The Liverpool fans that day had arrived at Anfield having felt that they'd seen it all before.
They went home thinking very differently.
* View more in our 'game that made them a Liverpool icon' series