Conceding late to draw 1-1 with Chelsea on Saturday could be seen as a blow to Liverpool, but this depends on how Jurgen Klopp's side follow it up.
As the clock ran down at Anfield, the Reds looked to be heading to a crucial result over their top-four rivals, with Mohamed Salah poised to hog the headlines.
On his first appearance against the Blues since leaving the club, initially on loan, in 2015, Salah served as Klopp's attacking talisman.
The 25-year-old put Liverpool ahead on 65 minutes, the ball ending up in the path of his sweeping run through a mess of bodies as Alex Oxlade-Chamberlain poked him through on goal.
Beating Thibaut Courtois for his 15th goal for the Reds, and his 10th in the Premier League this season, Salah looked to have sealed the narrative.
But as Chelsea pushed for an equaliser, Willian's wayward cross sailed over the outstretching Simon Mignolet and into the back of the net, with the Brazilian wheeling away jubilant.
Speaking after the game, Klopp said "the boys did really well, so I am happy about that but I am not happy about the result."
But taking a point from the champions can still be considered a positive, if the Reds' upcoming fixtures play out with the right results.
Liverpool 1-1 Chelsea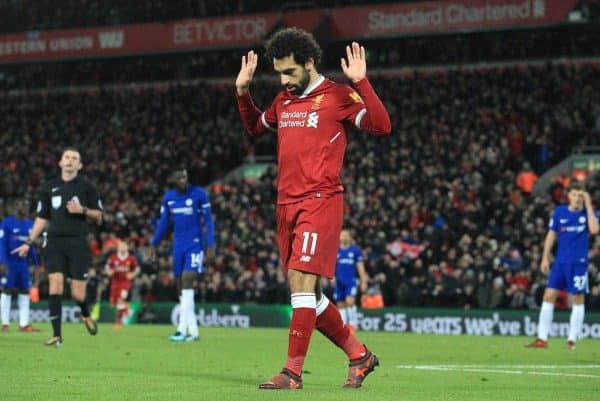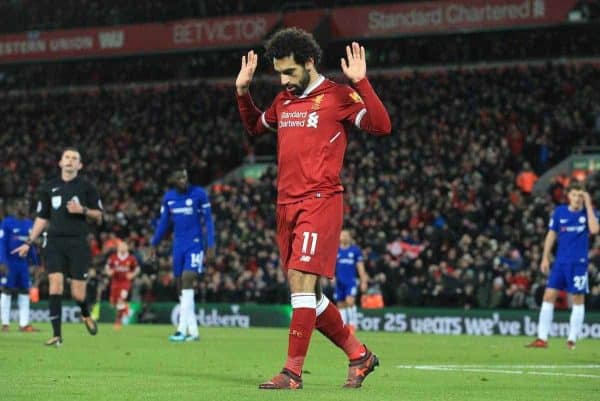 "Everything was good until Willian crossed the ball," Klopp evaluated on Saturday night, speaking to reporters at Anfield.
"Most parts of the game are still good, but it doesn't feel that well, that's how it is."
Given the nature of their 3-3 collapse away to Sevilla in the Champions League on Tuesday night, letting another lead slip is a frustrating reality for Liverpool.
Klopp's side had slightly more of the possession at Anfield, with 53.4 percent, had more shots on goal, with 16, and created more chances, with 13.
They were the more deserving winners, on paper, and given Chelsea equalised through a twist of fate from the right wing, Klopp is right to feel disappointed by the outcome.
But 90 minutes earlier, and it can be argued that the Reds would have taken a point, particularly on the back of their stalemate in Spain.
Chelsea arrived at Anfield having won four of their last five games, including a 1-0 win at home to Man United and back-to-back 4-0 victories over West Brom and Qarabag.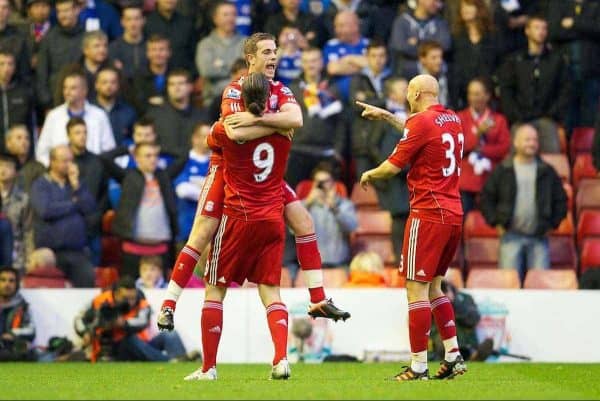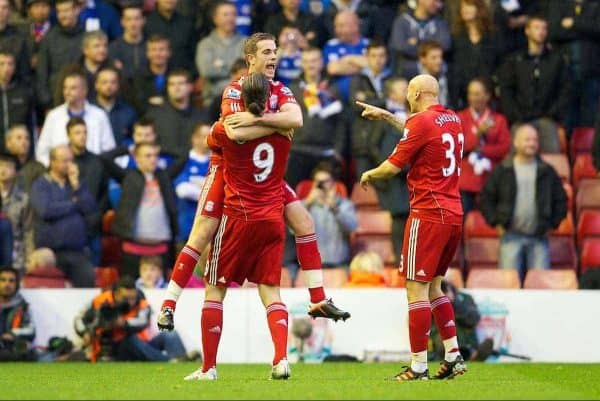 They also hadn't lost away to Liverpool since mid-2012, when Kenny Dalglish oversaw a comprehensive win over Roberto di Matteo's soon-to-be European champions on Merseyside.
Much had changed since that Tuesday night in front of 40,721, with Jordan Henderson the only player to remain on the books at Liverpool since then.
After that, the Reds had drawn four and lost two against Chelsea at Anfield, and coming up against Antonio Conte's title-holders presented a major challenge.
And with Klopp making five changes to the side that dominated and then crumbled in Seville, including leaving out both Sadio Mane and Roberto Firmino, the odds were stacked against them.
It can be argued that Chelsea's gruelling schedule, arriving back in London in the early hours of Thursday morning following their 2,500-mile flight back from Azerbaijan, gave the Reds an advantage.
But in the context of the clash, and the campaign as a whole, taking a point from the Blues cannot be considered wholly disappointing.
The Tactical Approach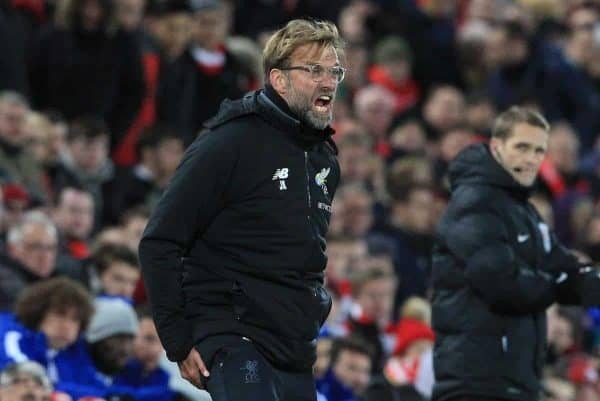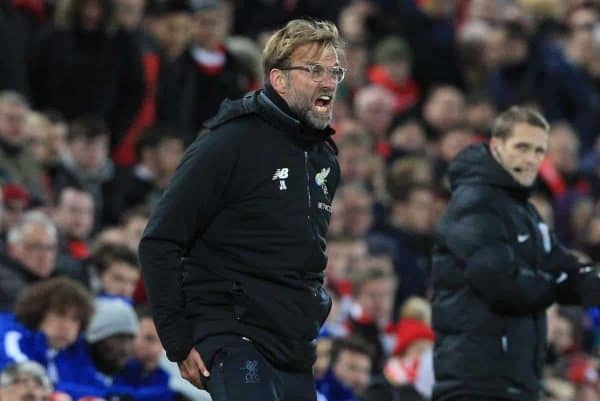 Continuing his assessment of the night, and his side's performance, Klopp praised Liverpool for their organisation and invention against a rigid Chelsea setup.
"I thought it was a really good team performance in an unbelievably difficult game," he told BT Sport.
"Chelsea defending with eight [players] really deep, then the counter-attacking opportunities."
Klopp was far from begrudging of Conte's outlook, adding that "Chelsea fought hard and deserved the point," and in this there was a clear respect for the Blues.
Following Chelsea's nightmare return trip from Baku, in which their pilot was forced to abort his initial landing due to winds around Gatwick, the Italian fielded a conservative side.
Conte himself made five changes, with Andreas Christensen, Gary Cahill, Danny Drinkwater, Tiemoue Bakayoko and Alvaro Morata replacing David Luiz, Antonio Rudiger, Cesc Fabregas, Willian and Pedro.
His lineup was decidedly more defensive than against Qarabag, and rightly so, with Conte utilising the tactical approach that the majority of managers at top clubs do in big games.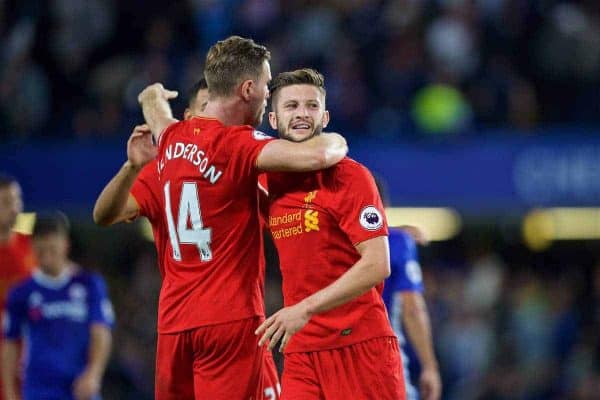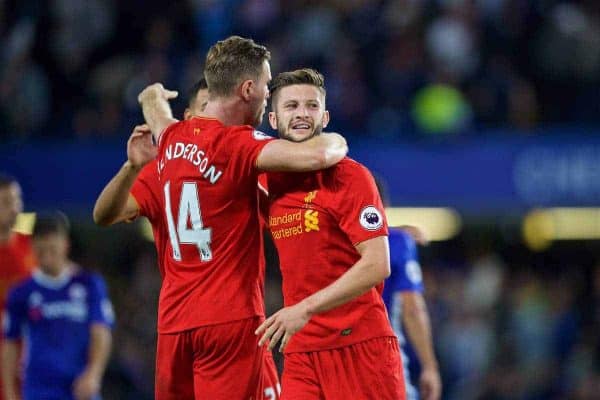 Last season, Liverpool were unbeaten in 10 games against the rest of the Premier League's top six, winning five and drawing five against Chelsea, United, Man City, Arsenal and Tottenham.
But Klopp's side also suffered six losses against sides that finished outside of the European places, falling to Burnley, Bournemouth, Swansea City, Hull City, Leicester City and Crystal Palace.
Of those sides, only Bournemouth finished in the top half, and Hull were ultimately relegated; Liverpool also drew with the Cherries, as well as Southampton (twice), West Ham and Sunderland.
They still finished fourth in the English top flight, but it is telling that on their way to the title Chelsea only lost to one side outside of the top six, that being Palace.
Tottenham (one), City (two) and United (one) all lost fewer games against non-top six sides than Liverpool, while Arsenal (four) endured the same record, finishing a place below.
This season, Liverpool should be looking to invert their success against smaller sides while grinding out results against their rivals.
It is arguably not in Klopp's nature, with August's 4-0 win at home to Arsenal his blueprint, but for the Reds to keep up the pace taking points from the rest of the top six is essential.
Liverpool's Winnable Run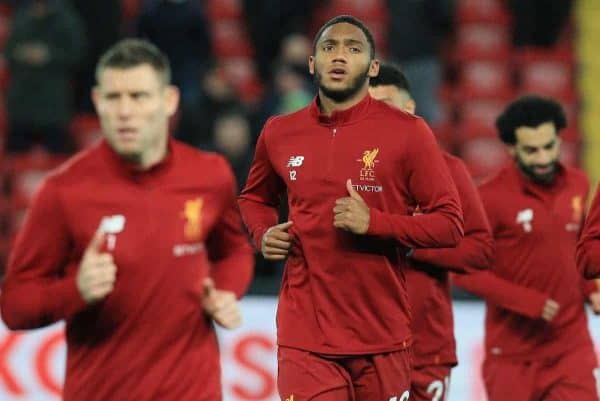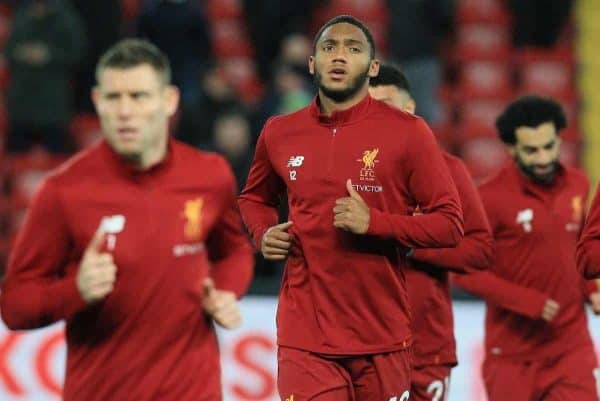 Saturday's draw with Chelsea was Liverpool's third game in a run of 13 outings in just 45 days, as the demands of England's winter schedule bear down on them.
However, it was also arguably their biggest challenge of that run, with the trip to take on Arsenal on December 22 their only other clash with a league rival.
For a Liverpool side who, bar their aberration in Andalusia, are in positive form, having won four and drawn two of their last six games, this is an encouraging development.
Drawing with Chelsea saw them extended their unbeaten run, and now the Reds head into a stretch of winnable fixtures that should see them look to capitalise.
Next up is an away clash with Stoke on Wednesday night, before taking on Brighton (A), Spartak Moscow (H), Everton (H), West Brom (H) and Bournemouth (A).
Of those five league encounters, only one of the Reds' opponents are currently in the top half, with Stoke, Everton and West Brom all sitting dangerously close to the relegation zone.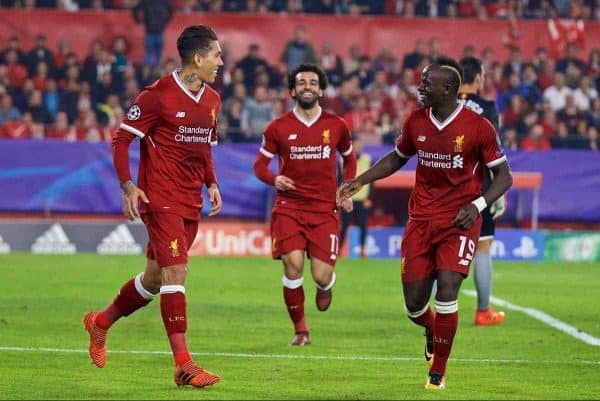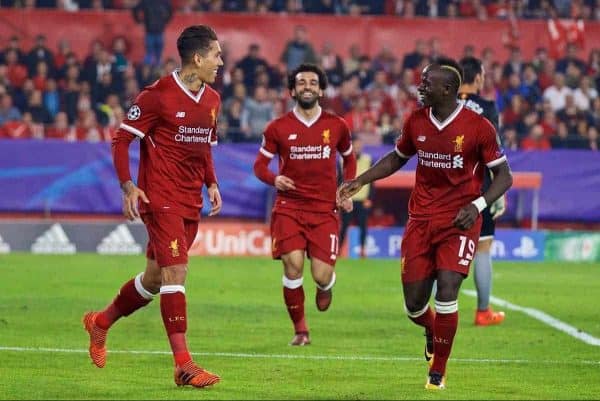 Even Spartak, who are the only side standing in between Liverpool and a place in the Champions League's last 16, are far from the most formidable of adversaries, winning just once in Group E so far.
Given the Reds' form since their 4-1 loss away to Tottenham in October, and the level of opposition facing them over the next six games, they could feasibly expect six victories.
Doing so would put them in line with their Premier League rivals, and ensure that a 1-1 draw with Chelsea is seen as a point gained, rather than two dropped.