Stoke manager Mark Hughes expressed his disbelief at referee Martin Atkinson's decision not to send off Liverpool goalkeeper Simon Mignolet just before half-time in their 3-0 defeat.
The Belgium international brought down Mame Biram Diouf on the edge of the penalty area with the score at 1-0 but escaped with a yellow card.
Hughes felt it was a pivotal incident with his side just starting to cause the visitors problems.
"That's the key moment in the game from our point of view," he said.
"I just don't understand why the referee and the officials couldn't see that for what it was – a clear goal-scoring opportunity.
"If the keeper doesn't wipe Mame Diouf out it's a tap-in into an empty net and, at that point, it's 1-1 and game on.
"It came at a time when we were in the ascendancy I felt, asking questions of them.
"I don't think we got the benefit of the doubt from the officials on too many occasions tonight, to be perfectly honest.
"The one thing you want from the referees and officials is to get the key decisions, the match-defining decisions right. In my view, he didn't unfortunately tonight."
Two wins in their last 12 league matches have left the Potters just three points above the relegation zone but Hughes felt their performance did not warrant a 3-0 defeat.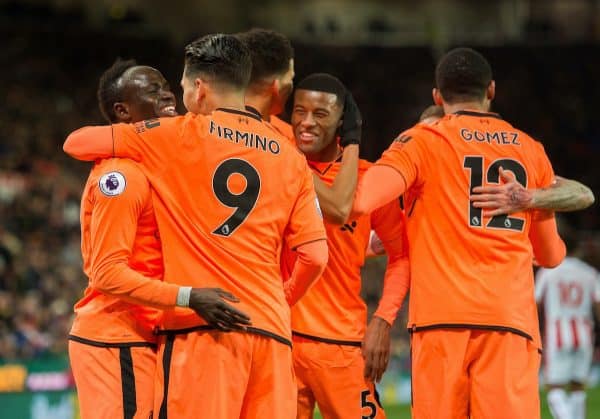 "We obviously went down to a poor goal from our point of view, which was a little bit contentious as well because we felt the ball had gone out.
"I'm not sure if it did, but usually as a home team you get the benefit of the doubt in those situations."
Liverpool boss Jurgen Klopp, however, felt Atkinson was right to only book Mignolet.
"If you think the single foul was a red card, I might have to see it again but I don't think it was, but he's not the last man," he said.
"There were two covering players in our shirt. That's the reason, that's the rule."
Sadio Mane put Liverpool ahead in the first half with his first Premier League goal since August before Mohamed Salah took his tally to 17 for the season with two late strikes after coming off the bench.
The Egypt international, a summer signing from Roma, is the league's leading scorer with 12 and showed how clinical he is in a devastating 23-minute cameo which clinched three points.
"Thank God. Obviously that's good," added Klopp.
"It's difficult for all the players coming on in this temperature. Sitting on the bench is not too nice (but) it worked really well, two fantastic goals."