In previous campaigns Philippe Coutinho has suffered a drop in form mid-season, but he needs to not succumb to inconsistency this year.
There has been little doubt from the majority of the fanbase over the past few seasons that the Brazilian No. 10 ranks among the best talents in a Liverpool shirt.
His goalscoring ability, the wizard-like capacity to open up defences and that trademark swift drop of a shoulder are traits that no team-mate possessed, and at times it seemed the route to goal came through Coutinho…or nobody.
Sadio Mane's arrival in 2016 changed that perception for some, with the wide forward adding ridiculous pace and plenty of goals of his own, immediately claiming top spot in the eyes of some supporters—and now Mohamed Salah has done the same.
Overall, this is a great thing for Liverpool. The threat of goals, the chances of victory, must always come from multiple sources rather than from a single, identifiable—and thus potentially easier to negate—star.
But for Coutinho himself, he must be inspired and pushed on further by this upward curve of the team, rather than allowing it to cover for his deficiencies.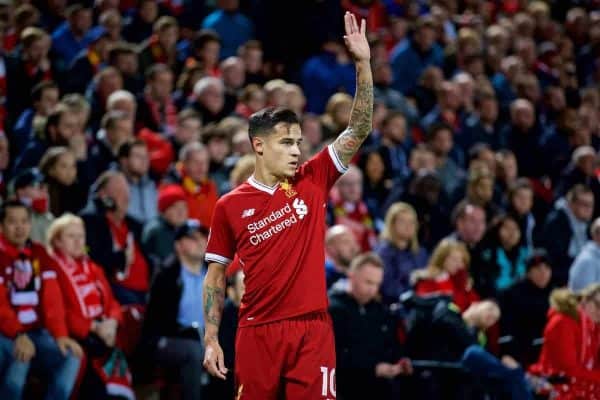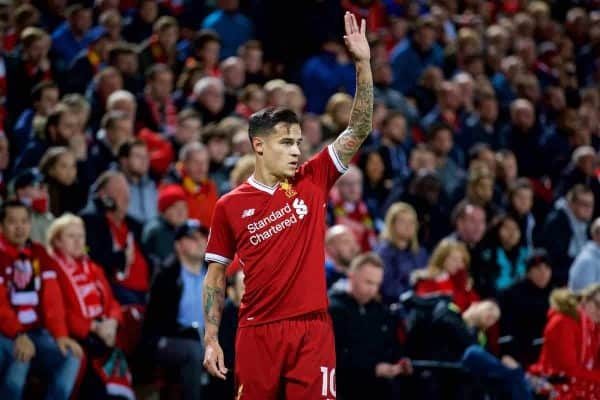 For he, like every player, has some—and the biggest issue of all has been consistency.
Coutinho is not inconsistent per se, certainly not in the game-to-game manner of a Gini Wijnaldum or the half-to-half tendencies of the defensive line at times.
But he still plays, and shines, in peaks and troughs. He can go two months looking like the Premier League's best player, then have a month or more in which he hardly contributes to the Reds' best games or moments.
Over the past couple of seasons this has sometimes been precluded by an injury for the Brazilian, a period out of the team where he loses rhythm and sharpness, and takes a few matches to recoup the same once fit.
Inevitably, the downturn in form is followed by an upsurge toward the end of the campaign as he hits top form, and fans recall just how good he is, just what he's capable of.
Once more, it seems Coutinho can lead the team.
But that period in the middle. That two or three months, when injury or inability to affect play overcomes him.
It's a frustrating period for any player, but it should be noted that the very best of them, the absolute elite, do not suffer this period.
That's not to say they don't have bad games, or a quiet week in which they don't score against two or three mediocre opponents.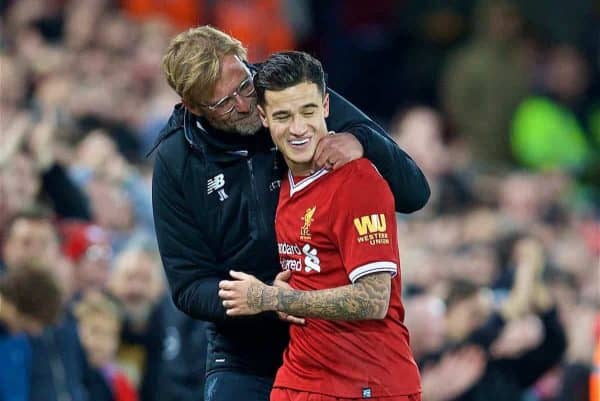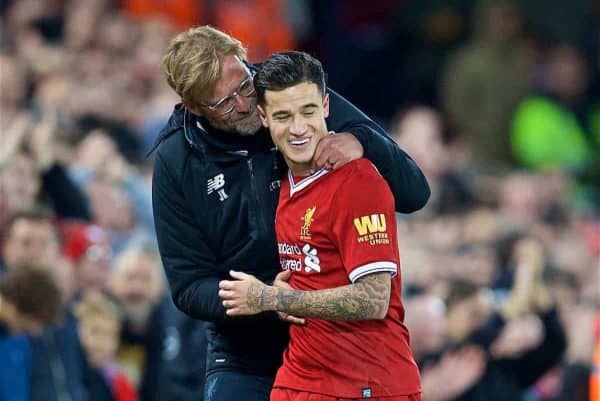 But imagine Harry Kane going any month not called August without a goal? And following it into the next one and still plundering away fruitlessly?
Imagine Eden Hazard, that one bizarre season aside, not creating scoring chances for his team across six or eight matches?
And David Silva, Kevin de Bruyne? Further afield, would any of the Juventus, Real Madrid, PSG contingent remain in place if they failed to impact for weeks on end? Unlikely.
True, Liverpool aren't at that level right now, but if they want to get there, they can't afford their best players to have a fallow month…or three.
For Coutinho himself, as much as for the team, he can't continue to do that. Consistency is what separates very good players from the truly elite, and his technical talent belongs in that category at least.
The past couple of matches have seen Coutinho fail to really impact enough, bypassed in central midfield at times and not really at the races against Chelsea at all.
Again, a bad game or a quiet week or so is no issue whatsoever. Sometimes, the match pattern simply doesn't allow for a player to be involved.
But Coutinho mustn't let this inactivity of late spiral into one of his lengthy downturns in form.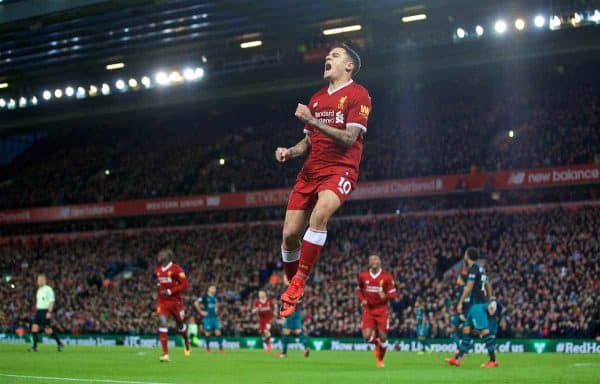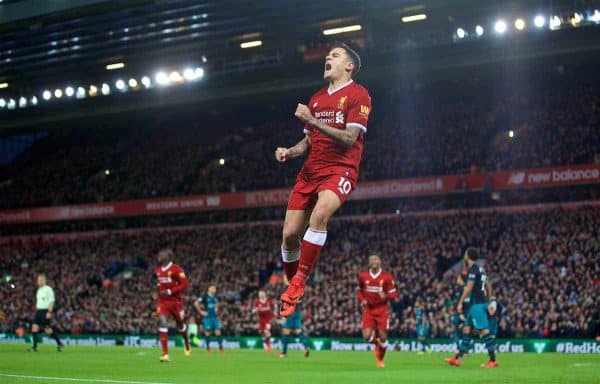 There's no winter break to offer him a respite, and an injury for the No. 10 is the last thing Liverpool want, but all the same he must be coaxed back to top gear.
He's an elite-capacity player; Barcelona weren't wrong in their pursuit of him.
But to truly attain that status, he must showcase top form with greater frequency, or at least with far shorter runs where he doesn't do so.
The busy period and a host of beatable teams should provide the perfect platform to stop the rot this time before it ever sets in.