Jurgen Klopp has hailed Alex Oxlade-Chamberlain's transition to life at Liverpool, but insisted he expects more from the ex-Arsenal midfielder.
Oxlade-Chamberlain left the Gunners to join Klopp's side at the end of the summer transfer window, in a high-profile £35 million deal.
The 24-year-old produced his best performance in a Liverpool shirt so far on the eve of his return to the Emirates Stadium, earning the Man of the Match award on Sunday at Bournemouth.
And as Oxlade-Chamberlain prepares to take on his former side on Friday night, Klopp lavished praise on his improvement.
"He had to adapt. He did well from the first day, but I know how it is if you're a big signing, everyone expects you to perform immediately," he said.
"You cannot just play a little bit, you don't know your team-mates, it's all different.
"I was happy from the first day about his involvement [and] attitude, then since then he became more and more a Liverpool player.
"So far we were lucky he could be part of all sessions. He's really fit, you could see it at Bournemouth.
"He looks in really good shape, played different positions to what he could before [at Arsenal].
"But they are not that different. If he plays the wing or the No. 8, a few things are different but in general it's similar.
"The biggest improvement, or biggest potential he still has, is being involved in goalscoring situations. He has it, but it was not asked for too much [at Arsenal].
"If you watched Arsenal in the past, the very decisive players were [Alexis] Sanchez and [Mesut] Ozil, then you are not that much involved.
"Here we put more on their shoulders, and if he's on the pitch he needs to be involved in situations like this.
"I'm fine for the moment but I see space for improvement as well, that's good."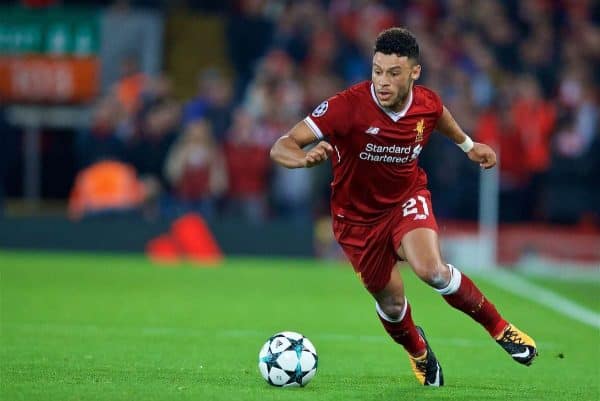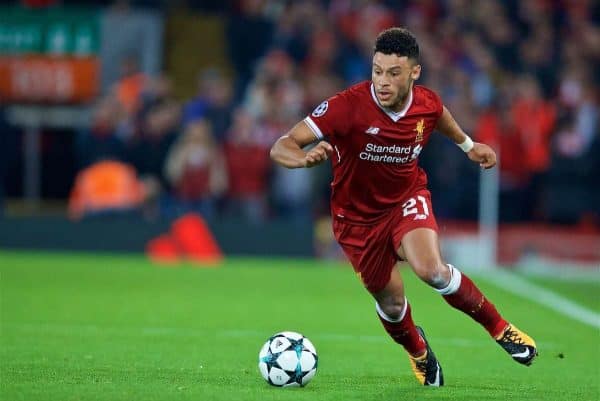 Friday's clash at the Emirates provides a welcome opportunity to reflect on Oxlade-Chamberlain's performances so far, and as Klopp highlights, there is also room to compare.
At Arsenal, Oxlade-Chamberlain regularly struggled with fitness issues, and with Klopp claiming the Reds were "lucky" this hadn't been a problem so far, there are still reservations.
But as Klopp continued to praise his new No. 21, he suggested Liverpool were managing his fitness more sensitively.
"Luck is always involved in this, we aren't responsible for all the injuries, you cannot avoid that," he added.
"We do a lot of things differently. I don't say better, but different.
"So far everything is good with that. I don't think that he played three games in a row so far; that helps.
"He's just on a good way, a good lad, [I am] really happy to have him around.
"[He is] fantastic in the dressing room and thank god he's really, really good on the pitch as well."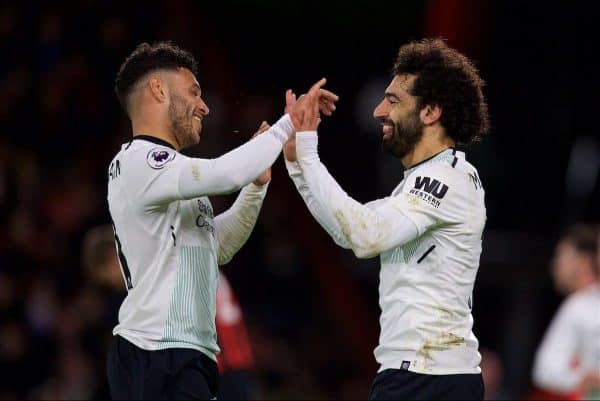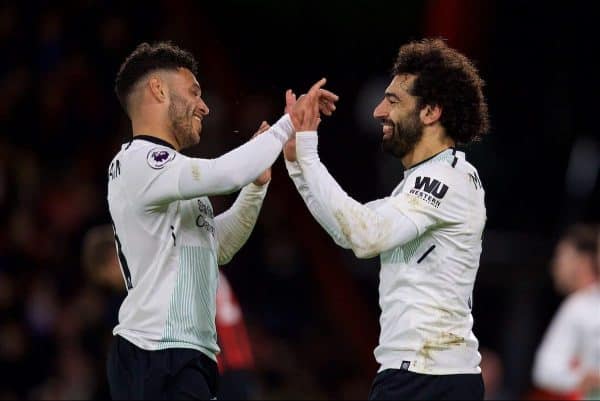 Oxlade-Chamberlain arrived along with fellow new faces Mohamed Salah, Andrew Robertson and Dominic Solanke, as Klopp continues to build his squad.
But while Salah hit the ground running, Oxlade-Chamberlain took longer to adjust, and Klopp explained why this was the case.
"He came in the pre-season, that's the big difference," he continued.
"If Alex was here in pre-season that would be completely different. You don't have time to talk to one player much more than any of the others.
"Mo came in and it was smooth, we went to different camps, Hong Kong and Germany. That helps of course, for settling in. That's the biggest difference."