Liverpool right-back Trent Alexander-Arnold has described scoring his first Anfield goal in Tuesday's 5-0 rout of Swansea City as "a dream come true."
Alexander-Arnold struck the Reds' third of the night with a rising effort that went in off the bar, capping an excellent individual display.
The 19-year-old from West Derby already had two goals to his name since stepping up to the first team, but this was his first in front of the Kop.
And wheeling away in elation after his shot rippled the net, Alexander-Arnold's passion was clear, with this goal a culmination of his hard work establishing himself for his boyhood club.
Speaking to LiverpoolFC.com after the game, the teenager reflected on his maiden home goal, having lived the dream of a native Scouser.
"Every lad dreams of scoring at the Kop end under the floodlights, and especially with it coming off the bar and going in!" he gushed.
"They can easily bounce back and that would have been a disappointment, but it [went] in and it was a dream come true.
"To be able to get the chance and to put it away for the team was really good and the result made it [more] special.
"I know a lot of the family [were] here and it would have been a really proud moment for them to see the goal go in.
"It was all a bit of a blur, to be honest. All I know is that I slid on my knees.
"I don't know what really happened from the point the ball went in [until] I was jogging back to the halfway line. I'm sure I'll watch it back!"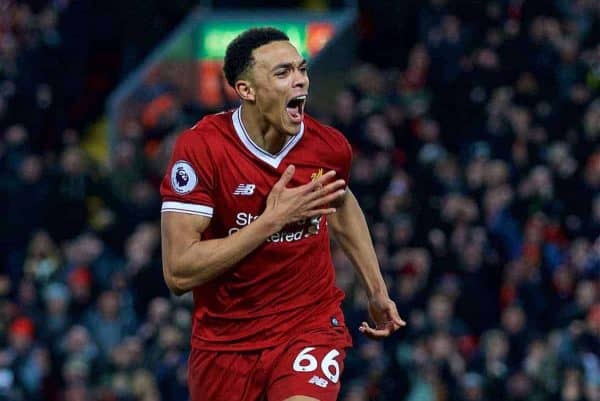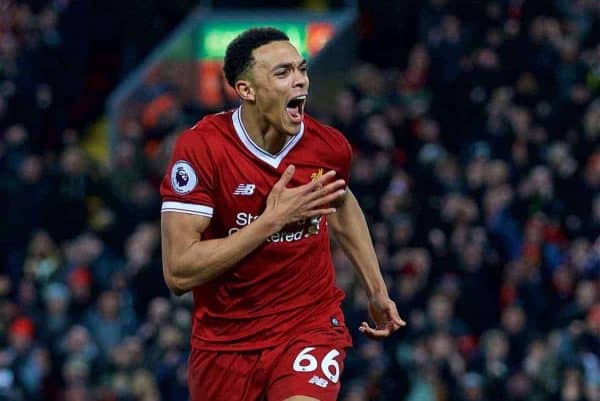 Alexander-Arnold has made 13 appearances for Jurgen Klopp's side so far this season, alternating with Joe Gomez as the Reds' starting right-back.
Despite his inexperience, he has acquitted himself excellently, with Klopp's faith in his young duo paying off in the absence of Nathaniel Clyne.
Though Gomez can be considered Liverpool's most reliable option at present, Alexander-Arnold is growing rapidly in the role, with Tuesday's performance proof of this.
His defensive game is markedly improved, while his input going forward is clear, providing the Reds with a useful outlet in attack.
Furthermore, his blend of genuine quality and the drive of a local lad make him a player to build around for the long term at Anfield.
With Liverpool set to play twice in three days over the new-year period, he can expect to start against either Leicester City or Burnley, and can be relied upon to perform once again.