The media assessed Liverpool as their own worst enemies in the 3-3 draw at Arsenal, criticising the Reds defensive relapse and attacking wastefulness.
A humdinger of a game was expected at the Emirates and it lived up to expectation as both sides settled for a point in a game either could have won or lost.
Philippe Coutinho and Mohamed Salah gave the Reds a two-goal lead, but three goals in five minutes from Alexis Sanchez, Granit Xhaka and Mesut Ozil completely transformed the game to put the hosts 3-2 up.
Roberto Firmino's looped finish completed the scoring and rescued a point, but frustration was the overwhelming feeling upon the final whistle with Klopp's side having thrown away victory.
Here's how the media assessed the Reds' performance in the Christmas cracker at the Emirates…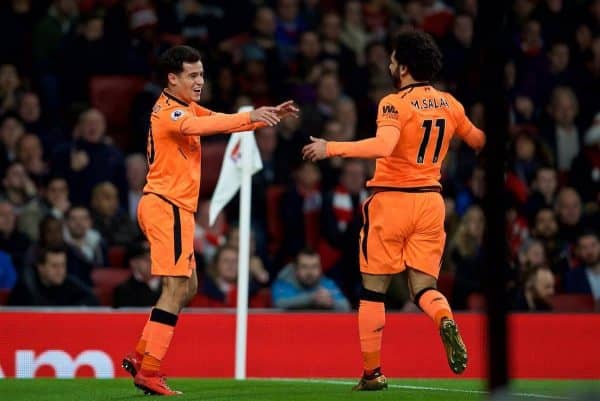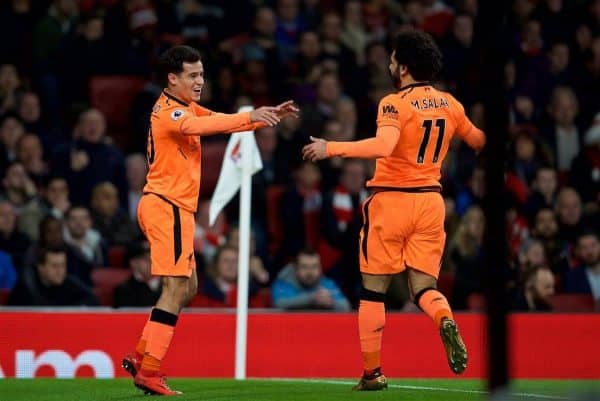 Reporters reflected on the crazy game, and felt it showed the best and worst of Liverpool…
First of all, the Telegraph's Sam Dean, along with nearly every other reporter, assessed it as points dropped rather than a point gained:
"This, though, felt like points dropped by Liverpool rather than points earned by the home side."
With this result Liverpool's eighth stalemate of the season, Daniel Storey of Football365 thinks all the draws will prove costly come the end of the season:
"They have lost fewer times in the league than every team but Manchester City; the draws will come back to haunt them."
ESPN's Mark Ogden was among numerous journalists who thought the game showed why the Reds—and Arsenal—will continue to fail to challenge for major honours:
"Arsenal and Liverpool once again scored a perfect 10 in the entertainment stakes but when Arsene Wenger and Jurgen Klopp sit down to assess just why their teams will not challenge for the Premier League title, they will see it in the defending that could have seen this game end as a 7-7 draw."
Dean labelled Liverpool the Premier League's very own "team of two halves":
"They say football matches can be a game of two halves, but Liverpool are making a fine attempt at being the Premier League's team of two halves."
The Liverpool Echo's Kristian Walsh took the chance to reflect on the first half of the season, and assessed it as a good return so far:
"But that shouldn't detract from a good half-season. They remain bang in the race for top four. The attacking output is one of the best two in the Premier League.

"They also remain in the last 16 of that very competition that seek to return to next season, playing the sort of football that can see them go far in the tournament. It could be better, but it could be much worse."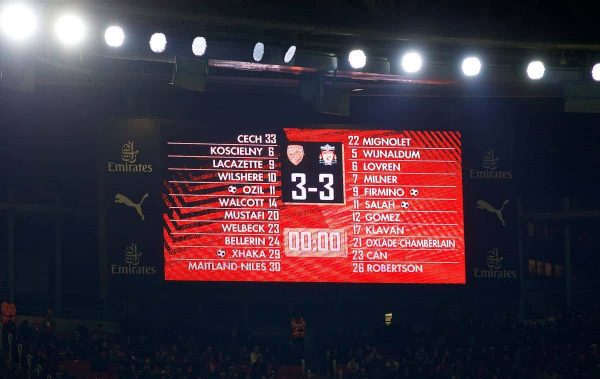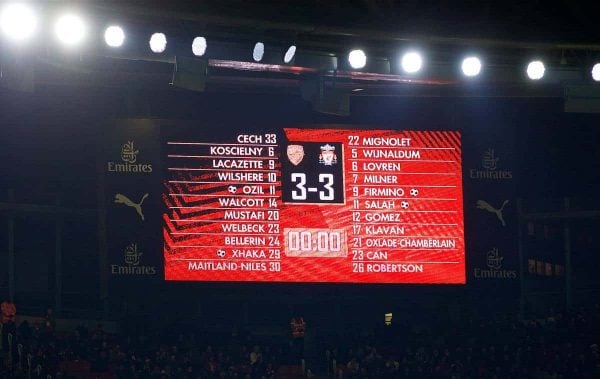 Journalists lamented how Liverpool shot themselves in the foot and once again undermined recent progress…
Dean bemoaned the Reds' inability to make genuine progress with defending, assessing that Klopp's side "have not banished the defensive ineptitude":
"Yes, Liverpool's defending has improved in recent weeks. But no, they have not banished the defensive ineptitude that has held them back whenever they are on the verge of taking a step forward."
Writing for Goal, Melissa Reddy complained how often such collapses are produced, and feels progress will continue to be derailed until it is eradicated:
"This is not a once-off and while it is not a consistent problem, it happens with way too much regularity for a side with such large ambitions.

[…]

"As long as Liverpool continue to conspire against themselves, failing to cut out the errors and those who keep committing them, they will remain good to watch, but without anything truly great to show for it."
Ogden believes the defensive issues won't improve until Klopp takes a more serious approach towards defending:
"The problem for both clubs is that neither Wenger nor Klopp seem too concerned about the defensive naivety which continues to plague both sides."
Meanwhile, Reddy felt Liverpool's attack was just as culpable as the defence for the dropped points, focussing on how the Reds' wastefulness let Arsenal off the hook:
"The defence is not solely to blame for Liverpool's failure to solidify their position in the top four and put further space between themselves at Arsenal.

[…]

"Liverpool's unnecessary charity in the first half offered Arsene Wenger's side respite they hadn't deserved."
Storey criticised the complacency in finishing of the front four and noted how it is becoming a worrying trend:
"The difference between their front four and Manchester City's is that City generally make the best decisions to maximise the chances of scoring; Liverpool don't. It is as if they get complacent about taking chances because they know another will be along soon.

[…]

"Fine tune this attack, and Liverpool will be out of sight before their defence has a chance to undermine all progress."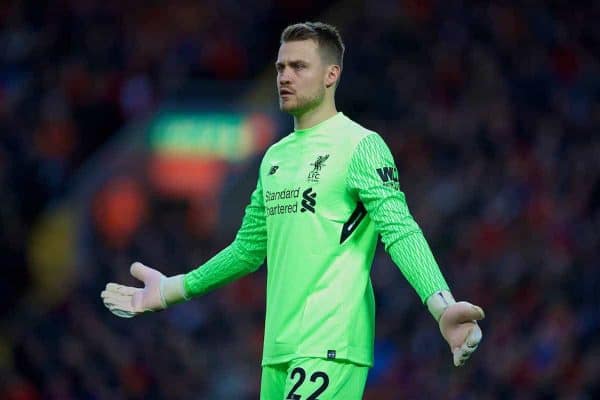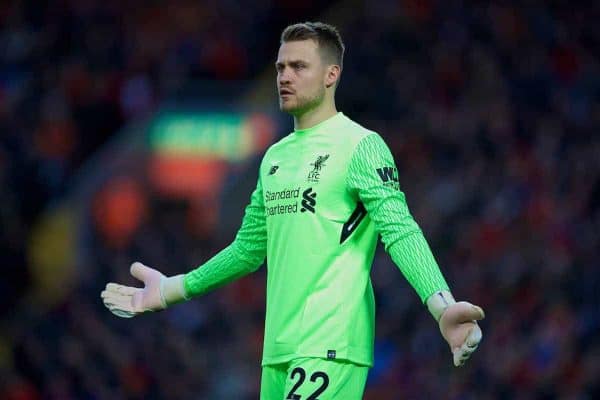 Various elements of defensive failings were discussed, including the inability to cope under pressure and Simon Mignolet's display…
Walsh noted the worrying developing trend of Liverpool's continued defensive wobbles in big games:
"Three times this season Liverpool have entered a game of importance. Three times they have wobbled like a stack of jenga in an earthquake.

"Spurs, Sevilla and now Arsenal—all in the space of three months—have shown that while this side are not far from being an elite footballing side, fundamental concerns remain."
This Is Anfield's James Nalton criticised Liverpool's sloppiness in possession, and felt this contributed to the costly lack of control from which Arsenal profited:
"Sometimes certain stats can tell the story of a game, and here barely any Liverpool players registered a pass success rate of over 80 percent.

[…]

"The side should have had more goals in the first half but they lacked the control in attacking areas. They should also have been able to see the game out when 2-0 up but they lacked control in defensive areas."
Walsh was also critical of the way the Reds continually fail to cope and crumble so easily when put under pressure:
"Those concerns centre around what happens when this Liverpool side face adversity; when the tidal wave turns against them. A side in such control suddenly loses all of it, and the goals that follow are inevitable."
On Mignolet's performance, Ogden labelled the Belgian "unreliable" and assessed that it is now the time for Klopp to buy a new goalkeeper:
"Too often he [Mignolet] has proven himself to be unreliable and Jurgen Klopp really must find a better solution than either Mignolet or his error-prone understudy, Loris Karius."
Nalton believes Mignolet will be lucky to keep his place for upcoming games, and believes Klopp has the ideal chance to restructure his goalkeeping order and use Loris Karius as No. 1:
"It was another poor display from the 'keeper, who will be lucky to retain his place. Again.

[…]

"The big shout could be in the goalkeeper position, and with the FA Cup approaching in January this would be a good time for Klopp to bring Loris Karius in as his No. 1 and use Mignolet (or Danny Ward) elsewhere."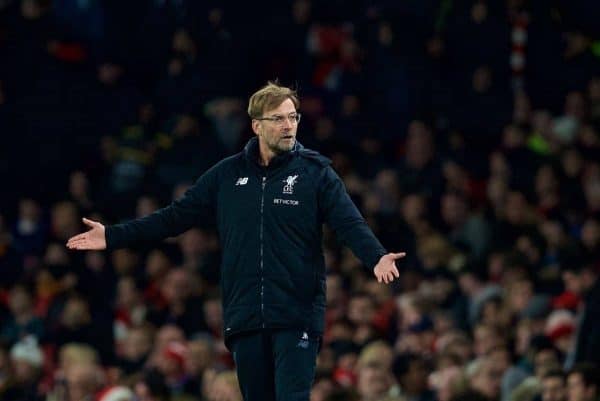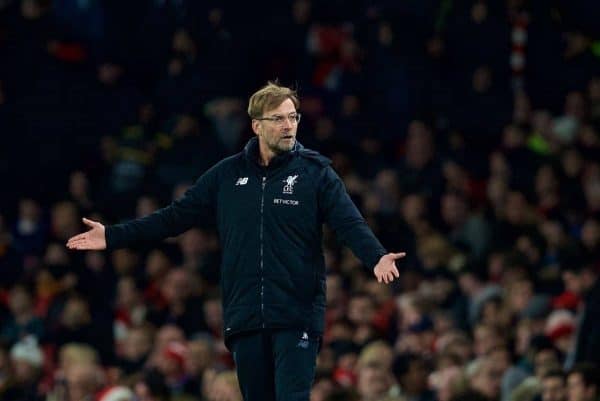 There was criticism of Jurgen Klopp, with some questioning the boss' setup and slow reaction in preventing the collapse…
Firstly, Nalton centred on Klopp's use of 4-2-3-1, and felt the formation didn't suit the personnel selected:
"This 4-2-3-1 shape which then turns into 4-2-4 as the players drop into their roles rather than their positions looked like the right one to beat Arsenal on the night.

"But unfortunately, despite decent displays from Coutinho and Can, the system didn't seem to match the players on this occasion."
Jonathan Wilson, writing in the Guardian, focussed on the lack of balance and defensive security in the team when the 'Fab Four' are all selected, labelling such a lineup as "just too attacking":
"The four together, perhaps, are just too attacking, equipped neither to regain possession nor to fall back and fill break the waves in the event of an opponent surfing a tide of momentum."
On Klopp's in-game performance, This Is Anfield's Karl Matchett felt the German was too slow to react to the implosion:
"But, the Reds have a self-destruction tendency, and Klopp has to acknowledge that when it's painfully obvious that an incoming implosion is imminent, he does very little to stem the tide.

"He showed strong reactions in changing his system, however, particularly to a back three following the introduction of Wijnaldum late on, but the damage was unfortunately done."
Writing for ESPN, Steven Kelly felt Klopp once again lacked a Plan B to change momentum of the game:
"Too positive a lineup for such dangerous opposition? It got Liverpool into a healthy winning position but there's no Plan B. That will be Jurgen Klopp's ultimate downfall. Made changes but only when the damage was done."