Chris Hughton compared Liverpool's attacking prowess to that of Premier League leaders Man City after the Reds' 5-1 win at Brighton on Saturday.
Liverpool blitzed the Seagulls to ensure one of their biggest wins of the season, making light work of a previously formidable defensive side.
The key factor behind this was the Reds' fearsome forward line, with their ability to transition encapsulated in Roberto Firmino's second of the night.
After Simon Mignolet made a stunning save to deny Glenn Murray, Liverpool surged up the field through Mohamed Salah, who fed Firmino to convert.
And speaking at the Amex Stadium after the game, Hughton labelled the Reds as the best side Brighton have faced so far, and compared their attacking quality to that of Man City.
"If you play at the level we played today and make the mistakes [we did] against a team of the quality of Liverpool [you will lose]," he told reporters.
"Offensively they are right up there with Manchester City, because of the pace that they can attack [with].
"You've got be very guarded against that, and that probably becomes the biggest priority in the game, making sure you nullify the strengths that they've got.
"Certainly even the third goal, we've had arguably the best chance of the game through Glenn Murray and less than a minute later they're at the other end scoring.
"So it's a harsh lesson today, and we certainly have to be able to learn from that."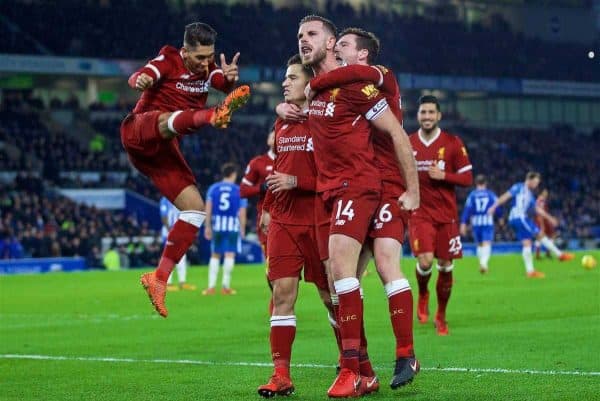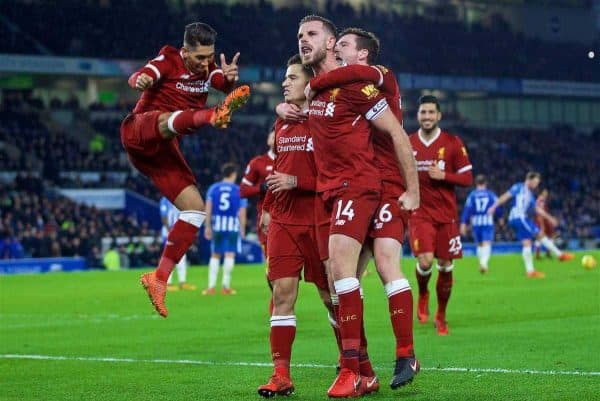 Klopp has made two key signings to overhaul his attacking line in Sadio Mane and Mohamed Salah, and from Hughton's assessment it is clear to see why.
"The biggest threat for any team you're playing against is pace," he explained.
"Some teams do it in different ways but with the pace that these have, on a bad day it's very difficult to do anything about."
Between them, Firmino, Mane, Salah and Philippe Coutinho have scored 37 goals and laid on 16 assists so far this season.