Roberto Firmino's brace at Brighton on Saturday took his goal tally to 11 for the season so far.
It was another highly productive away day for Liverpool at the Amex Stadium, with their 5-1 victory on the south coast moving them back into the top four.
The Reds enjoyed a third straight Premier League victory on the road, and the win was every bit as emphatic as the two that came before it at West Ham and Stoke City.
It's now 16 points from a possible 18 since the defeat to Tottenham, and Jurgen Klopp and his players deserve credit for a stirring response since that miserable day at Wembley.
There were many positives to take from the Brighton game, whether it be Philippe Coutinho's dominant performance or Emre Can and Gini Wijnaldum doing a job in the makeshift back-three, but Firmino's impact was particularly pleasing.
The 26-year-old's well-taken finishes saw him reach double figures (in all competitions), as he continues to silence those who accuse him of lacking a strikers' instinct.
Adding goals to his game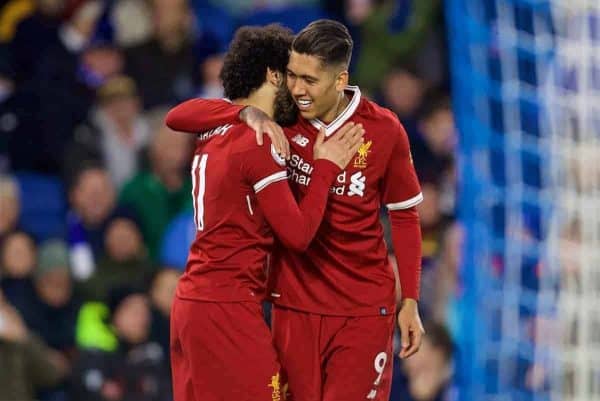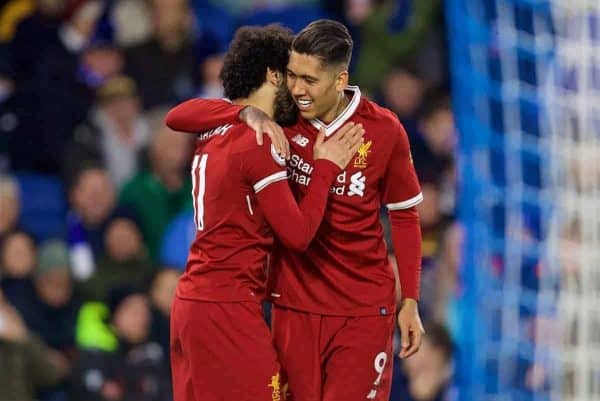 Last summer may have mainly revolved around Liverpool's pursuit of Virgil van Dijk and Naby Keita, but there were still waves of supporters bemoaning a lack of an out-and-out striker coming in.
Firmino had been Klopp's undisputed man to lead the line for the previous season, but his influence in the role divided opinion.
To some, he was the perfect Klopp centre-forward; working tirelessly and dropping deep to link up with fellow attackers. But to others, he simply wasn't doing his primary job; scoring goals.
23 goals had been scored in his first two seasons at Anfield, in 90 appearances, and with rivals signing the likes of Romelu Lukaku, Alvaro Morata and Alexandre Lacazette, there were concerns that Firmino could be shown up.
Current evidence suggests that we were wrong to worry, however, and the fact that he is now delivering far more consistently on the goal front is a huge bonus, on top of all the other fabulous work he does for the team.
Firmino's best tally for a season for Liverpool is 12, but his second goal on Saturday, a beautifully-taken effort, put him one behind that total. It's still only early December.
Goals this season (all comps):

Kane – 16
Lukaku – 12
Firmino – 11
Aguero – 11
Jesus – 10
Morata – 10
Lacazette – 8

And Firmino offers so much more than just goals. Fantastic footballer.

— Henry Jackson (@HenryJackson87) December 3, 2017
It is also interesting to compare his statistics to those who are supposedly more prolific back in the summer.
Lukaku, who offers little else other than finding the net, only has one more goal, having played one game extra, and Gabriel Jesus (10), Morata (10) and Lacazette (8) all have fewer.
Only Harry Kane is comfortably clear, having scored 16 times – it's worth noting that the irrepressible Mohamed Salah has 17 – which goes to show how well Firmino has done, exceeding expectations in the process.
Firmino has, admittedly, played more than any of those strikers, barring Lukaku, which does skew things slightly – but he is still more than holding his own.
If current form is anything to go by, and injuries can be avoided, the former Hoffenheim favourite is well on course to reach that magical 20-goal figure that many felt he was incapable of achieving this season.
Due to the brilliance of Salah, and the likes of Sadio Mane and Coutinho also chipping with regular goals of their own, Liverpool's attack was never going to be the issues this season.
Firmino should not be judged solely on his goals, though, and when Lukaku and co finish the season on more than him, that can't be used as a stick to beat him.
He offers so much more than that, and it would be nice to see more column inches coming his way from the wider footballing media.
Mr Underrated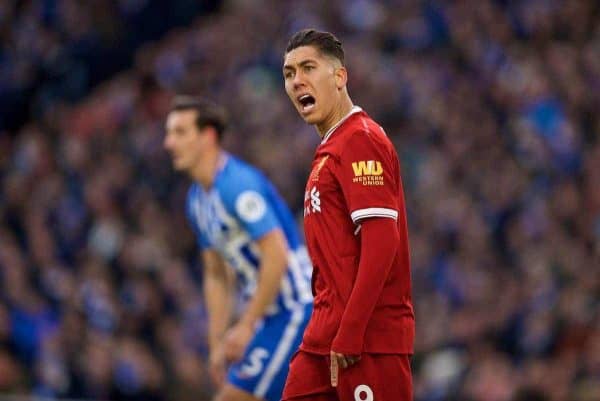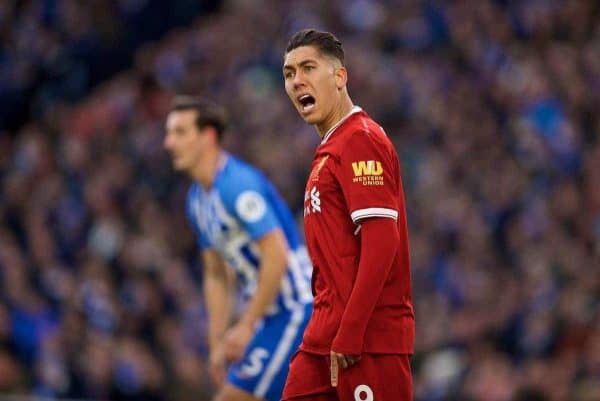 "He's probably the most underestimated player in world football. He is unbelievable."
Those were the flattering words of Klopp back in August, when Firmino had starred in the 4-2 Champions League victory at home to Hoffenheim.
The silky forward may be rated highly by a lot of people, but the manager's sentiment still very much applies – Firmino remains criminally underrated by the masses.
Such is his subtlety as a player, he is rarely going to be someone who stands out prominently in games, especially compared to some of his contemporaries.
Coutinho will always be more of a "Match of the Day player" because he attempts more outrageous long-range efforts and tricks and flicks; Salah and Mane catch the eye more with their speed; Daniel Sturridge's flamboyance can earn more plaudits.
If someone doesn't rate Roberto Firmino, you instantly find out they don't know much about football. Another great performance yesterday. What a player.

— Joe Musker (@JosephMusker) December 3, 2017
Straying away from Liverpool momentarily, Kevin De Bruyne is a good comparison to use, even though the Belgian is now receiving the accolades he has richly deserved for a while.
The Man City talisman has similarly unsung attributes to Firmino – intelligence, unselfishness and making the difficult look incredibly simple – and his excellence may not always be as noticeable as someone like fellow countryman Eden Hazard, for example.
Hopefully, Firmino's new-found quality in front of goal will start seeing more positivity heading his way, although it is a shame that he has been fully appreciated before now.
Improvements can still be made, with good chances missed at important times and the odd sloppy appearance coming his way, but Liverpool are lucky to have a player of such mastery in their ranks.
There was always a feeling that adding more goals to his game would make him a truly formidable presence – let's hope this is the start of something special.