Liverpool ran riot on the south coast on Saturday, seeing off Brighton with a thumping 5-1 win to move back into the Premier League's top four.
Jurgen Klopp opted to continue his rotation policy in a busy period of the season and once more his choices, though bold or even startling, paid dividends.
The Reds dominated long stretches of possession in the first half, with Brighton extremely defensive and passive in their positioning.
Despite that, it took a set piece for the first goal to arrive, Emre Can heading in a corner from the right flank.
Within a minute the lead was doubled in fine style; Mohamed Salah and Philippe Coutinho combining at pace to gift Roberto Firmino a tap-in at the far post, sending the Reds in 2-0 up at the break.
The action continued after the break as a superb Firmino second was followed up by Pascal Gross' penalty for Brighton, but thereafter the Reds missed several big chances to wrap up the points.
It meant a more nervous finale than it needed to be, but Coutinho settled matters with a brilliant free-kick, rifled under wall as they jumped in unison, before curling home a deflected fifth seconds later.
Here are the biggest talking points from the 5-1 win.
An unexpected trio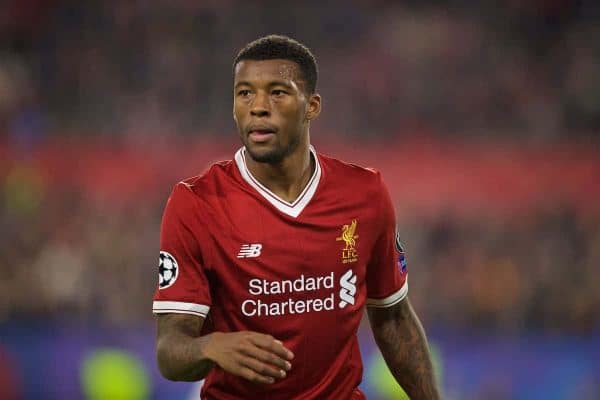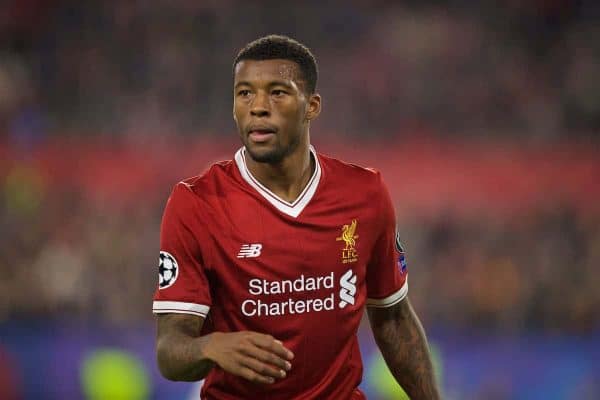 Liverpool have altered formation once or twice of late, but it has usually been variations of 4-4-2 or 4-3-3 for Klopp; at Brighton however it was all change as the boss opted for a back three.
And not just any line of three: midfielders Emre Can and Gini Wijnaldum took their place either side of sole natural centre-back Dejan Lovren, with Joel Matip and Joe Gomez both out.
While Can has of course filled that role before, right of centre, there was plenty of interest in how the Dutchman coped, and early on there were a few worries.
He was somewhat higher with his positioning and loose with his passing, but as the Reds dominated he grew into the role more and seemed more confident about his work.
Liverpool didn't gift too many chances to attack, with the midfield four working hard to deny Brighton counter-attacking chances, and Wijnaldum would perhaps be thankful to his team-mates for that.
After the break Brighton attacked far more and it's fair to suggest they targeted Wijnaldum at times; while he wasn't a poor performer overall, it's clearly not a position which he will be occupying with any regularity.
Assuming the centre-back injury woes don't continue to grow, of course…
Coutinho back on song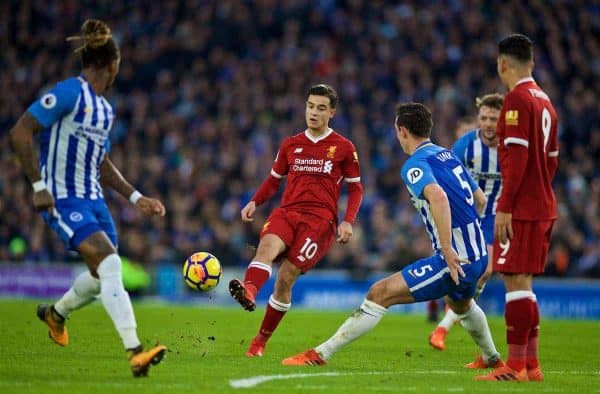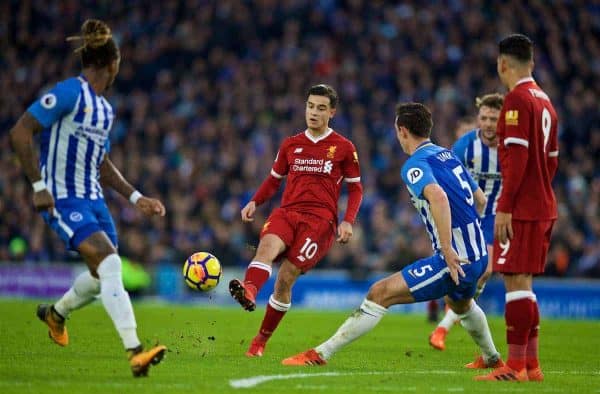 A welcome return to near top form for Coutinho saw him relentlessly create openings for the Reds in the first half, pinning Brighton back and letting his team-mates find dangerous areas to receive play in.
The Brazilian was constantly looking to make the killer pass into the box, but also pressed and challenged quickly to stop the home side escaping the confines of their own half.
A few dribbles saw him win free-kicks or open up spaces to take two or three defenders out of the game, and his assist for Firmino's first was perfectly executed with his first touch.
The late goals were thoroughly deserved for the No. 10 and he really made the Reds tick in attack on the day.
Firmino rediscovers scoring touch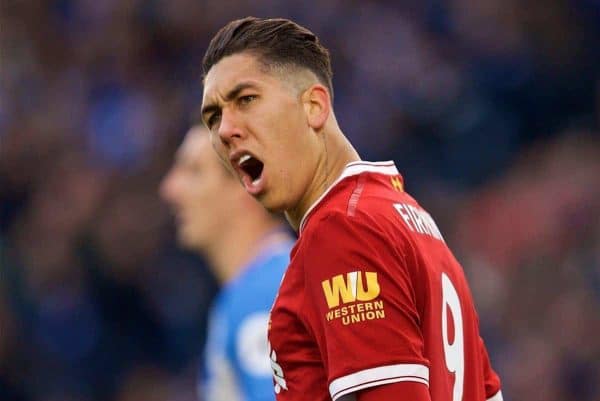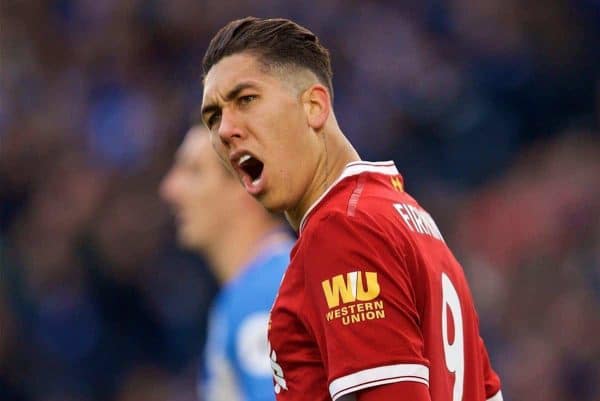 After just one goal in 10 Premier League appearances, it was tremendously important to see the Reds' regular centre-forward back on the scoresheet.
Firmino had one of his best games of the last few months, not just in finding the net but with his link play, his movement between defenders and defending from the front.
It's increasingly apparent that Firmino is able to play at his best when there is support and service around him, and the high line of three attackers ensured there was often one of Salah or Coutinho central and close to the No. 9.
Props should be given to him for keeping pace with Salah on the run too, bursting forward off the ball to net both of his goals as the Egyptian surged toward the Brighton defence with the ball at his feet.
A fine all-round performance, only bettered by Coutinho's brilliance.
Wing-back opportunities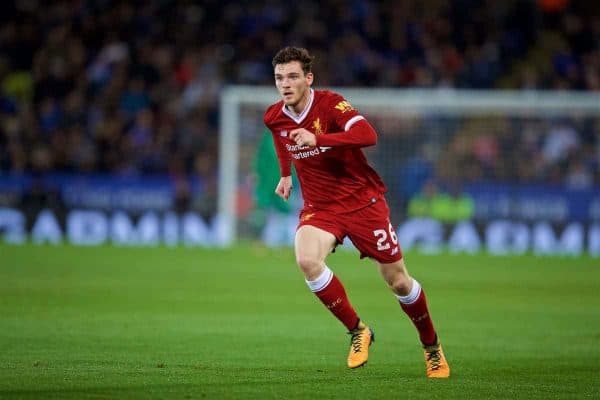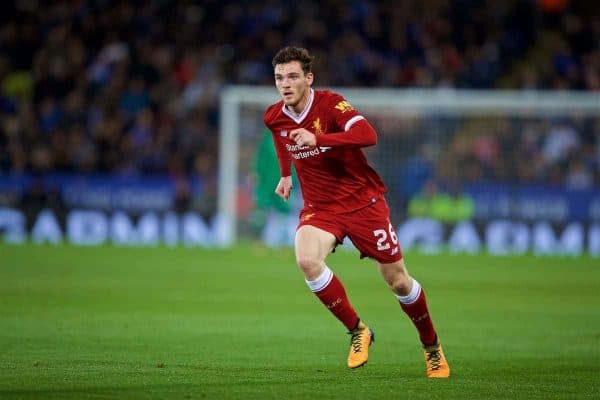 It wasn't just the centre-backs who had an unfamiliar look: Trent Alexander-Arnold and Andy Robertson filled the wing-back roles for Liverpool.
Both have impressed in 2017/18, but neither are first choice and both have needed to be patient of late, particularly the left-sided Scot.
Against Brighton they both fared well in possession, always looking to break forward and give the Reds an outlet, though the final ball from both was understandably rusty at times.
Defensively it was more apparent in the second half that the back five was in place with frequency, but neither were found wanting for effort or discipline in getting into position.
Alexander-Arnold proved the importance of that with a massive late challenge on Brighton sub Jose Izquierdo, in the box as he let loose on a shot, having tracked the winger all the way infield.
Klopp's rotation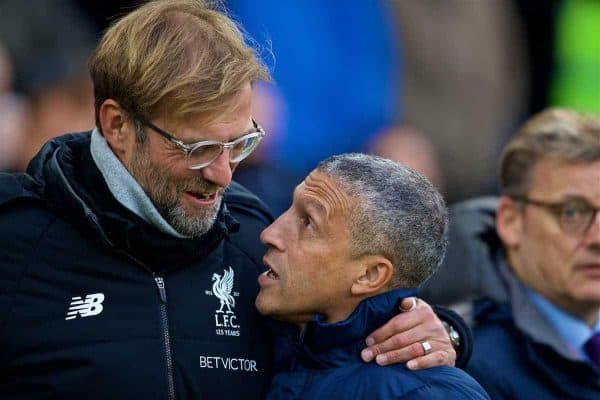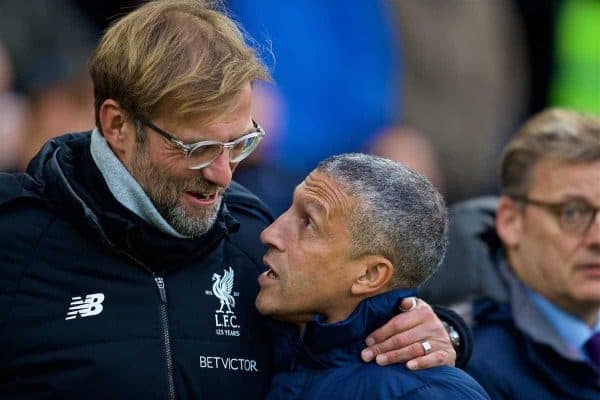 A manager lives and dies by his team selections, and Jurgen Klopp has got it spot on over the last seven days.
Starting the busiest period of the campaign, the Reds have come within five minutes of beating Chelsea, seen off Stoke and then thrashed Brighton, both on the road.
In that time, he has used 19 different starters and kept key players fresh by rotating, bringing them on as sub or taking them off early.
Sadio Mane, for example, a key player for the Reds last term, has been a starter once and a sub once in that time—and didn't see a minute against Brighton. It's near unthinkable Liverpool would have managed such a set of results in his absence a year ago.
Similarly, Mohamed Salah was subbed off once and came on once, Firmino didn't play against Chelsea and Coutinho was rested vs Stoke.
Meanwhile both full-backs have been changed, Alex Oxlade-Chamberlain and James Milner have played more prominent roles of late and even with injuries, the centre of defence has coped reasonably well.
A brave selection policy then from Klopp, but an utterly necessary one, and he's gotten his timings absolutely right so far.